My husband George loves fine dining, often doing hours of research to determine where we should eat when we travel to a new place.
I should also mention, however, that he also loves less-fine dining, perhaps equally as passionately. Mozzarella sticks! Bizarrely flavored Fritos! McDonald's weirdest food mashups! He loves it all with a burning desire. These are the foods of his youth, and no amount of gourmet food that I put in front of him can change his admiration for them.
I usually ignore his requests for cheesy stuffed waffles, burritos with French fries in them, and "sausage dip," but every now and then, I give in to one of his whims. And barbecue chicken pizza is one of his favorite whims. 
It's not that I'm a food snob, but I do have certain standards that I like to stick to. I like to respect the origin of an ingredient or dish, and pay homage to its roots.
Pizza comes from Italy. Barbecue sauce doesn't come from Italy. An Italian might laugh me out of the room if I tried to present them with this recipe. 
But I have to admit something: it turns out that barbecue chicken pizza is seriously, seriously good. The sweet and tangy barbecue sauce, the perfectly cooked chicken, the thin slices of red onion, the melty, gooey cheese—it works.
Breaking It Down
Best of all, my summery grilled version is so quick and easy—and doesn't require blasting your oven at the height of summer. 
Season some chicken tenders and slice up some onions. Throw them on the grill along with some corn (because it's summer, after all) for a quick cook.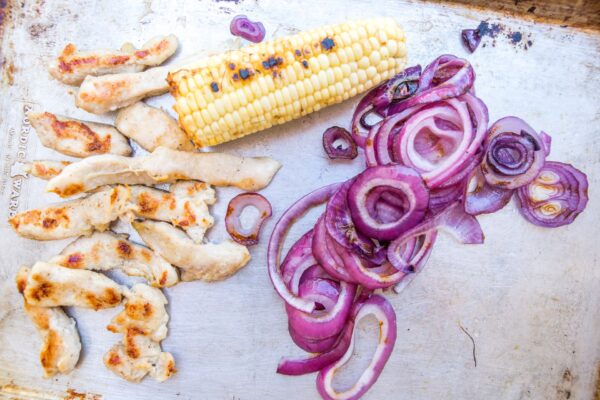 Then, switch out the meat and veggies for your pizza dough! I usually send George out to grill the dough while I'm inside shredding the chicken, cutting the corn off the cob, and pulling out the other toppings.
When making pizza on the grill, it's best to pre-grill the dough by itself for about a minute and a half on each side before adding the toppings. Otherwise, there's major potential for the dough to get soggy and fall apart on the grill. Not ideal.
When George brings the grilled crusts back inside, I smother them in our favorite barbecue sauce, cover them in a pile of Gouda and mozzarella, and load them up with the grilled chicken, corn, and red onions, along with a few fresh peach slices—I love the sweet contrast to all of the other savory flavors. Then, I throw them back on the grill for just a few minutes, to melt the cheese.
When they come off the grill, I like to drizzle them with just a little more barbecue sauce, garnish with cilantro, and then dig in immediately. I'm sorry, Italy, but it's just so delicious!
Grilled Barbecue Chicken Pizza
Makes 2 (10-inch) pizzas, enough to serve 2 to 4
1/2 pound chicken tenders (or 1 small breast, cut into 1/2-inch thick strips)
Kosher salt
1/4 teaspoon garlic powder
1/8 teaspoon freshly ground black pepper
1 small red onion, sliced into 1/4-inch thick rings
1 ear of corn
1 1/2 tablespoons olive oil
1 (16-ounce) store-bought pizza dough ball 
1/2 cup barbecue sauce
1 cup (4 ounces) shredded mozzarella cheese
1 cup (4 ounces) shredded Gouda cheese
1 peach, thinly sliced
Several sprigs of cilantro
Preheat an outdoor grill to 500 degrees F.
Place chicken tenders on a parchment paper-lined baking sheet and toss with 1/2 teaspoon salt, garlic powder, and pepper to season. Push to one side of the baking sheet, and add red onion rings and corn to the other half of the baking sheet. Coat the chicken, onion rings, and corn with olive oil. Season the onion and corn with a big pinch of salt.
Grill chicken, onion rings, and corn for 2 to 3 minutes per side, until the chicken is cooked through and the onions and corn are charred and tender. Throw out the parchment paper that had raw chicken on it and transfer the grilled items back to the baking sheet. 
Use two forks to shred the chicken, and cut the corn off the cob. Pull the onion apart into separate rings if it hasn't already fallen apart.
Meanwhile, sprinkle a large rimless baking sheet (or the underside of a rimmed baking sheet) with flour. Cut the ball of pizza dough in half, and use a floured rolling pin to roll out each half into a round about 10 inches wide. It's very important that you not roll your dough too thin (wider than 10 inches), or it will burn and stick to the grill. 
Coat grill grates with oil by soaking a wad of paper towels in oil, then grabbing the wad with tongs and wiping them over the grill grates. Slide the pizza crusts onto the grill. Close the grill and cook for 1 1/2 to 2 minutes. Use tongs to flip the pizza crusts. Close the lid and cook for an additional 1 1/2 to 2 minutes. Use tongs to transfer the pizza crusts back to the baking sheet.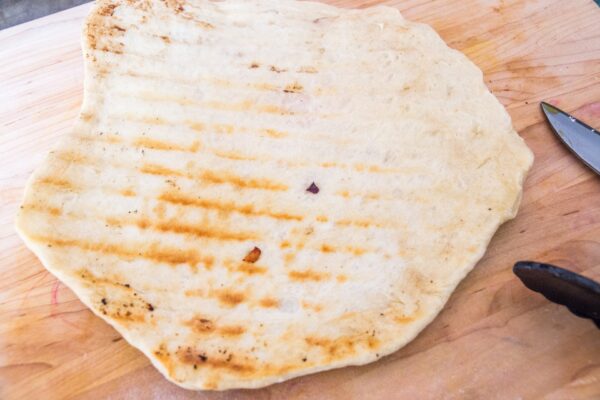 Spread barbecue sauce over both grilled pizza crusts and sprinkle with the cheeses, all the way up to the edges of the dough. Divide the shredded chicken, onion, corn, and peach slices between the two pizzas. You might not use all of the ingredients—save them to make a salad tomorrow! 
Return pizzas to the grill for 3 to 5 minutes, until the cheese is melted. Use tongs to return the pizzas to the baking sheet or to a large platter. 
Garnish with cilantro, sprinkle with flaky sea salt, slice, and serve. 
Recipe Notes
Resist the urge to use more barbecue sauce; it really overpowers the other flavors if you use any more. 
Blue cheese is controversial, but a couple of tablespoons crumbled over the top of this pizza would be delicious!
Want a quicker version? Use a cooked rotisserie chicken and keep the red onion and corn raw, skipping the first grilling step entirely. Shred about 1 cup of the chicken, thinly slice the red onion, and cut the kernels off the cob. Grill the pizza dough, then throw on the toppings and proceed with the recipe.
This pizza would also be delicious with pesto as the base instead of barbecue sauce.
Caroline Chambers is a recipe developer, food writer, and author of "Just Married: A Cookbook for Newlyweds." She currently lives in Carmel Valley, Calif., with her husband George, and son, Mattis. Follow her on Instagram for cooking tips and snippets from her life in Northern California. @carochambers