Banana Leaf's Sri Lankan Buffet Hard to Beat
September 15, 2013 10:02 am Last Updated: September 15, 2013 6:27 pm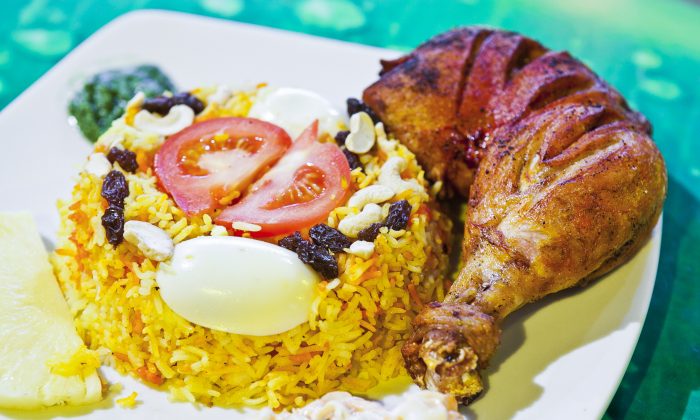 Sri Lanka, producer of spices, has been at a confluence of cultures for centuries. The tiny island-nation was one of the centers of ancient trade routes, with ships plying the seas between Europe, the Middle East, and Southeast Asia. It has been ruled by the Portuguese, Dutch, and British.
"On a world map, it's like a mustard seed," said chef Raj Perera of his homeland Sri Lanka. Perera is at the helm of family-run Banana Leaf in Chelsea. Banana Leaf is just one of two Sri Lankan restaurants in Manhattan.
For those unfamiliar with Sri Lankan food, the ingredients bear similarity to those used in India, particularly in Kerala, south India—cumin, coriander, coconut, and tamarind—but the preparation and flavors are distinct. For one, it's lighter. When you find out that very little oil used, it's no surprise.
At Banana Leaf, many of the dishes feature ground coconut or coconut milk, freshly made in-house from whole coconuts.
Vegetables are a mainstay. The lunchtime buffet, offered on weekdays, features less common vegetables. Instead of the more ubiquitous (and cheaper) carrot, you'll find a delicious and mildly sweet pumpkin curry; jackfruit curry; surprisingly light shredded collard greens with shredded coconut and lime (a dish some people make a special trip for); and my favorite, a bold eggplant moju, which is a pickled eggplant dish with onions and chili peppers. The vegetable dishes rotate day by day.
Food as medicine is a hot topic these days, with every fruit and vegetable under the sun dissected into nano-compounds to isolate that elusive active (and money-making) one. But traditions are more holistic, with fruits, vegetables, and even spices and seeds contributing to a host of health benefits; think about built-in, natural digestives in the food you eat.
The staff at Banana Leaf all seemed to know various the health benefits of different Sri Lankan ingredients; it was just something inculcated at school. As to those vegetables on the buffet, Perera listed off some of the health benefits. Pumpkin is good for the lungs and daikon for kidneys. Bittermelon and red rice are recommended for diabetics. Jackfruit is for people on the go.
I happened to eat a fair amount of food at Banana Leaf (ok, it was an obscene amount), sampling both from the buffet and the menu, and left feeling very well.
The buffet is very good value ($7.99 for takeout; $9.99 for dine-in) when you consider the freshness and the ingredients.
You can also order some noteworthy dishes from the menu. The most popular is the lampri, a hefty meal wrapped and cooked in a banana leaf. It's said to have been influenced by the Dutch, and its mild subtle flavor makes that quite likely.
Traditionally it would be cooked in clay ovens; instead, it's baked. Saffron rice, cashews, fish cutlet, ash plantains, boiled egg, caramelized onions, and eggplant moju come with your choice of meat, seafood, or veggie ($13.95–15.95). Flavors meld together, infusing the delicate rice with sweet and savory.
Another is string hoppers, made from a dough of rice flour extruded by hand through a machine into noodles. By their nature, they have to be made fresh and you can taste it. The key to eating these is to be liberal with kiri hodi, the coconut and onion gravy, and adding coconut sambal, a mixture of ground coconut, chilies, and onions, to taste—these should percolate through the layers of noodles.
The coconut tones down the heat of the chilies but it can still get very spicy. If you're feeling adventurous, do as the Sri Lankans do back home and eat it with your hands. It does taste better that way.
A few other delicious starch-based dishes are hoppers, traditionally eaten for breakfast. Delicate and bowl-shaped, hoppers are made by pouring a batter of rice flour and coconut milk into a deep round pan, with no oil; there's a version with an egg cooked into the base. It's a delicate operation.
Hoppers cook about six minutes over a low fire and when ready, are gently coaxed out. They also have to retain their shape and not collapse. The edges are golden, lacy, crispy, and the thicker base reminiscent of sourdough flavor.
The roti, a cascade of folds, is gorgeous, delicious, and distinct from its cousins on the South Asian mainland.
If you're feeling more adventurous, try the black pork curry ($14.50) or fish ambul thial ($14.50). Both get good marks.
Outside the buffet, dishes are made to order, fresh from scratch, and they take some time—expect to wait and build up your appetite. A bonus is that chef Perera can adjust the flavors according to your spice preference or tolerance. Above all, like with all good things that take time, the results are worth the wait.
Banana Leaf
227 W. 28th St.
212-494-0000
www.bananaleafnewyork.com
Hours
Monday to Thursday: 11:30 a.m.–10:00 p.m.
Friday to Sunday: 12 p.m.–10:30 p.m.