"I'm from a family where every member of my family knows how to cook the entire animal from head to tail. It's so important not to waste when it comes to food. We're from the mountains in Azerbaijan. It's so beautiful there that you can hear the voice of the river as you sleep. Mostly we grew our own vegetables and had cows, sheep, chickens. It's so different now, though—it's become a ski resort and a place for tourists.
"I collect all my tea from Azerbaijan when I go home for four months in the summer. When I was a little girl, my mum would take us into the forest and mountains and she would show us which herbs to pick so we could forage ourselves for all of our teas. I now bring so much back with me from Azerbaijan. I don't even know the name of some of the herbs I bring back with me. It's so important to have the ingredients I know and love from my home.
"When I was in Azerbaijan I worked as a midwife, and then a nurse in Siberia, then I became a dermatologist. I married and had two children, but my husband left me for a young Russian student. That's when I took my two young daughters and moved to America to start from zero at the age of 41. I did any job available—cleaning peoples' apartments. Anything. Then I finished college here.
[…]
"If you're not scared and have a goal inside you, you can do anything anywhere. You just need to go straight on and never look back. I didn't speak a single word of English when I came here. I never had any idea that I would be living in Brooklyn in New York City and that I would need to speak English. I learned within five months, though. I had a technique, which was to speak to everyone."
—Baba Maral, born in Azerbaijan, 1958, lives in Brooklyn, New York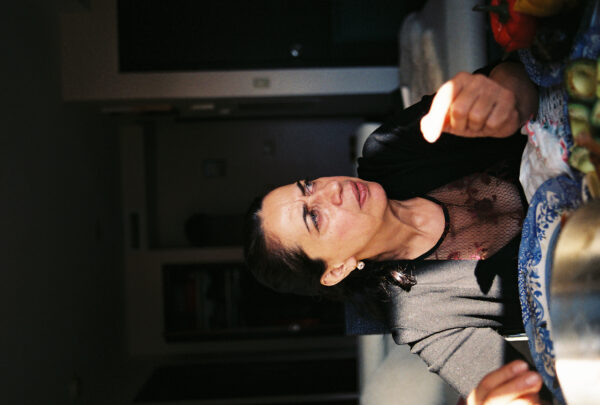 Feeds 4 to 6
Heaped 1/2 cup white rice
1 pound ground lamb
1 tablespoon olive oil
1 white onion, finely diced
1 red onion, finely diced
1 large handful fresh dill, chopped
1 large handful fresh coriander, chopped
1 tablespoon dried mint
1 tablespoon dried oregano
1 tablespoon dried mountain mint (optional)
1 teaspoon salt
1 teaspoon cracked black pepper
1 teaspoon paprika
2 red and 2 yellow peppers
4 large tomatoes
5 mini eggplants
1 apple or 1/2 quince, chopped
3 garlic cloves, finely chopped
Cook the rice until al dente, about 5 minutes. You don't want it cooked all the way through, as it will have baking time inside the vegetables as well.
Meanwhile, start browning the lamb in a non-stick pan with the olive oil, breaking it up with a wooden spoon as you go. When the meat is browned all over and the rice is al dente, set both aside to cool a little.
Once cool enough to touch, use your hands to combine the meat and rice with the onions, herbs, salt, black pepper, and paprika.
Partially slice the tops off the peppers but don't slice all the way through, to create a lid that hinges open, through which you can take out all the insides. Do the same for the tomatoes, trying to keep the lid attached and taking out the middle (reserve this for later).
Slice the tops off the eggplants and make a slice lengthways with a little gap at each end to create a pocket ready for filling.
Stuff all your veg carefully with the lamb mixture—the lids should still close with a little space for the mixture to expand further. Place the veg in a large casserole pan with a lid so they're upright and holding each other up. Top with the quince or apple, garlic, and tomato middles.
Turn the stove to medium-low and cook the pan of stuffed veg for 20 minutes with the lid on (and no added water!). Be careful not to overdo them, you want them to keep their shape! Serve with olives, rice, and flatbreads.
Excerpted with recipes and images from "Grand Dishes: Recipes and Stories of Grandmothers of the World," by Anastasia Miari and Iska Lupton, available now from Unbound. Excerpted with permission of the publisher.