Avid Theatergoers Discover Cultural Treasure in Shen Yun
May 10, 2014 11:49 pm Last Updated: May 10, 2014 11:49 pm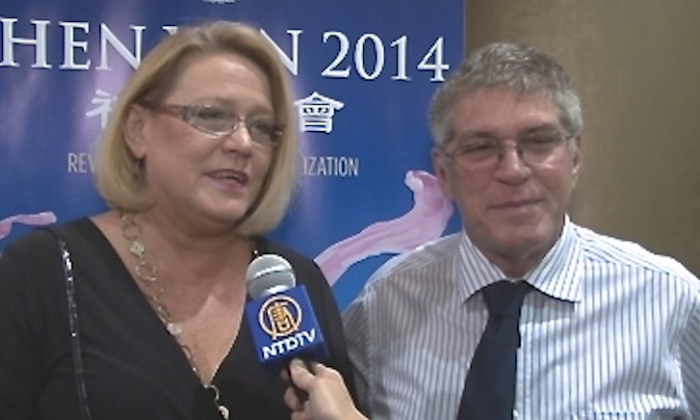 JACKSONVILLE, Fla.—Robin Sidbury and his wife, Cheryl Sidbury, found Shen Yun's May 9 performance at the Times-Union Center for the Performing Arts to be excellent. The couple own and operate Action Transmissions Specialists in Jacksonville.
Mr. Sidbury also has a background in ballet: "I used to dance when I was younger. The backdrops truly have amazed me because I've actually danced in this theater with the Nutcracker. We've been to a lot of shows here, and I've never seen anything like the backdrops."
Shen Yun uses state-of-the-art graphics technology to create animated settings that are coordinated with the music, dancing, props, and costumes. The backdrops create an effect of seamlessness between the stage and the projected background, with dancers seeming to pass magically between the two.
"The backdrops are as grand as they are intricate," the Shen Yun website states. "So remarkably true to life, they allow you to forget where you are, and journey to another place and time." The settings include heavenly realms, Tang Dynasty pavilions, battlegrounds, tropical beaches, Himalayan peaks, and picturesque settings of the Yellow River Delta.
The dancers impressed Mrs. Sidbury: "The dancers—the uniformity is just unbelievable. I've never seen anything like it. They're incredible."
Speaking of Shen Yun's rendition of traditional Chinese culture, Mrs. Sidbury said, "I'm enjoying it immensely. I'm studying Asian humanities, so I'm really enjoying this, especially with the emcee explaining … each dance, where the dances come from, why the dancers are doing it, the part of the country. I think that's wonderful."
"Your average person from the United States would have no idea," she said. "If they come to a show like this, they learn a little bit more about the Chinese culture, a little bit about dance and what it means to [the artists]. It's really hard to explain. It's incredible."
"I grew up around dance, so we knew what dance was about," Mr. Sidbury said. "But as my wife said, we're learning about the Chinese culture and different parts of the country."
Learning that people in China do not enjoy artistic freedom or freedom of belief made him aware that we sometimes take the freedoms we have in America for granted.
Mr. Sidbury said he and his wife would be talking about Shen Yun a lot. "It's an excellent show," he said.
This week Shen Yun completes its 2013–2014 world tour. This season, the company gave more performances than ever in Florida with 27 engagements in 8 cities.
Reporting by Serene Lee and Louise Rothman
New York-based Shen Yun Performing Arts has four touring companies that perform simultaneously around the world. For more information, visit Shen Yun Performing Arts.
The Epoch Times considers Shen Yun Performing Arts the significant cultural event of our time. We have proudly covered audience reactions since Shen Yun's inception in 2006.