Eggs are a classic breakfast item, but they're also a versatile ingredient that adds heft, flavor, and texture to many dishes. Here, chefs share recipes that feature eggs in both savory and sweet delights, sure to make for a lovely springtime meal.
Smoked Salmon Eggs Benedict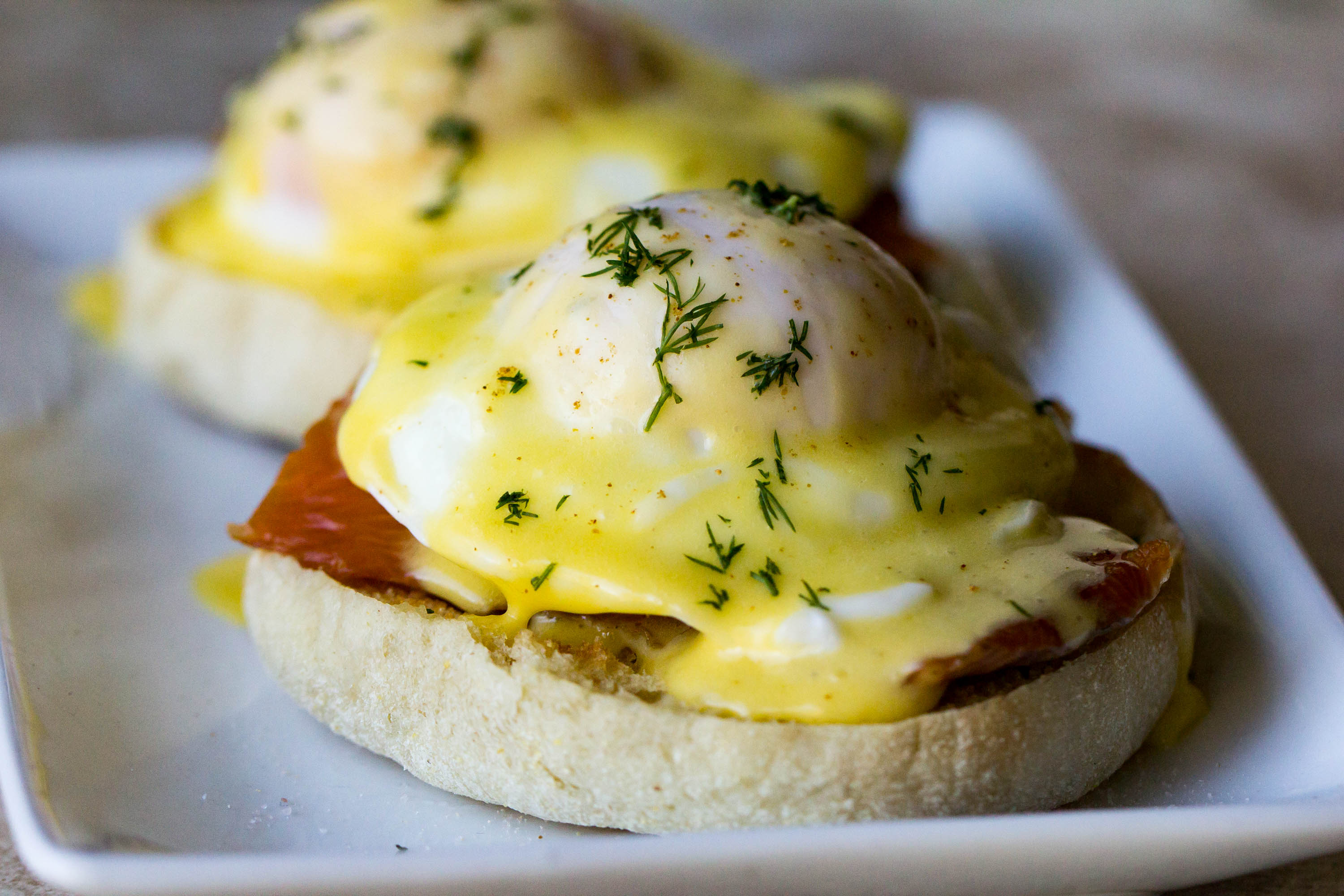 From Nicole Johnson
Food writer and founder, Or Whatever You Do
Olympic Peninsula, Washington
Nicole Johnson, the writer behind food and recipe blog OrWhateverYouDo.com, loves to share this recipe for eggs Benedict to make the dish more approachable for home cooks. Poaching eggs and making an emulsion sauce are core cooking techniques to learn. Johnson recommends the OXO Good Grips Silicone Egg Poachers for beginners. Johnson loves to fish with her family and smokes her own salmon, and she encourages others to try the same if they can. But store-bought smoked salmon is totally fine, too.
Serves 2
For the Hollandaise Sauce
1/2 cup salted butter
4 egg yolks
1 tablespoon lemon juice
1 pinch cayenne
To Assemble
8 ounces smoked salmon
2 English muffins, split and toasted
4 eggs
Place a small-to-medium sized pot of water on the stove over medium-low heat, and bring to a low simmer. Melt the butter in the microwave.
In a metal or glass bowl, vigorously whisk together the egg yolks and lemon juice until they are doubled in size and thickened slightly.
Place the bowl over the top of the simmering pot of water. Continue whisking while you drizzle in the melted butter. Keep whisking until all of the butter is incorporated into the egg yolk mixture, and the sauce is thickened to a pourable, but slightly jammy consistency.
Take your smoked salmon out of the fridge. You want to serve it at least at room temperature. Toast the English muffins and liberally butter them. Place the room temperature salmon on top of the buttered English muffins.
Poach your eggs, 1 or 2 at a time, in the simmering water for 4 minutes. Drain well, and place on top of the smoked salmon. Repeat until all of the eggs are cooked, and then drizzle liberally with the hollandaise sauce. If it has thickened too much, you can drop a couple of drops of hot water in and whisk to loosen it up a bit.
Vanilla Custard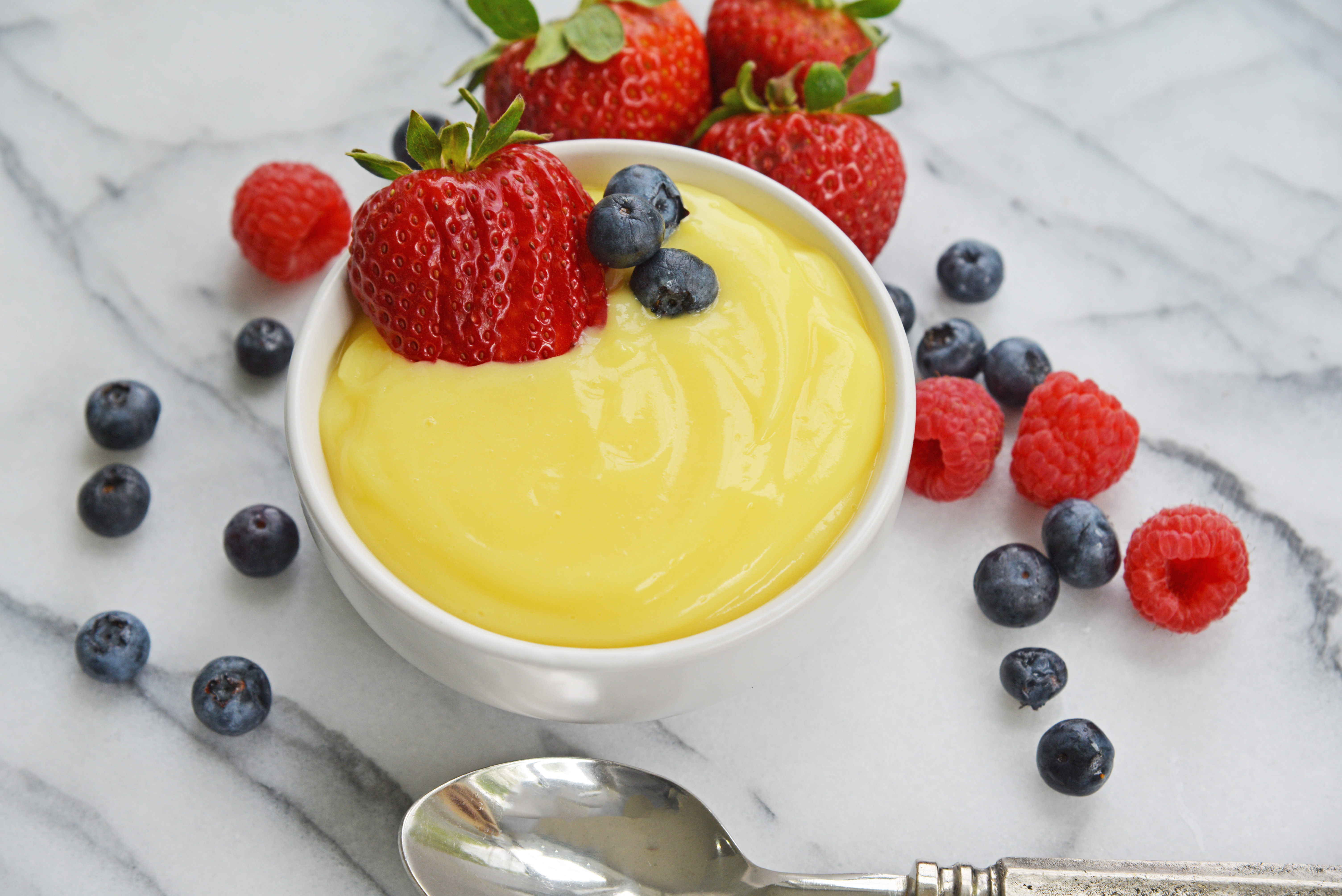 From Jessica Formicola
Creator and owner, Savory Experiments
Baltimore, Maryland
Many people think of eggs as a savory breakfast classic, but they can also be used to make silky smooth desserts. Cookbook author and recipe developer Jessica Formicola, who runs the recipe site SavoryExperiments.com, enjoys making this refreshing vanilla custard in the spring and summer months. It's great on its own, but can also be used to top pancakes and waffles, or fill cakes and doughnuts. When chilling the custard, make sure to cover tightly with plastic wrap so a film doesn't develop on top.
Serves 8
2 cups whole milk
2 teaspoons vanilla extract
2/3 cup sugar
1/4 teaspoon salt
1/4 cup cornstarch
4 large egg yolks, room temperature
1 tablespoon unsalted butter, diced
Heat milk and vanilla extract in a medium, heavy-bottomed saucepan until it reaches a low simmer. Do not let it boil.
Meanwhile, place sugar, cornstarch, and salt into the bowl of a stand mixer fitted with the whisk attachment, or use a large mixing bowl with a whisk. Blend dry ingredients until mixed. Add egg yolks and blend until a pale yellow.
Slowly pour milk mixture into eggs while whisking at a low speed. Do not mix too fast or it will froth and foam. Blend until mixed.
Transfer back to the saucepan and cook over medium-low heat for 3 to 5 minutes, or until thickened. Whisk continuously to prevent the mixture from sticking to the pan. As soon as the mixture thickens, remove from heat and whisk in the butter.
Transfer to a clean bowl and cover with plastic wrap. Press plastic wrap into the custard mixture so there is no air caught in between. This prevents the filmy skin that can develop. To set faster, place in small ramekins or bowls.
Refrigerate for a minimum of 3 hours, but up to 2 days.
Egg Salad Sandwich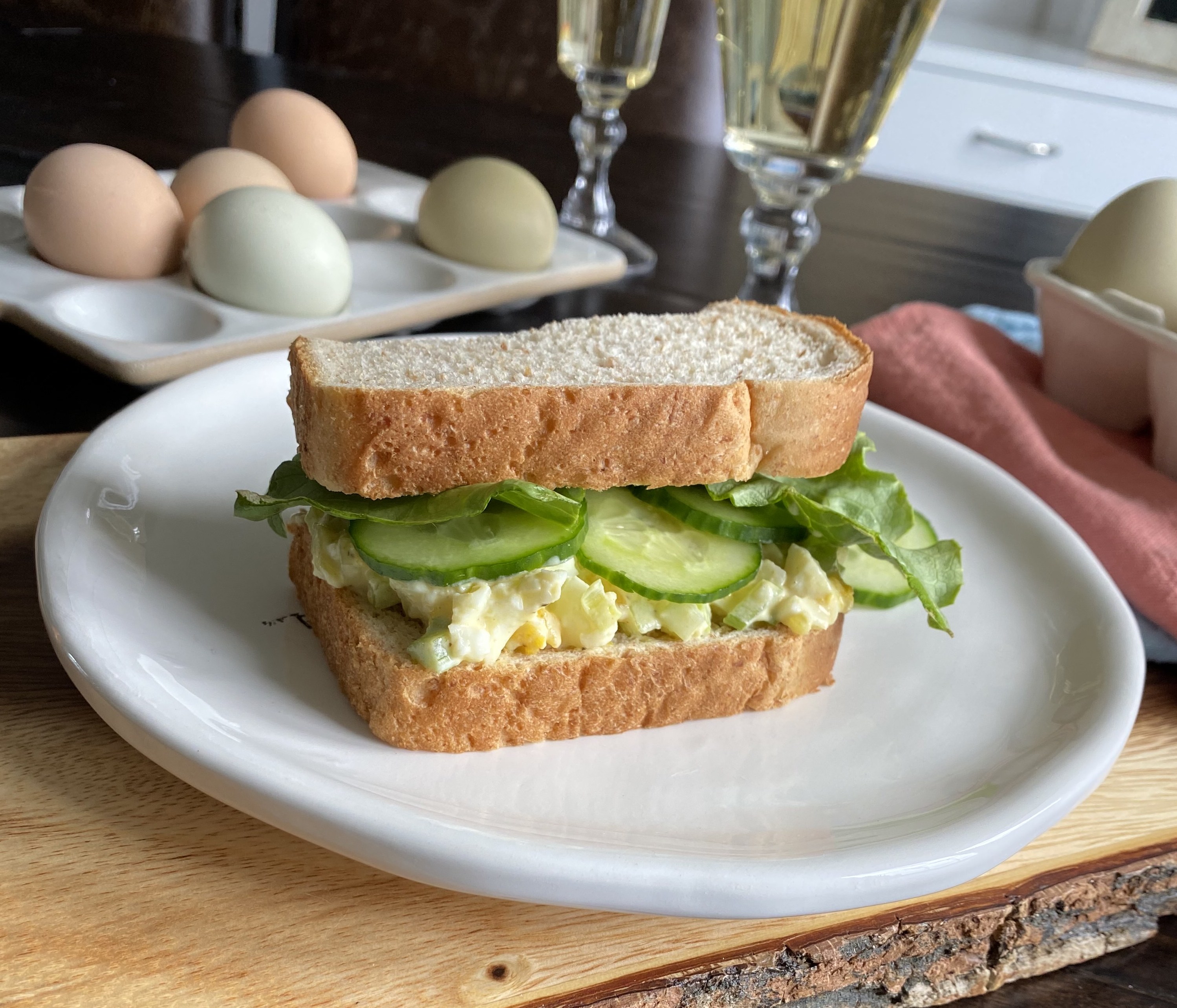 From Sara Dahmen
Owner and founder, House Copper & Cookware
Port Washington, Wisconsin
"My dad grew up in a Polish-speaking household, and like any decent Polish recipe, our family egg salad has to include something pickled," says Sara Dahmen. One "secret" ingredient that Dahmen uses is Beau Monde seasoning, a spice mix of celery, onion, salt, and other ingredients that can be found in some grocery stores. The egg salad can be made up to a day in advance and kept in a sealed container in the refrigerator. Do not keep longer than 3 days in the refrigerator.
Makes 8 half sandwiches
8 eggs
3 tablespoons mayonnaise
1 tablespoon dried mustard or 1 tablespoon Dijon mustard
2 tablespoons Vidalia or green onion, minced
1/2 cup celery, minced
3 tablespoons dill pickle relish
1/2 teaspoon Beau Monde seasoning (more to taste)
1 1/2 teaspoon fresh tarragon, chopped
Salt and pepper to taste
8 slices of bread
1 small English cucumber, thinly sliced
Butter lettuce for garnish
In a copper saucepan bring 8 cups of water to a boil. Carefully place eggs in the water using a wooden spoon and let them boil for 8 minutes. Drain the eggs with a colander.
Put 8 cups of cold water into the copper pot with lots of ice, and place eggs back into the pot with the ice and water. Wait for eggs to be cool enough to handle, at least 30 minutes.
Pour out water and ice and remove the eggs from the pot. Peel the eggs and remove the yolks, setting aside 4 and saving the other 4 yolks. Chop the egg whites and place them into the copper pot. Smash the 4 egg yolks and add them with the whites.
Add the mayonnaise, mustard, onion, and celery to the combined eggs and gently mix together. Fold in the pickle relish, Beau Monde, and the tarragon, and add salt and pepper to taste.
Cut the bread slices in half and place the egg salad on one half of each. Top with cucumbers and lettuce and the other half of the bread slice. (Keep in mind, sandwiches made with one slice of bread are easier to eat.) Serve room temperature or cold.
Croque Madame-Milagro, Andaz-Style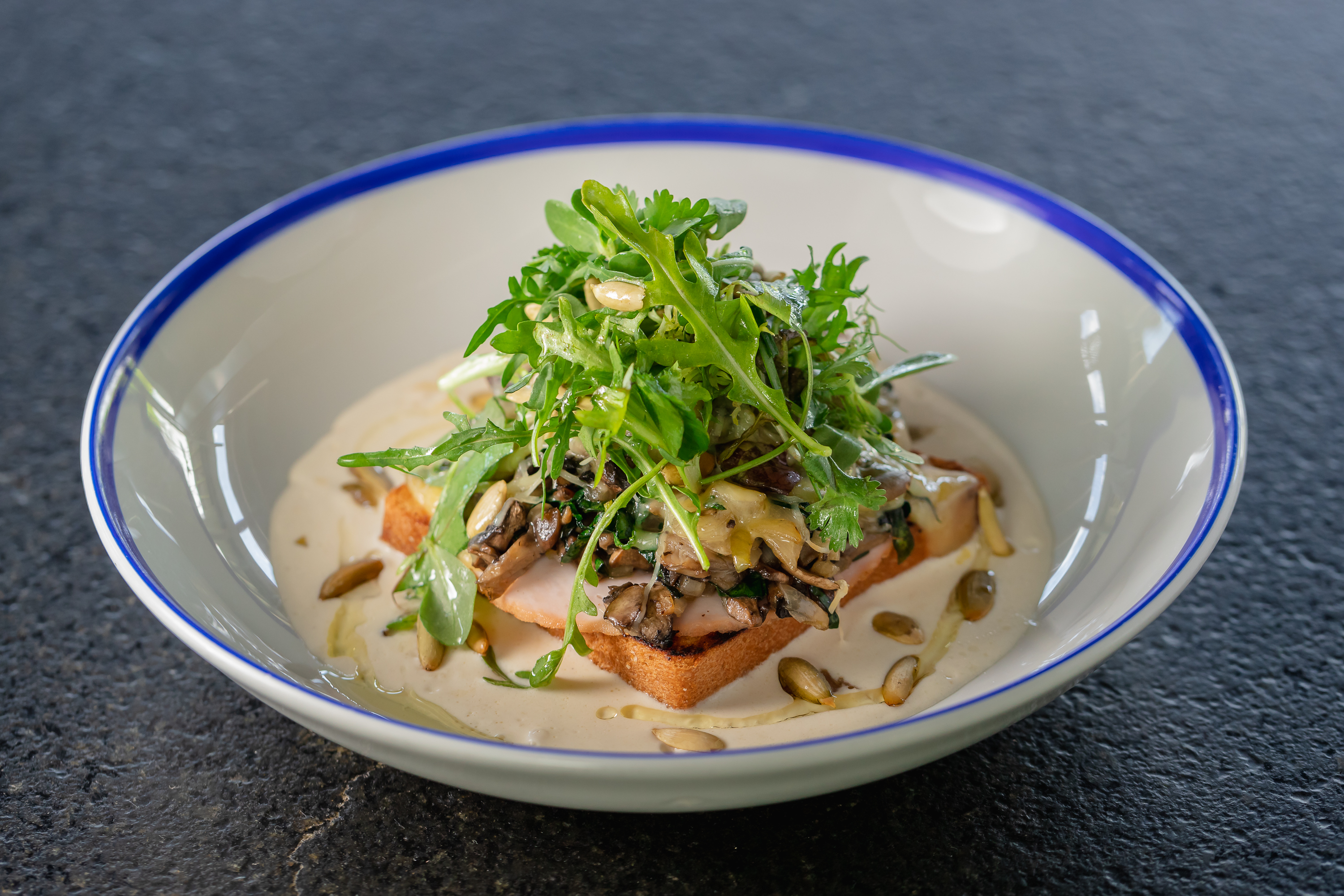 From Omar Barquera
Chef de cuisine, Cocina Milagro at Andaz Mayakoba Resort
Riviera Maya, Mexico
Sometimes the egg is the crowning piece of a dish. Chef Omar Barquera was inspired to put a twist on the croque madame, traditionally a hot ham and Gruyere sandwich topped with bechamel and a fried egg. Bauquera instead tops a base of toasted brioche with turkey breast, lightly sautéed vegetables, and a light but flavorful cream sauce, followed by the fried egg, a bit of herb salad for freshness, and a drizzle of truffle oil to finish.
For the White Sauce
2 tablespoons butter
2 ounces chopped onions
Pinch each of rosemary and thyme
1/2 cup white wine
16 ounces full-fat milk
5 ounces Parmesan cheese
Salt and pepper to taste
For the Sautéed Mushrooms and Chard
Oil for cooking
1 clove garlic, chopped
7 ounces white mushrooms, chopped
9 ounces baby chard, chopped
To Assemble
3 tablespoons fresh parsley
3 tablespoons fresh basil
3 tablespoons fresh cilantro
Salt and pepper to taste
Olive oil to taste
4 eggs
4 slices brioche, cut 1/2-inch thick
8 ounces smoked turkey breast
Truffle oil to taste
Make the Sauce
In a saucepan, melt the butter and sauté the onion. Add the rosemary and thyme and cook lightly, then pour in the white wine and cook for a minute over low heat.
Add the milk and Parmesan cheese. Stir constantly until the cheese has melted and the mixture is homogenous, then season with salt and pepper. Remove from heat and set aside.
Sauté the Mushrooms and Chard
In a pan, add a little oil and the chopped garlic, and sauté a little until the garlic is lightly browned.
Add the mushrooms and cook for 1 minute. Add the chopped chard and lightly sauté for 1 minute. Season to taste, and remove from the heat.
To Assemble
Mix the fresh herbs with salt, pepper, and olive oil to taste and set aside. Fry the eggs to your liking. Lightly toast the bread.
Top each slice of bread with turkey breast and some of the mushroom and chard mixture. Cover with white sauce, and top with a fried egg and some of the herb salad. Finish with truffle oil.