Artists Salute Shen Yun's Vienna Performance
May 11, 2014 8:21 pm Last Updated: May 12, 2014 8:27 pm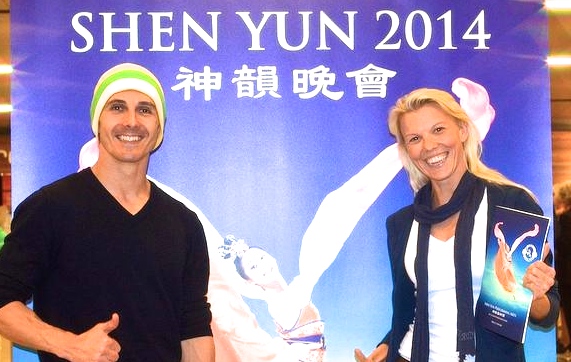 VIENNA—Several of Vienna's artists attended the New York-based Shen Yun Performing Arts Company opening performance at the Wiener Stadthalle on Saturday, May 10. This venue opened in the late 1950s, seats up to 16,000 people and is known for many famous shows and artists having performed there.
Violinist Mr. Arkadi Winokurow and his wife were in the audience watching the Shen Yun performance. Mr. Winokurow is a well-known musician who traveled extensively, performing throughout the world.
"This is the first time we have watched Shen Yun. It truly was a great pleasure. We enjoyed the wonderful colors, and a highly sophisticated, tasteful and esthetic show. I want to thank them for this great evening and you can be assured that my wife and I will see the performance again in the future."
According to the Shen Yun website, "A Shen Yun performance features the world's foremost classically trained dancers, a unique orchestra blending East and West, and dazzling animated backdrops."
Two Viennese artists, Gabor Oberegger, a dancer at the Vienna State Opera and Marianne Tarnowskij, a dancer and singer at the Vereinigte Buhnen Wien (United Stages Vienna) were also in the audience for the opening show of the Shen Yun Performing Arts show in Vienna.
Watching Shen Yun with the professional eyes, he said, "The technique I saw was outstanding, especially when it comes to harmonizing. I have never experienced something like that … The short scenes were very entertaining, which was very enjoyable and gave the performance exceptional liveliness."
Ms. Tarnowskij was very impressed with the backdrop, "It was marvelous that the songs sung in Chinese were translated and displayed on the backdrop. This helps the audience understand the meaning behind the songs."
Ms. Alaia Rogers, a dancer with the Vienna State Ballet, used one word when describing Shen Yun performance, "spectacular."
She said that the Shen Yun performance definitely inspired her: "a dancer must be agile and flexible. After watching this show I definitely will work on becoming more agile."
Reporting by German Epoch Times and Heide B. Malhotra
New York-based Shen Yun Performing Arts has four touring companies that perform simultaneously around the world. For more information, visit Shen Yun Performing Arts.
The Epoch Times considers Shen Yun Performing Arts the significant cultural event of our time. We have proudly covered audience reactions since Shen Yun's inception in 2006.