Colorful butterflies are flying all over the sky, adding brilliant colors to the flower bushes. The dense composition and rich golden color add vitality. This
depicts Dancing Butterflies,
 a porcelain painting artwork, that won the gold medal in the 2022 Hong Kong International Porcelain Painting Art & Culture Show. 
The rare beauty is created 
by Betty Ho Liu Yee-ling, chair lady of Hong Kong Ceramics Research Association.
Since becoming a member of the Hong Kong Ceramics Research Society in 2016, Betty, who has been an artist for many years, felt that she has opened a new door. She comes into contact with porcelain painting experts and has learned from many porcelain painting masters. The knowledge helped her develop her own porcelain painting style.
Betty graduated from the Department of Fine Arts at the Chinese University of Hong Kong. She has engaged in art education for over 30 years, and painting is an essential part of her life.
Painted Porcelains of Hong Kong are known as Gangcai, which combines Chinese and Western cultural elements while presenting the distinct local color of Hong Kong. Gangcai originated from Canton porcelain, the characteristic style of ceramic ware decorated in Guangdong. Canton porcelain is one of the four famous pieces of porcelain in China.
In the past, Betty's understanding of Painted Porcelains of Hong Kong was only superficial. But since there was a research project about the development of porcelain painting in Hong Kong when she joined the Hong Kong Ceramics Research Society. She was in charge of education and promotion, she had to visit many senior experts and therefore learned about different kinds of Canton porcelain cultural relics.
Once Betty learned the history of the development of Canton porcelain to Painted Porcelains of Hong Kong, she developed a strong interest in this industry and entered the industry.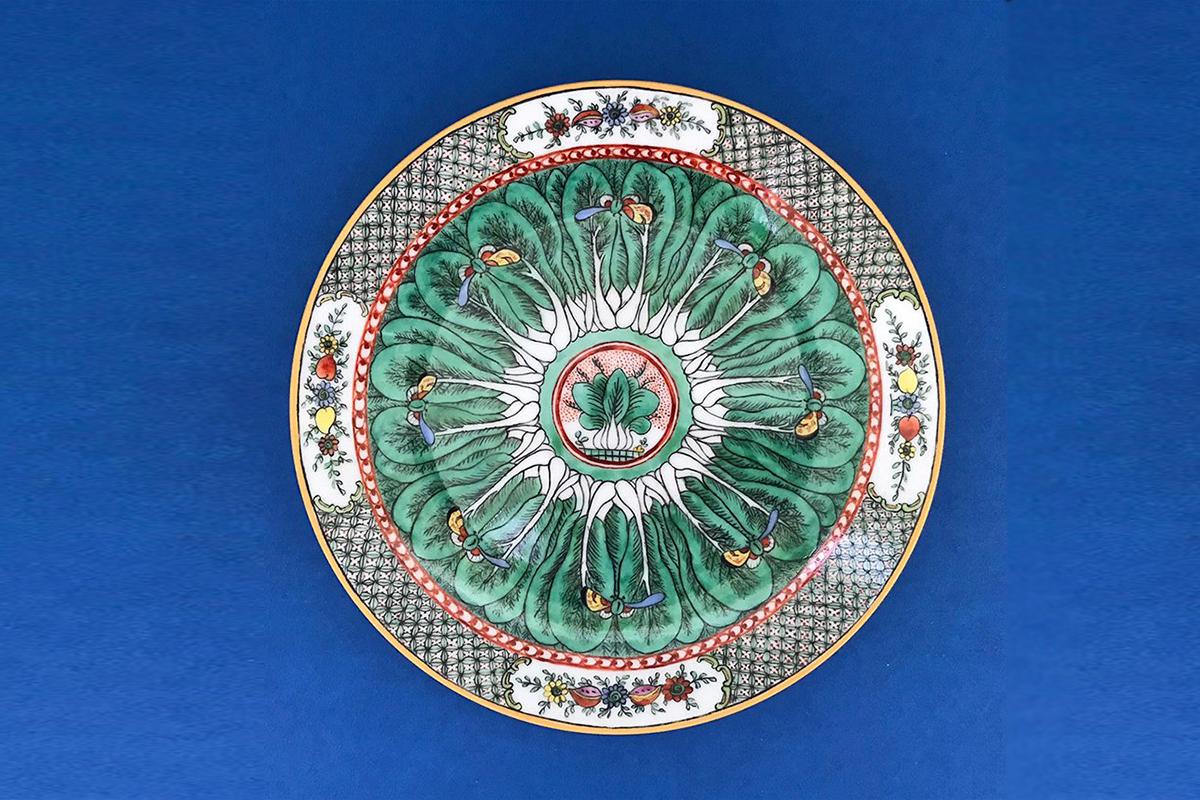 She used to create Western paintings such as oil paintings and printmaking. These skills have laid a solid foundation for her to create Painted Porcelains of Hong Kong, therefore she could paint on porcelain easily and made rapid progress in a short period of time." A simple piece of Canton porcelain contains our history, culture, scientific knowledge, craftsmanship, national spirit and folk wisdom!" shared by Betty.
Falling in Love with Porcelain Painting
Canton porcelain is known as Kwon-Glazed Porcelain, which has a rich history of nearly a century. It was popular in Hong Kong, and many foreign businessmen bought Canton porcelain in Hong Kong. A large number of talents for Canton porcelain came to Hong Kong in the 1920s, spreading their skills widely, and even integrating eastern and western cultures, and further developed into Painted Porcelains of Hong Kong.
After Betty came into contact with porcelain painting, she was deeply attracted by the medium. "I think porcelain painting allows a great variety of artistic expressions. The techniques in oil painting, watercolor, ink painting, printmaking, and even sculpturing can be applied to porcelain painting. Betty said, whenever the work is completed, people can touch it and savor its meaning. The luster and shining colors on the painting can last forever without special preservation." she believed that Canton porcelain is unique craftsmanship in porcelain painting, due to its glaze materials, techniques, patterns, and color.
She further explained, "I think Canton porcelain is a very wonderful craft and art piece. What attracts me is its 'abundance.' Canton porcelain has bright colors, various shapes, diverse themes, complex patterns, and unique glaze material." She said especially in terms of technique, it has the techniques of ancient and modern, Chinese and western, and North and South, and it is an art that integrates diversity.
In terms of creation, she believes that the creation of porcelain painting gives her a lot of choices and room for reaching her full potential, and she also realizes the spirit of pursuing the perfection of the craftsmen and savors their artworks.
Learning from Experts
In the beginning, Betty wanted to study in Jingdezhen, Jiangxi Province, China, the hometown of porcelain painting. Before she could make the trip, she met Mr. Lee Siu-man, a great master of porcelain painting, and she was fortunate to have him arrange a workshop to teach her.

Later, after visiting the local classic factory Yuet Tung China Works, she felt that the factory was like a museum of porcelain paintings. She was dazzled by the great variety of porcelain.
She had a deep impression from the thorough introduction made by Mr. Cho, the owner of the factory, the hand painting from Master Tam, the discharge painting from Master Chan, and the transfer painting of great Mrs. Cho.
Since then, Yuet Tung China Works has become a place she often visits.
Later, she came into contact with more industry professionals, such as Zhang Jinping, Li Rongchao, Xu Enfu, Zhao Yiming, Lei Iat-po, and Chen Wen. Luckily, she was taught by them, which gave her a deeper understanding of Canton Porcelain's material and techniques.
She pointed out that Mr. Yiu Hoi-lun, consultant of the Ceramics Research Society, is a living dictionary of porcelain painting. He is proficient in glaze material preparation and ceramic production materials. She learned a lot of porcelain painting knowledge from Mr. Yiu as well as mastered many skills of restoration and making a fake old porcelain paintings.
Betty later learned from Lei Iat-po, a well-known Canton porcelain master in Macau, whose porcelain painting factory is located in Sanxiang, Zhongshan city, China. She then went to Zhongshan to study. "When I studied with the master, I learned a lot of folk wisdom and the master's awareness of environmental protection. They are the knowledge and virtues that apprentices inherit from masters.
The masters do not need to use measuring instruments, compasses, and turntables, but only use a brush and the technique of 'stitching' to accurately draw circles on large and small porcelain, whether in two dimensions or in three dimensions. Most of their tools are made from local materials with a flexible mindset. For example, used chopsticks are used for positioning the ink marks, the paper core from used sealing tape is used to make the base of the glaze bowl, the used pens are used for brush or pen storage, the washing water is used for washing pens are used for soaking the color, the fan bone is used to make a scraper, and the old shirt is used to make a printing pad. There are countless examples," said Betty.
She pointed out that the color sense of an artist has to be very sensitive, and it also relies on experience. "Take coloring as an example, people can feel the unique craftsmanship-when you want to color within the boundary and the artists will paint oily pot ash over the outline which was already drawn, as it has a drainage effect.
Because of the oily pot ash, the glaze material will not cover the outlined line during coloring. This technique is called the "draining line." In addition, by using oil-based and water-based color glazes, fast-drying and slow-drying oils, the artists can color the porcelain in multiple layers, and achieve the effect of rich colors and rich tones in one kiln firing."
She said with a tinge of emotion that the learning process from Canton porcelain is a journey full of wisdom. From the drawing process, starting from grinding color powders, stitching, drafting, arranging, and coloring to kiln firing, every detail contains knowledge and wisdom.
The Essence of Chinese and Western Art
Betty's latest porcelain painting artwork "Dancing Butterflies" stood out from more than 100 porcelain paintings and won the gold award. She said that this award-winning work uses the characteristics of a "combination of Chinese and western" Canton porcelain.
For the borders of the work, she chose the techniques of color combination, pastels, and western colors to depict. It can increase the layers of color, and also enrich the texture of the drawing; as for the theme decoration in the center, she used traditional Guangcai techniques to express the flying butterflies, and in order to achieve the effect of dazzling sky and changing clouds, she used the western color material Mother of Pearl to express it, at the same time making the center space for the flying butterflies appear wider and more three-dimensional.
Therefore, the butterflies in the works get rid of the feeling of the traditional Guangcai pattern of thousands of flowers and hundreds of butterflies, using more detailed and realistic methods to bring out the shape, pattern, and color of each butterfly. Both the characteristics of eastern and western craftsmanship can be shown in the artwork.
"I grew up in the countryside, therefore I love nature very much. Flowers, plants, insects, fish, and scenery from nature often give me unlimited inspiration. The clouds in the sky, the swimming fish in the ocean, the colorful butterflies flying among the flowers, the brilliant flowers, and the scenery of the four seasons are my favorite themes." Betty shared her series of artworks and their stories.
Message to Newcomers
Betty was honored to be the instructor of the 2020 Jockey Club ICH+ Innovative Heritage Education Programme. The event attracted nearly 100 students to apply for porcelain painting craftsmanship. However, due to limited subsidies, only five people could enter the course.

Betty shared, "Each student has a different form of expression and style. Their artworks are very interesting. Also with their commitment and dedication in learning, they have mastered a lot of techniques within a year. They can also add their own creativity to give new ideas and appearances to Canton porcelain."
"Many people think that they have a background in painting or calligraphy, and they can then apply the same skills to porcelain painting. In fact, in order to better integrate other arts with ceramic, the most important thing is to understand the characteristics and techniques of ceramic craftsmanship," She said.  For example, kiln firing is one of the basic things to learn. Otherwise, the glaze material might not turn out to be what the painters expected. Craftsmanship followed by art."
Betty believes that the learning process can not be completed in a day, perseverance and patience is key. Nowadays, technology has changed everyone's rhythm. It is difficult to attract young people to join anything that requires a long commitment. In addition, porcelain painting is not a well or prosperous paid job. Its inheritance is definitely a big challenge.
Betty encourages the younger generation to inherit craftsmanship, "Canton porcelain is facing a crisis of inheritance in Hong Kong. It really needs new Blood. I hope that young artists are willing to commit, and inject new and local elements into their works so that Canton porcelain can grow with time, and the Painted Porcelains of Hong Kong, transformed from Canton porcelain, will have a fresh concept, making modern art shine brightly."