All because his parents refused to abort him, a boy whose mother was told he would never live past the age of 2 has recently celebrated 17 years of life with some of his favorite people—local police officers.
Joshua Bourassa, of Pennsylvania, has Krabbe disease, an inherited condition that destroys the protective coating of nerve cells in the brain, and eventually the nervous system, resulting in a massively reduced life expectancy. Patients rarely live past their second birthday.
But Josh did, and his mother, 40-year-old Rebecca Bourassa, chose to celebrate her amazing son's senior year with a special photoshoot.
Dressed in police uniform gifted by Gibson state police, "Trooper Josh" looked the part. Rebecca told The Epoch Times that photographer Erika's photos were "the best senior pictures ever."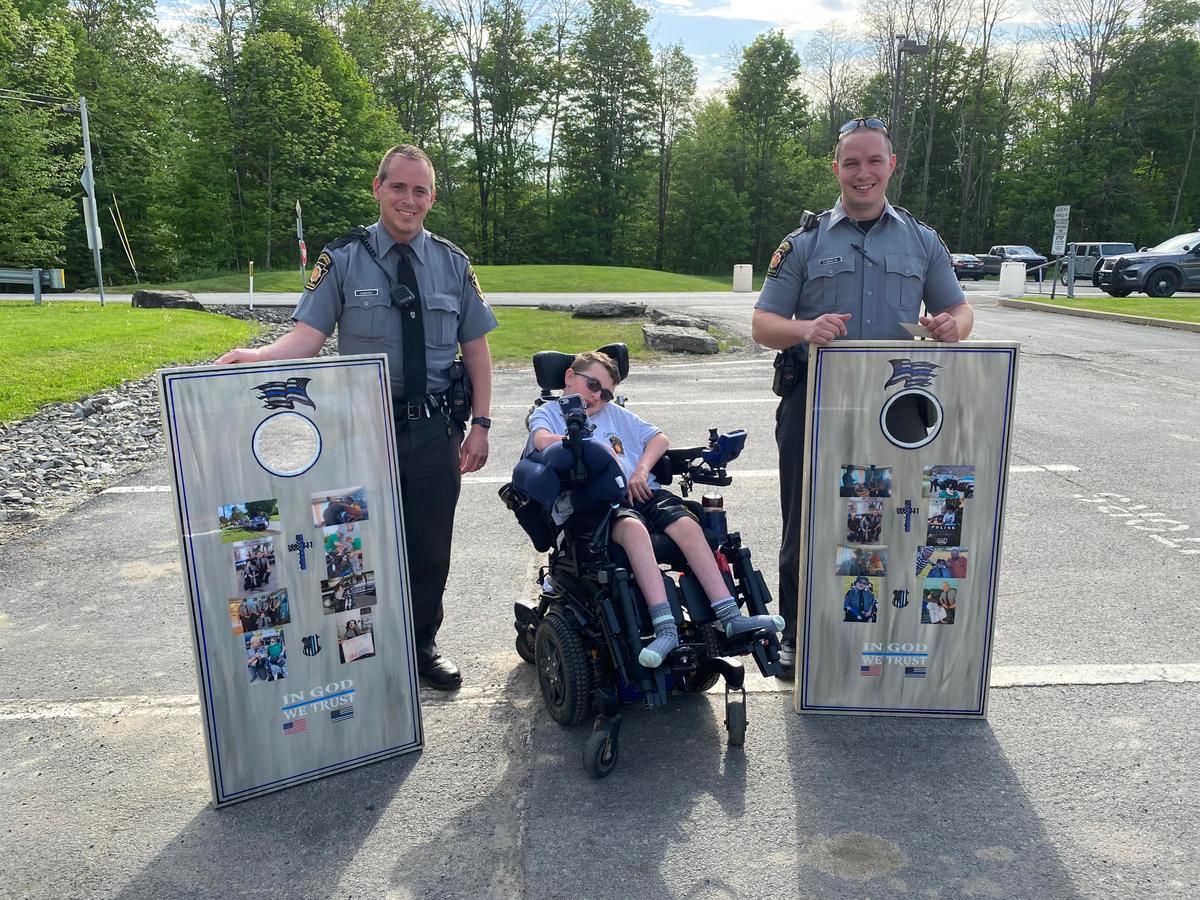 "I messaged a local photographer. It was her idea to have the local police officers come, I didn't even know she asked them," Rebecca said. "Josh was so excited to have the police officers with him; he loved the police truck and didn't want to get out of it.
"We have been very blessed by so many officers over the years. When Josh had his scoliosis surgery, the Pittsburgh Police came by almost daily to see him.
"They got him food, gifts, and toys, they would come sit with him for hours and play Uno with him, have nerf gunfights at the hospital, snowball fights; they definitely went above and beyond.
"Josh is strong-willed, and he loves life."
Rebecca and her husband of 23 years, Nicholas Bourassa, 40, live in small-town Pennsylvania with their daughter, Alyssa, 22, Josh, 17, and their brother Stanley, 15. They also have custody of Rebecca's nephews and niece: Austin, 19, Matthew, 13, and Delaney, 12. Rebecca is a stay-at-home mom; Nicholas works at a local sewer plant.
When Rebecca found out she was expecting Josh, they knew there was a 25 percent chance he could be born with Krabbe disease; they had already lost a child, Nicholas, to the same disease at just 9 months of age, and knew all too much about the devastating condition. They hoped for the better, but upon receiving a positive test result at 12 weeks, Rebecca was hysterical. The call that followed shocked her even more.
"It was a nurse, and her words were, 'Mrs. Bourassa, I'm calling to set up your abortion.' I instantly got sick to my stomach," she recalled.
"I went to the doctor and he really pushed for me to have an abortion, telling me why would I put myself and family through the heartbreak of losing another child? Why would I bring a baby into this world to have it suffer? I ended up changing my doctor shortly after. I don't believe in abortion, and my faith and trust in God definitely played a role in my choice."
Baby Nicholas, the older brother that Josh will never know, was born healthy in New York City on April 18, 2002, at a time when the city did not practice newborn screening for Krabbe disease. Nicholas progressed well for a few weeks, but then came constant crying. His pediatrician suspected gas, or colic.
Nicholas started throwing up almost everything he ate and was still crying constantly. Rebecca knew something was badly wrong, and the baby was admitted to the hospital for severe dehydration and abnormal temperatures. But when staff revealed he would be discharged after receiving fluids, Rebecca begged for a second opinion.
"I couldn't hold it together, all the emotions mixed in; nervous about what was wrong, relief that finally someone will figure this out, angry that other doctors didn't take this seriously," she recalled.
Yet answers wouldn't come for several months, during which time baby Nicholas vomited blood, was placed on a ventilator, and had to be tube-fed. After sending genetic samples to a lab in Philadelphia, baby Nicholas finally received his diagnosis.
"I sat there smiling, I said, 'Great, thanks, so how will you treat him and make him better?'" Rebecca recalled. "[The doctor] looked at me and said, 'I'm so sorry, there's nothing we can do; it's a terminal disease and we only give your son a couple more weeks to live.' My heart stopped beating."
Nicholas soldiered on for three more months. But despite the family's fervent prayers, he lost his fight for life on Feb. 1, 2003.
While pregnant with Josh, and with the perennial support of her parents, Rebecca started researching the disease and support groups online. She found an experimental cord blood transplant program for rare diseases at Duke University in Durham, North Carolina, and made plans for her baby to join the program.
"Josh was born on July 13, 2004," said Rebecca. "He was so tiny: 4 pounds, 3 ounces. We got to spend a little bit of time with him before he was rushed off for testing. We were told, without the transplant, Josh wouldn't live past 2 years of age.
"With the transplant, I was told it would give him a better quality of life, but long term they didn't know because he was only the ninth baby to have this done for Krabbe disease."
Josh was a fighter.
The family remained in North Carolina for Josh's first year and grew accustomed to his needs. Even his big sister, Alyssa, just 7 years old at the time, learned how to use a suction machine, a port feeding tube, and IV pumps, and helped her mom with morning blood draws.
The family watched a lot of police officers on TV in the hospital together. Rebecca suspects this helped inform Josh's love for law enforcement; he dreams of joining the force one day and wants to be a husband and father.
"He says he likes police officers because they are very cool and they help people," Rebecca explained. "He loves to see them; he loves the cars, the lights. He gets mad if I don't purposely try and get pulled over when he's with me in the car, just so he can say 'Hi!'"
As he grew, Josh found ways that work for him in interacting with the world and has never let his disability hold him back. He can talk, see, and hear, despite his initial prognosis, has a great sense of humor, and his family supports him every step of the way.
"He wanted to drive a car, so I took him on a back road, set him on my lap, and let him drive," Rebecca said. "He wanted to roller skate, so I got him skates and he did it; he wanted to do a tractor pull, so I took him to the fair, talked with the judges, and they let him hook his wheelchair up and pull ... the smile and happiness it gave him was worth all the gray hair!"
Josh's health, said Rebecca, has declined over the past five years; he has lost total use of his right arm and right shoulder, and peripheral nerve disease has spread through his neck and back, causing severe scoliosis and requiring surgery. One thing that keeps the family united in positivity is their refusal to let negative thinking take over. Josh is their ringleader.
"The last time we went to the hospital for his yearly check-up, I was crying; the doctor was telling us, 'Yes, the disease is progressing,'" said Rebecca. "Josh sat there eating his cupcake, and said, 'Listen, stop making my mom cry all the time. You told her I was gonna die lots of times before ... guess what, I'm still here and I can do everything I want to do, so you doctors don't know everything.' We all started smiling. Even the doctor."
Rebecca shared that Josh said he would like everyone to know that he is happy and well. He thinks everybody in the world should have a family; if you know a kid that needs a family, he implores, "be a family to them, and buy them some chocolate because chocolate always makes kids happy!"
Arshdeep Sarao contributed to this report.