With much of Europe gradually opening up after months of varying levels of lockdown, many of us may not be comfortable traveling across the Atlantic just yet.
It's not the same, but in these unprecedented times, we can take solace in online art offerings. One great option to see a world-renowned European collection is "The Director's Choice" online exhibition by The National Gallery, London. 
The exhibition focuses on 20 artworks from the gallery's collection as curated and narrated by the gallery's director, Gabriele Finaldi. The exhibition came about after Finaldi wrote a series of emails, exploring his favorite works in the gallery's collection. 
Finaldi began writing his insights after the gallery closed its doors during the March 2020 UK lockdown. Each week those musings, full of fascinating facts about the painting, the artist, and also the artwork's period, were sent out to the gallery's supporters. The emails proved so popular that "The Director's Choice" virtual exhibition was born.
From his emails, Finaldi selected 20 works for the exhibition. They span from the early-14th to the late-19th century and feature some of the Western World's greatest artists: Vermeer, Jan van Eyck, Michelangelo, and Rembrandt, to name a few.  
Rembrandt's "Belshazzar's Feast" is the first picture that greets you when you visit the online show. You can listen to Finaldi's description of the painting or read the accompanying summary text; either way, it's a lively exploration of Rembrandt's painting. Hint: The audio recording reveals bonus insights.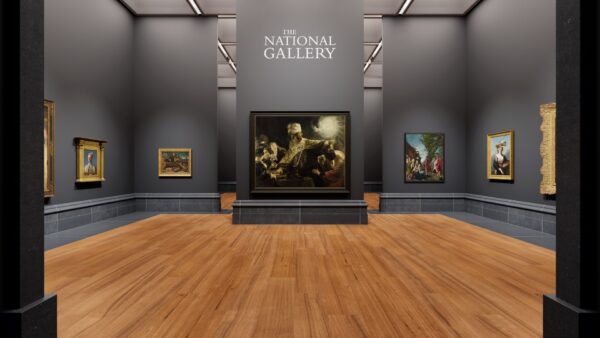 "Standing in front of it, you feel physically caught up in the drama as though you yourself have sprung back from the table at the dazzling and disturbing apparition," Finaldi says enthusiastically on the audio recording as he describes Belshazzar's shock and bemusement at the hand and Hebrew words that appear before him. 
The same sentiment of being "caught up in the drama" could be said about the entire exhibition. Finaldi's refreshing descriptions delightfully pull you into each painting, whether it's a historical painting or a portrait. For instance, of Giovanni Bellini's portrait of Doge Leonardo Loredan, he says that "this sense of profoundly human immanence is something that not all great portraits achieve." He goes on to say: "Cover the right side of his face and he appears grave, as befits a Renaissance ruler; cover the left and he projects a kindly bonhomie."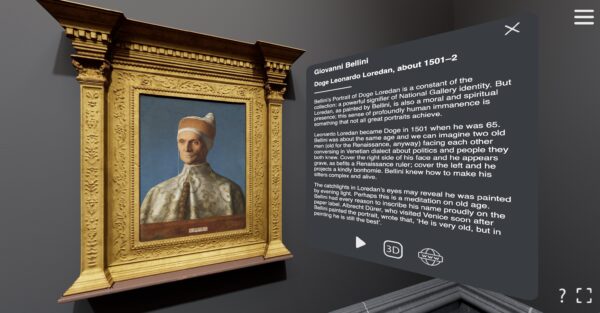 It's a treat to learn the director's insights, and it's a surefire way to bring visitors back to the gallery to see for themselves the masters' genius and brushstrokes. 
To find out more about "The Director's Choice" at The National Gallery, London, visit NationalGallery.org.uk