There's certainly no shortage of terrific food in Italy. I asked a few people who have spent a lot of time eating in the country—so much so that some ended up marrying Italians—about their favorite food experiences. They regaled me with some choice morsels, and though these are just food for thought, don't be surprised if they have you packing your bag for a visit. Viva l'Italia!
Michael White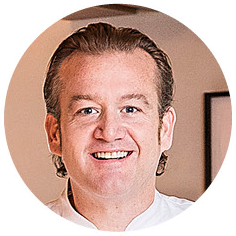 Chef and partner of Altamarea Group, White is a James Beard Award winner and has earned multiple Michelin stars.
As you can imagine, Italy holds a very special place in my heart. I have so many fond memories there, many of which deal with food. The first time I had tagliatelle Bolognese in Bologna was a truly ethereal moment. I mean, the pasta was handmade just that morning and the Bolognese made from fresh, braised meats. Something so simple, yet so amazing and delicious. I know I will never have that moment again.
Speaking of pasta, the first time I went on a hunt for truffles and then had the chance to shave those truffles over homemade pasta, is a moment I will never forget. They have these dogs just for truffle hunting, and we would all go out into the woods while the dogs dug for the truffles. Once we had them, we cleaned them, made the pasta, and shaved truffles that were just in the ground only moments before right over the pasta. It doesn't get any fresher than that!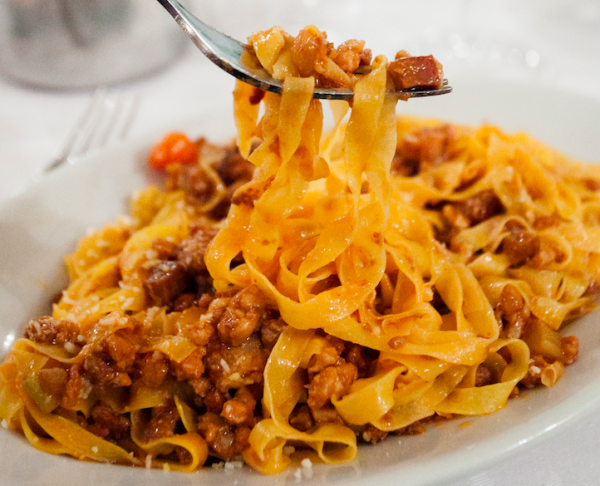 The meringuata gelato at Il Gelateria di San Crispino [in Rome] is like nothing I have ever tasted. They take these delicious meringue kisses, dip them in white chocolate, and incorporate them into their gelato. Since the meringue kisses are covered in the chocolate, they don't melt into the gelato, so when you take a bite, there is still a nice crunch. If you are going to have gelato, this is where you go!
Julia della Croce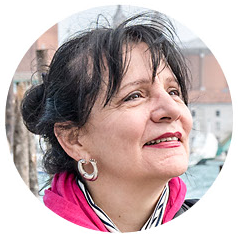 A journalist, noted authority on Italian food, award-winning author of 14 cookbooks, and writer for National Geographic, della Croce conducts highly acclaimed culinary sailing tours of Venice and its lagoon islands.
People are so touched by the kind of devotion that Mauro Stoppa, the host and captain of the Eolo, has. He is very devoted to bringing people into what the authentic Venetian experience is.
He restored an old fishing boat, one of three remaining bragozzo, which is a kind of flat-bottomed fishing boat designed for the shallow waters of the lagoon.
He lives on the boat and makes everything himself on the boat. He cooks the food of the lagoon—mostly seafood, since it's on the Adriatic. Fishermen come up to the boat with the fish they caught that morning.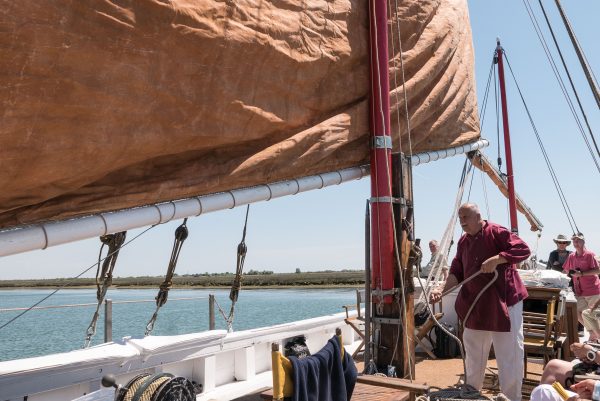 The food never stops coming. I'll tell you my favorite thing he made the other day. He had a beautiful branzino, the biggest branzino I'd seen—4 pounds? He baked it half-way, took it out of the oven, and made a delicious topping of fresh breadcrumbs mixed with herbs—fresh herbs from the little garden on the boat—and olive oil. He peeled the skin off the fish and packed this crumb coating on the flesh, and put it back in the oven. When it came out, it was very moist, and the topping created almost like a crust on the fish, which itself was very juicy. It was ridiculously good.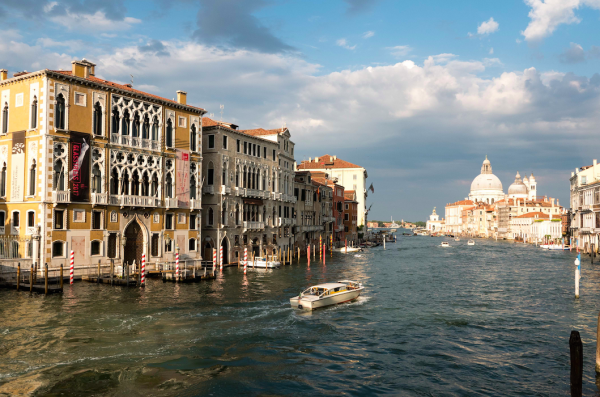 I've had things on the boat I'd never had before. One of them is whelk—it has the consistency of conch. He cuts it up and makes fritters out of it. And there's a special kind of shrimp native to the Adriatic called canocchia—it's so sweet, it's almost sugary.
We had a risotto that he prepared with something called sugoli. It's a cross between a strawberry and a grape in terms of flavor. He makes a conserve—a thick jam, without added sugar. The risotto itself was made with onion and vegetable broth; he served it with this conserve of this sugoli, and he said, "Don't mix it together. Put them together on the same fork, but keep them separate." It was delicious.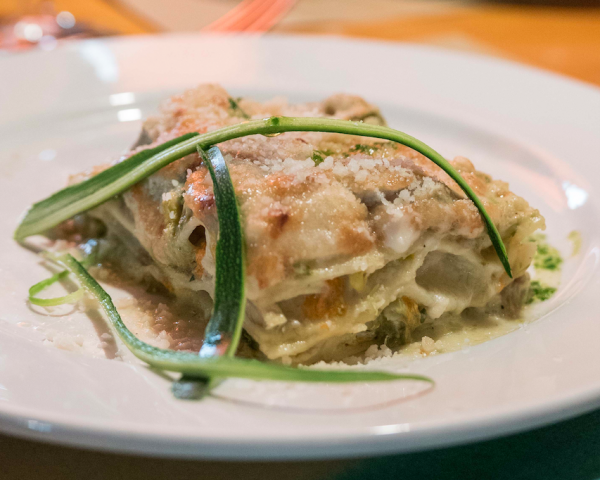 Hunting season for the ducks started yesterday, and today we had duck ragout and fresh handmade pappardelle for a first course, which one of our guests insisted on helping to make.
There are vegetables that grow on some of the lagoon islands, and also from the mainland, that are very typical. One of them is a kind of artichoke that is purple. In the spring, we get those, and they're very tender. We get three kinds of asparagus—two wilds and one cultivated.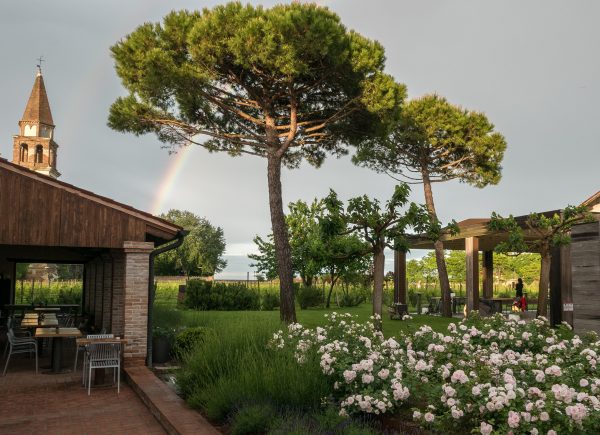 The wines are also local—very beautiful wines from the lagoon islands or somewhere in the Veneto.
The foods are very typical, very regional, and very much the kind of traditional cuisine of Venice.
Steven Jenkins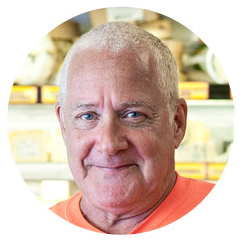 A former master buyer at Fairway and the James Beard Award-winning author of "Cheese Primer," Jenkins runs Steve Jenkins Imports.
I've never been wild about mussels; it's not like my fervor for oysters, and to a lesser degree clams, by any means. But I do enjoy mussels, though never as much as back in the early '80s when [my wife] Michelle and I had a late June, late-day lunch outside at a trattoria in Portovenere on patio of the piazza right on the gulf of La Spezia where just offshore you could see, sticking up a few feet above the Mediterranean Sea level, the innumerable sticks, the moorings, for the contraptions to which the young "datteri" (which means "dates," because to Italians they look like dates!) were grown and harvested. The mussels were sublimely fresh, and the broth was garlicky and splendidly hot and wine-y, and the bread was for dunking and washing down with the Cinque Terre white wine, chilly-cold.
I was in Bologna on business recently, in the dead of winter when it was snowing on and off all over Emilia-Romagna—raw and cold and un-Italian. My hosts drove us to a dreary suburb. The restaurant was a lovely and unassuming place named for its chef-owner, Giglia, a woman in her 60s, who was still cooking and apparently a local superstar, and it was here that the cuisine of Emilia-Romagna became riveting for me. Appetizing affetati—mortadella, salsiccia, and chunks of, naturally, Parmigiano-Reggiano stippled with very old balsamic vinegar—were laid out along with a couple of bulbous bottles of the local beloved chilled red Lambrusco. And then all heaven broke loose, with handmade tortellini stuffed with a forcemeat of capon, pheasant, and peacock, and of course "in brodo," a broth made from the same fowl as the forcemeat. Dusted with grated Parmigiano, the flavors were as startling and revivifying as anything I had ever, will ever, taste again. Then came rare, grilled Chianina beefsteak, sliced thick, crusty, as tender as your eyeball, doused with a sublime unfiltered olive oil.

And then there was a meal cooked by Elvira D'Alessio, my best friend Gennaro's sister, at her marmoreal home in Ercolano, the Vesuvian suburb of Napoli. Elvira also lives in Anacapri, where her cooking school resides along with her fame as the best cook on Capri. She roasted a huge dentice, the most prized fish in the sea, having done battle that day with her fishmonger. It was preceded by Napolitano affetati, followed by fresh handmade rigatoni tossed with a light tomato sauce that Italian women take rather seriously, to put it mildly. She followed the dramatic platter of dentice (served with the beloved local vegetable friarelli, sauteed like spinach—divine) with huge bowls of Neapolitan ice cream, a pyramid of rum-soaked babà al rhum, and of course, dark, strong local Torrefazione coffee.
Jeff Michaud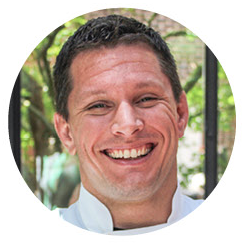 A James Beard Award winner, Michaud is the executive chef of Osteria and culinary director of Terrain Garden Cafe in Philadelphia.
The restaurant Osteria della Brughiera is by far one of my all-time dining experiences and continues to be one of the places I frequent often when I am in Italy. It is located in Villa d'Almè, Bergamo. Stefano Arrigoni is the owner and Paolo Benigni is the chef. The restaurant has a Tuscan theme, but they also cook many things from the region they are in [Lombardy].
Stefano and Paolo search out the most amazing ingredients from all over Italy, like the famous Coppa Piacentina from Emilia-Romagna, anchovies from Sicily, black truffle from their backyard as well as porcini, and the freshest fish from the Mediterranean Sea and the Adriatic seas.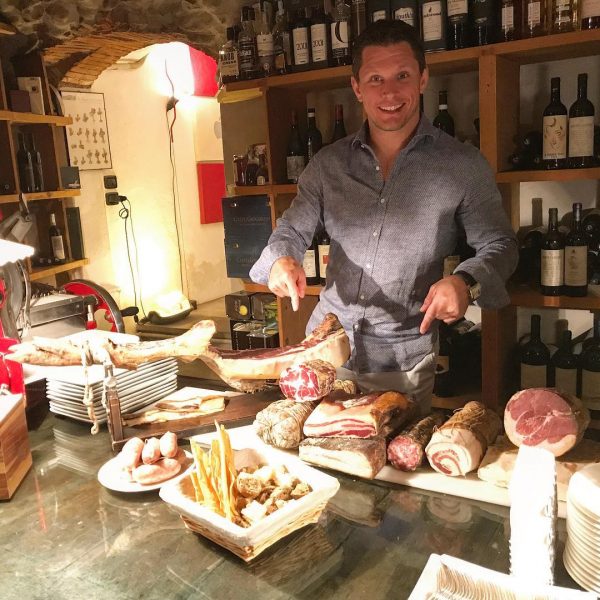 The kitchen stays true to the ingredients, and it shows in every plate that comes out of it. I have spent countless nights here until 4 a.m., eating and drinking with Stefano, and every time, he never ceases to amaze me.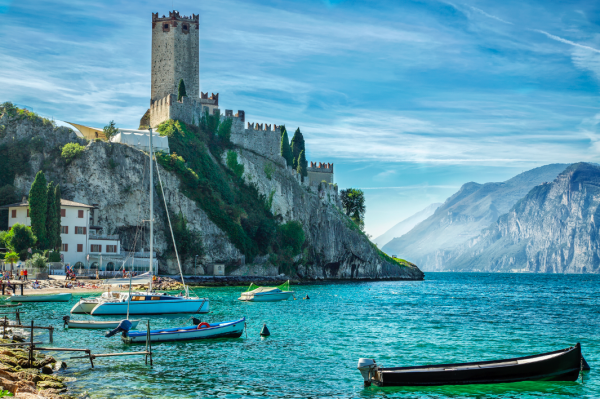 Lake Garda is located in Lombardy, about 45 minutes from my wife's house. It is the largest lake in Italy with a Mediterranean climate where olives, lemons, and capers grow. Some of the greatest and fruitiest olive oil comes from this lake region. The lake is also fished, and many of the restaurants on the lake serve what is caught. You can rent boats by the hour or for the day, and see the entire lake from a different perspective. The lake is divided as follows: The tip is located in Trentino, and the rest is split down the middle between Lombardy and Veneto. So when you travel along the lake, the cuisine can vary depending on which region you are in. There are also some great wines that are made in the Lake Garda region, like Chiaretto and Lugana.
Katie Parla
Katie Parla is a Rome-based food and beverage educator and journalist. Parla co-authored the cookbook "Tasting Rome: Fresh Flavors and Forgotten Recipes from an Ancient City" with photographer Kristina Gill.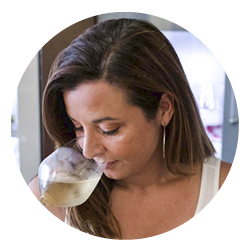 Vannulo is set just off the SS18, an unsightly stretch of state road that connects the A2 highway to the hulking, honey-hued Greek temples at Paestum. A 10-minute drive from the site, Antonio Palmieri has been making cheese on the family farm since 1988. His grandfather began raising buffaloes for their milk about a century earlier, but Antonio was the first in his family to enter the production arena. His devotion to quality has led him to create a completely closed system. The mozzarella is made exclusively by hand and only with the milk from the farm (most buffalo farms sell their milk to large industrial producers). Vannulo operates a café and retail space on site, where they sell their limited amounts of mozzarella—and yogurt, gelato, and buffalo milk chocolate—daily. To ensure the best-quality product, they don't have any off-site distribution. I arrive early, cooler in hand, to make sure I get the mozzarella worthy of the three-hour drive from Rome.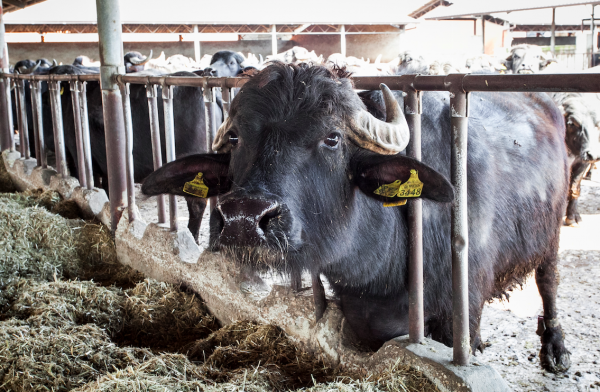 At Trattoria Masella, a working farm with a restaurant and rooms for rent, a snarling dog defends the pig sty. On a recent trip to this family-run establishment in Cerreto Sannita, Campania, proprietor Dino held his protective canine back as I inspected his hogs, a couple of dozen happy animals who eat organic feed and supply the farm and restaurant with meat and fat. The area around the farm, which sits at the edge of steep Apennine peaks, is known for its rustic mountain fare that never wastes a thing. Even the scraps left over from rendering pork fat (cicioli) are used and they make their way into dishes as a savory flavoring. In the case of manell', so-called because they take the form of one's hand (mano) as they are shaped, cicioli are mixed with cornmeal and served at festive meals and especially holidays, but Signora Masella will make them upon request at her trattoria year-round.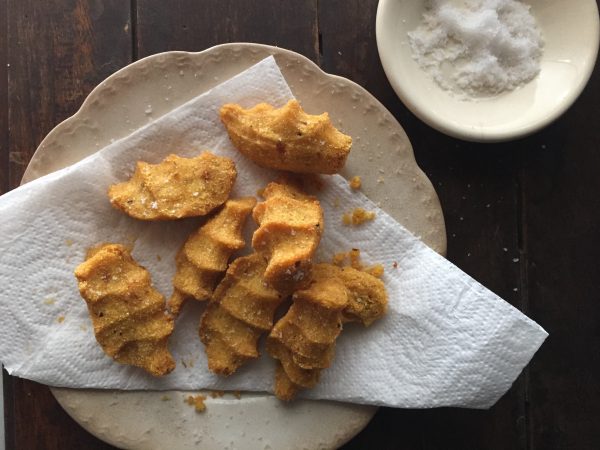 In June, I was traveling to Rotonda, a village in the mountains of Basilicata to track down the elusive red eggplant. This unique produce grows in the village's gardens and few other places in Italy. While on the hunt, I ran into Rotonda's annual festival, during which farmers bring their bulls down from the mountains to be blessed at the church. Hundreds of bulls lumbered through the streets, occasionally stopping with their owners at a cafe or bar for a beer or a snack (for the owners, of course). I reflected on this ancient ritual while devouring pickled red eggplants at Da Peppe, my favorite spot in Rotonda, later that night.