There are two surfing breaks off uninhabited Thamburudhoo that make the tiny Maldives island a surfer's paradise. There's the left-hand Honkey's, and the right-hand Sultans, which split in two as they hit the reef off the windward point of the tiny islet. Should you visit this speck of wonder in our world, you might just catch a glimpse of a golden tanned athlete silhouetted against a crimson-red sunset. What follows is a breezy reminder of the true essence of travel.
I was first introduced to Sergey Rasshivaev some years back when I asked a friend in Russia about bold, adventurous types for a story I was writing. I knew that I was on the right track when my pal's recommendation of Sergey came with the billing, "Phil, the dude surfs in Kamchatka and the Arctic." Indeed, Russia's uber surf dude pushes the envelope in that epic quest for the perfect wave. Luckily, there's a remarkable lesson in this fearless Russian's pursuit of the "Endless Summer." As surfing legend Kelly Slater once put it, "Surfing is all about the experiences we have." He meant that the travel aspect of surfing, or experiencing the world in a way only surfers can, is something unforgettable.
The North Malé Atoll in the Maldives is one of those dreamy places you see on advertisements for movie-perfect honeymoon vacationing. It's a beautiful postcard destination to tease and tantalize future tourists, and a legitimately stunning backdrop for newlyweds, but also for every conceivable water sport. In this tropical wonderland of roughly 85 islands, the Maldivian sun warms flawless white-sand beaches, majestic palm trees, frangipani flowers, and nine world-class surf breaks that attract professional and amateur surfers from around the world.
I caught up with my friend last week via Facebook Messenger at his camp on the tiny Huraa Island, a few minutes by boat from Malé, the capital, and Hulhumale Airport,  just as the season for surfing those breaks closed out. This was our first chat in almost a year, so I was stoked to hear of Sergey's latest adventures. A lot has happened since he and I last spoke about a short surfing film he was involved with titled "Episode 4—Kuril—Typhoon Autumn." Now, Sergey and his wife Tania Elisarieva are chasing that perfect wave at a spot known as the Sultans, a right-hand tube break that never-ever closes out (breaks down). This adventurous Russian couple from St. Petersburg goes to the Maldives once or twice every year to work with their friend Sukey, who owns Sunset Holidays' surf camp.
I asked Sergey how he became acquainted with the Maldives for the first time. He explained how the islands have always been a kind of surfer's destination, and that he and his wife always wanted to travel there. Sergey and Tania ended up selling their car to get the money to travel to the Maldives initially. And a "no show" by the people who were supposed to meet the couple led to their opportune meeting with Sukey. Since 2011, Sergey and Tania have sold tours to clients, who in turn board with Sukey to get a dose of the local lifestyle, and to surf some of the best breaks anywhere.
Pearls for Visitors
Anxious to find out aspects of the Maldives few people see, I asked Sergey and Tania for suggestions and for photos of the action and the island. They gave me the rundown on the regions of the Maldives, how each particular area suits the individual visitor and offered these friendly tips:
– Try snorkeling or SCUBA diving
– Be sure and sample the local fish
– Surf—or just watch the surfers
– Be ready for lazy holidays if you're not a surfer or diver
– Respect and be nice with locals—they will reciprocate 10 times over
These islands are blessed with a unique set of characteristics that dictate individual experiences. For instance, the Southern Atolls are not just well-suited for surfing, but for superb fishing and astonishing snorkeling experiences.
The Center Atolls are hit by the southwest swells which make the breaks well-suited to most surfers. It is here snorkelers and beachcombers blend in with upmarket resort goers who want the laid-back Maldives memories to take home.
Next is the North/South Malé area where surfing instructors, like Sergey, travel with groups to snag that ideal wave. This part of the Maldives can get a bit crowded at times owing to the quality of the breaks. In this region, you'll find the widest array of surfing experiences from beginner to expert.
I know from experience that Sergey's tour company (SurfHolidays.ru/en/) offers instruction for beginners and seasoned surfers from Australia to Ecuador. However, when I asked him about the North Malé camp and Sultans he told me pointedly, "Sultans is not a place for first-timers."
Those who want to learn to surf in the Maldives, he said, should seek out International Surfing Association-qualified surf instructors at places like the Kandooma Resort and Cokes Surf Camp, both of which offer expert learn-to-surf packages.
According to Tania, Kandooma is one of the best places for families with kids since it has beautiful white sandy beaches that stretch almost all the way around the small island. The resorts nearby also are well-suited for travelers who prefer to live out their Maldivian dreams from sun lounges or at the pool. Here, non-surfers seek out exclusive getaways like the Jumeirah Vittaveli, which features diving and snorkeling excursions, as well as the Kuda Koda kids club and more diversions. The list of such resorts includes the Four Seasons Landaa Giraavaru, The St. Regis Maldives Vommuli Resort, and the all-inclusive Constance Moofushi, to name a few.
Huraa Island, where Sergey and Tania set up their base of operation, is situated right in between Himmafushi and Thulusdhoo islands, this tiny atoll is about 13 miles from Malé.
With a population of no more than 750 people, the little island is one of those places where everyone knows everything about everybody else—and where nobody cares. Even though I knew the island was tiny, I was surprised when Sergey informed me there is only one cafe where hardly any visitors choose to eat. As it turns out, most of the surf camps offer all-inclusive holidays, and the groups Sergey and Tania bring hang out and eat at the Sunset Holidays facilities.
As it turns out, enthusiastic surfers bound for the Sultans and other breaks are not all that interested in cliche bar hangouts and beach parties. In fact, alcohol is not even legal in the Maldives, though most of the big resorts ignore the laws. First-time visitors to these islands need to know the Maldives is a Muslim country with traditions and customs many may not be familiar with. Another important cultural and religious aspect newcomers to the Maldives should adhere to is the dress code.
In the Maldives, it is acceptable for men to wear T-shirts and shorts or swim shorts, but females should avoid causing offense by dressing more conservatively. Ladies should wear T-shirts and loose fitting shorts instead of bikinis, unless they are on uninhabited islands, sandbanks, on dive boats, or at a resort island.
Riding on the Crest of Life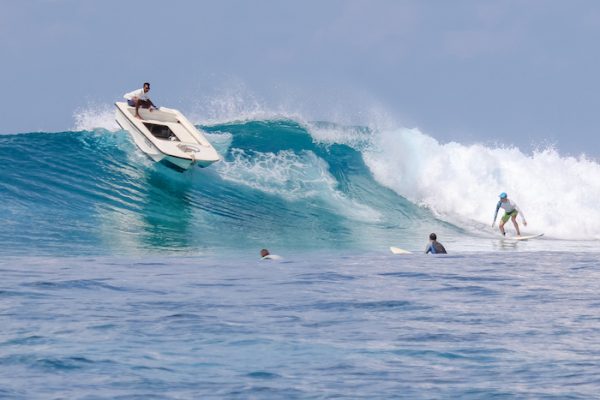 Hollywood has, once again, imagined for us a wild and wooly thrill-seeking set right out of the surf/action movie "Point Break," when in reality the surfer's lifestyle is more about pure sport and passion. Sergey, Tania, and most of their world romping "brahs" are in the Maldives to surf twice a day, to eat and rest, and then to awake in the morning hoping to find the ideal wave. Kind as always, Sergey did not even chastise me for imagining he and his comrades playing "Beach Blanket Bingo" (a 60s surfer movie).
Anyhow, on tiny Huraa there are some "finds" if you know where to look, which is not very far. For one thing, the prices of souvenirs there are lower than in Malé, and there are great snorkeling trips and dolphin watching tours too. The islet has a beach for swimming, even swimming with dolphins and night snorkeling, and certified SCUBA lessons, not to mention the photo safaris with sea turtles.
For me and mine though, begging passage on the boat that takes Sergey and Tania out is where we'd undoubtedly be. I am visualizing it now; the tanned and fit Sergey lost in the performance of a perfect, solitary surfer's ballet on a curl that never dies.
Sergey's story is one of spirit, adventure, and of being a genuine traveler through life. When he told me how he and Tania had to sell their car to get to these islands the first time, I realized their story is like nothing I've ever heard before. Their quest for the perfect wave is real. They do chase the sun in a fashion reminiscent of the iconic surfer film "The Endless Summer" by the now legendary filmmaker and surfer Bruce Brown. There still are purists who believe and who live the lifestyle.
As for Sergey and Tania, they've left the Maldives for St. Petersburg in Russia, until February, when they head for the Dominican Republic. Then they're off to Russia for cold trips (Arctic surfing), back to the Maldives, to Europe and Russia in May, the Maldives once more, and off to Bali next October.
I admire the pair, for in this wave we call life, theirs never closes out and their dream never breaks down.
Phil Butler is a publisher, editor, author, and analyst who is a widely cited expert on subjects from digital and social media to travel technology. He's covered the spectrum of writing assignments for The Epoch Times, The Huffington Post, Travel Daily News, HospitalityNet, and many others worldwide.