If you've ever been to a church potluck in the Deep South or Midwest, you're undoubtedly familiar with ambrosia. If you're unacquainted, it's a syrupy sweet, quivering mass of canned fruit, non-dairy whipped topping, coconut, and miniature marshmallows, a sort of dessert that teeters toward fruit salad (or vice versa). It often appears at Thanksgiving and Christmas tables, and, as you might imagine, people have strong opinions about the dish. It's something you love or hate, with little room for the in-between.
There are countless variations, with every cook convinced theirs is the best way to prepare the dish. What one cook might consider essential, another cook might consider an offensive adulteration. Most recipes call for canned pineapple and mandarin oranges, dried sweetened coconut flakes, and non-dairy whipped topping. Maraschino cherries appear in many recipes, and some cooks swap canned fruit cocktail for the mandarin oranges and whipped cream. Cottage cheese, sour cream, bananas, and chopped pecans number among the more unorthodox additions.
It's a dish that leans on packaged and canned foods—but it wasn't always so. In many ways, ambrosia salad exemplifies a distinct shift in American food culture from the fresh to the processed.
Steamships and Railcars
The first versions of the dish began to appear in the 1860s, and its popularity gained momentum well through the turn of the 20th century until it became a mainstay of American kitchens. Named after the food of gods in Greek myth, ambrosia promised to be not only delicious but almost celestial in its taste, too.
The earliest version of the recipe was published in "Dixie Cookery" (1867) by Maria Massey Barringer, which called simply for sprinkling oranges with a bit of sugar and layering them with freshly grated coconut. By the 1880s, recipes had shifted to include pineapple and sometimes rum, Madeira wine, or sherry, but the essence remained the same: fresh fruit, fresh coconut, and the slightest sprinkle of sugar.
An increasingly globalized supply chain fueled the popularity of ambrosia as, rather suddenly, fruits that had once been rare became more accessible. Steamships brought fresh coconuts from the tropics, while citrus fruits came by rail from California and Florida to middle America. These fruits, so commonplace in grocery stores today, still had an air of the exotic. Using them together made the dish seem distinct and extraordinary, which is why it still holds a cherished place at the holiday table 150 years later.
Around 1920, ambrosia began to shift, with newer recipes incorporating cherries, whipped cream, and marshmallows. Marshmallows were trending in 1920s American kitchens, much in the way matcha seems so popular today. Cooks incorporated them into just about everything: fruit salads, creamy desserts, and even, oddly, savory dishes, such as baked lima beans. They seemed a natural addition to ambrosia, and worked so well that, a century later, few recipes feel complete without them.
World War and Food Chemists
During World War II, the canned food industry boomed. Manufacturers were under pressure to supply the war front and increased production of canned foods to meet that need. However, when the war ended, the processed food industry needed new customers and started to market directly to homemakers, promising that canned foods liberated mothers from the tedium of cooking from scratch. Then, canned fruit quickly replaced fresh in ambrosia.
By the mid-1960s, when chemists at General Mills invented Cool Whip, the dish bore little resemblance to the original. Instead, what was once delicate, simple, and marked by its distinct freshness became a dish noted for its use of processed and canned foods.
Making Ambrosia the Traditional Way
Whether you love or hate the modern style of ambrosia, the earlier versions of the dish are worth making. You start by segmenting fresh oranges so that only the supreme, or the flesh of the orange absent of its peel, pith, and membranes, remains. If you've never segmented an orange, it can be a touch tricky.
First, slice away the orange's peel and pith with a sharp paring knife, then slide your knife against the orange flesh, freeing each segment from the membrane. To the bits of orange, add chopped fresh pineapple and freshly grated brown coconut. A coconut reamer is perfect for this purpose; however, you can also substitute dried unsweetened coconut if you don't have one. Lastly, sprinkle the fruit with sugar. Sugar not only enhances the fruits' sweetness, but it also encourages them to release their juices. As a result, the flavors meld together more seamlessly.
Traditional ambrosia is best eaten the day you make it. It can keep in the fridge for up to 3 days, but it loses a bit of its perkiness and freshness when stored too long.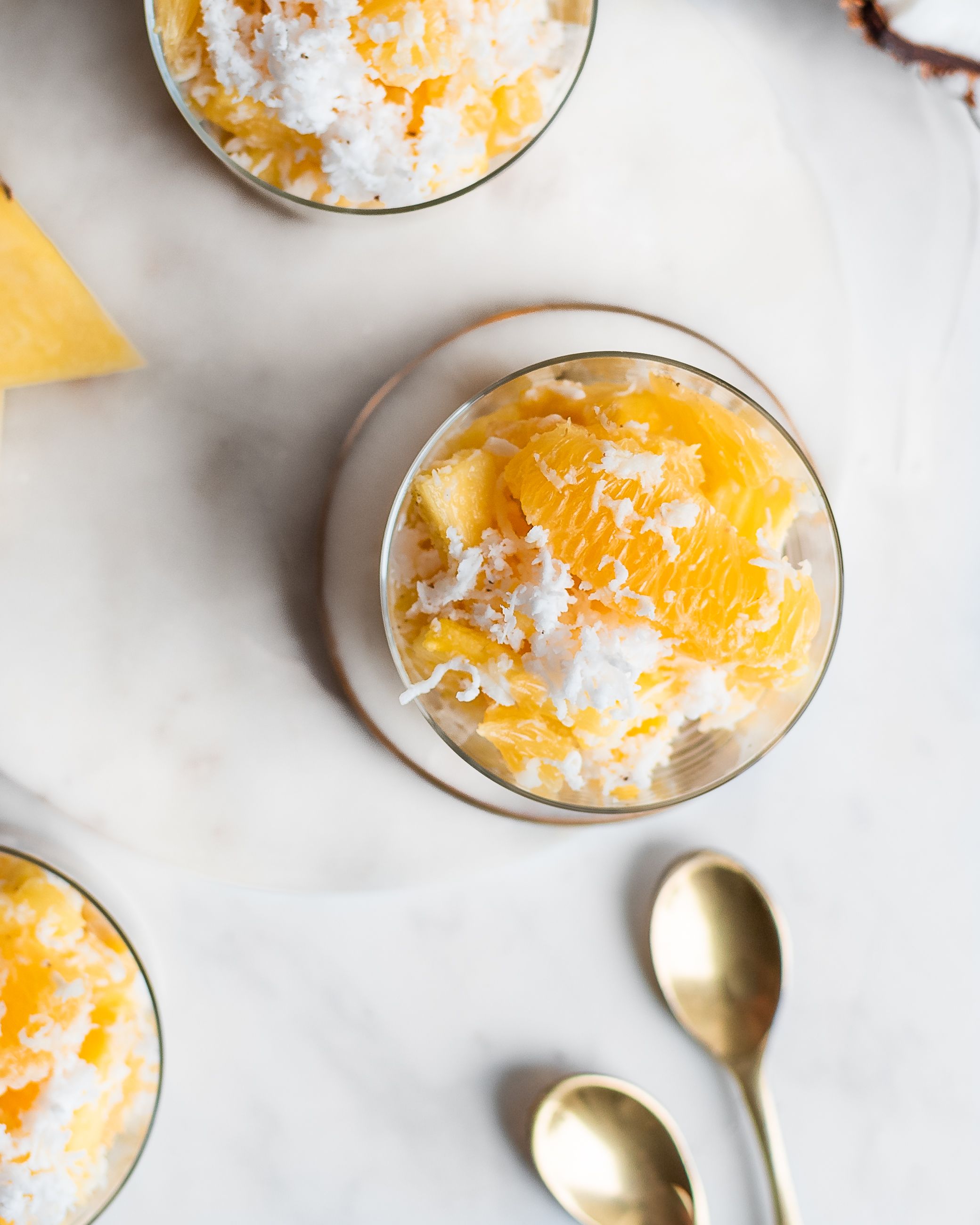 Fresh Ambrosia Salad
Fresh citrus fruit and pineapple shine in this traditional version of ambrosia, which is graced by clouds of freshly grated coconut. Fresh coconut gives the dish a pillowy softness; however, you can substitute 2/3 cup dried, unsweetened coconut flakes in a pinch. This recipe is adapted from "Miss Corson's Practical American Cookery and Household Management" (1886) by Juliet Corson.
Serves 6
4 navel oranges
2 cups chopped fresh pineapple
2 cups finely grated fresh coconut
2 tablespoons rum (optional)
1/4 cup sugar
Working one at a time and using a sharp paring knife, slice the bottom and top quarter inch off of the oranges. Set each orange firmly on your cutting board, and then slice away its peel and white pith, exposing the fruit's flesh and taking care not to cut too deeply into the fruit.
With the peel gone, hold the fruit firmly but gently, and slice the flesh away from the papery, transparent membrane. Discard the peel, pith, and membrane, and then place the remaining fruit into a large bowl.
Add the pineapple to the bowl, and then fold in the grated coconut. Sprinkle with rum and sugar.  With a gentle hand, fold the ingredients together until evenly distributed, and then tip the salad into a serving bowl or serve it in individual dishes.
You can store ambrosia in a tightly covered container in the fridge for up to 3 days; however, it's best consumed the day you make it.