Aerial Artist Says Shen Yun 'Very Synchronised'
April 27, 2014 9:22 am Last Updated: April 27, 2014 9:22 am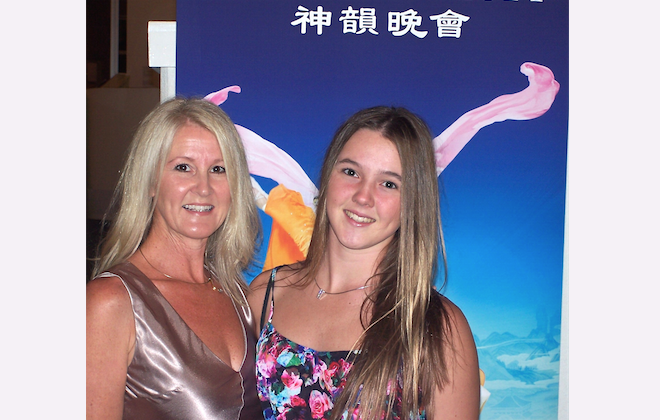 GOLD COAST, Australia—Mother and daughter Lena Odwyer and Chanel Phelan experienced the wonder of Shen Yun Performing Arts at The Arts Theatre, Gold Coast, on April 26.
Ms. Phelan is an aerialist, who does trapeze with lyra and silks. She loved watching Shen Yun.
"It was really good, good to watch, good actors, very synchronised, very enjoyable to watch," she said.
"Spectacular! Very powerful, lots of drama and lots of colour, good to watch, entertaining."
Shen Yun is based in New York, and portrays the divine culture that flourished in China for 5,000 years, according to its website. "Humanity's treasure was nearly lost, but through breathtaking music and dance, Shen Yun is bringing back this glorious culture."
Ms. Phelan appreciated learning about the culture. She said the classical Chinese dance was "very different to others; it has a lot of culture in it."
Ms. Odwyer, a social worker, agreed with her daughter. "Very interesting, we're enjoying that, we're learning about the culture, lovely," she said.
She was was also impressed by the dancers' agility.
"Beautiful costumes! They're amazing with their movement, their tumbling, and their dance, very entertaining."
The Shen Yun Orchestra combines traditional Chinese and classical Western instruments, playing original scores.
Ms. Odwyer said, "That is amazing! That is a bonus. Very nice music, very dramatic, and everything ties in so nicely."
The three-dimensional digital backdrop is another unique feature of Shen Yun.
The company website explains, "With state-of-the-art graphics technology, Shen Yun's digital-backdrop team creates vividly animated settings, extending the stage and transporting the audience to a world where heaven and earth are one."
Ms. Odwyer added, "The backdrop is great. I think it adds another dimension to the show. I wasn't expecting that, so it's amazing. Yes it has a bit of everything, something for everyone."
Reporting by NTD Television and Leigh Smith
New York-based Shen Yun Performing Arts has four touring companies that perform simultaneously around the world. For more information, visit Shen Yun Performing Arts.
The Epoch Times considers Shen Yun Performing Arts the significant cultural event of our time. We have proudly covered audience reactions since Shen Yun's inception in 2006