In the Maremma, a rugged stretch of Italy's western central coast, you will find a Tuscany that you do not expect. It is far from the Renaissance splendor of Florence, or the stereotype of the Chianti hills covered with vineyards and olive groves. 
The Maremma is the land of Tuscan cowboys, the butteri, of buffaloes and cattle with half-moon-shaped horns. It is wild; it stretches from sandy coasts with pine forests to wooded hills up to Mount Amiata.
Here you will experience that thrilling feeling of discovering a region for the first time, laying your eyes upon a landscape of hills sloping toward the sea not yet touched by hundreds of tourists before you. 
Here you will feel at home, welcomed by the region's practical and straightforward hospitality. You can visit dairies and organic farms, markets on the seafront and sagre, the local food festivals. It is a land of foraged mushrooms, of wild boar and game meat, of the famed tortelli maremmani, the large spinach and ricotta-stuffed pasta. 
But a dish that better represents Maremma is its iconic bread soup, the humble acquacotta.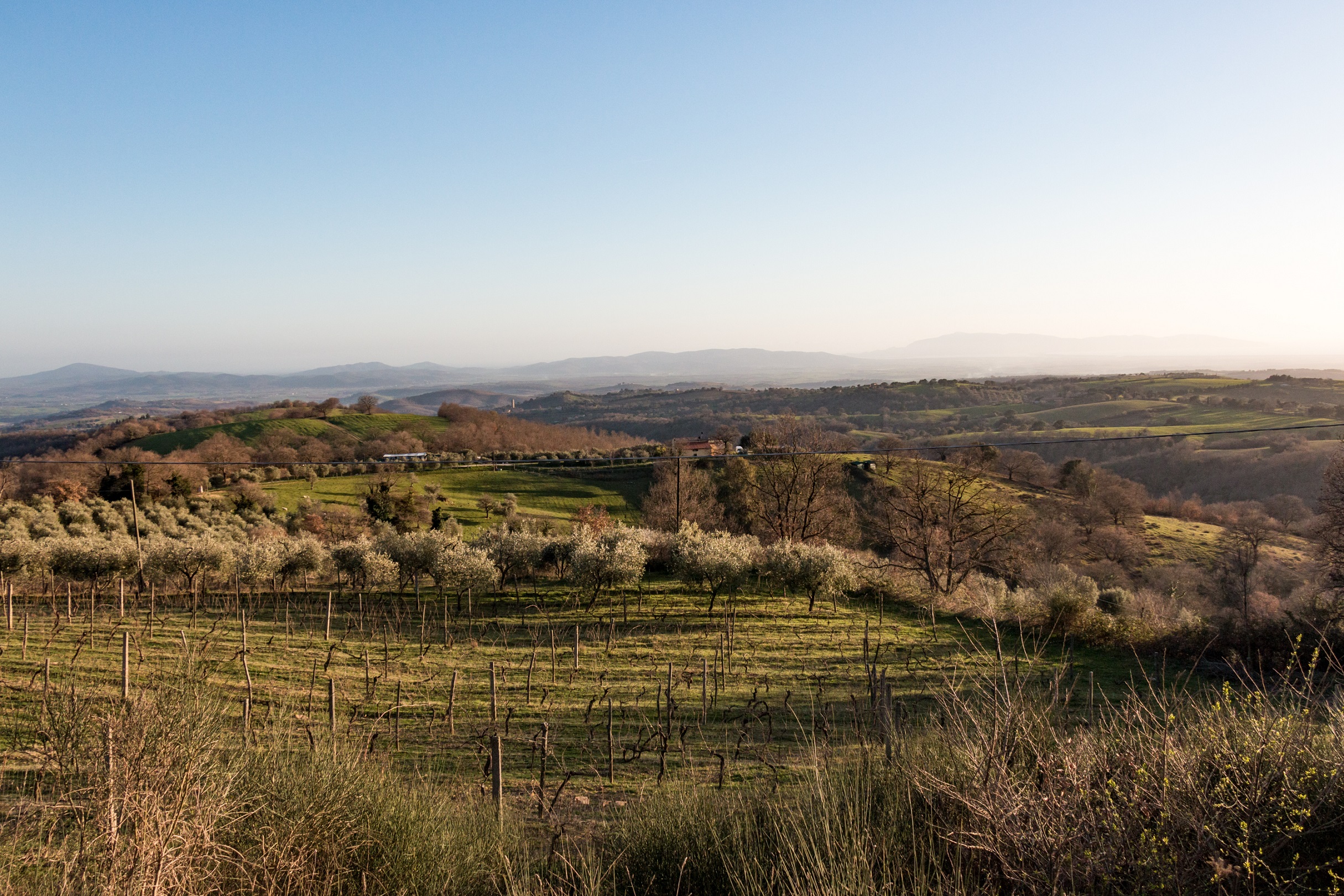 Humble Origins
Formerly a swampy marshland, the Maremma area was considered unhealthy and dangerous, a place where one could easily die of disease or hunger. When the area was plagued by malaria, people took refuge from the marshy plains high up in hilltop towns like Pitigliano, Sorano, Capalbio, and Massa Marittima. Extensive redevelopment works later revitalized Maremma.
Though it lay abandoned for centuries, the Maremma was a destination for seasonal workers from the Amiata, Casentino, and Apennine mountains, who would descend from their mountainous homes in the winter to make charcoal. Acquacotta is a nomad dish that followed the people from Mount Amiata who traveled to the plains of Maremma each winter in search of work, bringing with them only a few ingredients. 
Literally "cooked water," acquacotta is a perfect example of Tuscan peasant cooking. This cucina povera relies on ingredients such as stale bread, seasonal vegetables, beans, and cheap cuts of meat—and on the resourcefulness and ingenuity of Tuscan housewives, who could turn wilted greens and leftover bread, used down to the last crumb, into delicious and nutritious dishes.
Acquacotta is one of many dishes that feature stale bread and seasonal vegetables as their main ingredients. Others include pappa al pomodoro, a tomato bread soup; panzanella, a tomato and cucumber bread salad; and the iconic ribollita, a bean and Tuscan kale soup thickened with slices of stale bread.
How to Make It
The basic ingredients for acquacotta are water, onions, stale bread, a drop of olive oil, and salt. I should list time as one of the main ingredients, too, as the soup is so bare that the only way to extract flavor is to use time.
You begin with plenty of finely chopped onions, cooked in a large pan in a few tablespoons of olive oil until soft and translucent, so that they can reveal their sweetness. 
There's often chili pepper in this soffritto, the sautéed onion in olive oil. Though Tuscan cooking usually relies on black pepper rather than chili pepper, which is a more Southern ingredient—think to Calabria and its love for extremely spicy food—in the local food of Maremma, you often find the unmistakable heat of a pinch of chili. Sometimes, when in season, you can add a few leaves of basil to the soffritto, too.
Apart from the basics, the ingredients change according to the season. Celery is very common: chop a few stalks, without the leaves, and add them into the pot along with the sautéed onions. Tomatoes are typically added, either the canned, peeled variety or those small, thick-skinned vine tomatoes kept for months in a barn. Carrots, which might normally be paired with celery in soups, are seldom used, as they tend to make the acquacotta too sweet.
Many families add seasonal leafy vegetables, such as Swiss chard or spinach; foraged herbs would be a perfect complement to a seasonal acquacotta, too. Bountifully available in the wild and slightly bitter, they would benefit from a long cooking, to soften their stringy texture.
Simmer all the vegetables on the lowest heat, until you get a chunky, flavorful soup. Then, place a slice of stale bread at the bottom of a bowl; you can toast it or rub it with garlic, if you like. Pour the soup with a ladle over the bread, adding enough broth to soak it through.
This is for a poor acquacotta, probably very close to the original recipe, made with the simplest ingredients you could find in the back of your pantry or in the wild. Nowadays, in some local trattorias, you can even find on the menu an acquacotta made with stock instead of water, which is quite curious, as such a recipe loses one of its basic pillars, and the very reason for its name.
Given that the times are not as meager as they used to be in the Maremma, eggs and pecorino cheese have become key ingredients for acquacotta, too. The eggs are poached directly in the soup, just before serving: cook them until the whites are thick and the yolk runny.
Finish the soup with a generous dusting of pecorino, the typical sheep's milk cheese of the Maremma region, and if you have some fresh ricotta, stir a spoonful into your bowl—it will immediately thicken the soup and add a delicate, milky flavor.
Acquacotta
Serves 4
5 tablespoons extra virgin olive oil
4 yellow onions, finely chopped
Dried chili pepper or red pepper flakes, to taste
4 stalks celery, finely chopped
1 cup white wine
1 (28-ounce) can whole peeled tomatoes
8 cups warm water
Salt
4 eggs
4 slices stale bread
Aged Pecorino Toscano
In a large pot over low heat, add the olive oil, chopped onions, and dried chili pepper. Brown the onions for about 10 minutes. When the onions are translucent and begin to caramelize, add the finely chopped celery and sauté for 10 more minutes, stirring often.
Pour in the white wine and cook off the liquid on low heat for another 10 minutes.
Break up the tomatoes with your hands and add them into the pot, along with the water. Stir and adjust for salt. Cook on very low heat for about 1 hour, stirring from time to time to keep it from drying out too much.
When the soup is ready, crack in the eggs. Cover the pot and let them poach directly in the soup, until the whites are set.
To serve the acquacotta, place a slice of bread in each bowl, top with a poached egg, and ladle the chunky soup all around it. Finish with a generous dusting of grated pecorino cheese.
Recipe by Giulia Scarpaleggia 
Giulia Scarpaleggia is a Tuscan born and bred food writer, food photographer, and author of five cookbooks, including "From the Markets of Tuscany." Find her online at her blog, JulsKitchen.com