HAMILTON, Canada—Boris Brott is one of Canada's most internationally recognized composers, and an acknowledged luminary of orchestral music in Canada. He is the founder of the National Academy Orchestra of Canada and the Brott Music Festival.
Monday night at the FirstOntario Concert Hall was a new experience for Brott, an introduction to a new type of symphony featuring a combination of instruments, some of which he has worked with for decades, and others from ancient China.
"I enjoyed it thoroughly, the idea of combining ancient instruments, Chinese instruments, and modern classical instruments is something I find fascinating," he said after seeing New York-based Shen Yun Performing Arts.
"It creates a completely different combined sound."
Brott described an experience that reached the heart of what music aims to achieve.
"The music basically touches our soul, which is not a part of our body."
Shen Yun's orchestra accompanies the performing arts company's classical Chinese dancers, recognized globally as among the very best in the world.
"We can see and the expression of the stories is so well told by the music, and the dancing is spectacular," Brott said.
Brott said he was captivated by the jumping and tumbling techniques of classical Chinese dance, energetic movements that originated centuries ago and were later taken from classical Chinese dance and popularized as acrobatics. He also enjoyed Shen Yun's animated backdrops which interact with the dancers on the stage.
"This new film technique of being able to have the dancers disappear and re-appear on the screen, I'm not sure how it works but I am interested to find out," he said.
'Brings out all the senses'
Brott's musical accomplishments are long and varied. He is the founding music director and conductor laureate of the New West Symphony in Los Angeles, and artistic director and conductor of the McGill Chamber Orchestra in Montreal. He has been a guest conductor touring Italy and has been honored in Canada for his work by being made a member of the Order of Canada.
Brott has helped develop orchestras in Hamilton and Winnipeg and has found innovative ways to introduce orchestral music to new audiences, including in his previous role as the principal youth and family conductor with the National Arts Centre Orchestra in Ottawa, where he continues to conduct.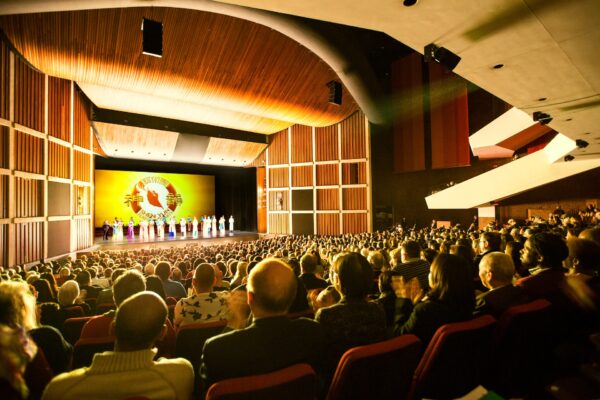 He said Shen Yun was a new and fascinating experience and he looked forward to an opportunity to be able to work with Shen Yun's dancers and musicians.
"This is the first time I have ever seen this show, so for me, it's a very spectacular event," he said.
Brott offered a "bravo" to both Shen Yun's composers as well as the evening's conductor.
"It's a performance that brings out all the senses, our eyes, our ears, and our hearts. That's what is important."
Shen Yun was founded on a mission to revive 5,000 years of divinely inspired Chinese culture. China has the longest sustained civilization in the world today, with an incomparable volume of recorded history and wealth of literature, myths, and legends. This wealth includes China's three traditions of Buddhism, Daoism, and Confucianism which provide profound insight into human life, society, and culture.
Many of Shen Yun's story-based dances draw upon this rich tradition.
Brott said this aspect of Shen Yun's performance was something he was just beginning to understand.
"It's like somebody coming to an opera for the very first time. You take it in, of course, it's marvelous to listen to it for the first time, but the more you know the more you get to see the more you understand it more deeply."
With reporting by NTD Television.
The Epoch Times considers Shen Yun Performing Arts the significant cultural event of our time and has covered audience reactions since the company's inception in 2006.
Hamilton, Canada
Shen Yun World Company