Warning: This article contains graphic content; viewer discretion is advised
Rescuers rushed to the aid of an abused maggot-infested dog after she was kicked to the curb while in labor. Her owner even spat at the Labrador-pit bull mix when a welfare team arrived on the scene, claiming that the helpless dog "ain't worth it."
On April 27, 2020, good Samaritan Toni McQueen alerted Woof Pet Rescue of Woodward, Oklahoma, to the presence of a near-motionless pregnant dog in distress on a driveway. Pawsitive Restorations Animal Rescue, who later assumed care of the desperately sick dog, took to Facebook to share their outrage.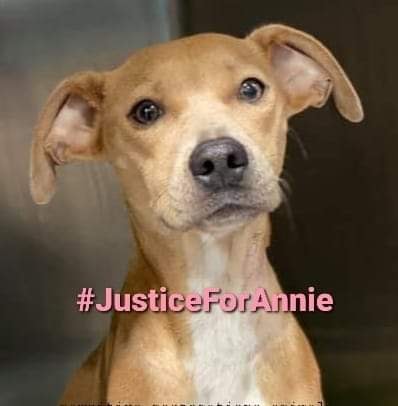 "Six dogs abandoned," they began. "One dog was laying in the driveway, pregnant, in labor, in distress, with one baby halfway out and mom was unresponsive!"
The 1-year-old pregnant dog, named Annie, was found with open wounds full of maggots as a result of suspected attacks from other dogs. "She has been rushed to the emergency vet where it was discovered she is extremely dehydrated," the rescuers continued, "too dehydrated to deliver, and very malnourished."
Annie's previous "owner," the rescue team later posted in outrage, came outside and spat on the laboring dog in full view of the rescue team. "Law enforcement is involved," the team assured their followers.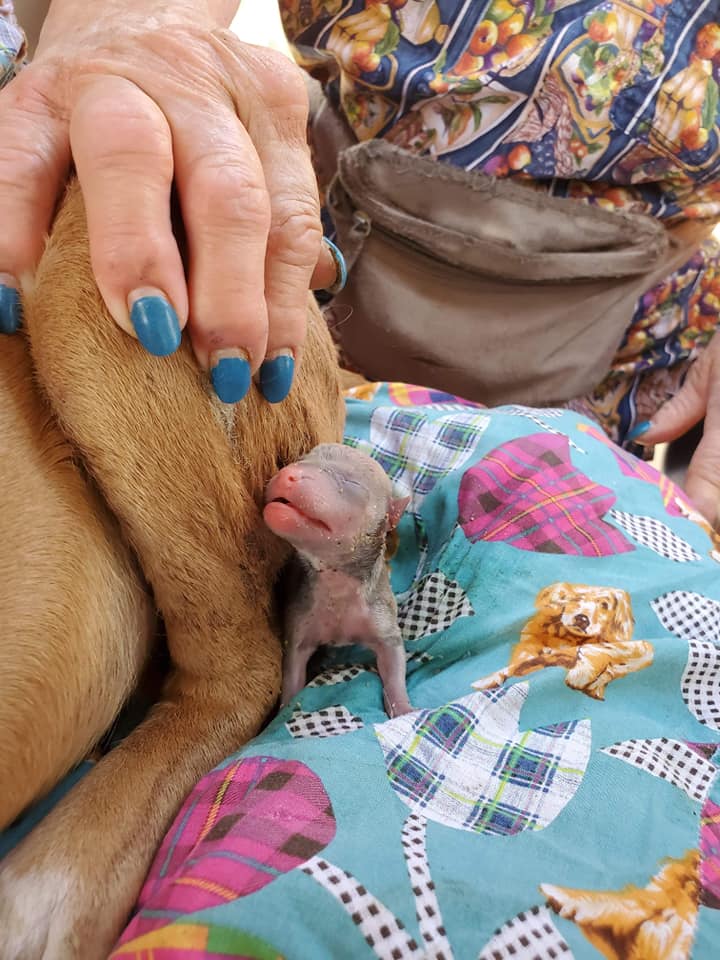 Annie was rushed to Woodward Animal Hospital in Aurora, Oklahoma, and put on an IV for vital fluids. However, vets voiced concern for the weak dog's kidneys and for the health of her premature puppies.
The hospital's veterinarian, Dr. Didier, concluded that the ailing dog was too dehydrated to deliver her puppies. Annie was sedated, and staff performed an emergency cesarean section.
Tragically, Annie lost all 10 of her babies. "Four were born alive," Pawsitive Restorations staff explained, breaking the sad news on their website, "two perished within hours, the other two surviving premature puppies perished within a week."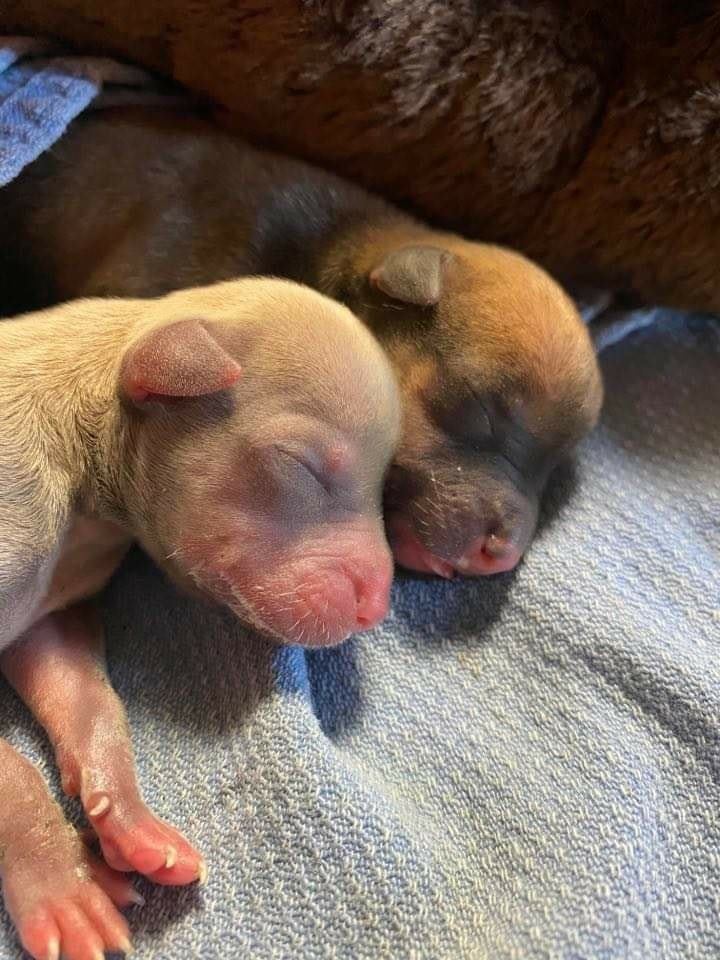 The rescue team battled through their heartbreak in order to focus on helping ensure Annie's own survival. "We are horrified at the thought of losing Annie and her dying before she ever gets the chance to know love," they wrote on Facebook.
Annie had a long road ahead of her, however. On May 4, the grieving mother dog finally had surgery to clean her wounds and remove the maggot infestation, which necessitated daily vet visits for aftercare.
"Even though the procedures were hurting her," rescue staff explained, updating followers on their website, "she would still reach back and kiss her techs and her doctors. It's as if she knew everyone was trying to help her."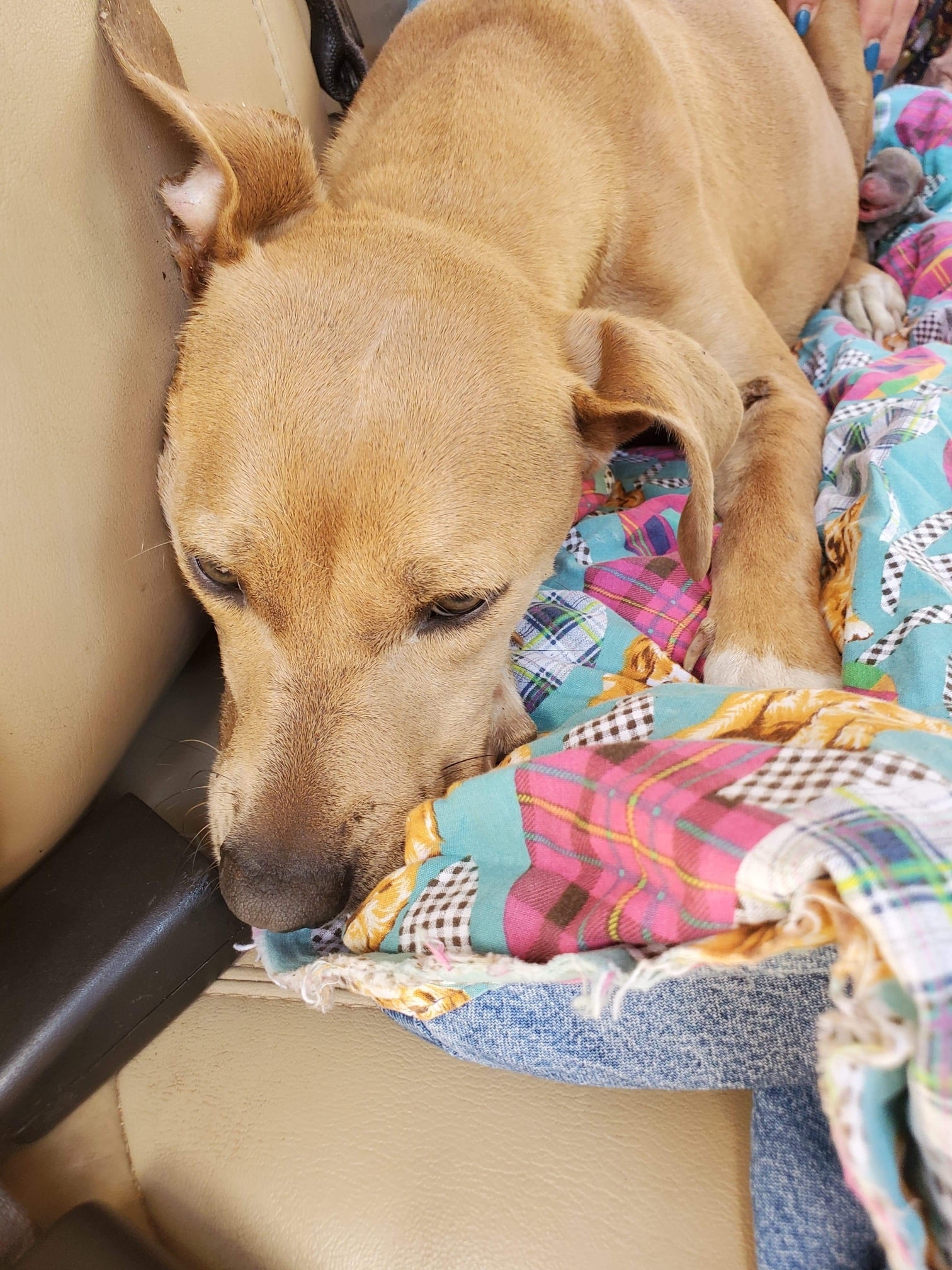 The long-suffering Lab-pit bull mix suffered a hemorrhage, infections, and anemia after surgery and was moved to Wheat Ridge Animal Hospital in Colorado for critical care. She also needed multiple blood transfusions.
"She went far too long with festering dog attack wounds," her team reflected. "But her beautiful little self is fighting," they added, "and she still has a waggy tail for those who show her love."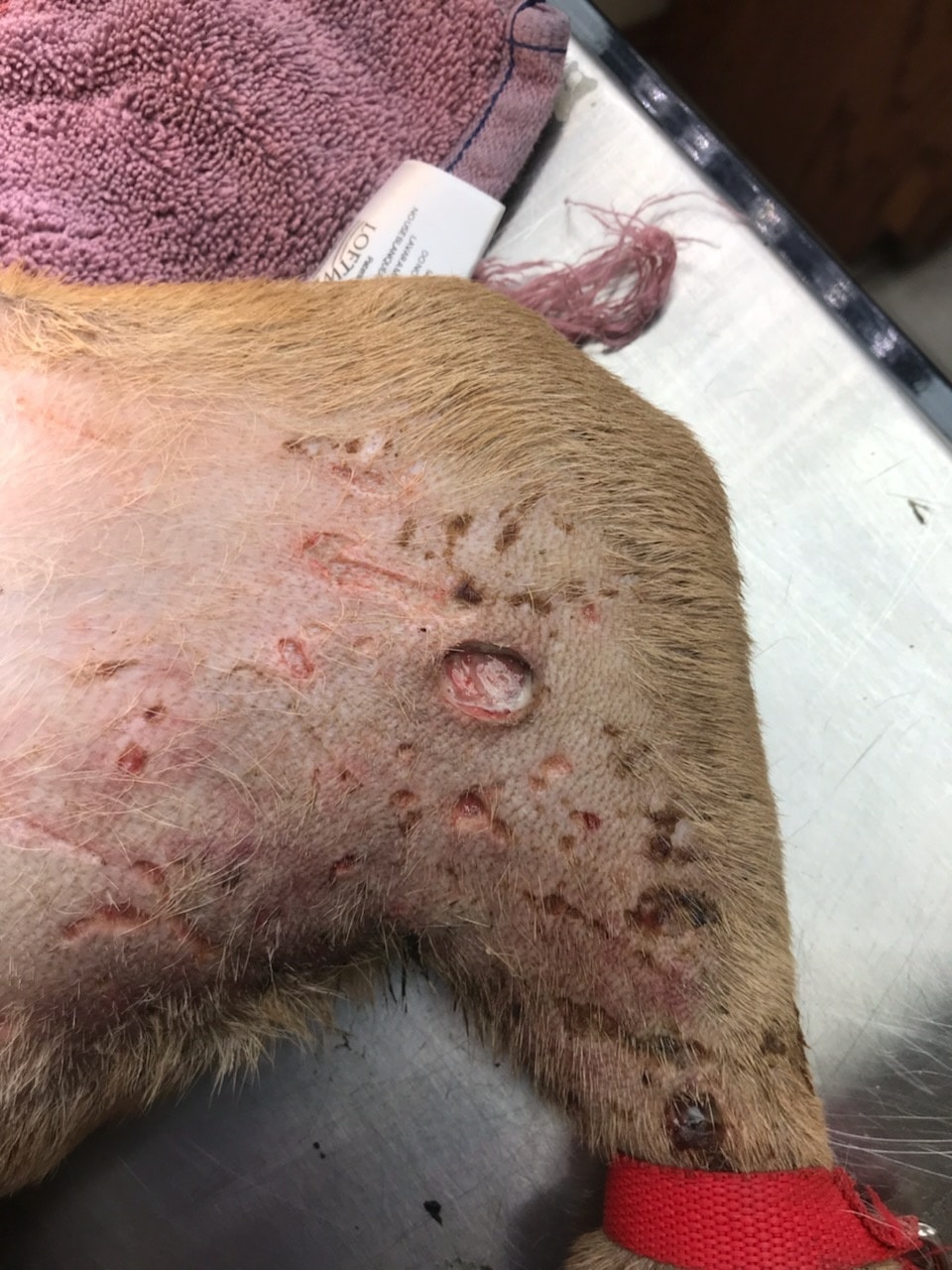 On May 15, KDVR reported that Happy Tails Veterinary Center in Aurora was treating Annie for rare persistent and profuse bleeding caused by internal varicose veins. Krissy Mosbarger, president of Pawsitive Restorations, described Annie's condition as "a ticking time bomb."
The rescue group also pleaded with those who were able to consider donating toward Annie's mounting medical bills, which as of May 15 had already reached almost $15,000.
On May 19, Annie's previous owner was identified as Maranda Dawne Weber, and was arrested on felony charges of animal cruelty. Mosbarger and her team also started the #JusticeForAnnie campaign hashtag to raise awareness of their little dog's heartbreaking ordeal.
At the time of writing, Annie's recovery continues in the comfort of a carer's home. Mosbarger praised Annie's sheer will to survive against the odds and the tireless efforts of her care team.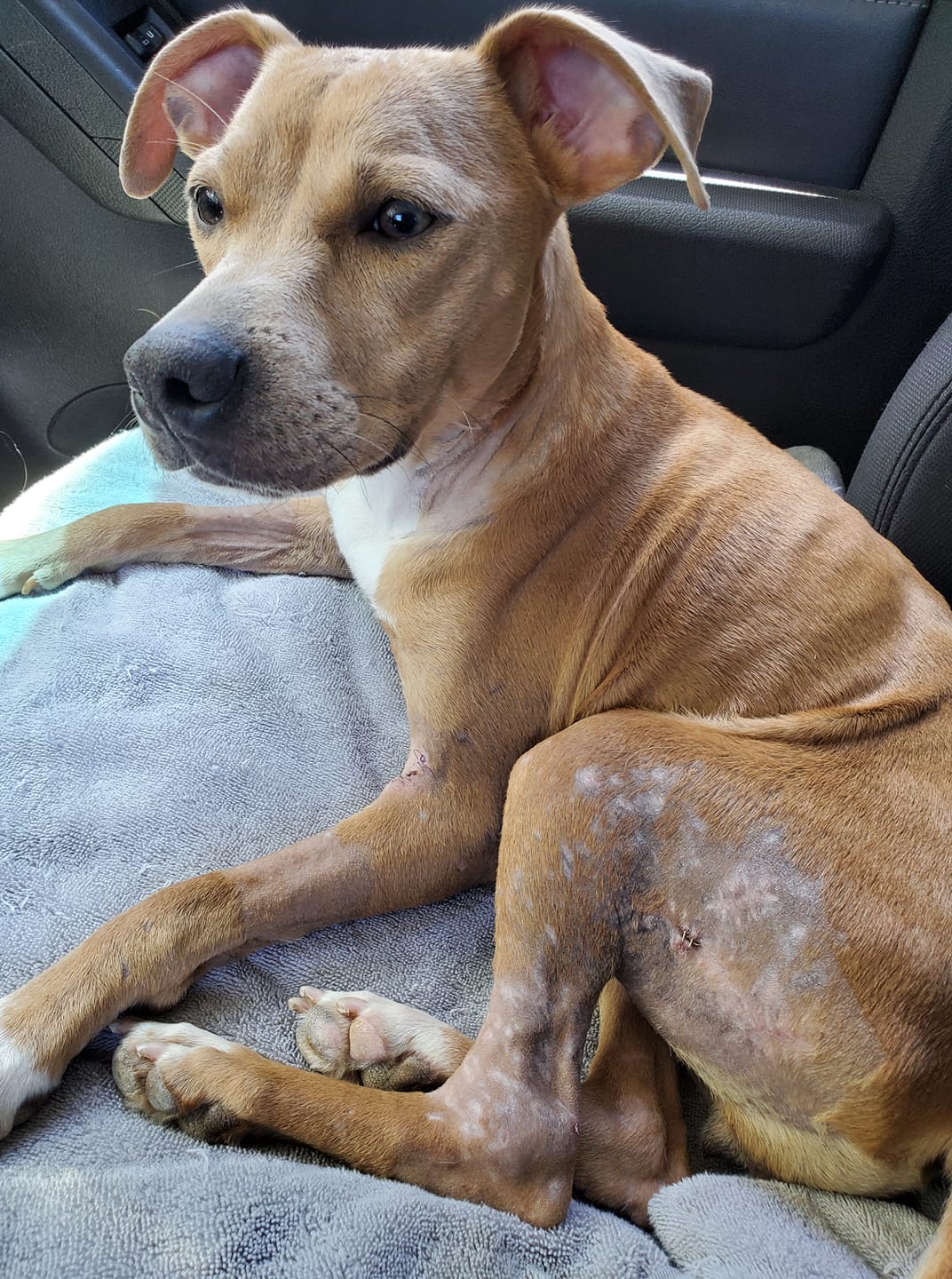 "She is an amazing creature," Mosbarger told ABC 7. "She has been overlooked and let down, but she is not let down anymore."
"To lose her would be devastating," she continued. "Everybody would miss her greatly. But we would be comforted by the fact that this dog saw love."