Everything happens for a reason. The Mid-Atlantic Air Museum (MAAM) was founded because of a World War II veteran's long-cherished wish.
This wish and the museum's well-known World War II Weekend event serve to "keep history alive," said Russ Strine, president and co-founder of the museum.
This year's 30th-anniversary event was on June 4 to 6 and involved around 1,500 reenactors, 200 flight crews, 73 aircraft, 200 military vehicles, and about 30,000 visitors.
Start of the Collection: the P-61 Black Widow
Raised in a family of aviators, Russ said his late father always told him, "Boy, I wish we could start a museum someday."
Russ recalled in 1979 his father Eugene "Pappy" Strine approaching him to say, "I know where there's a P-61 Black Widow. Should we go recover it?" He replied, "Sure, why not?" At the time, Russ operated an aviation business. His father was a World War II Navy aircraft mechanic and pilot.
Named after the North American spider, the Northrop P-61 Black Widow was the first American fighter plane designed for night operations and the first aircraft designed to use radar.
On Jan. 10, 1945, a P-61 Black Widow took off from Hollandia Airfield in Dutch New Guinea on a training mission. The total flight time for this brand-new aircraft was only 10 hours. A few minutes into the test flight, the Black Widow lost power and crashed in the jungle of Mount Cyclops, Indonesia, which was occupied by Japanese forces at the time. Four people on board were injured and rescued two days later. The Black Widow was abandoned on the mountainside.
This Black Widow had a short lifespan in military service, but getting it back to the United States and restoring it was an interesting part of the aircraft's story. And it is because of this airplane that MAAM was founded.
The museum was established in 1980 by the father and son pair, and its first event was launched a few years later.
Although some parts were damaged, the Black Widow fighter was in fairly good condition.
It took MAAM 10 years to get the airplane in Indonesia back to the United States. "It cost us a lot of money," Russ told The Epoch Times. "We didn't have the cash to lay out, so we had to raise the money dollar-by-dollar from our membership."
Since its return to the United States in 1991, restoration of the aircraft has been ongoing. The goal is to have the plane fly again, which museum officials project will take several more years.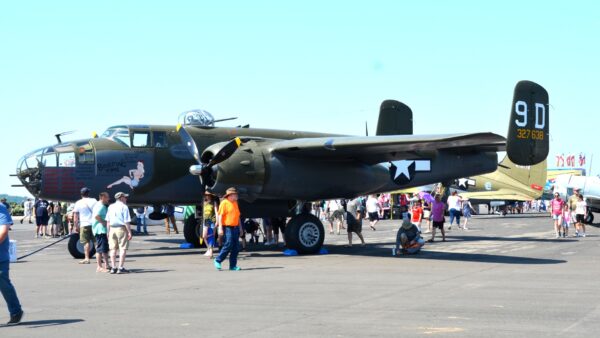 A Return to Tradition
Located at the Reading Regional Airport in Pennsylvania, MAAM's collection now includes more than 120 antique military, commercial, and experimental aircraft spanning 100 years of aviation history.
"Museum members and aircraft attend over 20 air shows each year in order to share with others the importance of aviation history," according to MAAM's website.
With a mission "to ensure the professional stewardship of a collection that reflects the history of aviation and to enhance the public's appreciation and understanding of that history," MAAM's World War II Weekend event "has become the largest and most well-known event of its type anywhere in the world," Russ said.
Russ cherishes history and tradition. He said that one of the goals for the World War II Weekend is to "keep history alive."
"They don't teach much about World War II in schools anymore. And so that's part of our mission: to keep World War II memories alive," Russ said. "We have approximately 30 special guests who are World War II veterans coming here every year. And what really warms my heart is, you'll see the grandfather or great grandfather, who is a World War II type, you'll see him walking with his son, and the young son is with them. So there's the family of three or four [generations] walking around. That brings tears to my eyes."
Russ, whose father had many World War II veteran friends, said, "They had definite principles and I grew up learning those principles." He feels bad that today's society has changed so much that "the things that weren't acceptable back then are now okay."
"We don't teach a lot of the history of the United States in schools anymore," Russ said. "That's really the root of the downfall of America. We need to go back."
Today, many people don't even know the name of the president, the Speaker of the House, etc. "That's unacceptable," Russ said, "Whether you like the president or not, you should know who the president is. And we had to learn all that stuff in school. It seems people don't care. And I don't think that's right."
The public's love of the World War II Weekend makes Russ feel that his efforts have not been in vain.
"Hundreds of times a day, people say to me, 'Russ, thank you for bringing this event back. Thank you so much! It's fantastic!'"
"It's very, very gratifying to hear those words!" he said.