Oficina Latina NYC: Soho's Latin-infused Cocktail Heaven
A Pit Stop on the Pan-American Highway
April 4, 2013 4:53 pm Last Updated: April 6, 2013 11:28 pm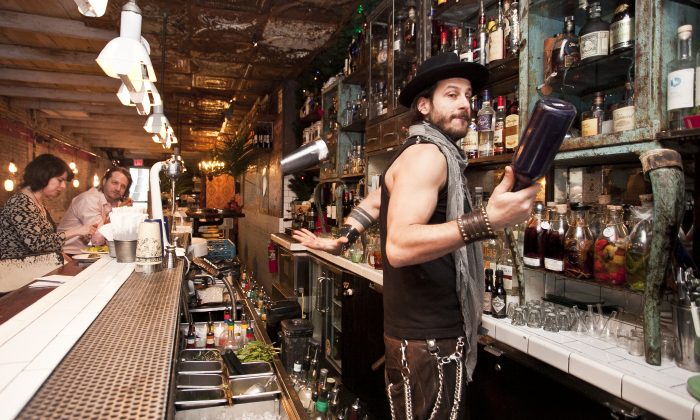 Nothing beats celebrating leaving a fluorescent cubbyhole at the end of a weekday like stepping into Oficina Latina NYC in SoHo. 
This dynamic and lively Latin American outpost styles itself on the 1950s road races along the Pan-American Highway, the longest motorable road in the world, its original route reaching Buenos Aires, Argentina, at one end, and Monterrey, Mexico, at the other. 
Oficina Latina NYC is decked out like a mechanic's garage, festooned with trouble lights, doors and windows thrown wide open in pleasant weather, and walls and shelves packed with black-and-white racing photos and racing helmets.
Co-owner Paolo Votano is an intrepid traveler. From his many trips to South America, he has brought back influences from local restaurants and adapted them into Oficina Latina's unique menu. 
Cangrejo tostadas with crab, mango salsa, and cilantro are a standout item, and the arepas come in salmon crudo, short ribs, or seasonal vegetables. The small plates are perfectly sized to share among a small group of friends or with a date. Oficina Latina's desserts are redolent of Latin flavor but also married to a classic base. Dulce de leche cheesecake is given a twist with a bit of prickly pear and blackberry; panna cotta with lychee spiked with serrano peppers; bread pudding given a homey spin with plantain. 
The Cocktail is King
But Votano's real passion is crafting cocktails. Votano, who started his career in Milan, has been working with spirits for 18 years, and harbors an insatiable pursuit for perfecting cocktails. This is good news for anyone bored of the same old classic libations.
For example, Votano infuses different liquors with different kinds of chiles—serrano, chipotle, ancho. 
"We have a prickly pear mojito that's made with a serrano-infused tequila—of course muddled limes, ginger, and sugar," server Sophie Bazile said. "And we add a bit of prickly pear juice, which is a cactus juice, so it comes looking like this very brightly hued tropical drink but it packs a bite. It's pretty spicy. It is perfect balance of flavor."
Step into the unusual again with the savory piña colada, which features avocado and peppercorn.
Bazile describes it as "slightly savory, with a tiny bite from the peppercorn. It's really almost like food, which is why drinks are a culinary art," she said. "It's another way to nourish your body, nourish your mind."
The chipotle mezcalitas are imbued with smoky and spicy hints. A watermelon serrano cardamom margarita gives "a bit of herbal flavor." "People love, love the cocktails when they come here," Bazile said.
Votano recommends a mango peppercorn-infused caipirinha and an ancho chili margarita made with fresh lychee with infused mescal, as well as a mojito made with aguascaliente made with rosemary and cucumber, Italian bitters, and a splash of champagne.
"People who know about us know there's always a trick up the sleeve, but this time with these cocktails it's really gone far out of the box," Bazile said. "It's exciting for a place to step up its game so much. We were already at a certain level with the cocktails, but now people who have been with us are even more pleasantly surprised."
This spring, the kitchen is upping its game, engaging veteran culinary talent from the Steve Wynn empire in Las Vegas. Of course, Votano continues to dip back into Latin-American hearths, "searching for the best of the best," he said.
Oficina Latina NYC
24 Prince Street
(between Mott & Elizabeth Streets)
New York, NY 10012
www.oficinalatinanyc.com
646-381-2555
Monday through Sunday, 11 a.m.–1 a.m.