La Table Verte: A Happy Marriage of French and Vegetarian
July 23, 2013 3:27 pm Last Updated: July 23, 2013 3:27 pm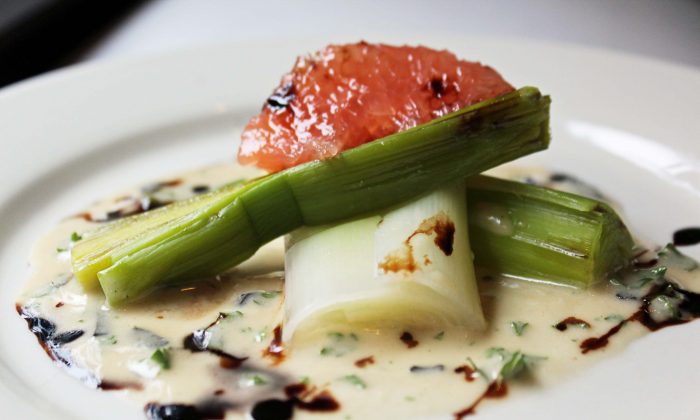 French vegetarian bistro—that's how La Table Verte, in the East Village, bills itself. I don't normally expect to see "French" and "vegetarian" together—especially after hearing tales of vegetarian friends traveling to France and subsisting on a steady diet of Nutella crepes.
But La Table Verte pulls it off very well, and in the process manages to surprise by taking common, humble vegetables, applying French cooking techniques, and turning out full French flavors, in large part without the aid of cream or butter.
The top two bestsellers happen to be vegan. One is the Choux-Fleur Roti, a dish of roasted cauliflower with rosemary-scented quinoa, roasted yam, and sautéed greens, with a fig and caper sauce. The other is the Fennel and Petit Onion Confit, served with rosemary polenta, roasted peppers, and tomato sauce.
Chef Ken Larsen, who's been heading the kitchen since the restaurant opened a few months ago, underlines how approachable the food at La Table Verte is, being bistro food rather than fine French cuisine, and the prices match accordingly. Good vegetarian restaurants come with an expensive menu, because it takes time and labor to prepare vegetables, but not so here.
For Larsen, there is the welcome challenge to come up with creative dishes within the constraints of what he has to work with.
"It's just like they do it in France. You go to the market where the farmers will bring something in, and you'll work with what they have, not a tremendous amount of things, just a few things. In New York City, you have the opportunity to get any ingredient any time of year. It's incredible, but it doesn't force you to really start thinking about the potential if you only had a few ingredients."
Local and Seasonal
The surprise factor comes in because the ingredients are common vegetables, but prepared and shown in a different way than what people are used to.
Take the collard greens. When Larsen, he thought, "Wow, this is going to be a challenge," as they are so often cooked with bacon or animal fat. In the end, he added corn, shiitake mushrooms, pepper flakes, a little vinegar, and topped them with a little lemon zest. "I love how lemon zest plays with dark leafy greens," he said. The greens are flavorful and the bright pop from the other ingredients is spot on.
The current seasonal special, Roast Brussels Sprouts with balsamic roasted strawberries, is a delicious mix of flavors and textures. The roasted strawberries are toned down in their sweetness and their soft texture goes swell with the golden Brussels sprouts.
For those who yearn for a rich French classic, with loads of cream and richness, la Table Verte offers something too. The Parisian Gnocchi au Gratin, with truffles, artichokes, oven-roasted tomatoes, Mornay sauce, and Swiss cheese, is as rich as they come.
The desserts are excellent. The most surprising is the gluten-free Tarte au Chocolat, a vegan chocolate tart made with dark Callebaut chocolate avocado "ganache" with a rice, almond, and raisin crust. It's one of the best chocolate desserts I've ever tasted.
Also a great ending to the meal is the Ananas Epice, roti, couli de Mures, roast smoked chipotle spiced pineapple with a touch of sea salt, coconut sorbet, and a blackberry sauce. The tropical flavors are delicious.
Health Aspects
Larsen, who became vegetarian while working as a chef at a well-known steak restaurant, is aware many people love the healthy side of the dishes, many of them gluten-free, but his focus is on making food that tastes good.
"We don't mean to be healthy, it just happens to be so. It's really good food, it's really good for you, too. It's just happens to be that way, naturally."
La Table Verte
127 East 7th street, New York, NY 10009
(between Avenue A and 1st Avenue)
212-539-0231
http://www.tablevertenyc.com
Sunday–Thursday: 5 p.m.–11 p.m.
Friday–Saturday: 5 p.m.-12 p.m.