A Food Hack's 10-Minute Personal Pizza
September 26, 2014 9:21 pm Last Updated: September 26, 2014 9:23 pm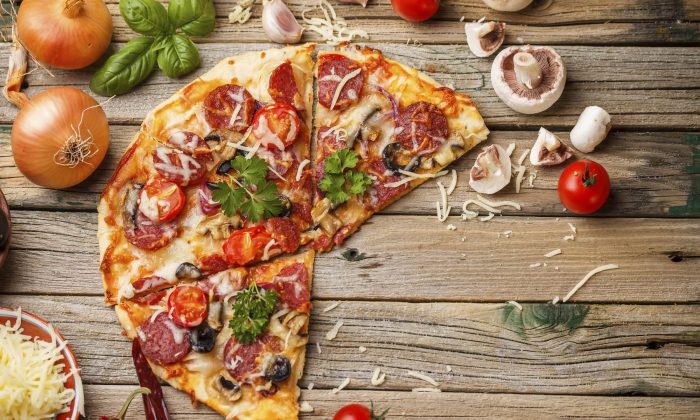 Whether you're a student who has just returned to school for the fall semester, a working professional, or a stay-at-home mom, everyone appreciates good culinary advice that can save time, energy, and money. 
Since before the term "food hack" entered the lexicon, I've been brainstorming creative ways to invent kitchen shortcuts that save time and effort. It started back in the late nineties when I was a college student. My goal was to come up with some tasty and wholesome meals that could be prepared in as little time as possible without breaking the bank. 
It's also worth mentioning that I'm no fan of the microwave oven. 
Homemade pizza, when done right, beats anything that comes out of most restaurants. But what if you could make pizza without mixing any dough, letting it rise, or even doing any baking, per se? 
Believe it or not, this can be done, and in as little as 5 minutes—20 minutes tops, but usually about 10 minutes once you get the hang of it. 
One night I was making quesadillas—or at least that was my intention. While I was warming up a tortilla on the stove, my two-year-old son distracted me and I let the tortilla stay on the heat a bit too long, with the result that it became slightly hard. I couldn't fold it into a typical quesadilla without it breaking, so rather than waste it, I improvised.
I removed it from the heat because I hadn't added any cheese to it yet. I put some cheese on it, then stuck it in the toaster oven to melt the cheese. Now what I had was an open-faced quesadilla, or a small thin-crust personal cheese pizza, only with a cheddar cheese blend instead of Mozzarella. 
I could've stopped there, but instead decided to add some diced tomatoes, chili peppers, chopped onion, cilantro, and miscellaneous spices. This is when I realized that what I had crafted was a Mexican-style pizza, as it was no longer a quesadilla and was too big to be a tostada.
Then it occurred to me that if I could make a Mexican-style pizza in this way, I could use the same method to make an Italian-style, or any style of pizza I chose. 
The following is my basic pizza recipe, to which can be added any combination of toppings your heart desires. 


Basic pizza recipe:
Flour tortilla
50 ml (1/4 cup) Marinara or pizza sauce
250 ml (1 cup) Mozzarella cheese, shredded
50 ml (1/4 cup) fresh basil, chopped
Place a flour tortilla on medium heat in a tortilla pan or skillet until brown on both sides. Remove from the heat and spread the Marinara sauce evenly on one side. Spread the shredded Mozzarella evenly over the top. Sprinkle the chopped basil evenly over the tortilla. For best results, place in a toaster oven or broiler until the cheese is melted, remove from the heat, and slice it as you would a pizza.
This basic recipe should only take about 10 minutes to prepare, assuming that all of your ingredients are ready to go. If you want a sausage topping or homemade Marinara sauce, prepare them ahead of time and freeze until you need them, otherwise the 10-minute prep time could be significantly longer based on what you like on your pizza.