Makeup Artist Says Shen Yun Colours Her Life
April 1, 2014 2:48 am Last Updated: April 2, 2014 9:19 pm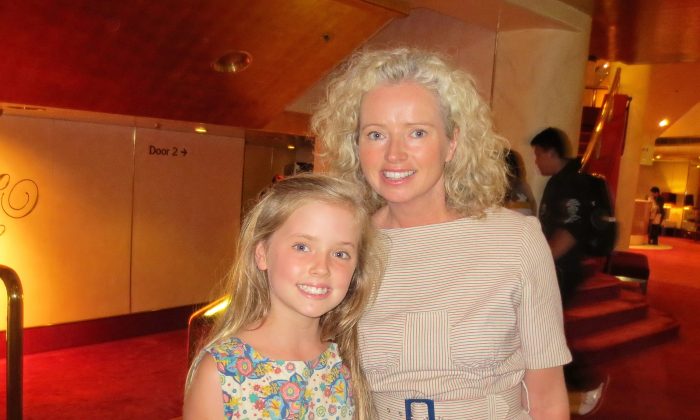 MELBOURNE, Australia—"I think it will create more color in my life," said Kathy Ellwood, a hair and makeup artist after seeing Shen Yun Performing Arts at the State Theatre, Arts Centre Melbourne, on March 30.
Ms. Ellwood who does hair and makeup for film, TV, opera, and theatre attended Shen Yun with her daughter Esther who learns ballet with Melbourne Ballet.
Both Ms. Ellwood and her daughter loved the dancer's hairpieces, "I think I will get me some new ideas for my job," she said.
Ms. Ellwood said Esther wants to go "back to her class, and tell her classmates about Chinese dance, how different it is."
Shen Yun is based in upstate New York and according to their website "Chinese dance is at the heart of what Shen Yun does. Known for its incredible flips and spins, and its gentle elegance, it is one of the most rigorous and expressive art forms in the world."
"I love the theme of the show. It teaches us how the dances [are] put together, I didn't know Chinese dance with the acrobatics—the theme comes together with the story; I like how it tells the story through the dance."
"The color is spectacular, beautiful colors. It just gets my mind going to beautiful places from watching the show."
She was fascinated with the backdrop and how the animation complemented the story-based dances.
"The animated backdrop is very clever, I never see anything like that before," Ms. Ellwood said.
"I really liked that, to see people jump in and jump out. … special effects … the story the way it was told—it is very easy to follow."
Shen Yun uses dance and music with mini-dramas and solo performance to give the audience a glimpse into 5000 years of traditional Chinese culture.
Along with the sheer pleasure of experiencing Shen Yun Ms. Elwood felt she had learned a lot of Chinese culture from the performance today.
"I learned a lot of Chinese culture from the show today. Each story, from the start to the end, they will stay with us, she said." 
Shen Yun will stay with Ms. Elwood forever.
"Beautiful! magical! Love the music, very nice,"

Reporting by Ruby Zhang and Leigh Smith
New York-based Shen Yun Performing Arts has four touring companies that perform simultaneously around the world. For more information, visit Shen Yun Performing Arts.
The Epoch Times considers Shen Yun Performing Arts the significant cultural event of our time. We have proudly covered audience reactions since Shen Yun's inception in 2006