Warning: Graphic images inside
A severely injured sloth bear was rescued from a village in southwest India after being spotted by locals on Feb. 12, 2020. She had suffered from gunshot wounds in her spine and crawled until her knees were bloody. The bear's ongoing struggle is an emblem for the plight of India's vulnerable wildlife.
The 5-year-old bear was rescued by a five-member team from the Indian conservation non-profit Wildlife SOS. They named her "Abby."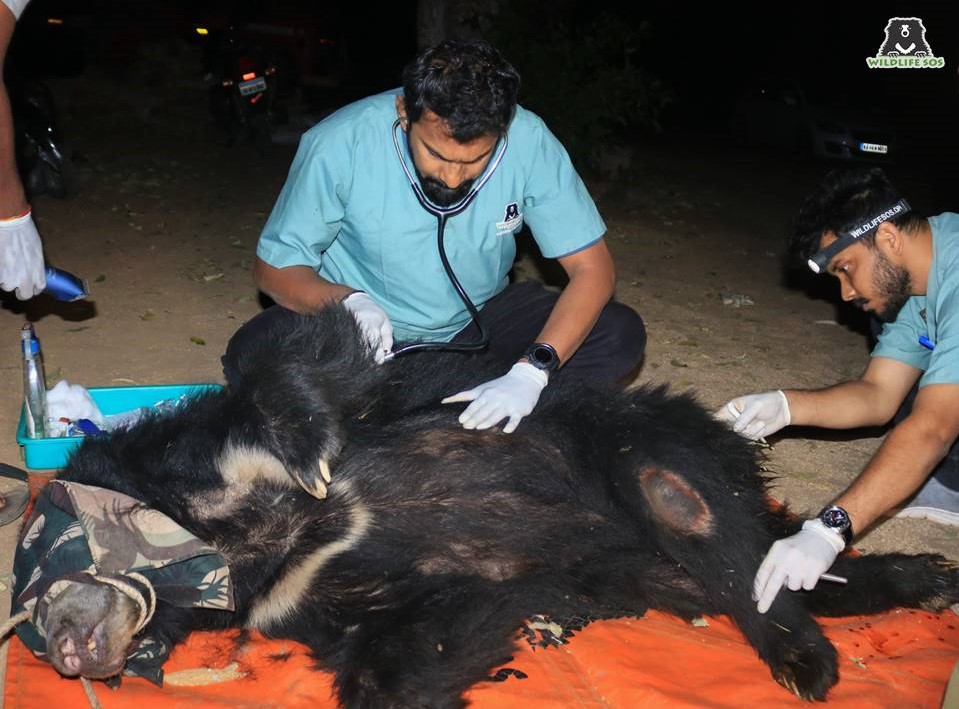 "Abby was a victim of man-animal conflict and found in Pavagada village in Karnataka," Kartick Satyanarayan, Co-founder & CEO of Wildlife SOS, explained in an email interview with The Epoch Times. "She was hit by a pellet which caused severe spinal injuries leading to the loss of movement in her hind limbs. She also sustained grave abrasions on her knees due to crawling long distances."
Abby's wounds were so serious that the rescue team transported her to the Bannerghatta Bear Rescue Center for intensive treatment. The day after her arrival, Wildlife SOS took to Facebook to update their followers on Abby's condition.
After conducting a few tests, the X-rays showed that the "pellet had further split into shrapnel that was lodged in different parts—two fragments were in the abdomen, one had torn through tissue to lodge itself in the ankle of the left hind limb and the fourth was stuck outside the thoracic cavity."
In order to get her to eat, the rescue team even offered Abby watermelons and porridge, which she refused.
The sloth bear would sip on warm water mixed with honey, but her recovery would not start, the team reflected, until Abby began consuming solid food.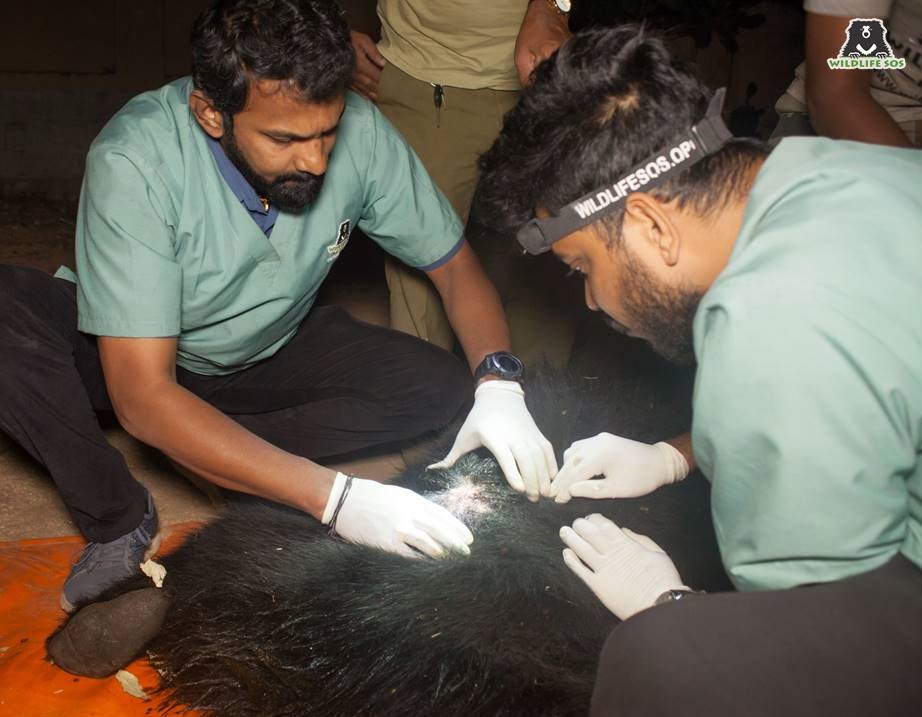 Explaining more about Abby's treatment, Satyanarayan said: "The shrapnels were surgically removed, and she is currently under treatment with antibiotics, anti-inflammatory drugs, and analgesics in addition to laser therapy for her back injury and paralysis."
Abby's initial prognosis was just as grave as her injuries, and by March 2, the injured bear only showed little sign of improvement. Wildlife SOS then updated their followers on Facebook.
They mentioned that although Abby was offered a diverse range of food, the young bear refused to consume any "solid food."
However, Abby was "occasionally drinking milk and water with honey." The rescue team also updated those who were following Abby's story that "chances of her survival appear bleak."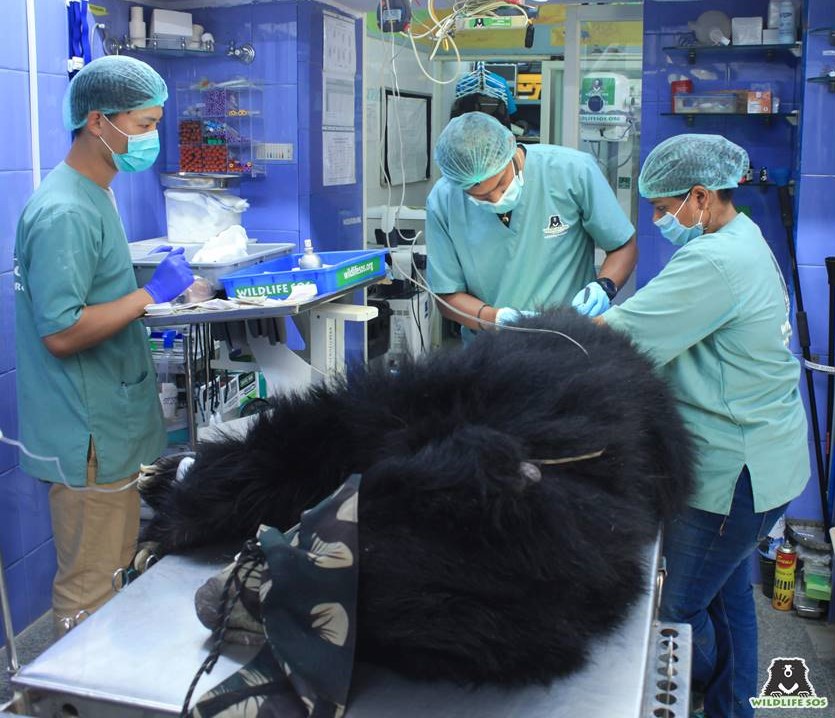 But Abby's resolve was strong. As of March 16, the young sloth bear is doing "considerably better," and her devastating wounds have slowly begun to heal.
Satyanarayan reflected that Abby's experience had been traumatic, adding that it will take her time to "overcome her physical and psychological scars."
The sloth bear is native to the Indian subcontinent. As of March 2020, the species is listed as "vulnerable" on the IUCN Red List, and their population is in decline.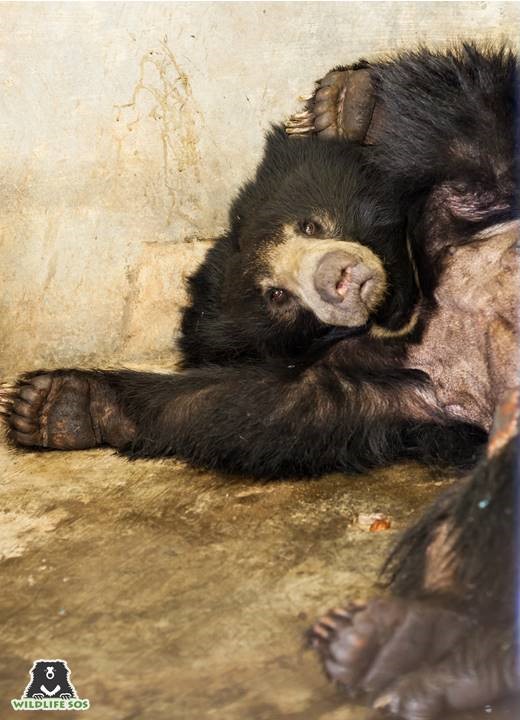 Satyanarayan said: "Even with minimal demand for 'dancing' bears today, sloth bear cubs are still being poached for use in traditional medicines and gourmet cuisine in South-East Asia."
Some of the biggest threats to sloth bears, he explained, include the conflict between bears and people, poaching, wildlife trafficking, aggressive human colonization, the fragmentation of wildlife corridors, and the loss of natural prey resulting in dire food shortages.
Alluding to the dangers the sloth bears face, Satyanarayan further added: "It is unfortunate that a shy and reclusive species like the sloth bear has to defend itself against so many dangers, none of which should occur in a wild animal's natural lifecycle."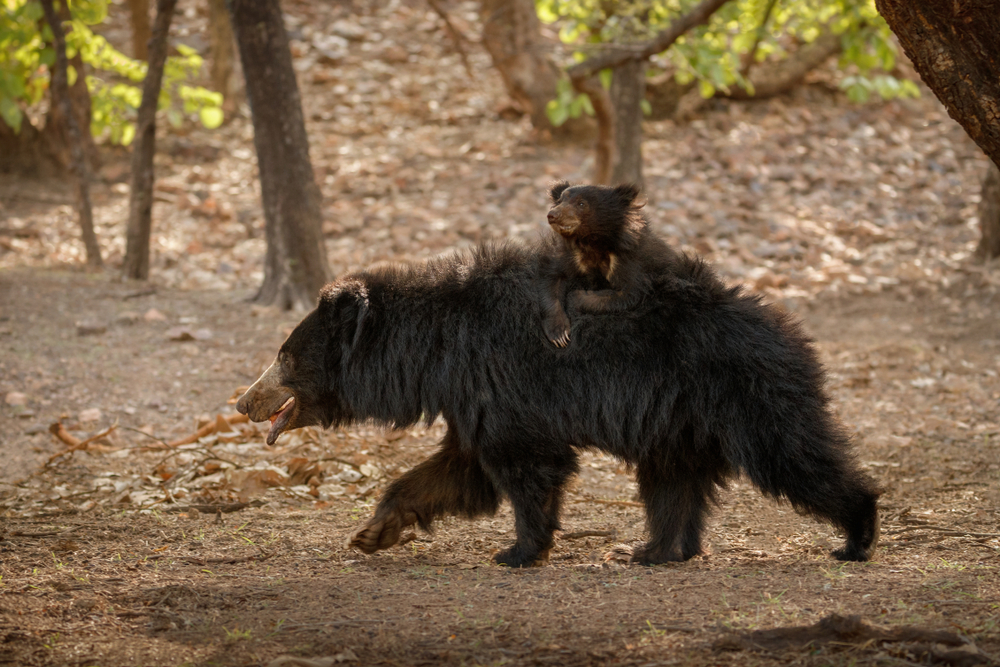 According to Satyanarayan, human-bear conflict scenarios are fueled by human ignorance of bear behavior and are entirely avoidable if local communities and younger generations are adequately educated. Wildlife SOS, which was founded in 1995, thus makes use of local education. The organization emphasizes the positive aspects of human-wildlife coexistence as one of its primary initiatives, using tailored awareness programs and workshops.
Increasing awareness of the illegality of animal cruelty is also incredibly important if India's vulnerable wildlife is to be protected now and into the future.
"We must honor India's diverse but fast-disappearing wildlife heritage," Satyanarayan concluded, "and it is the need of the hour to encourage positive, responsible environmental action by inspiring people to take active participation in working to improve and protect it."