This Super Bowl Sunday, take your party snacks beyond the basic chips and dip—think juicy bacon-wrapped, chorizo-stuffed dates, or garlic bread spiked with truffle oil and showered in cheese. Four chefs share recipes for their favorite crowd-pleasing, touchdown-worthy game day eats below.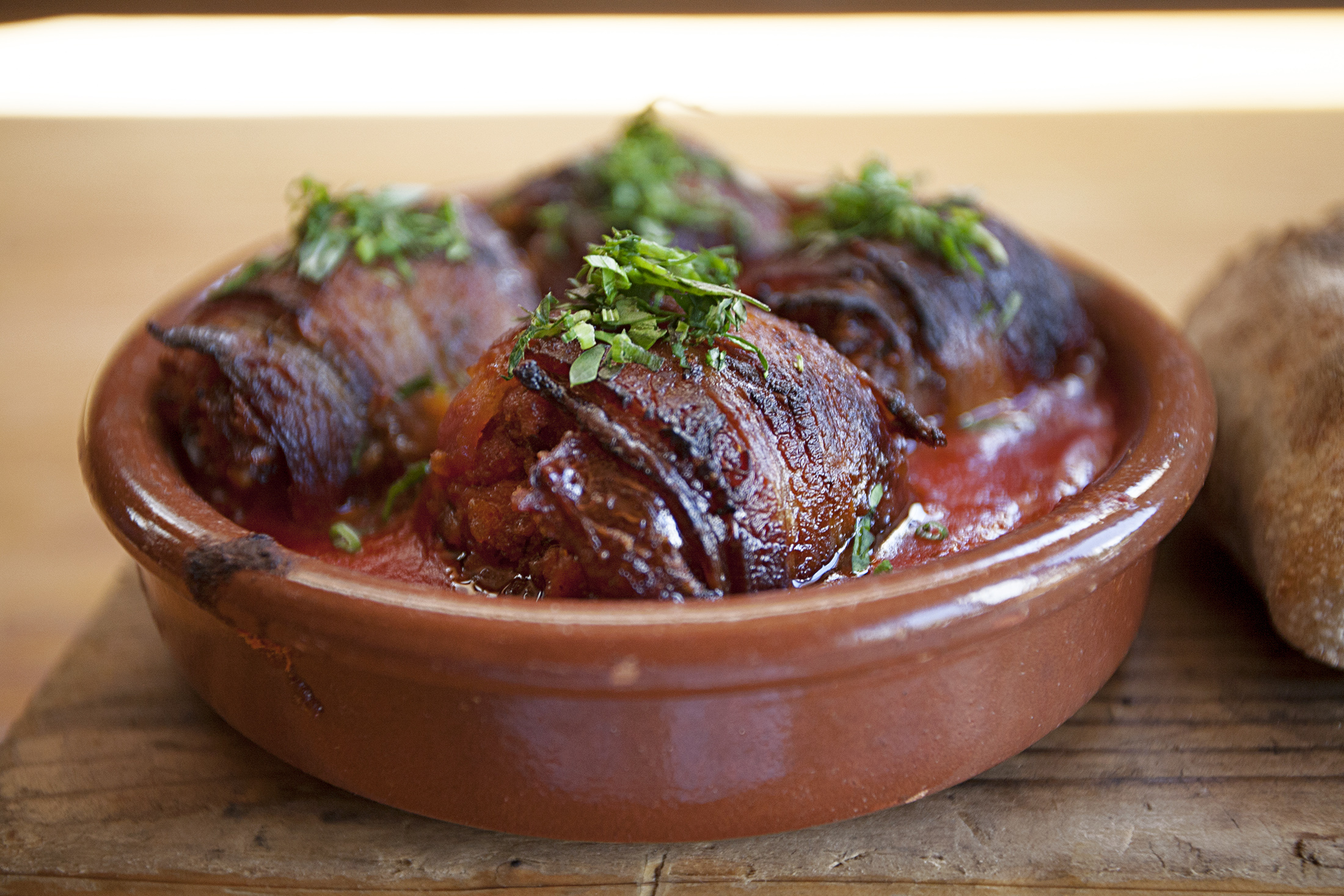 Chorizo-Stuffed Dates
In this fan-favorite dish found on the menu at Avec, chef de cuisine Perry Hendrix stuffs large Medjool dates with chorizo sausage and wraps them in bacon, then tops them off with a zesty piquillo pepper-tomato sauce.
Makes 8 servings
1 tablespoon extra-virgin olive oil

8 cloves garlic, thinly sliced

8 small shallots, thinly sliced

8 ounces (about 1 cup) roasted piquillo peppers with any jar juices, or any roasted red peppers plus juices (see Notes)

2 cups whole peeled canned tomatoes

Kosher salt

Freshly ground black pepper

16 Medjool dates, pitted

8 ounces fresh (uncured) chorizo sausage, casings removed (see Notes)

8 slices bacon
Make the sauce:
Heat the oil in a large saucepan over medium heat. Add garlic and shallots and cook until tender, about 5 minutes. Add peppers and tomatoes, reduce the heat to low, and cook for 30 minutes–1 hour, until the liquid in the sauce has mostly evaporated. Season with salt and pepper.
Let the sauce cool slightly, then transfer it to a blender and blend until smooth. Thin with warm water, if necessary. You want it to be thick but not so thick that it mounds on the plate.  
Prep and cook the dates:
Preheat the oven to 350 degrees F. 
Stuff the dates with the chorizo, using about 1 1/2 teaspoons of chorizo per date. Cut the bacon slices in half lengthwise and wrap a slice around each date. Arrange the dates on a small baking sheet and bake for 15 minutes, or until the chorizo is cooked through. 
Preheat the broiler. Broil the dates for 2–4 minutes, until the bacon is dark brown and crisp. 
Spread the sauce over a serving plate and place the dates over the top. Serve warm. 
Notes: You can find jarred piquillo peppers in most grocery stores. If you can't find them, substitute roasted red peppers. Make sure to buy uncured, fresh chorizo sausage for this, not the salami-like cured kind.
Recipe courtesy of Perry Hendrix, chef de cuisine, Avec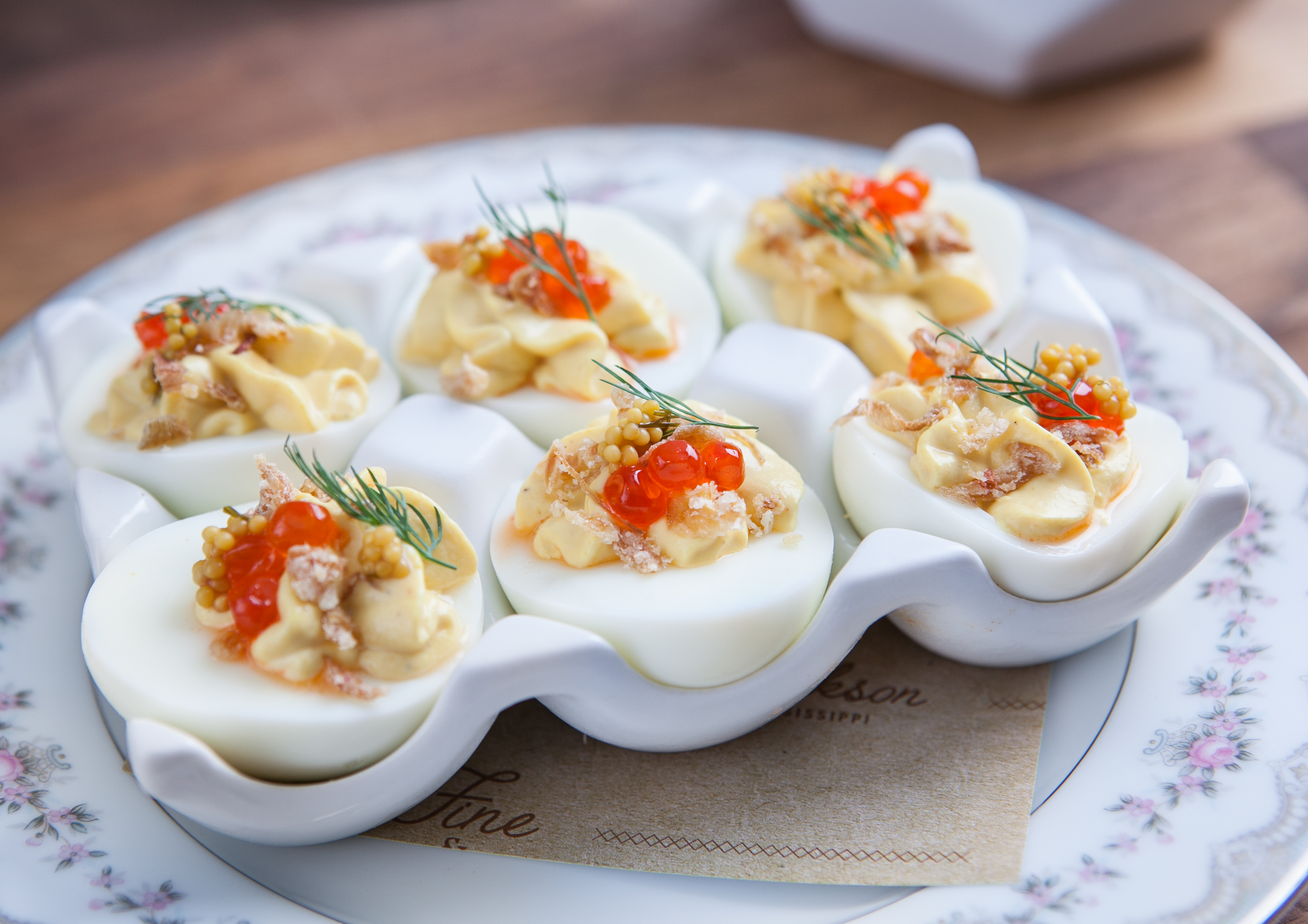 Deviled Eggs
These deviled eggs are perfect for any gathering, but especially a big game. If you prefer, substitute the caviar for minced dill pickles and a heavy dose of your favorite hot sauce.
Serves 12
12 eggs

1/2 cup mayonnaise

1 tablespoon Dijon mustard

1 teaspoon lemon juice

1 1/2 teaspoon hot sauce

1/4 teaspoon turmeric

1 pinch ground clove

1/2 teaspoon kosher salt

2 teaspoons pickle brine

1 teaspoon sugar

Optional toppings: dill fronds, smoked salmon caviar, crispy fried shallots
In a large pot, boil all 12 eggs for 10 minutes. Turn off heat and allow to sit until cool. Peel eggs and slice in half lengthwise. Remove the yolks and save the egg whites.
In a large mixing bowl, combine egg yolks, mayo, Dijon, lemon juice, hot sauce, turmeric, clove, salt, pickle brine, and sugar. Stir until evenly mixed.
Pipe the yolk mixture into the hard-boiled egg whites. Feel free to get creative if you want to top the eggs with anything—dill fronds, smoked salmon caviar, crispy fried shallots… options are endless.
Recipe courtesy of Jesse Houston, executive chef, Fine & Dandy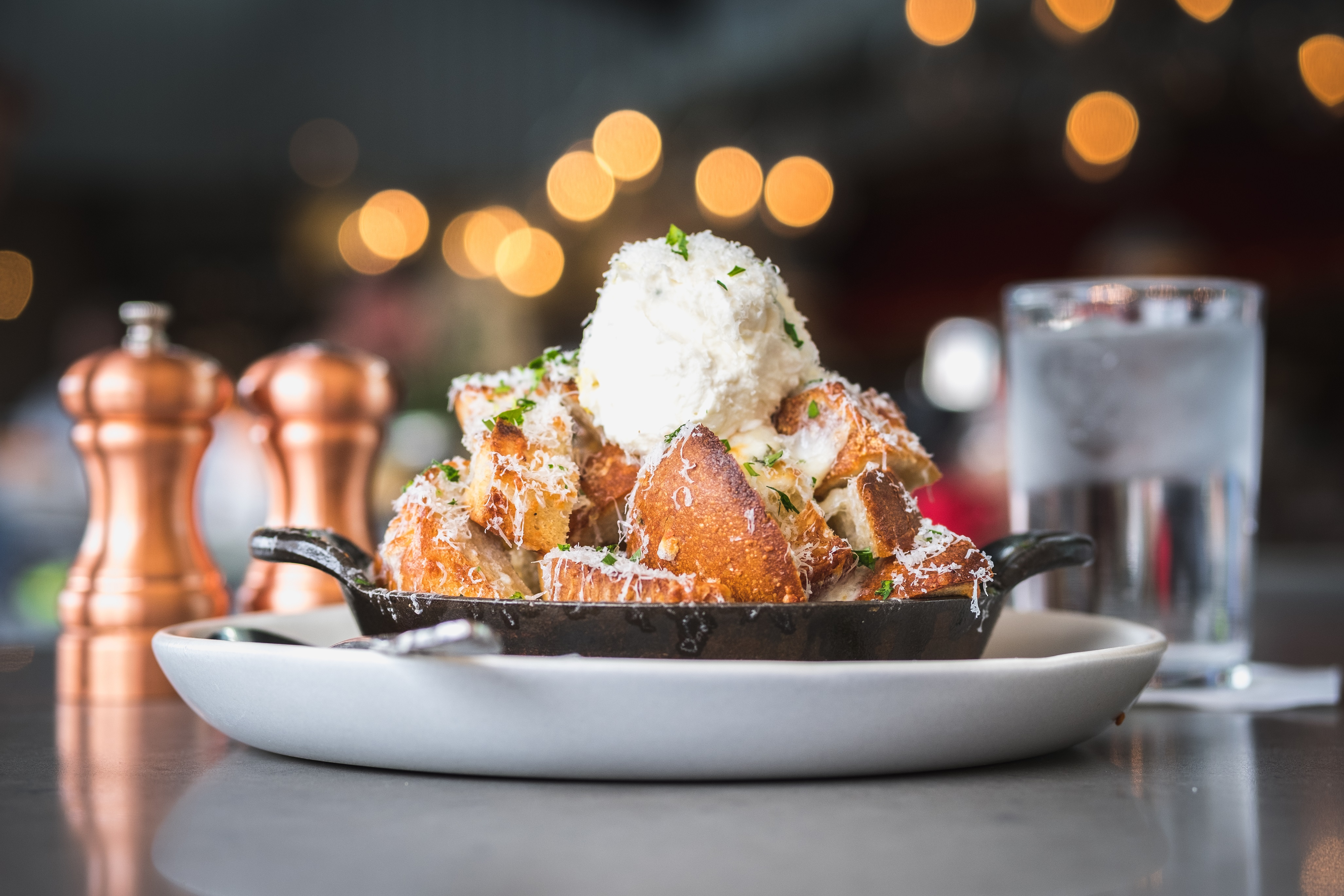 White Truffle Garlic Bread
Serves 2 to 3 (one if you really love truffle bread!)
3 slices ciabatta bread

1/2 cup garlic butter, softened (recipe follows)

1/3 cup shredded mozzarella

1/4 cup ricotta cheese

2 tablespoons freshly grated Grana Padano

1/2 teaspoon truffle oil

Pinch of chopped fresh herb mix (3 parts parsley, 2 parts oregano, 1 part thyme)
Preheat the oven to 450 degrees F.
Cut each slice of ciabatta bread evenly into four pieces, for 12 total pieces.
Place the bread, garlic butter, and mozzarella into a mixing bowl and mix well, ensuring that the bread is evenly coated with the butter and cheese.
Transfer the bread mixture onto a sheet pan and transfer to oven to cook until golden brown (5–7 minutes).
Remove from oven and stack bread pieces onto a plate. Mound the ricotta cheese on top of the stacked bread. Microplane the Grana Padano (about 6–8 strokes) evenly over the dish. Drizzle the truffle oil evenly on top and season with herb mix.
Garlic Butter 
Makes 2 cups
2 cups (1 pound) butter

1/2 cup roasted garlic or garlic confit, chopped fine

1 tablespoon kosher salt

3 teaspoons fresh herb mix

1/3 cup grated Grana Padano
Make sure to pull butter out of the fridge 3–4 hours before needed to ensure it is fully softened. Combine all ingredients in a mixing bowl and mix with a rubber spatula until well incorporated and smooth.
Recipe courtesy of Carlos Calderon, executive chef, North Italia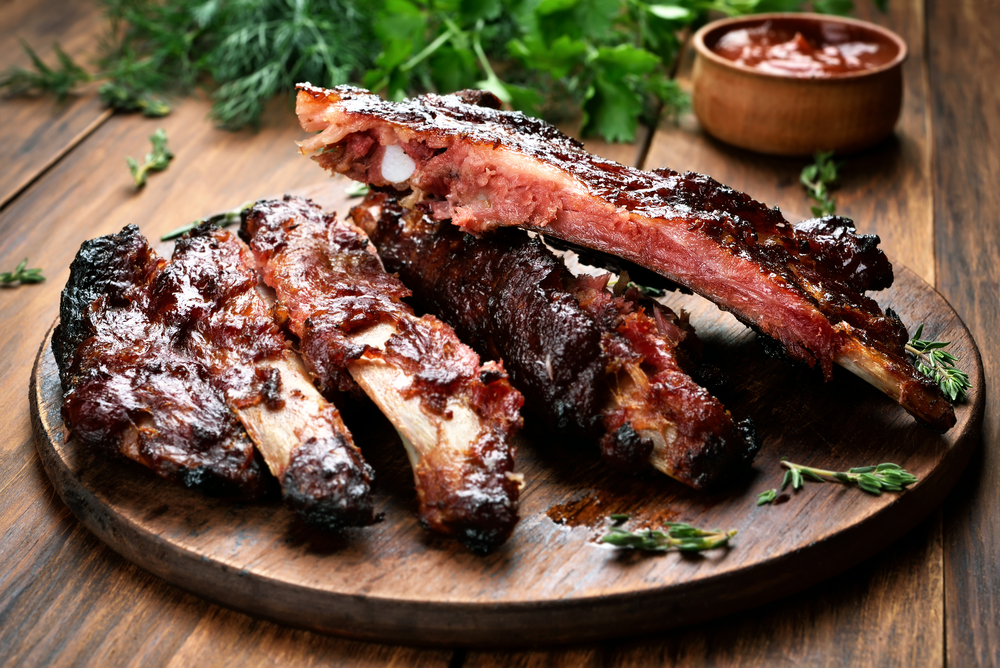 Fall-Off-the-Bone Ribs
In this time-saving variation on traditional low-and-slow ribs by culinary director Carlos Cruz of Chicago's 16 on Center hospitality group, Cruz draws inspiration from his southern roots to create a recipe featuring flavorful spices and a zesty homemade BBQ lacquer that will result in delectable, tender ribs in a fraction of the time.
2 slabs pork spare ribs per person

1 can cider
For the rib rub: 
1/2 cup garlic powder

1/2 cup onions powder

1/2 cup dark chili powder

1/2 cup granulated sugar

1/2 cup brown sugar

1/2 cup mustard powder

1/2 cup black pepper

1/2 cup salt
For the BBQ lacquer: 
1 cup molasses

1 cup Fresno hot sauce 

1 cup mirin

1/2 cup honey
Before you start getting your hands dirty, start up your grill. Get it going so that when your ribs are done, the grill will be at the right temperature to throw them on. I prefer grilling with wood, but charcoal isn't a bad option. There is no wrong way to grill as long as you're enjoying it with a beer.
Put all ingredients for the rib rub in a bowl and whisk together until fine with no clumps. Sprinkle generously on ribs, packing it in.
Pull out your Instant Pot or any pressure cooker. Place a small rack at the bottom of the pot. This keeps the ribs above the liquid you are about to put in and creates the sweet steam that will make your ribs fall off the bone.
Crack open a can of nice cider. I like to use Stem Ciders, a dry cider from Colorado. Take a sip, then pour the rest into the bottom of the pot. Place ribs in the pot, making sure the bones are vertical and wrapped around the inside of the pot.
Place the lid on your Instant Pot and pressure cook for 25 minutes. Check on your ribs after the time is up. If it needs more time to cook, continue to cook in increments of 5 minutes.
Once cooked, let the ribs cool down to room temperature. If you cut them right away, you are taking the risk of having dry ribs.
Place all ingredients for the BBQ lacquer in a bowl and whisk until emulsified. Once cool, place your ribs in the lacquer. Shake off any excess lacquer and place ribs on the hot grill. This is where you will get a nice caramelization and that crispy bark. Once you've reached a nice color on both sides of the ribs, take them off, and let them cool down a bit.
Cut and savor your work! 
Recipe courtesy of Carlos Cruz, culinary director, 16 on Center