Turkey and stuffing might be the stars of Thanksgiving dinner, but it's the salad that will rise to be the unlikely hero of the day. Amid the abundance of hearty, heavy foods, a platter of veggies adds much-needed freshness and balance to the holiday meal.
From "The Vibrant Life," a new cookbook-meets-holistic-wellness-guide by Amanda Haas, here's a trio of gorgeous seasonal options: a simple butter lettuce salad with refreshing sweetness from Asian pears and pomegranate; a roasted cauliflower more-side-than-salad number warmed with anti-inflammatory turmeric (both tasty and practical for the holiday season); and a colorful wild rice salad with butternut squash and a lively lime vinaigrette.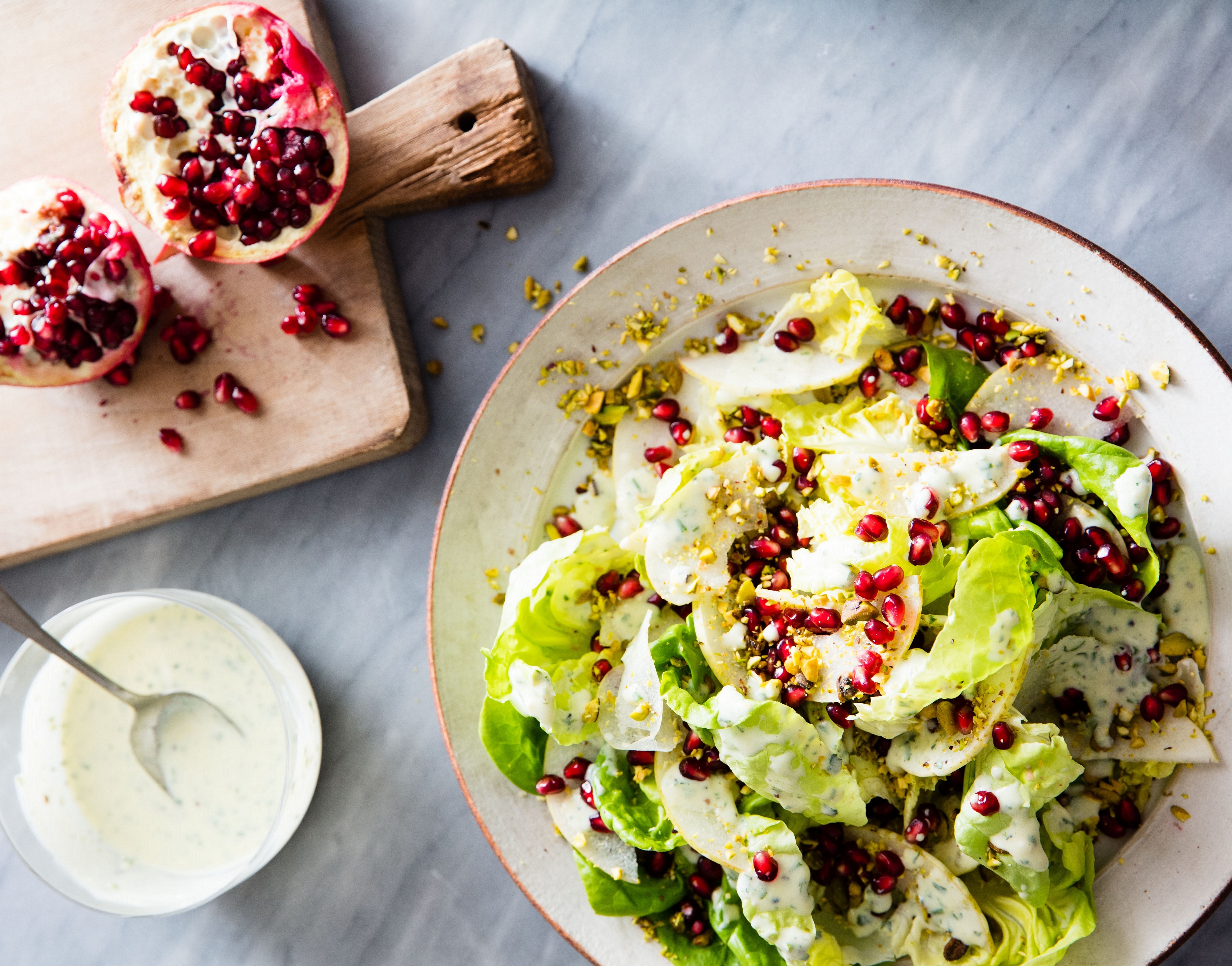 Butter Lettuce Salad With Asian Pears, Pistachios, and Pomegranate Seeds
For me, when it comes to butter lettuce, simplicity rules. I love the texture and mild flavor so much that I don't want to hide it! So here, I add a little crunch, a little sweet, and a little savory to balance it out, then add the most divine creamy buttermilk dressing loaded with herbs. Serve this salad to people who tend to overlook them and tell me they don't come back for more!
Prep Time: 20 minutes
Serves 4
1 head butter lettuce, leaves separated
2 small Asian pears, quartered, cored, and thinly sliced
3/4 cup pomegranate seeds (from about 1 pomegranate)
1/2 cup shelled pistachios, toasted
1/2 cup Herb Buttermilk Dressing (recipe follows)
Combine the lettuce, Asian pears, pomegranate seeds, and pistachios in a large bowl. Drizzle with 1/4 cup of the dressing and toss gently, adding more dressing if needed so the leaves are evenly coated yet there is no dressing left at the bottom of the bowl. Serve, passing any remaining dressing at the table.
Herb Buttermilk Dressing
I love green goddess dressing, but wanted to create something a little lighter. Buttermilk adds the tang and richness I crave, and the mixture of herbs sing together. This dressing is so good on its own, you could simply toss it with butter lettuce or romaine leaves and call it a salad.
Prep Time: 5 minutes
Makes 3/4 cup
1/2 cup buttermilk
1 tablespoon fresh lemon juice
1/2 teaspoon Dijon mustard
1 garlic clove, minced
2 tablespoons loosely packed fresh parsley leaves
2 tablespoons loosely packed fresh tarragon leaves
2 tablespoons extra-virgin olive oil
2 tablespoons roughly chopped chives
Kosher salt
Freshly ground black pepper
In a food processor, pulse the buttermilk, lemon juice, mustard, and minced garlic to combine. Add the parsley and tarragon and process until smooth and creamy. With the motor running, add the oil in a steady stream until well incorporated. Fold in the chives. Season with salt and pepper. Transfer to an airtight container and store in the refrigerator for up to 1 week.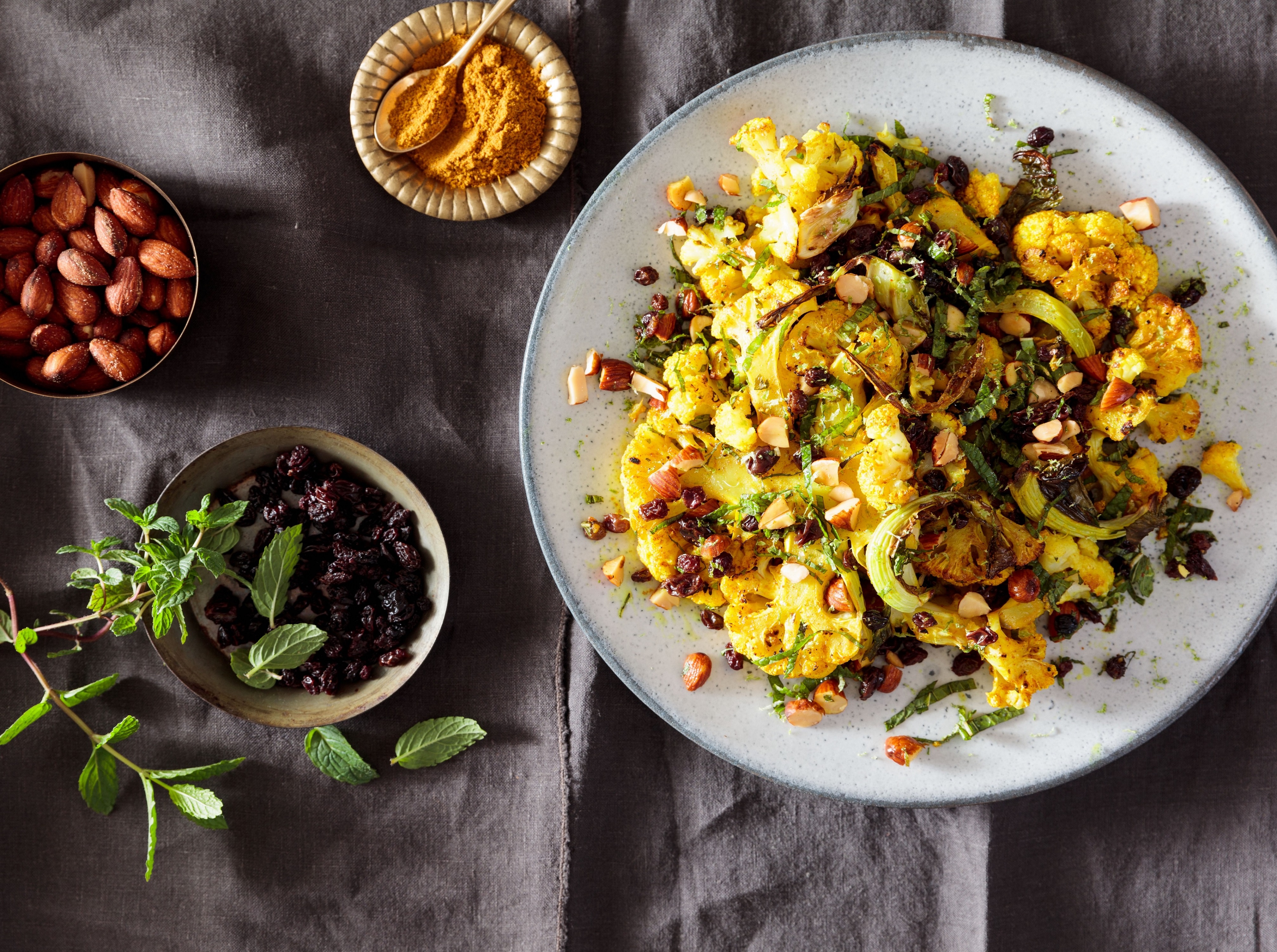 Blistered Curry Cauliflower With Mint, Currants, and Toasted Almonds
When I'm left to my own devices, you'll see me roasting cauliflower for breakfast, lunch, and dinner. Proven to balance hormones, reduce cancer risk, fight inflammation, improve digestion, and even aid in weight loss, this is one under-appreciated crucifer we all need in our lives! Roasted at high heat with anti-inflammatory spices and balanced with bright mint and crunchy almonds, this cauliflower is a vegetarian dream come true. Though I love chunks of cauliflower, slices cook faster and have more surface area to get crispy and caramelized. Don't forget: where there's turmeric, there should be black pepper. It increases the bioavailability of turmeric by 2000 percent!
Prep Time: 15 minutes
Cook Time: 15–20 minutes
Serves 4
1 head cauliflower, about 1 1/2 pound, cored and cut into 1/2-inch slices
2 tablespoons extra-virgin olive oil
1 garlic clove, grated
1 teaspoon curry powder
1/2 teaspoon ground turmeric
Kosher salt
Freshly ground black pepper
1/3 cup roasted, salted almonds, chopped
1/4 cup currants, rehydrated and drained
1/4 cup chopped fresh mint
2 teaspoons grated lime zest
Preheat the oven to 450 degrees F.
Combine the cauliflower, oil, garlic, curry powder, turmeric, 1/2 teaspoon salt, and 1/2 teaspoon pepper in a large bowl. Toss until the cauliflower is evenly coated. Spread the cauliflower out onto a large baking sheet, making sure not to overcrowd the cauliflower. Roast until the cauliflower is tender and golden brown, 15–20 minutes, flipping halfway through.
Toss with the almonds, currants, mint, and lime zest. Season with salt and pepper. Serve warm or at room temperature.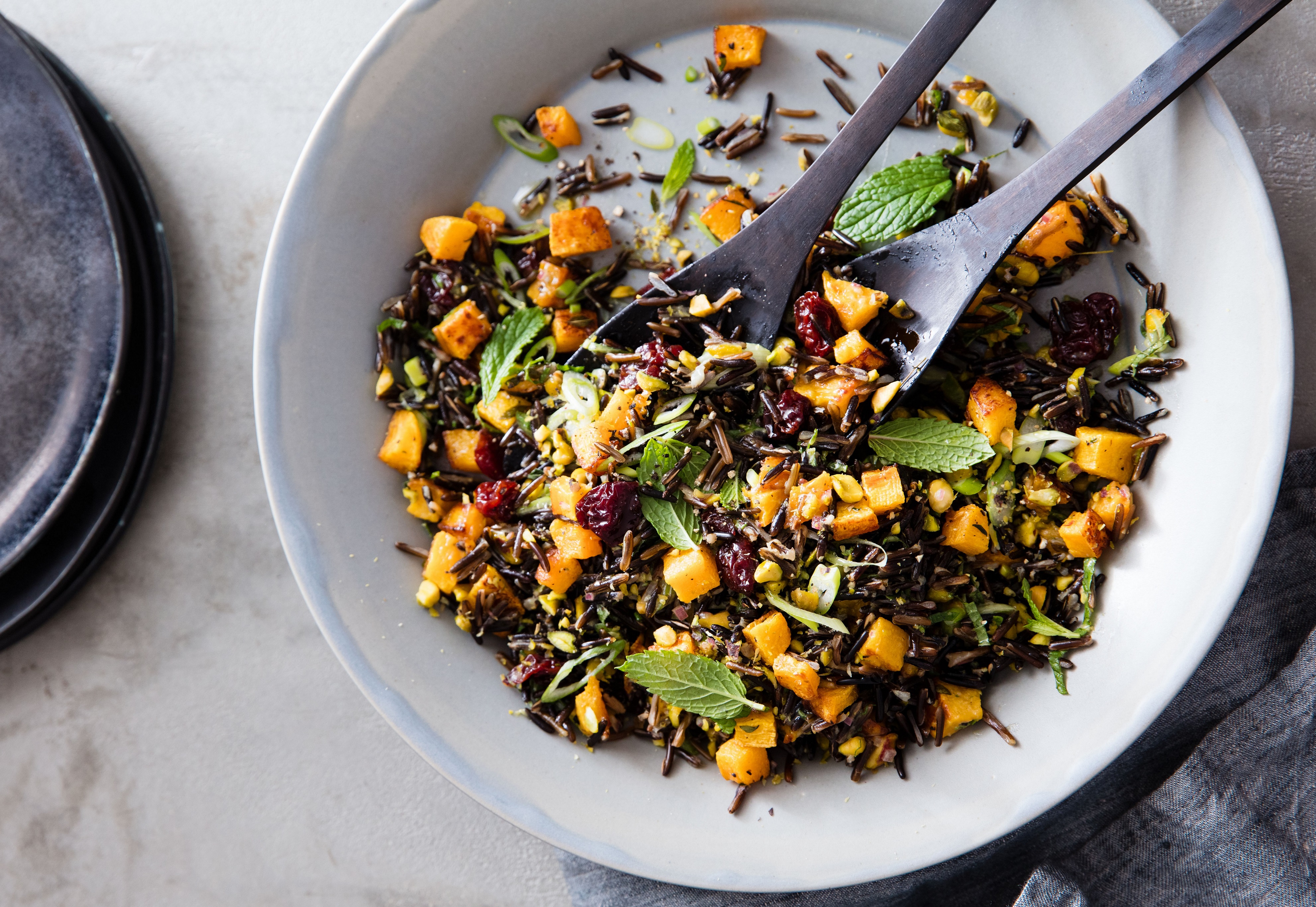 Wild Rice Salad With Butternut Squash, Cherries, and Mint
I've heard that when we're taking good care of ourselves, our bodies crave what they need. Well mine must need whatever is in this salad, because I find myself dreaming about it weekly! I'm also in a phase where I like to combine sweeter, richer foods like sweet potatoes and squash with a tart punch of citrus to balance things. This salad hits all of the right notes, and because it's served at room temperature, you can make it the morning of and enjoy it all day long!
Prep Time: 25 minutes
Cook Time: 4 minutes
Serves 6 to 8
1 1/2 cups wild rice
Kosher salt
2 1/2 pounds butternut squash, peeled, seeded, and cut in 1/2-inch dice
2 tablespoons extra-virgin olive oil
2 teaspoons fresh thyme leaves
Freshly ground pepper
1/2 cup dried tart cherries
1/2 cup shelled pistachios, toasted and chopped
1/2 cup chopped fresh mint
3 green onions, white and light green parts only, thinly sliced
1/4 to 1/2 cup Lime Vinaigrette (recipe follows)
To cook the wild rice, place in a 4 quart saucepan. Add 3 cups of water and a generous pinch of salt. Bring to a simmer, stir, and cover. Reduce the heat to low, and cook until the rice is still a little chewy but not hard, about 40 minutes. If there is any liquid left in the pan, strain the rice. Place it on a sheet pan to cool to room temperature.
While the rice is cooking, preheat the oven to 425 degrees F. Combine the squash, oil, and thyme on a baking sheet, season with salt and pepper, and toss to coat. Spread in a single layer. (If necessary, use a second baking sheet.) Roast until the squash is golden and beginning to crisp, about 40 minutes. Transfer to a wire rack and let cool.
In a large bowl, combine the rice, squash, cherries, pistachios, mint, and green onions. Drizzle with 1/4 cup of the vinaigrette and toss to combine. Season with salt, pepper, and additional vinaigrette as needed. Serve.
Lime Vinaigrette
This vinaigrette is wonderful over peaches and arugula with a little goat cheese. It's also a delicious marinade. Add a little chipotle in adobo sauce for heat.
Prep Time: 15 minutes
Makes 3/4 cup
1/4 cup minced red onion
1 teaspoon grated lime zest plus 1/4 cup fresh lime juice
1 tablespoon honey
Kosher salt
Freshly ground black pepper
1/3 cup canola oil
In a small bowl, combine the onion, lime zest, and honey. Slowly whisk in the lime juice to dissolve the honey. Season with salt and pepper. Let sit for 10 minutes, so the lime juice softens the red onion a little. Slowly whisk in the oil. Taste and add more salt and pepper as desired. Serve immediately, or store in an airtight container in the refrigerator for up to 5 days.
All recipes reprinted from "The Vibrant Life" by Amanda Haas with permission by Chronicle Books, 2019.