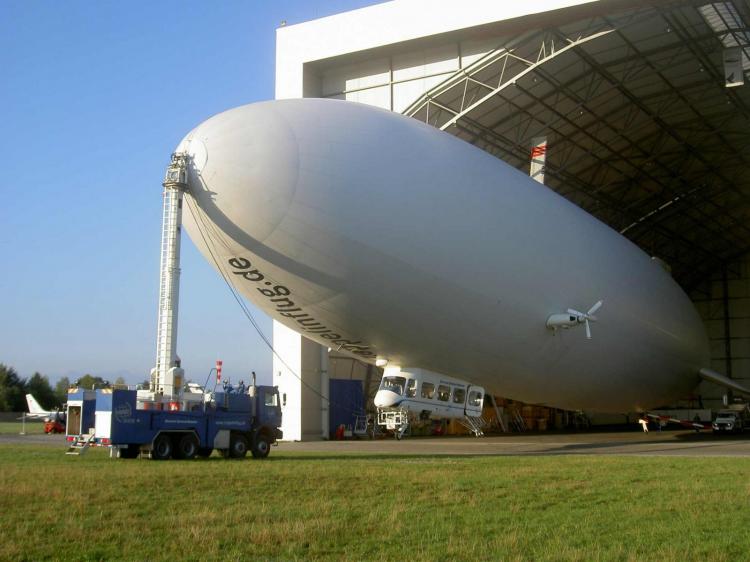 After 70 years of absence, a California start-up company is bringing a historic icon back to American skies—Zeppelin.
Airship Ventures company is bringing the aircraft back with plans to offer aerial tours starting next week at a cost of $495 per person for a one hour ride above the scenic Napa and Sonoma wine country, the Big Sur coastline, and San Francisco Golden Gate Bridge.
Brian Hall and his wife started the company last year, and although the start-up has been on somewhat of a stealth mode, the company revealed on Oct. 27 at a press conference that it will start operations from Moffett Field, North Oakland, and Sonoma County airports at the end of last week of November.
"What excites us is that every single day we will fly people who also have stories—a wedding anniversary or proposal, cancer survivor, birthday, promotion… Our company's future story will be the stories of the people that fly on our airships," says the company's website.
The giant airships were used to carry passengers and for military operations until the 1930s.
The Zeppelins golden age ended in 1937 when the LZ-129 Hindenburg burst into flames in front of thousands of spectators in New Jersey, killing 35 people. Instead of flammable hydrogen gas for lift, the new version uses helium.
The 250 foot, German-made Zeppelin NT airship will be based at NASA's Moffett Field airstrip about 40 miles away from San Francisco.
But the airship will not serve passengers only for sightseeing. Lifting at 500 feet to 1,000 feet above ground level, other uses for the long forgotten airborne vehicle would include surveillance, science, media coverage of sports events, and advertising placed on the large hull of the Zeppelin.
The cabin of the airship can hold 12 passengers and two pilots.
"It's a way to see the world in a way that you haven't experienced before. You would see things that you wouldn't see from the road," says Hall.
Other Zeppelin airships have been operating in other countries for nearly seven years. Zeppelins made by the same German manufacturer—Luftschifftechnik, have been used for sightseeing in Germany, during the 2004 Olympic Games in Athens, and for mineral prospecting in Africa by the De Beers diamond trading company.
Zeppelins can stay aloft in the air for eight or more hours and are found to be especially useful for remaining quieter than helicopters or planes.
The Zeppelin NT airship is unlike a military blimp, the company is fond of pointing out. One major difference is that blimps are similar to air balloons that hold their shape based on the pressure of the gas, but the new Zeppelin NT airship is much more technologically advanced and has a rigid internal framework made of lightweight composite material and aluminum.
But for a fully functional Zeppelin operation, the company says, airship hangars were needed, and fortunately three of the remaining 13 airship hangars in the U.S. are located at a single airfield at Moffett Field in Mountain View, California.
NASA's Moffett Federal Airfield sits on some of the most valuable real estate in the United States, and Moffett has massive hangars built in the 30s to house 800-foot submarine-hunting military blimps.
Land use around the airstrip in the vicinity is urban and is home to numerous industries including electronics, high tech, and aerospace firms. This area is part of the well-known Silicon Valley.