Georgia mom Jessica McPherson went into labor and headed to the Emory Decatur Hospital at just 21 weeks' gestation in December 2019.
Despite the odds of their baby's survival, being born so premature, the mother and father, Jessica McPherson and Jemarius Harbor Sr., pleaded for the medical staff to "try" to save their baby.
"We looked at each other in the eye and I told him just give it a try," Jessica told Fox5. "I just want you to try. As long as you try, that's all that matters to me. Don't just up and say that you can't do it. Just 'cause you haven't done it doesn't mean it can't be done."
Weighing just 13 ounces (approx. 369 g), and smaller than the size of a hand, baby Jemarius Jachin Harbor Jr. was born on Dec. 20, 2019.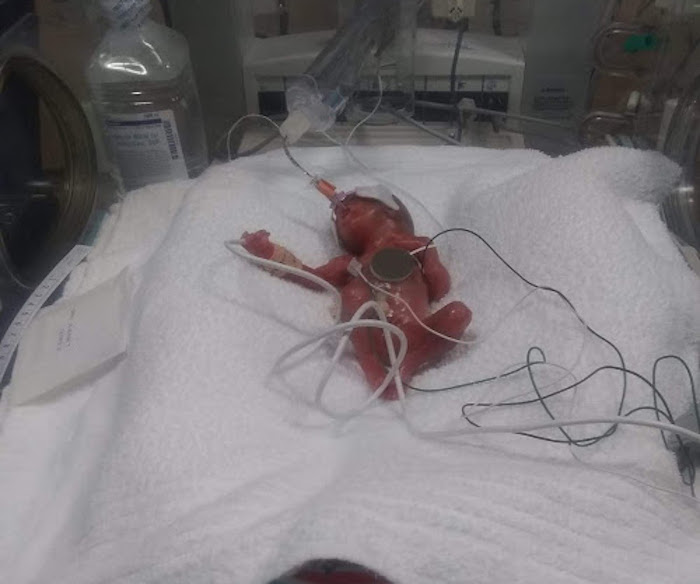 That same month, Gina Phillips, director of Medical Services at Pregnancy Aid Clinics, told FOX5 that the premature baby's survival "would be [nothing] short of a miracle."
No baby had ever been born so young and survived.
Jemarius did survive, however, and he broke the previous record for the youngest preemie to live on by four days.
His miraculous story also adds credence to prior medical findings that when provided active rather than palliative care, over 70 percent of infants can survive premature birth, according to a 2016 study in the Journal of the American Medical Association Pediatrics.
Another mom, Jessica Spradlin, who became Jemarius's godmother, and who also maintains a Facebook page called A Moment with Kailor, wrote a heartwarming post on June 21 celebrating the moment when Jemarius, now strong enough at 9 pounds (approx. 4 kg), was bundled up snugly and ready to head home for the first time.

Her post read:
Jemarius is the YOUNGEST surviving preemie in the world. Born at only 21 weeks 0 days, weighing 13 ounces and shorter than a ruler is long!
TODAY he said peace out to the NICU and going home with his parents!!
He's just short of 9 pounds!! ❤️
I'm also SO EXCITED to announce that his parents have asked me to be his God Mother 😭
Please help us share this in showing the world that 21-22 weekers are viable!!!! They are thriving. They are perfect. They are worthy.
Congratulations to Jemarius for breaking out of the NICU after a 6 month stay of proving every doctor wrong and making strides of progress for all micro-preemies!!!
Jemarius's story has indeed proven that preemie babies are viable at very young ages as long as they get the medical support they need.
The family with their miraculous new addition now have a GoFundMe page set up as they get acquainted with their new son at home.
We would love to hear your stories! You can share them with us at emg.inspired@epochtimes.nyc