At a Kroger in Lemon Township, Ohio, dad Deshawn Pressley, 27, with his 1-year-old daughter, was having a pleasant conversation with elderly neighbor Pat Goins, 87, just moments before the mugging occurred.
While Goins was in the checkout, a male assailant swiped her purse and took off—not just to her own dismay but also to that of concerned bystanders, who ran after the thief.
Pressley, from the adjacent aisle, saw the suspect, 58-year-old Derek Vaughn, fleeing toward the exit and heard Goins's cry for help, "He stole my purse!" and was soon hot on the man's heels.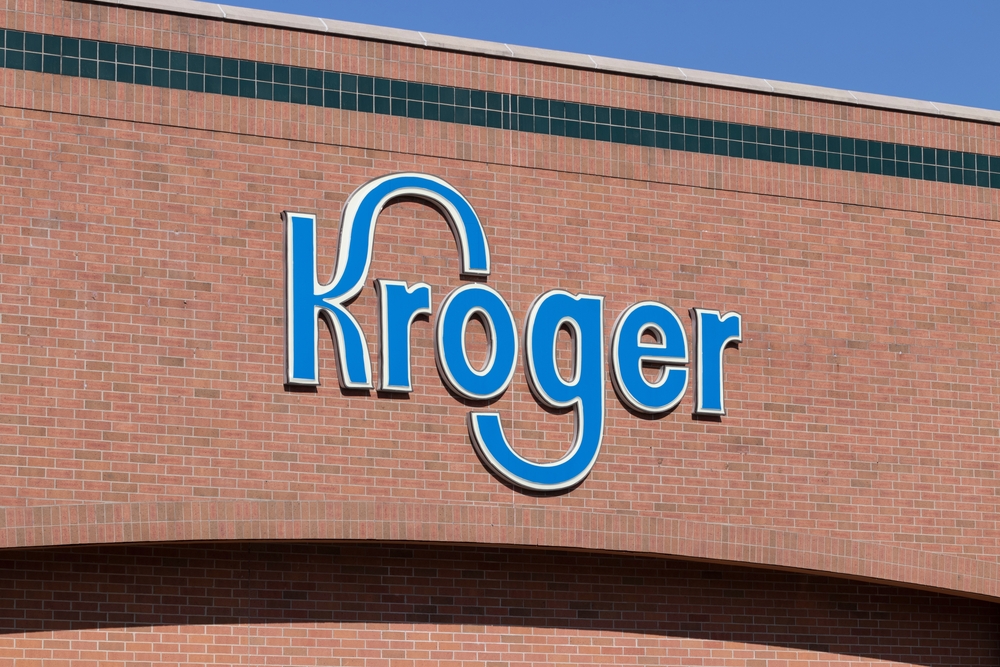 A much faster runner than Vaughn and the other shoppers, Pressley caught up with him in the parking lot and quickly took him to the ground, pinning him.
"I chased him down, got him—he got to his car and everything, but I grabbed him, held him to the floor, got him down, did what I had to do until the police arrived," Pressley told Fox19. "I told him, 'Why would you steal from an elderly lady?'"
An outraged rabble of some 10 or 15 shoppers, Goins said, alongside Pressley, surrounded Vaughn and ensured he wasn't going anywhere, and even went so far as to make him apologize to Goins.
The Butler County sheriff later said in a statement that the intervention amounted to a citizen's arrest, and the justice-seeking bystanders put the fright in the suspect—and rightfully so.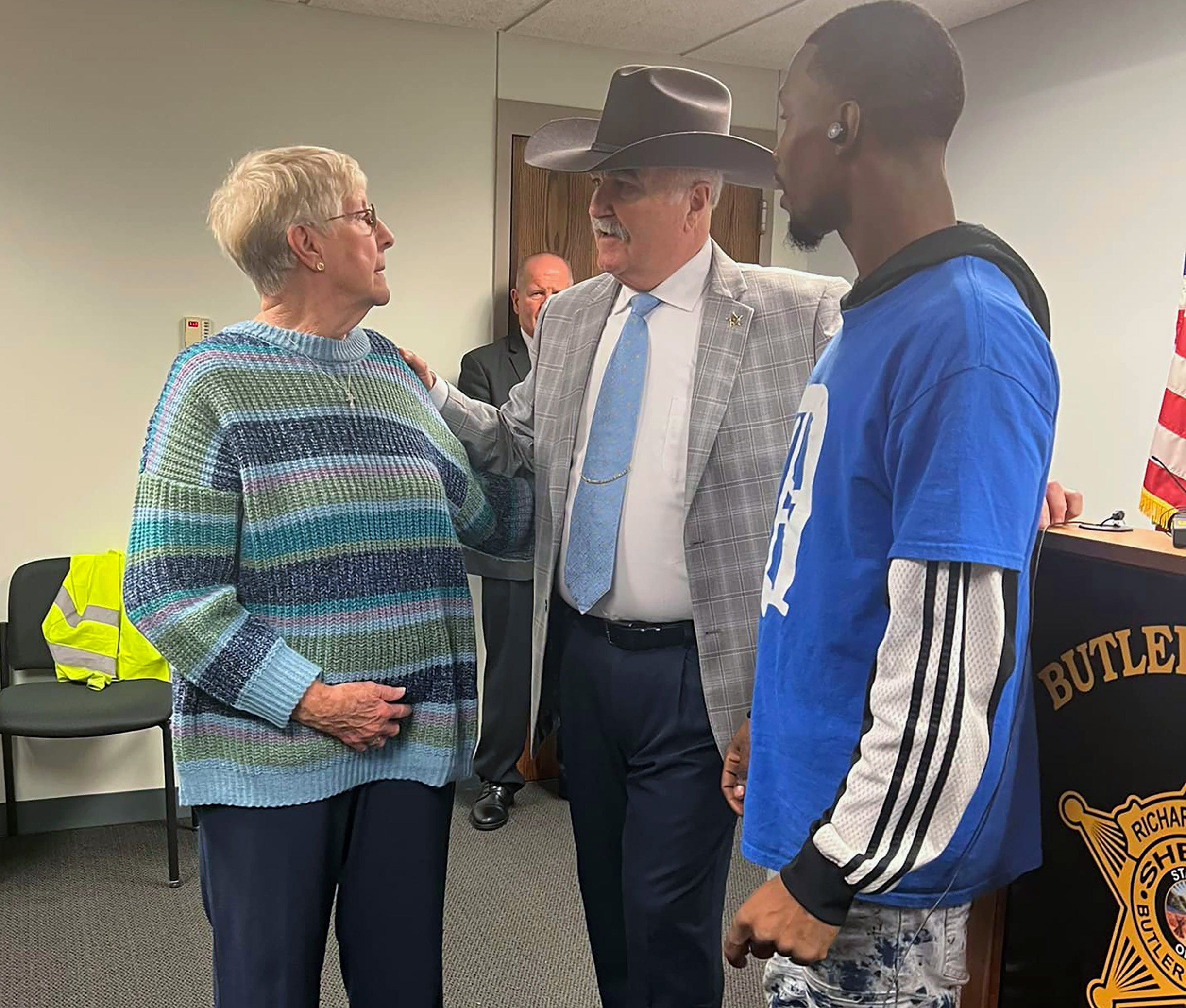 "[Vaughn] made a terrible mistake, people in that store started running after him, I call it the equivalent of having the pitchforks out," said Sheriff Jones. "Listen, you come to this county and you do these kind of atrocities, and you do these lowlife things … [Vaughn] was anxious for the police to get there.
"This isn't New York City, this isn't California, this isn't Chicago. The citizens here are going to take care of it themselves."
He added that Vaughn was probably looking for cash to fuel a drug habit.
Goins after the incident told Fox News, "I feel that he picked me because I was a senior citizen, he could outrun me."
Then on Dec. 15, The Butler County Sheriff's Office recognized Pressley's valiant act in stopping the suspect; he and Goins partook in a ceremony and Pressley accepted honors from the sheriff.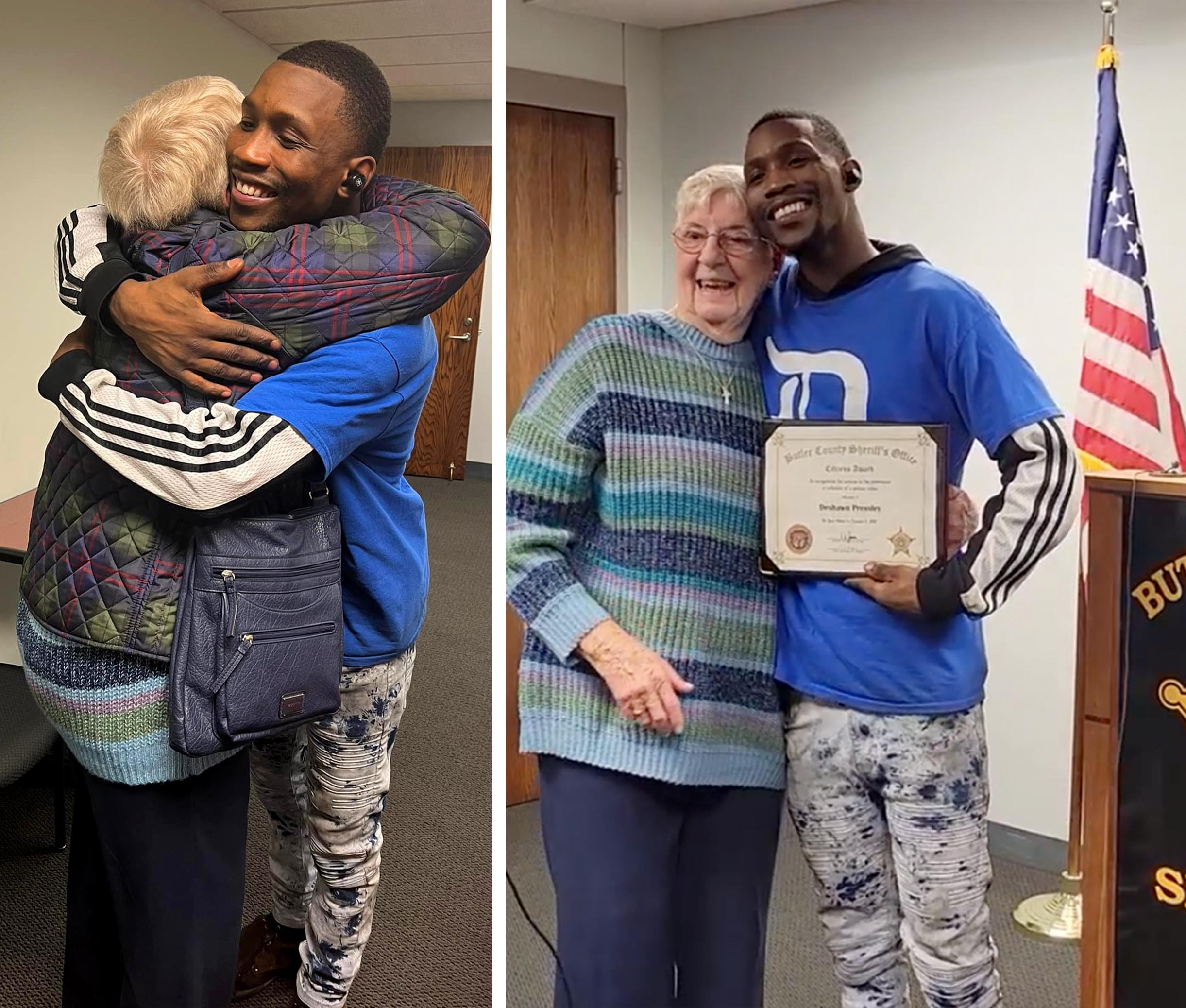 The young man stated that his grandmother, who raised him after his mother passed away, instilled in him that it's important to help elderly women.
"I just turned around and did what I had to do as a citizen, and I'm glad I helped [Goins], because she's a wonderful, lovely lady," said Pressley. "My grandma took me in, and she did very good by me. She had house rules and stuff like that.
"It was good that she taught me what she taught me, and I'm thankful."
Pressley and Goins are not only keeping in touch but also planned a dinner date in the not-too-distant future.
Share your stories with us at emg.inspired@epochtimes.com, and continue to get your daily dose of inspiration by signing up for the Epoch Inspired newsletter at TheEpochTimes.com/newsletter