If you, like me, like to squeeze every last bit out of summer before declaring it officially fall, I implore you to make this extra-cheesy, extra-garlicky corn on the cob before you're out of time. Roast your last ears of corn in the oven until they lightly blister and char, rub them with Parmesan-garlic butter, then shower them with more Parmesan and plenty of fresh basil for the ultimate end-of-season celebration.
If you're familiar with elote, the Mexican street corn that features a glorious mess of cotija cheese, you know how magical the combination of salty cheese and sweet corn is. Here, it's a bit Italian-leaning.
You'll make a quick compound butter by mixing softened butter with grated Parmesan cheese and garlic while the corn cobs roast in the oven. Once they're tender, you'll immediately slather the aromatic butter over every kernel, then shower more cheese, fresh basil, and cracked black pepper over top. Fair warning: Each bite is so rich and interesting, your main dish probably won't be the star of your dinner the night you serve this corn.
Oh, and while roasting brings out a wonderful, caramelized sweetness in the corn, you can also apply this garlicky, cheesy technique to grilled, boiled, or even microwaved corn.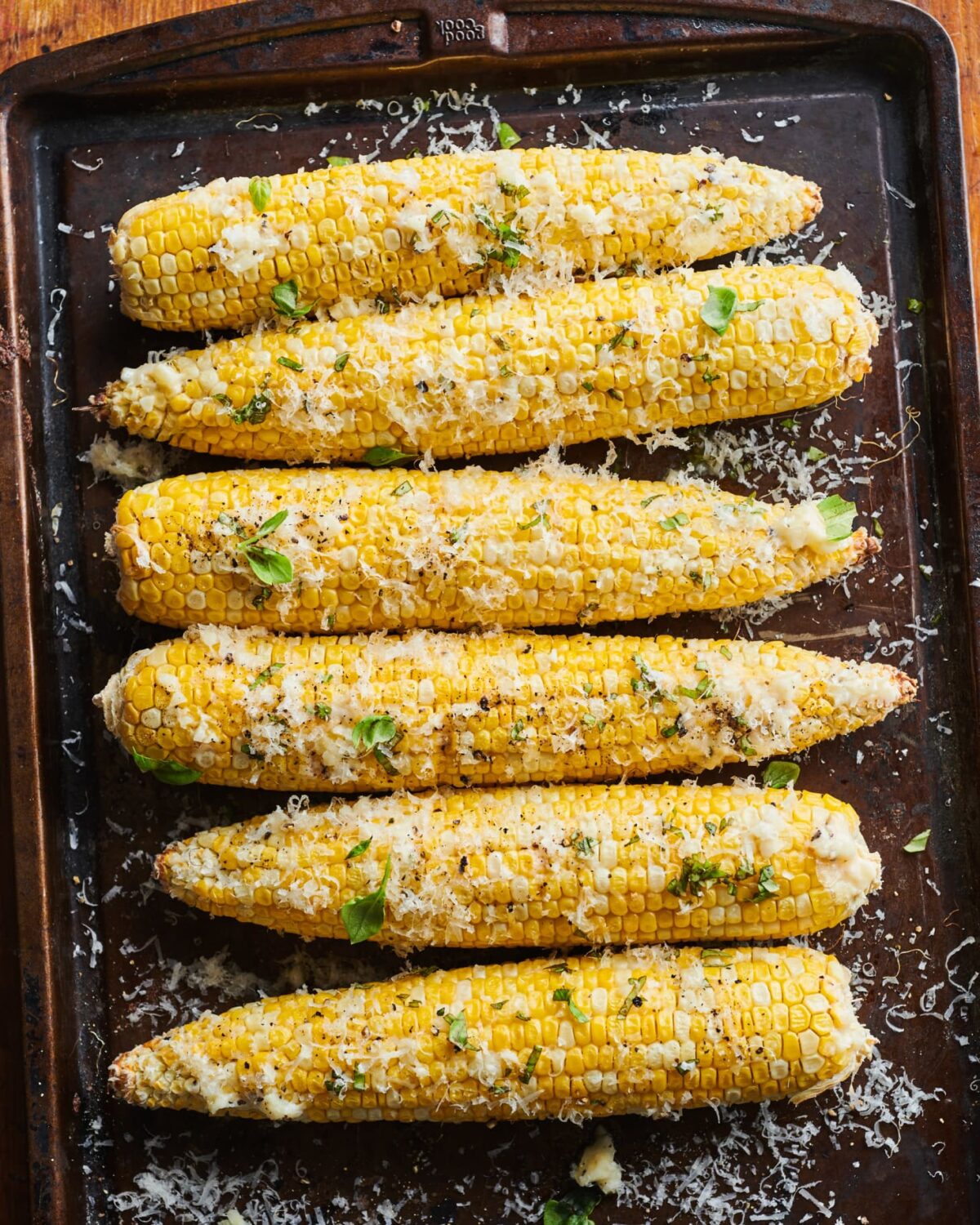 Oven-Roasted Parmesan Corn on the Cob
Serves 6
3 tablespoons unsalted butter, at room temperature
6 ears fresh corn
1 ounce Parmesan cheese, finely grated (about 1/2 firmly packed cup grated on a Microplane or 1/3 cup store-bought), divided
2 cloves garlic
1/2 teaspoon kosher salt
1/4 teaspoon freshly ground black pepper, plus more for serving
4 large fresh basil leaves
Place the unsalted butter in a small bowl and let come to room temperature. Arrange a rack in the middle of the oven and heat the oven to 400 degrees F.
Remove the husk and silk from the corn. Place the corn directly on the oven rack and roast for 25 minutes. Meanwhile, use a Microplane to finely grate the Parmesan cheese.
Add half the Parmesan to the bowl with the butter. Grate or mince the garlic cloves and add to the bowl. Add the kosher salt and black pepper, and use a fork to mash and combine. Coarsely chop the basil.
Transfer the corn to a baking sheet. Use a butter knife or pastry brush to immediately slather it all over with the Parmesan-garlic butter. Sprinkle with the remaining Parmesan cheese and the basil. Generously grind some black pepper over the top and serve immediately.
Recipe Note: Leftovers can be refrigerated in an airtight container up to three days.