"You can prevent cancer," Say Scientists
February 4, 2013 7:31 pm Last Updated: October 1, 2015 11:14 am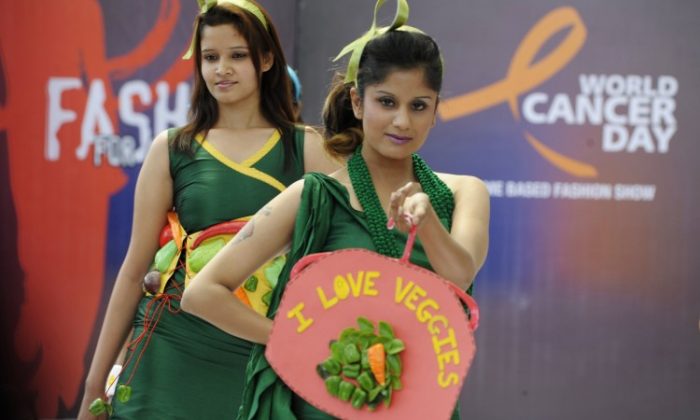 Dispelling the myth that cancer is down to fate could help to save at least 13,000 premature deaths a year in the UK, according to a leading cancer research charity.
A recent survey revealed that a third of Britons believe cancer is largely due to bad genes and more than one in four people polled thought that besides quitting smoking there is little that can be done to prevent the disease.
World Cancer Research Fund (WCRF), which conducted the Yougov survey for World Cancer Day on February 4th, wants to raise awareness that people can be proactive to reduce the risk of many common cancers.
"Tell at least one person on World Cancer Day that there are steps we can all take to reduce our cancer risks." Kate Mendoza, head of Health Information at WCRF says. "We're trying to encourage people to take a simple pledge to reduce their cancer risk."
Mendoza says that changing diet and lifestyle can make a big difference: Cutting down on alcohol consumption, eating fruit instead of chocolate and biscuits and increasing physical activity by an extra 15 minutes per day have all been shown to help prevent cancers.
"We know that certain cancers are much more preventable than others and more closely linked to our lifestyles in terms of diet, physical activity and alcohol consumption, like breast cancer, and bowel cancer which are very common cancers in the UK. Also, cancers of the mouth, throat, oesophagus are linked to alcohol and smoking," Mendoza says.
Experts do agree that genetic factors have a bearing on cancer.
"But that's only 5 to 10 per cent of cancer cases and people have the impression that it accounts for a lot more. Your lifestyle choices are probably more important than your genes or the interaction of your genes with your lifestyle that makes a difference," Mendoza says.
WCRF is highlighting that a third of the most common cancers can be prevented if people eat a healthy diet and are physically active and maintain a healthy weight.
People accept the link between a poor diet, lifestyle and heart disease, but WCRF admits that more work needs to be done to educate the public that those same risk factors are linked to cancer.
"It takes a long time to getting from studies scientists do to where people change their habits, " says Rachel Thompson, deputy head of Science at WCRF says the public may be overloaded by too many opposing messages in the media about what consists of a healthy diet.
"People might be getting confused and think 'oh well scientists will be changing their mind in a few years time,'" Thompson says.
It's more difficult to reinforce the message about diet than smoking.
"You have to eat and there isn't any food that you should never, never eat. It's a case of getting the right balance." Thompson says.
Colin Goding, professor of Oncology at the Ludwig Institute for Cancer Research, University of Oxford, said in an email that research by a team in Madrid linking the consumption of excess sugar to cancer is "very exciting."
"I think the study is very important. It makes a clear mechanistic link between high glucose, such as is found in diabetics and a well-characterised cancer associated signalling pathway that acts to promote tumorigenesis," he said.
"Their data suggest that combinations of different dietary factors play a major role in regulating signals that are already known to impact cancer initiation."
Previous research has only associated the link between diet and cancer, but lacked "mechanistic insight", according to Goding.
He said the WCRF turned down a grant application for funding to take this work forward, despite some very positive peer reviews. For that reason the group in Madrid is really struggling.
Thompson could not comment on the study but says, "We haven't found any link that sugar itself causes cancer."
Government figures show that about 157,000 people die of cancer every year in the UK.