"We eat the best food here and that's why we're all still fighting fit. It's why I'm still on my knees picking olives every November. The fish here is the best, fresh from the sea. It's caught in the morning then it's on my plate by the afternoon. That's real food that will keep you alive for years.
"I've been cooking this dish for so long. We used to joke that skordalia isn't for a young girl that wants to be kissed. My husband, George, loved it. He would want fish every mealtime, so I learned to cook it as soon as we married. Back then, we didn't just stick it in the oven. I learned to cook on an open flame and I still only cook this way. My mother never taught me how to do any of this—it was more about putting me to work out in the fields. I had nine other siblings and we couldn't all go to school so I never learned to read or write. Cooking and looking after my family is what I learned to do best.
"I've always been poor but I've never gone hungry. When we were young we had chickens and we'd sell the eggs to make a tiny bit of money to be able to buy fish or cheese. We've always had food because we grow it. As I get older, it gets harder to do, but I still walk to my allotment for an hour every morning to harvest fresh vegetables. My oil isn't the same as the oil you buy from any supermarket. Nothing tastes as good as the olive oil from your own olive trees."
–Yiayia Anastasia, born in Corfu, Greece, 1937, lives in Corfu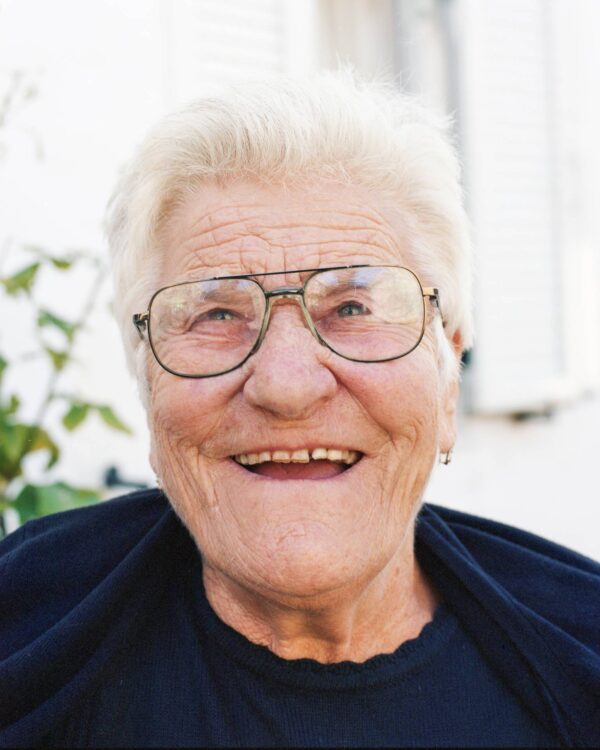 Feeds 4
4 medium whole sea bream, gutted and descaled
1 tablespoon sea salt flakes
2 tablespoons dried oregano
15 tablespoons olive oil
6 garlic cloves, finely chopped
Juice of 1 lemon
With a sharp knife, make 3 or 4 incisions along each side of the fish and rub all over with sea salt flakes before placing in a large dish.
In a bowl, prepare the marinade by combining the oregano, olive oil, and garlic.
Spoon the marinade over the fish, rubbing the mix all over and inside the fish to coat.
Cook the fish on a hot grill for about 8 to 10 minutes on each side, until the skin is blistered and the fish cooked through.
Squeeze the lemon juice over just before you serve (don't add during the cooking, as it makes the fish stick to the grill).
Greek Salad
1 cucumber, roughly chopped
3 large ripe tomatoes, roughly chopped
1/2 red onion, finely sliced into half-moons
25 kalamata olives
1 long green pepper, sliced into rings (optional)
1 7-ounce block feta cheese
1/2 teaspoon dried oregano
6 tablespoons extra virgin olive oil
2 tablespoons red wine vinegar
Place the chopped cucumber, tomato, and red onion into a bowl. Add the kalamata olives and mix together.
Spread out onto a serving dish and top with the slices of green pepper, if using, followed by a huge slab of feta and a sprinkling of oregano.
Layer on lashings of olive oil and a sprinkling of vinegar. Put it straight on the table and let everyone break off hunks of cheese as they serve themselves.
Garlic Dip (Skordalia)
8 medium floury potatoes, peeled and halved
1 whole bulb garlic, cloves separated and peeled
7 tablespoons olive oil
Juice of 2 lemons
Boil the potatoes in a large pan of salted water for 15 to 20 minutes, or until tender. Drain and leave to steam in the pan for a moment.
Bash the garlic cloves in a pestle and mortar until they form a paste, or finely grate. Yiayia's pestle and mortar is a thing of wonder and big enough for her to add the potatoes, but if yours isn't, simply transfer the garlic into the potato pan with the olive oil and mash or blend with a hand blender until smooth. (Don't be tempted to put the potatoes into a blender. It will resemble wallpaper glue and cling to the roof of your mouth. We made this mistake when cooking a Yiayia-inspired supper for 40, and Yiayia was both cross and disappointed when she heard.)
Finally, add the lemon juice and season to taste. Then add a little bit of water at a time until it reaches a runny consistency. Serve with an extra trickle of oil on top, if you like.
Excerpted with recipes and images from "Grand Dishes: Recipes and Stories of Grandmothers of the World," by Anastasia Miari and Iska Lupton, available now from Unbound. Excerpted with permission of the publisher.