Writer Appreciates the Story of Shen Yun: The Pageantry
April 6, 2014 5:22 am Last Updated: April 8, 2014 6:12 am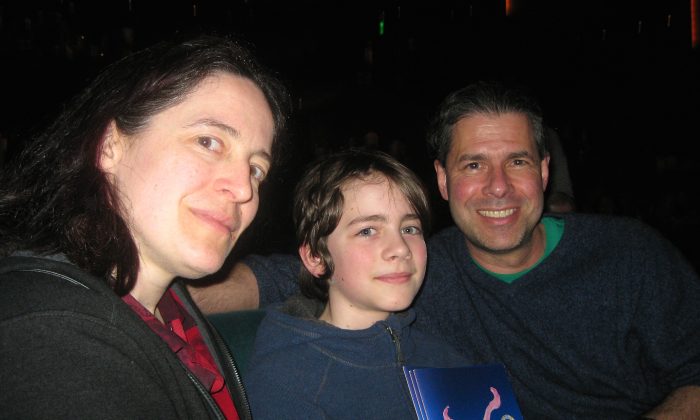 SEATTLE—The Nylund family enjoyed the experience of traditional Chinese culture, especially for their son, in Shen Yun Performing Arts, on April 5, 2014 at Seattle's Marion Oliver McCaw Hall.
Writer and first time Shen Yun attendee Eric Nylund enjoyed the traditional stories. "Chinese mythology is a lot different than Western mythology, and we just don't have those aesthetics and values in our Western myths."
Mrs. Nylund added, "the artistry of the dancers is amazing—stunning,!"
Through the universal language of music and dance, the New York based Shen Yun weaves a wondrous tapestry of heavenly realms, ancient legends, and modern heroic tales, taking you on a journey through 5,000 years of Chinese culture.
Mrs. Nylund was stunned at Shen Yun's diversity, and enjoyed the modern performances, "the modern story to kind of put things into current social context."
The "pageantry" enchanted Mr. Nyland adding that he appreciated the dynamics and the color.
Established in 2006, Shen Yun's mission is to use performing arts to revive the essence of Chinese culture—traditionally considered a divinely inspired civilization. Since the CCP is officially an atheist regime, it is afraid of the freedom of expression this arts company enjoys in the West.
Today Shen Yun is reviving the 5,000 year old divine culture, bringing the richness of China's culture to all, "China is such a geographically diverse region we don't understand it, we think we do, but we don't." said Mr. Nylund.
Reporting by Michael Green and Lauren DePhillips
New York-based Shen Yun Performing Arts has four touring companies that perform simultaneously around the world. For more information, visit Shen Yun Performing Arts.
The Epoch Times considers Shen Yun Performing Arts the significant cultural event of our time. We have proudly covered audience reactions since Shen Yun's inception in 2006.