Wounded Heroes Tell Their Stories Through Design
November 15, 2013 6:03 am Last Updated: November 14, 2013 5:01 pm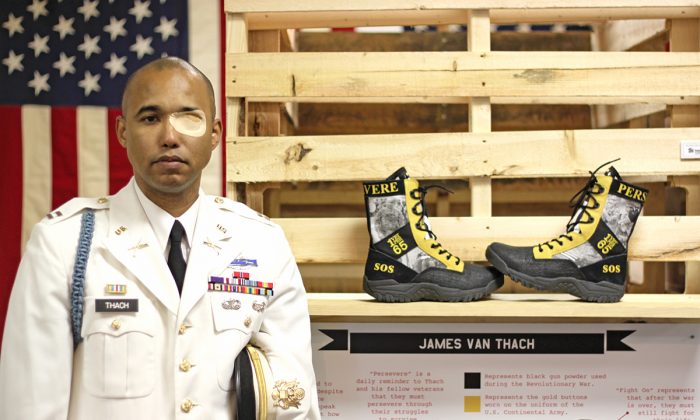 NEW YORK—It is a great thing to have survived war. Scarred by visible and invisible wounds, another kind of courage is then called for in order to open up to all that life has to offer and seek out new opportunities, whatever they may be. The willingness to share one's story with the rest of us that may have never experienced adversity on the same scale also takes compassion.
[Fashion Has Heart] is presenting a comprehensive collection of original T-shirt and boot designs created by wounded U.S. military veterans at The Forbes Galleries in Manhattan. The works are a result of the collaboration between the veterans and designers who translate their stories into visual art. The project is only two years old but is poised to gain momentum due to the success of the concept and the resulting designs that are not only stories in themselves but highly wearable.
Originally from New York, [FHH] Executive Director Michael Hyacinthe served in the Navy in Iraq and Afghanistan. He told the Epoch Times about the inception of the project.
"We know that creativity opens up endless doors. I wanted to not just put [the veterans'] faces on a design but also give them the power to create and influence design through their stories, and just to give them another outlet to continue dreaming. Many of them faced some serious injuries, but through creativity all those injuries can be overcome."
Each year five veterans get chosen for the project and are paired with artists and designers. They team for a weeklong collaboration to share the hero's story through the medium of art and design. The results are a T-shirt design and a pair of Bates Limited Edition Boots that can be purchased from the exhibition or through the website.
Reflecting on a Life Well Lived
Danielle Green-Byrd is one of the five war heroes participating in this year's partnership. Her T-shirt and the boot design are inspired by both her patriotism and the design of her favorite basketball shoes.
The T-shirt depicts a series of 12 doors—each is a symbol of how her path has changed, including the knob changing orientation to accommodate her lost arm and a chapel door left open to symbolize her husband's sudden passing.
"My shirt looks at the different doors—you know the 7-year-old kid dreaming big thoughts and then childhood is over. [Suddenly] you're in high school and then that door closes. Then you're in college—you're fulfilling the dream and then that door closes. So, now is the military—not knowing what's going to happen, but now there's a whole other dimension because I'm considered a disabled person. So, now that's a new door," Green-Byrd said.
Having grown up in the South Side of Chicago in a "dysfunctional family," Green-Byrd knew at the age of 7 that she had to break a vicious cycle of drug abuse and poverty. She had a full scholarship and became a star basketball player at Notre-Dame. Green-Byrd enlisted at the age of 26 as a military police officer. In May 2000, she was hit by a rocket-propelled grenade while on patrol in Iraq and lost her dominant left arm. Not long after returning home to Chicago her husband unexpectedly passed away.
Following her injury Green-Byrd has earned two master's degrees. "And that door—fear of the unknown—that door closed with me becoming a vocational rehabilitation counselor with the Department of Veterans affairs where I provide readjustment counseling service."
Green-Byrd's gift and ultimately what is most inspiring to us all is her ability to translate her experiences—not just through the process of design but into a newfound perspective on life. She communicates the constant ebb and flow of our inner selves trying to cope, makes sense of it, and then uses the knowledge gained from suffering and experience to propel us bravely through a new door.
"So my journey's just been about opening and closing doors, not knowing where life is really going to take you—that's the exciting part," Green-Byrd said.
Artists Changed by the Collaboration
The designers also gain a fresh perspective through the collaboration. Freelance designer Nancy Yerkes, who was paired with wounded war veteran David Nicholson, spoke of previously feeling disconnected from any experience of war since she did not have friends or family members who served.
"It's as if I was just missing that part of life and of the population of our country because I wasn't plugged in to the appreciation and gratitude that I have, because I was living disconnected from it," said Yerkes.
One cannot help but wonder how life's serendipity, or call it destiny, pairs two people in such a way as to learn from each other precisely that, which has been missing from their lives.
"I am so involved now. I was in the [Veteran's Day] parade today, and just being around all those people I just have a really deep respect and understanding and kinship now. So it's really changed everything in that way for me," Yerkes said.
Interconnected
After serving 12 years in the Navy, David Nicholson went on to apply his skills as an aircraft mechanic for various corporate airlines, and eventually became a private contractor in support of military personnel in Afghanistan. While stationed in Afghanistan, Nicholson's base came under attack. He lost most of his team members, as well as his legs.
Nicholson's T-shirt design titled "On Your Shoulders," speaks of the interconnectedness of all life. It depicts David himself as a silhouette with his arms outstretched. Other silhouettes are in the background with their arms outstretched.
"I got the idea from 'Saving Private Ryan,'" Nicholson said. "At the end of the movie you see his wife, his kids, and that's where I got the idea that without his sacrifice all these people wouldn't exist. By sacrificing my legs I saved hundreds of people who are going to have kids, and their kids are going to have kids."
In addition to providing support for the creative process, the [Fashion Has Heart] organization works to market each artists' work. A portion of the proceeds goes to the participating veterans.
[Fashion Has Heart] Heroes Series through Jan. 25, 2014
The Forbes Galleries (62 Fifth Avenue, at 12th Street)
Call 212-206-5548 the morning of your visit to confirm that the galleries are open.
fhh.bitmanic.com/heroeseries; free
With reporting by Christine Lin, Epoch Times Staff