NAPA, Calif.—Cruising along Highway 29 through the Napa Valley is a feast for the eyes of even the most casual wine lover.
From Napa to Calistoga, the hits just keep rolling past: Trefethen, Cardinale, Opus One, Robert Mondavi, Cakebread, Corison, Grgich Hills, Far Niente, Nickel & Nickel, Heitz, Martini, Beringer, Krug, Sterling, to name a few.
It's a star-studded neighborhood. Some of the wineries are historic, others are cultish, but all are prominent. This is a remarkable section of the wine world, where even splendid wineries often can and do fly under the radar.
I was reminded of that very fact when I came upon a sensational St. Supéry merlot during the national Merlot Month of October. St. Supéry has a history of superb merlot vintages, so it was no surprise that I gave it 95 points and a rave review. At the same time, it occurred to me that St. Supéry is sometimes overlooked because it is surrounded by so much star power.
That prompted me to schedule a visit with winemaker Michael Scholz during a recent visit through the area. Scholz, a native Australian, has been winemaker at St. Supéry for more than two decades. Scholz grew up in the family wine business in Australia's Barossa Valley. Since arriving at St. Supéry in 1996, he has worked with famed French consultant Michel Rolland to craft two Bordeaux-style blends, Virtú (a white wine) and Elú (a red wine), that are among the finest of their type in the United States.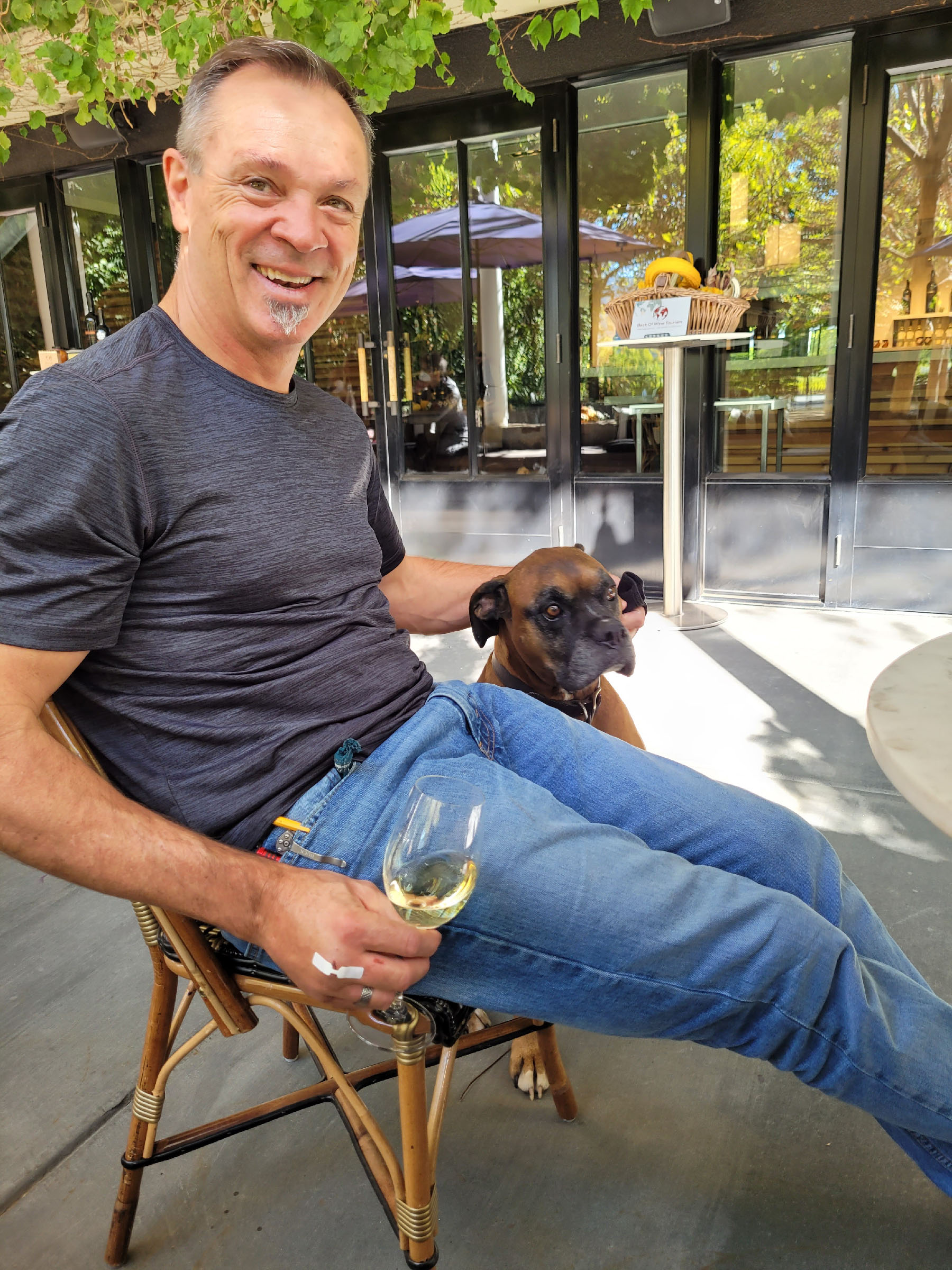 St. Supéry is located in the Rutherford district and has a small vineyard there, but the main vineyard property is the massive 1,500-acre Dollarhide Ranch in the mountains east of the valley floor. St. Supéry has 500 acres under vine at Dollarhide and benefits from diverse soil types (gravelly soils and clay, primarily) that help build complexity in the finished wines. Some of the Dollarhide vineyards, cabernet sauvignon in particular, are also planted at elevations between 900 and 1,100 feet, another factor that translates to greater complexity in finished wines.
Even more interesting is the idea that at one time, those steep hillsides were hidden beneath the nearby Pacific Ocean.
"If I dig an eight-foot pit, I will find fossilized seashells," Scholz notes. "And we are also lucky to have a few acres in Rutherford. Those wines have this gentle, dusty feel in the mouth."
The St. Supéry wines aren't cheap, but that goes with the territory in the heart of the Napa Valley. All of the wines produced at St. Supéry are estate-grown and exquisitely balanced. Scholz wines are stylistically smooth and generally ready to drink upon release; they exhibit judicious decisions regarding oak (quite a lot of French oak, some new and some used), and the reds show well-managed tannins.
Tasting Notes
Wines are rated on a 100-point scale. Wines are chosen for review because they represent outstanding quality or value, and the scores are simply a measure of this reviewer's enthusiasm for the recommended wine.
St. Supéry 2019 Dollarhide Estate Vineyard Sauvignon Blanc, Napa Valley ($35): This wine is 100 percent sauvignon blanc, aged five months in French oak. It shows superb richness on the palate and exceptional complexity for this grape variety. Scholz picks at varying levels of ripeness during harvest to build complexity and structure and uses the French oak for what he calls "fatness" and texture on the palate. Rating: 94.


St. Supéry 2018 Virtú, Estate, Napa Valley ($30): An opulent wine, the 2018 Virtu is heavy (54 percent) on semillón with the rest sauvignon blanc. Around 70 percent of this vintage was fermented in French oak, and a portion went through a secondary malolactic fermentation, which imparts a creaminess that elevates what many describe as the "yum factor." Notes of fig and stone fruits are the predominant profile. This is a rich, complex Bordeaux-style white blend that can compete with chardonnay when paired with grilled swordfish, salmon, and cream sauces. Rating: 95.


St. Supéry 2015 Elú, Estate, Napa Valley ($75): This vintage has all five Bordeaux grape varieties, with the heaviest accent on cabernet sauvignon. "Michel worked with me when we created Elú, and we decided it would always be at least 65 percent cab," said Scholz. "The goal was to make a wine that is beautifully scented with dark fruits and toasted oak, with great structure. I wanted a wine that would have texture but not be too tannic." Mission accomplished. Rating: 95.

St. Supéry 2015 Dollarhide Cabernet Sauvignon, Napa Valley ($100): From the vineyards at the highest elevation on the Dollarhide Ranch, the 2015 Dollarhide is 100 percent cabernet sauvignon aged for 18 months in French oak, 48 percent of it new. Beautifully structured, at five years of age, it's now rounding into shape, showing intense aromas of dark primary fruit, firm but nicely integrated tannins, a generous touch of wood spice, and a subtle note of mocha. Rating: 96.


St. Supéry 2016 Cabernet Sauvignon, Rutherford Estate, Napa Valley ($125): You could technically call this vintage a Bordeaux-style red blend, although it's 85 percent cabernet sauvignon (with splashes of merlot, cabernet franc, and petit verdot). This vintage is simply dazzling. Showing complex layers of red and black fruits, this seamless cabernet is soft and supple on the palate, shows impressive weight mid-palate, and shows a remarkably long finish. It's one of the stars of the vintage. Rating: 98.


Follow Robert on Twitter at @wineguru. To find out more about Robert Whitley and read features by other Creators Syndicate writers and cartoonists, visit the Creators Syndicate website at Creators.com. Email Robert at whitleyonwine@yahoo.com. Copyright 2020 Creators.com