The expression in this girl's eyes seem way too intense. She gives such a studious effort to the little figures in her drawing.
Here's a typical example of one of William Bouguereau's paintings that is so simple but conveys so much.
It may seem like an amusing painting at first. But there's a pain in the child's face that cuts right through.
The surrounding colors of grey, black, and brown make it obvious she's poor as dirt. She holds a single piece of paper and a pencil which represent all of her hopes.
Her pain is in an uncertain future. Worrying about a million other things, she wears the stressful look of an adult with much deeper concerns. The more one looks at the painting, the more sadness seeps in.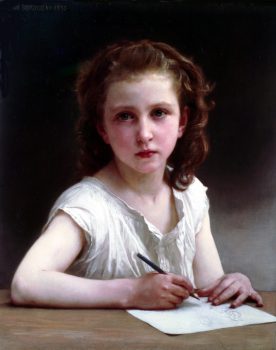 The title of the painting finishes the story, however! All is not lost! The painting is entitled "Une vocation." Translated into English, it means "A Calling."
Bouguereau exalted the forgotten to such an extent that he often gave them a divine quality. He said there was no greater way to do that than to portray them perfectly. In other words, his mastery of technique gave his subjects a flawless quality—a divine one.
The title "A Calling," summons the divine once again. She doesn't just want to draw—she's supposed to.
"The Calling" entitles her to her end. She is given the chance, a special purpose in life. The painting may portray a desperation, but not really.
Does the painting speak to a higher truth that people do have a calling in life?
Timothy Gebhart is an artist residing in Kaukauna, Wis. His website is www.tgebhart.blogspot.com