The Sheldrick Wildlife Trust in Nairobi, Kenya, was presented with the heartbreaking case of an orphaned baby zebra that had lost his mother. Overcoming that loss and gaining the zebra foal's trust was aided by an innovative solution; the workers at the trust donned a zebra-patterned coat to give the sanctuary's new adorable striped addition a sense of familiarity as the humans cared for him.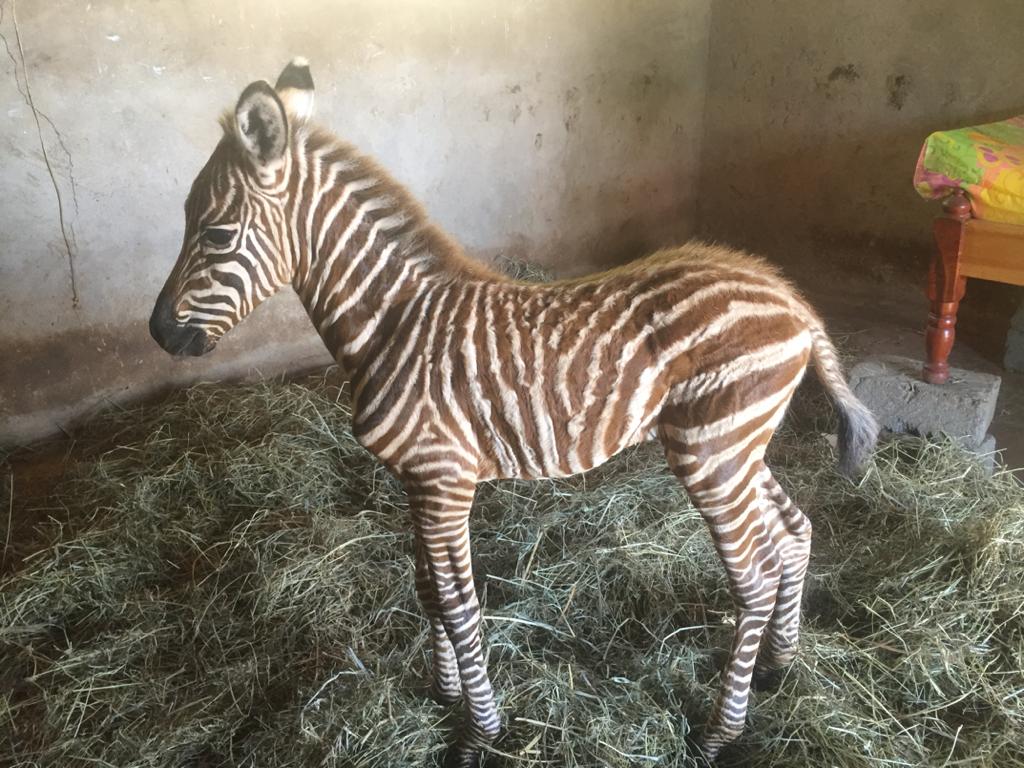 The zebra foal had been living in the wild with his mother when the pair were attacked by lions near a goat ranch.
Sadly, the lions caught his mother—but he survived, instinctively fleeing to a herd, which happened to be a herd of goats, with a group of goat herders nearby. They tended him, giving him goat's milk, before handed him to the Wildlife Trust to be cared for properly in late February.
He was named Diria after the ranch where he was rescued.

In the wild, a new foal like Diria would have relied upon his mother for food, shelter, and care—so her absence made life a little tricky both for the young zebra and for his caretakers. Knowing that he was most likely to trust another zebra, the caretakers decided to engage in a little bit of well-meaning trickery—and introduced a specially made zebra-patterned coat for workers to wear while caring for Diria.
The pattern helps Diria to "imprint" the pattern in the same way zebra foals naturally would their mother's pattern—enabling him to trust them and thrive in his unorthodox environment.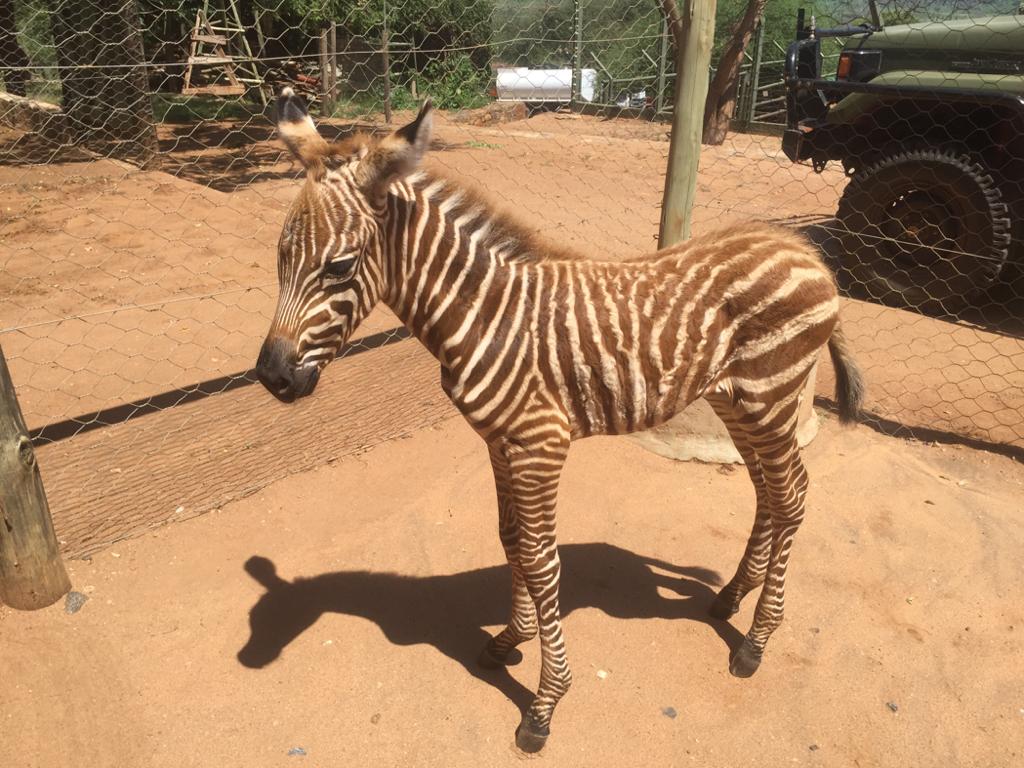 The coat itself was what Diria focused on, rather than the individual care worker, so each would share the same coat while tending the young zebra. That way, he doesn't get confused if someone else comes in to take care of him, wearing a coat that doesn't quite look like what he's used to.
"Zebra foals imprint on their mother's striped pattern and the coat allows Diria to imprint as nature intended, without him becoming too attached to any one individual," explained the trust on their website.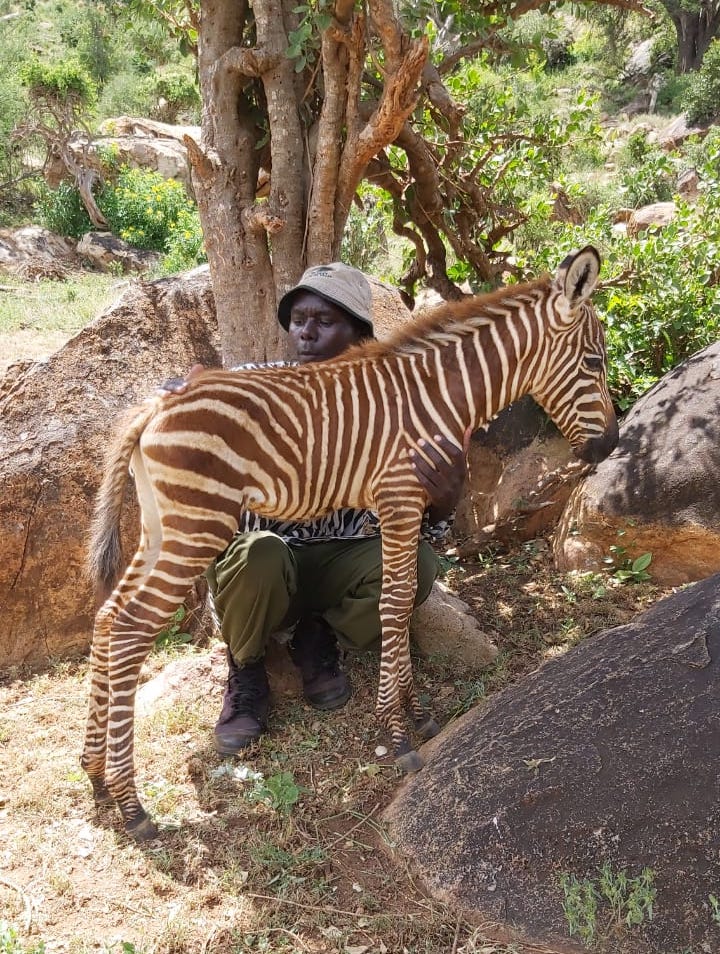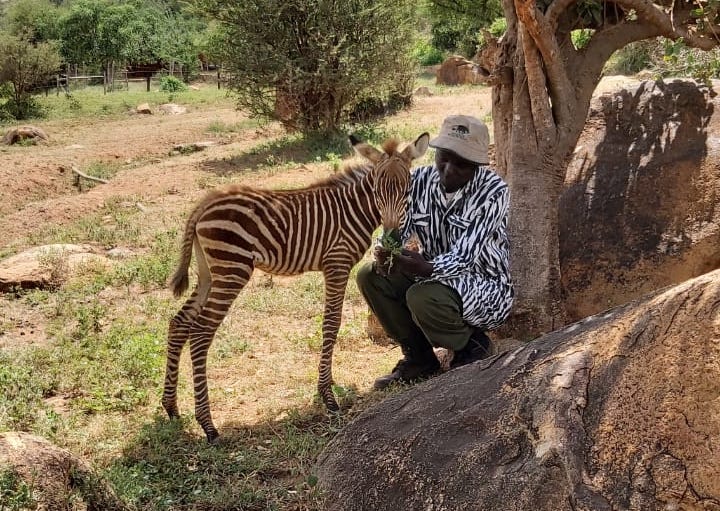 Thankfully, the special coat has been a tremendous success. "Diria is incredibly affectionate with his carers and, perhaps with the exception of his milk, loves nothing more than nuzzling into them as they comfortingly groom him," the trust wrote.
In the future, Diria could potentially return to the wild. According to the trust, other zebras have been cared for in a similar way using the unique coat-imprinting method—and they've gone on to thrive after being returned to their natural habitats.
For now, though, Diria is able to live in comfort and happiness with his caretakers who, for now, can play the part of his missing mother.
(Courtesy of The David Sheldrick Wildlife Trust)
(Courtesy of The David Sheldrick Wildlife Trust)