The three rows on the platter stand in stark contrast: glistening slices of pork belly, with clear layers of meat and melting fat; half a head of whole cabbage kimchi, tinged an intimidating bright red; and pale white blocks of tender tofu, pristine surfaces speckled with black sesame seeds. 
This is missKOREA's take on kimchi jjim, a recent addition to the beloved Koreatown hotspot's offerings. 
The star of the dish is the kimchi, which has been braised into a gentler version of itself. It's softer and sweeter, its characteristic sharp tang and heat still present but mellowed. (That fiery hue is more bark than bite.) 
It pairs beautifully with the fatty pork belly, which has been separately braised until tender, and the delicate pieces of tofu, cooked in a bone broth seasoned with little more than salt to preserve its mild flavor and color.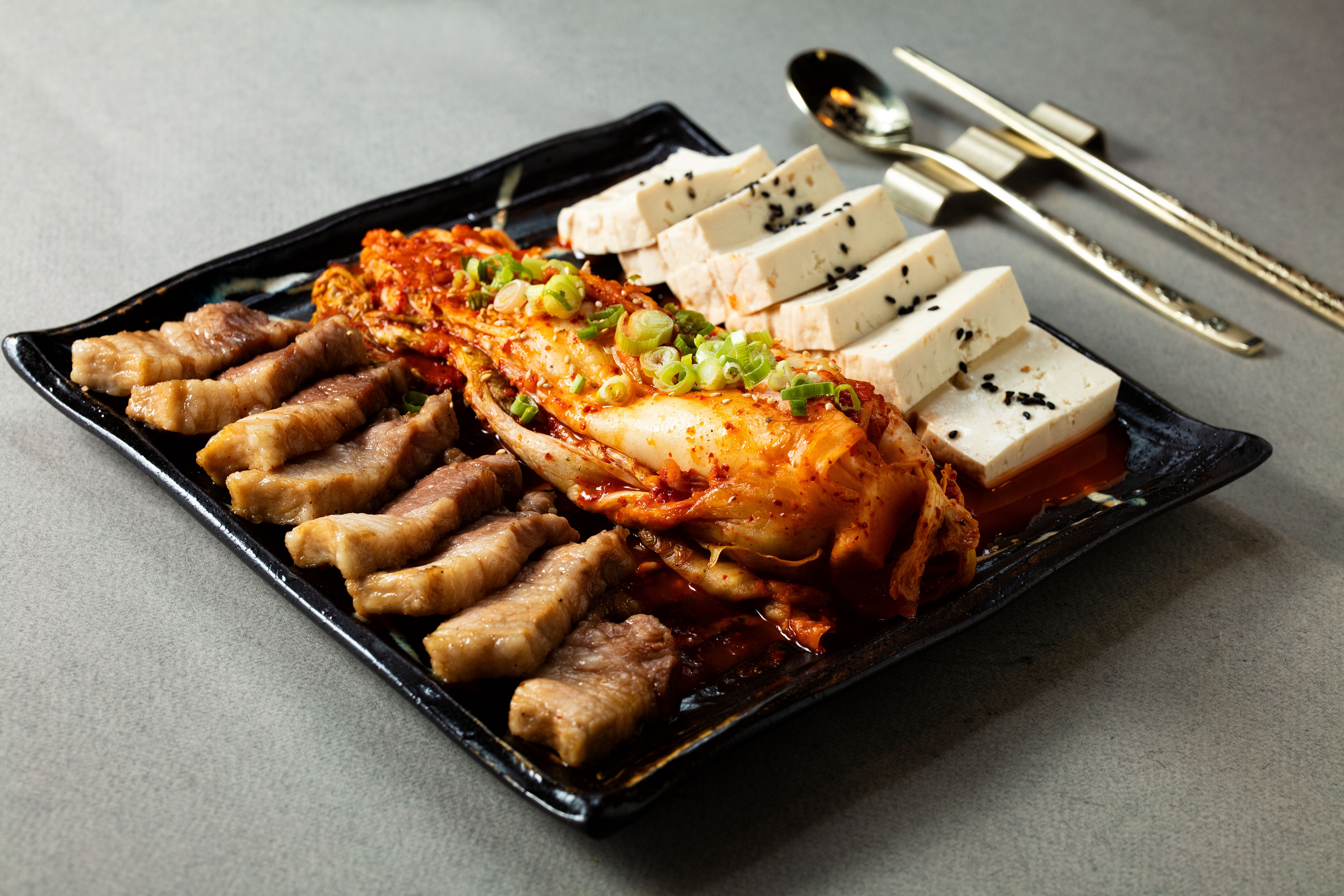 Such is the attention to detail and quality—and downright deliciousness—characteristic of the food across missKOREA's menu. It's what makes the restaurant an enduring gem among the many other eateries that crowd Midtown Manhattan's bustling Koreatown. 
The traditional Korean fare offered here is nourishing in more ways than one. Owner Sophia Lee takes a healthy approach to Korean cooking, cutting down on the sodium- and sugar-filled seasonings that many other Koreatown restaurants use. The resulting dishes are still rich in flavor but lighter on the stomach; plus, they're often packed with nutrients from long-simmered bone broths, medicinal herbs and spices, and plenty of healthy, seasonal vegetables.
MissKOREA's menu is famously extensive—in fact, each of the restaurant's three themed floors has its own list of specialties, from elegant royal cuisine to luxurious platters of barbecued meats to late-night-friendly kimchi stews (and soju). All are served family-style, encouraging diners to gather together for a communal feast. 
As the autumn chill settles over the city, such experiences are ever more appealing. To mark the season, Lee has added a selection of 10 new, nourishing cold-weather dishes—including that standout kimchi jjim—to the mix.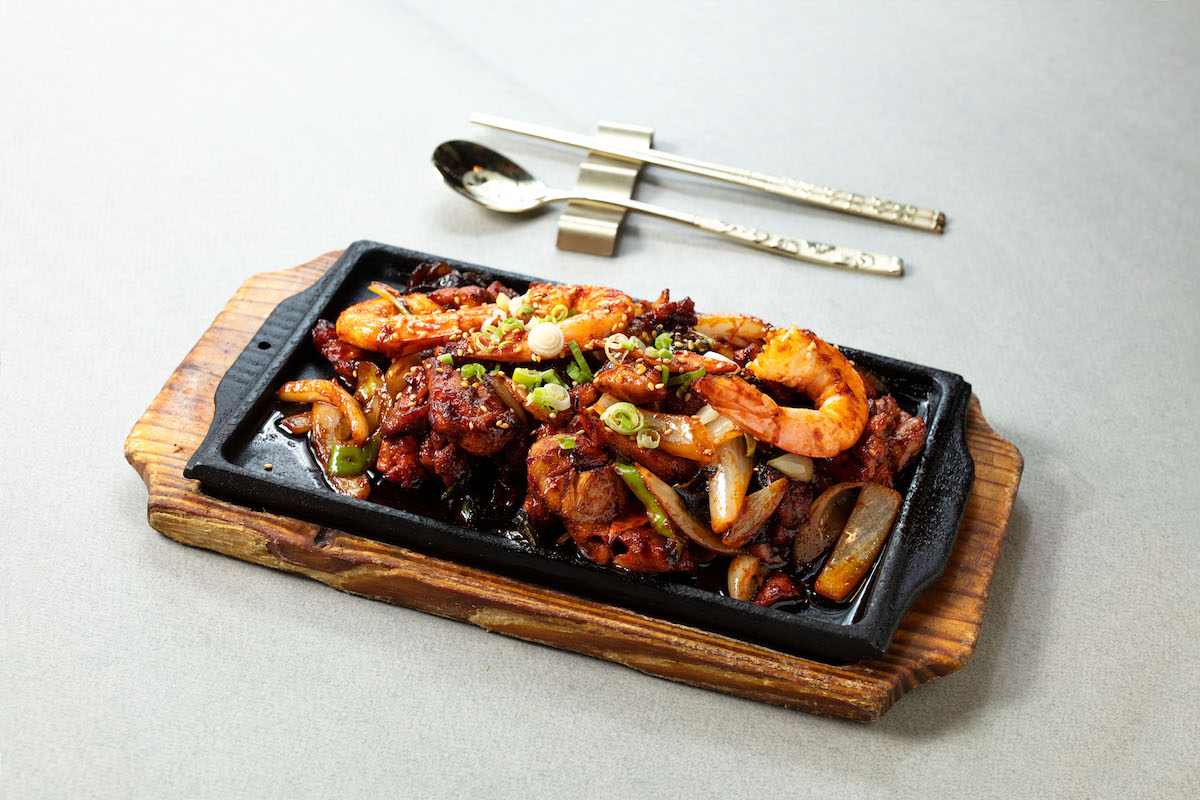 Miko Chef Special
Headlining the new additions is the Miko Chef Special ($42.95), a mish-mash stir-fry that combines the best of all worlds: Sweet marinated prime beef brisket, baby octopus, shrimp, chicken, crisp veggies, chewy tteok (Korean rice cakes), and a tangle of ramen noodles jostle for room on the plate. All are slicked in a glossy house sauce, at once sweet, sour, and spicy, in large part thanks to gochujang (a fermented Korean chili paste).
Jukumi Bulgoki Bokkeum and Sae Dak Bokkeum
Two other stir-fries come still-sizzling on hot plates: Jukumi Bulgoki Bokkeum ($36.95), which stars sliced beef and baby octopus in a doenjang-based sauce; and Sae Dak Bokkeum ($35.95), with chicken and shrimp instead.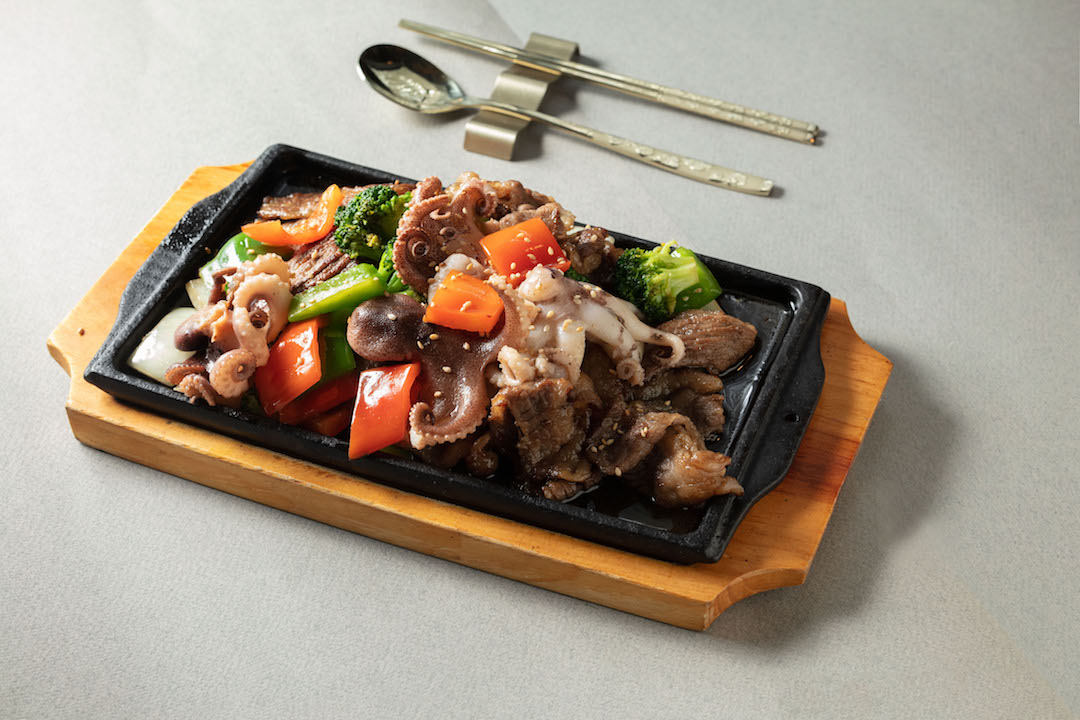 Chuncheon Dak-galbi
The Chuncheon Dak-galbi ($38.95), yet another stir-fry, comes with an interesting bit of regional history. This dish is a specialty of Chuncheon, the capital of South Korea's northern Gangwon Province, where dak-galbi restaurants are a local fixture. It consists of marinated chicken stir-fried with cabbage, sweet potatoes, rice cakes, and a medley of mushrooms and other vegetables, in a more-sweet-than-spicy, gochujang-based sauce—the key that brings the whole thing together.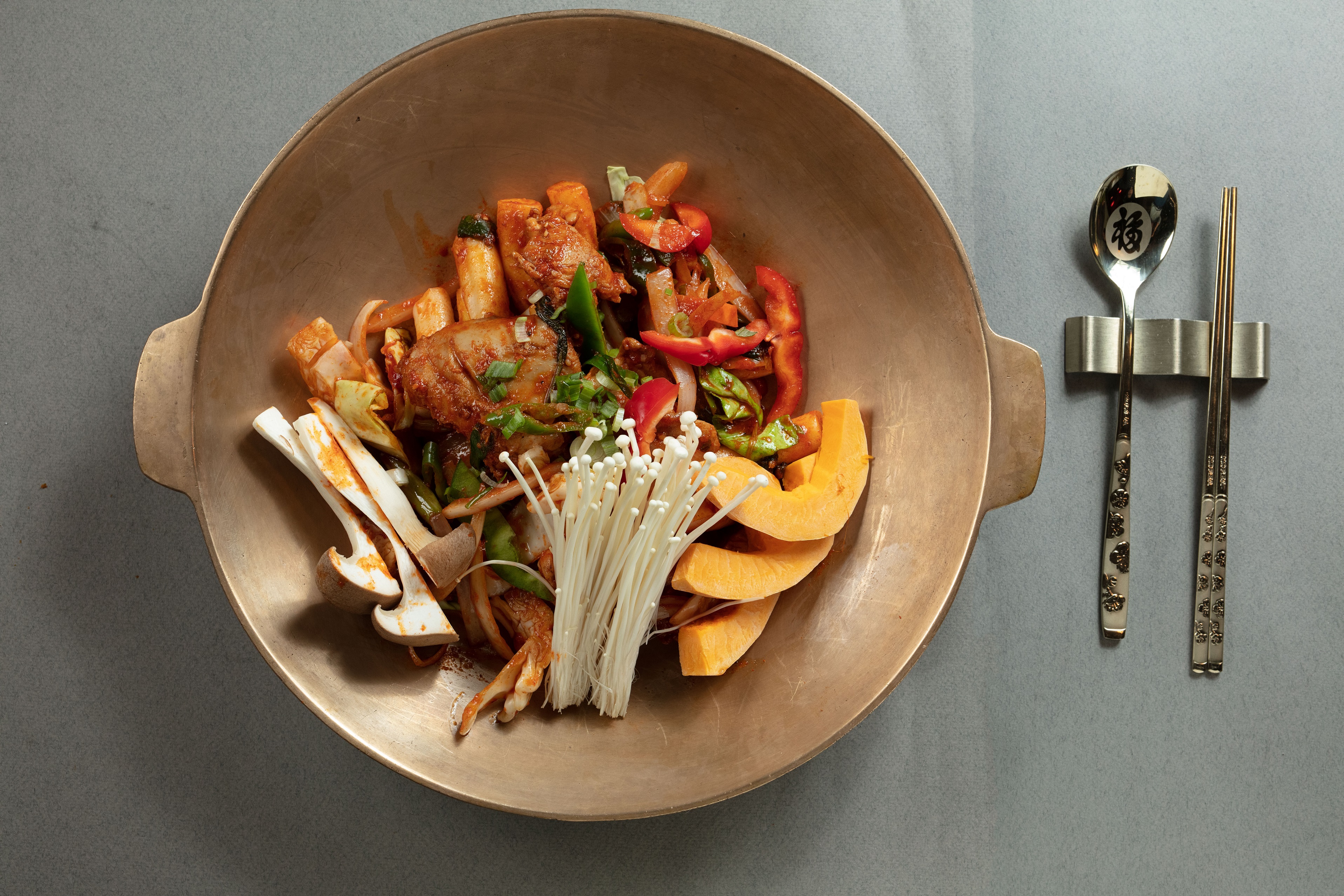 Kimchi Jjim
Another crowd-pleaser is the Kimchi Jjim ($33.95), that trio of braised pork belly, kimchi, and delicate tofu all arranged beautifully on the plate. (Though be warned that as you eat, mixing and matching the complementary flavors and textures, the kimchi will inevitably tinge the whole dish red.)
Kimchi Kalguksu
If your cold-weather cravings lean toward noodle soup, try the deeply satisfying Kimchi Kalguksu ($19.95), with chewy noodles in a spicy, seafood-kimchi broth.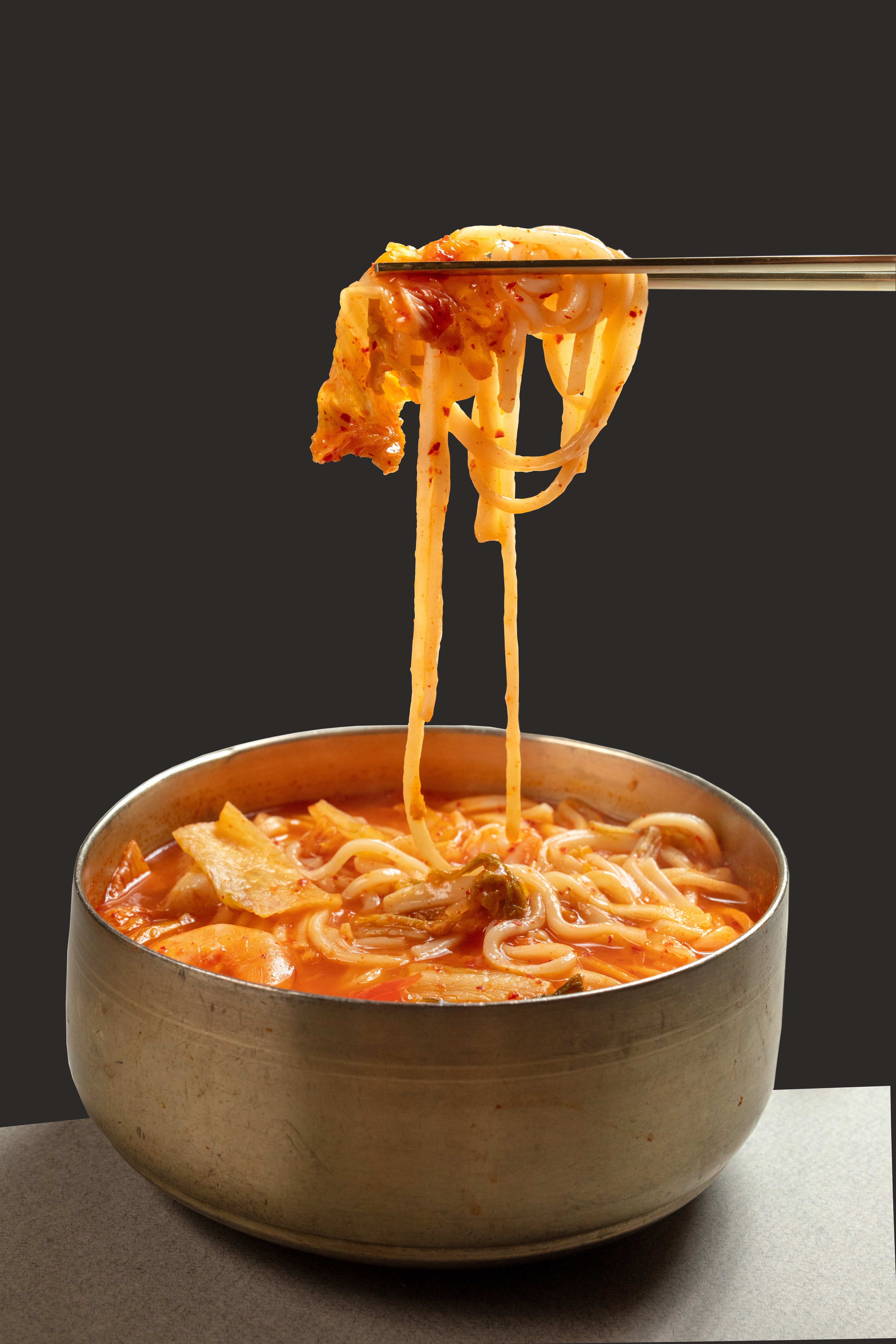 Chodol Busot Ramen-jeongol
Or, if you have company, considering the Chodol Busot Ramen-jeongol ($59.95), a hearty beef and vegetable hot pot for two. The dish has two components: a gorgeous platter of prime beef brisket, ramen, oyster and enoki mushrooms, and other assorted vegetables; and a pot of bubbling hot, 24-hour-simmered bone broth, which is poured over the raw ingredients at your table to cook before your eyes.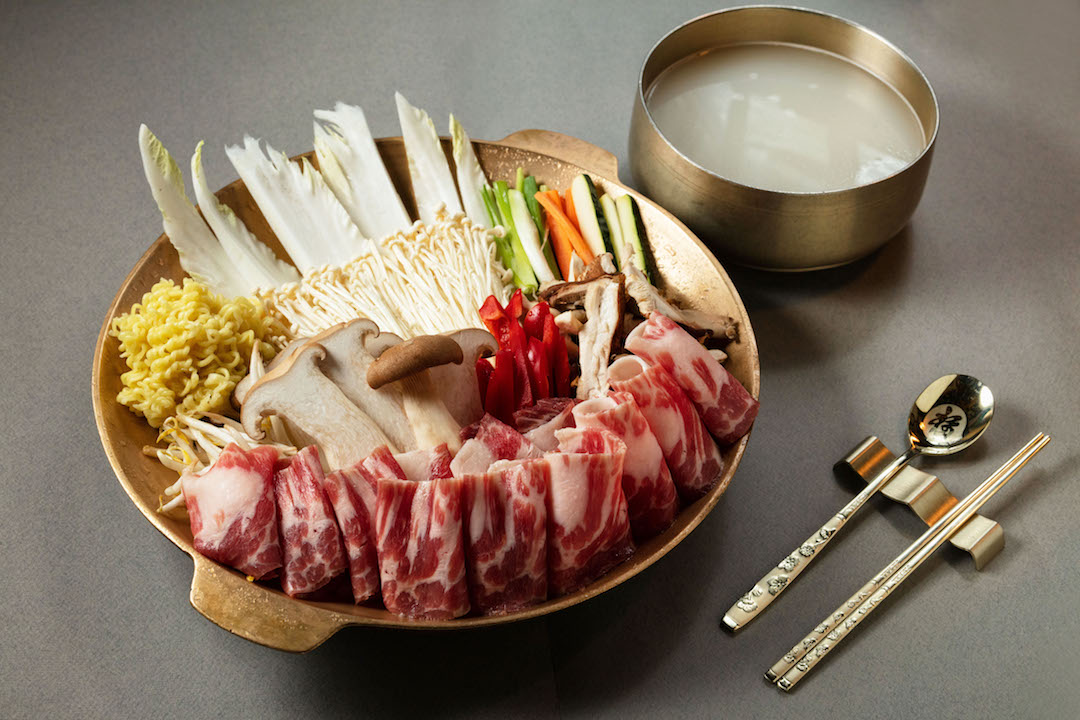 Shrimp-gui and Haemul-gui 
And of course, you can't forget the grill. MissKOREA is well known for its high-quality barbecued meats, but the new menu additions turn their attention to seafood instead: Shrimp-gui ($46.95), a 10-piece platter of shrimp; and Haemul-gui ($49.95), an assortment of tuna, scallops, lobster tails, and shrimp. The seafood arrives fresh and unadorned—allowing you to savor their flavor and myriad health benefits in their purest form—and a server will cook them in front of you until they're just-tender and kissed with smoke from the grill.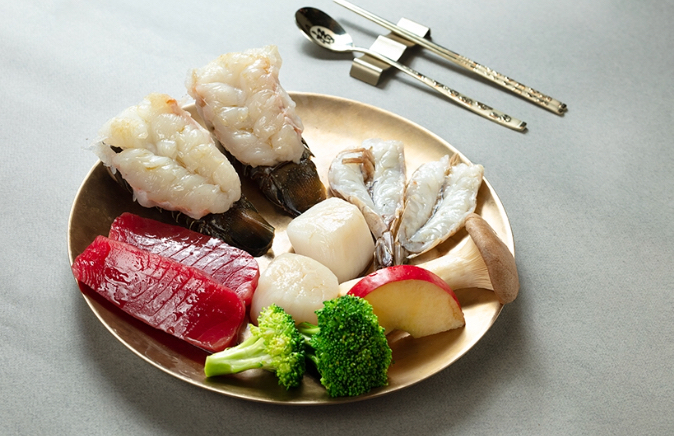 Kimchi Fried Rice 
Last but not least, you can't go wrong with the kimchi Fried Rice, made with your choice of beef, shrimp, or chicken ($19.95). In missKOREA's spin on the homestyle favorite, the fried rice is surrounded by a ring of bright yellow honey mustard-soy sauce. The savory-sweet addition, a house specialty, takes the humble classic to another level.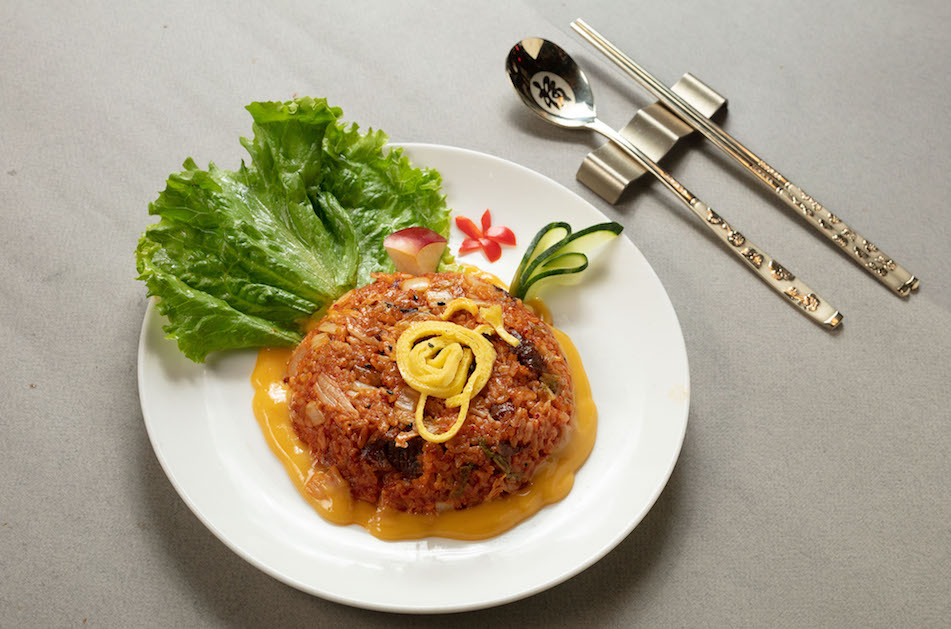 A Warm Welcome on All Floors
MissKOREA has three floors, each offering a different experience and aesthetic. The first floor is casual and lively, with spacious seating and plenty of grilling tables among the warm, nature-inspired decor. It's open 24 hours a day, catering to early risers, late-night revelers, and round-the-clock eaters alike. The second floor, meanwhile, is perfect for meetings and dates, with its peaceful private rooms, separated by wooden sliding doors, adorned with Korean artwork and delicate decor. Finally, the third floor has a chic and trendy atmosphere, decorated in black and white with accents of red.
MissKOREA BBQ
10 W. 32nd St. (between Fifth Avenue & Broadway)
212-594-4963
Open 24 hours a day, 7 days a week
MissKoreaBBQ.com