By Gwen Filosa
From Miami Herald
Welcome to Key West. You've made it here — either by air or land. But what do you do now to get around the island?
Key West is jammed with tourists. So choose wisely, by not just your budget but by your driving skills, wallet and patience level.
Despite its compact size, Key West isn't easy to navigate.
Cars, trucks, buses and taxis share the road with golf carts, scooters, bicycles, electric bikes, stand-up scooters, skateboards and a Onewheel or two. There are also novelty vehicle rentals, like tiny cars and those three-wheeled open-air Slingshots, which resemble a motorcycle-car hybrid. And it's a great to walk, so pedestrians are always in the mix.
Take your time, use caution and consider these options while visiting the Southernmost City.
Rental Wheels in Key West
Key West International Airport has rental cars, taxis and ride-share services Uber and Lyft to get you to your hotel, rental or friend's house. Several hotels have shuttle services.
Look for places that rent bicycles, scooters and golf cars. There's even a Jeep rental company, Key West Adventures, 3424 N. Roosevelt Blvd., that offers those superhero-looking slingshot vehicles.
Here's the rundown:
Rental Cars
Want to drive yourself around in Key West? Several rental car companies are at the Key West airport.
With your own vehicle, drive to Fort Zachary Taylor Historic State Park, which has the best beach in Key West, or across the island to Smathers Beach, one of the most spacious outdoor spots on the island.
Or venture into New Town for a stop at chain retail stores and large grocery markets like Publix and Winn-Dixie.
If you're the road-trip type, take a 45-minute drive up the Keys to see Key deer. Those are the adorable dog-size deer on Big Pine Key in the Lower Keys, home to the only herd of them on the planet.
Venture a little farther along the Overseas Highway to visit the Old Seven Mile Bridge in Marathon. Walk on the 2.2-mile span of the historic bridge, now a recreation spot, and take photos of the spectacular views, including the present-day bridge that replaced it in 1982.
Rental car companies are at Key West International Airport.
— Alamo: 844-958-1292
— Avis: 305-296-8744
— Budget: 305-294-8868
— Enterprise: 844-958-1292
— Hertz: 305-294-1039
— National: 844-958-1292
— Thrifty: 877-283-0898
But face it: Key West has limited space and thick crowds during the season. In most cases, you don't really need your own car if you're in Old Town near Duval Street. Call a taxi or a ride-share service for a much smoother ride. If you rent a car, here's what you're signing up for:
About Parking
Staying downtown? If you're right off Duval Street, plan on circling around many blocks to find a streetside spot that will cost you $5 an hour. Go over your time and you risk a $45 ticket.
Parking spots are difficult to find, even if you want to spend the money. The city's downtown garage and parking lots, like street parking, cost $5 per hour. The $45 ticket for violations applies to garages and lots, too.
You'll pay $6 an hour at Mallory Square.
Many parking spaces in Old Town are reserved for local people who have a permit, and scoring a free spot on the street requires luck.
If you're staying at a hotel that has parking, such as La Concha on Duval, or one of the resorts on North or South Roosevelt Boulevard, you'll still have to navigate busy streets when tooling around Old Town and compete with locals and other tourists for parking.
Public Parking
Key West has public and private parking lots available. Make sure to check the signs at the private lots for various rules.
The city of Key West has one parking garage with 250 spaces: the Park 'N Ride, 300 Grinnell St. Rates are $5 per hour, $40 per day or $268.75 per month.
The rest of the public parking is in lots:
— Conch Republic lot, Greene St., has 136 spaces. Rates are $5 per hour, for up to 10 hours.
— The ferry terminal, 100 Grinnell St., has 19 spaces. Rates are $5 per hour for up to 10 hours.
— Half Shell Raw Bar, 231 Margaret St. This 19-space lot is at the Key West Historic Seaport outside the seafood favorite. Raters are $5 per hour for up to two hours.
— Jackson Square, 600 block of Thomas Street, is a good-sized lot behind the Monroe County Courthouse, which means the spots are reserved during the day for court business. But after business hours and on weekends, you can try. Rates are $5 per hour Monday through Friday from 6 p.m. to midnight, Saturday from 6 a.m. to midnight and Sunday from noon to midnight.
— The Old Town Fire Station, at Angela and Simonton streets, has 84 spaces. Rates are $5 per hour, up to 10 hours per day.
— Mallory Square, 412 Wall St., has 100 spaces. Rates are $6 per hour or $48 daily.
— Key West Historic Seaport, 800 block of Caroline Street, has 120 total spaces. Rates are $5 per hour or $40 per day, maximum.
— Simonton Street Beach, 0 Simonton St. This small beach has a small lot. Rates are $5 per hour, up to 10 hours per day.
— Truman Waterfront Park, at the end of Southard Street, has three parking lots with a total of 75 spaces. Rates are $5 per hour.
Taxi Cabs
Look for those signature pink taxis tooling around Key West, but that's only one of several cab companies on the island. Some have bike racks on the back. Several cab companies and limo services are recommended by Key West International Airport: If you want to ride in a pink taxi SUV:
Florida Keys Taxi, at 305- 296-6666.
Rideshares
The ride-share services Uber and Lyft operate in Key West. At the airport, these drivers can't line up right outside the airport entrances.
Instead, your driver will meet you along a blue curb located to your right when leaving the arrivals/baggage claim area.
Bicycles
Bikes are a great way to enjoy the tropical scenery and the island's historic architecture, all while tapping into Key West's famous laid-back island vibe. Book early. They're almost always in demand.
They're pretty reasonably priced — $10 to $15 a day for a basic cruiser, or up to $80 — and just a phone call away. Many rental shops will deliver bikes right to you and later pick them up. They'll typically include locks and helmets with the rental price.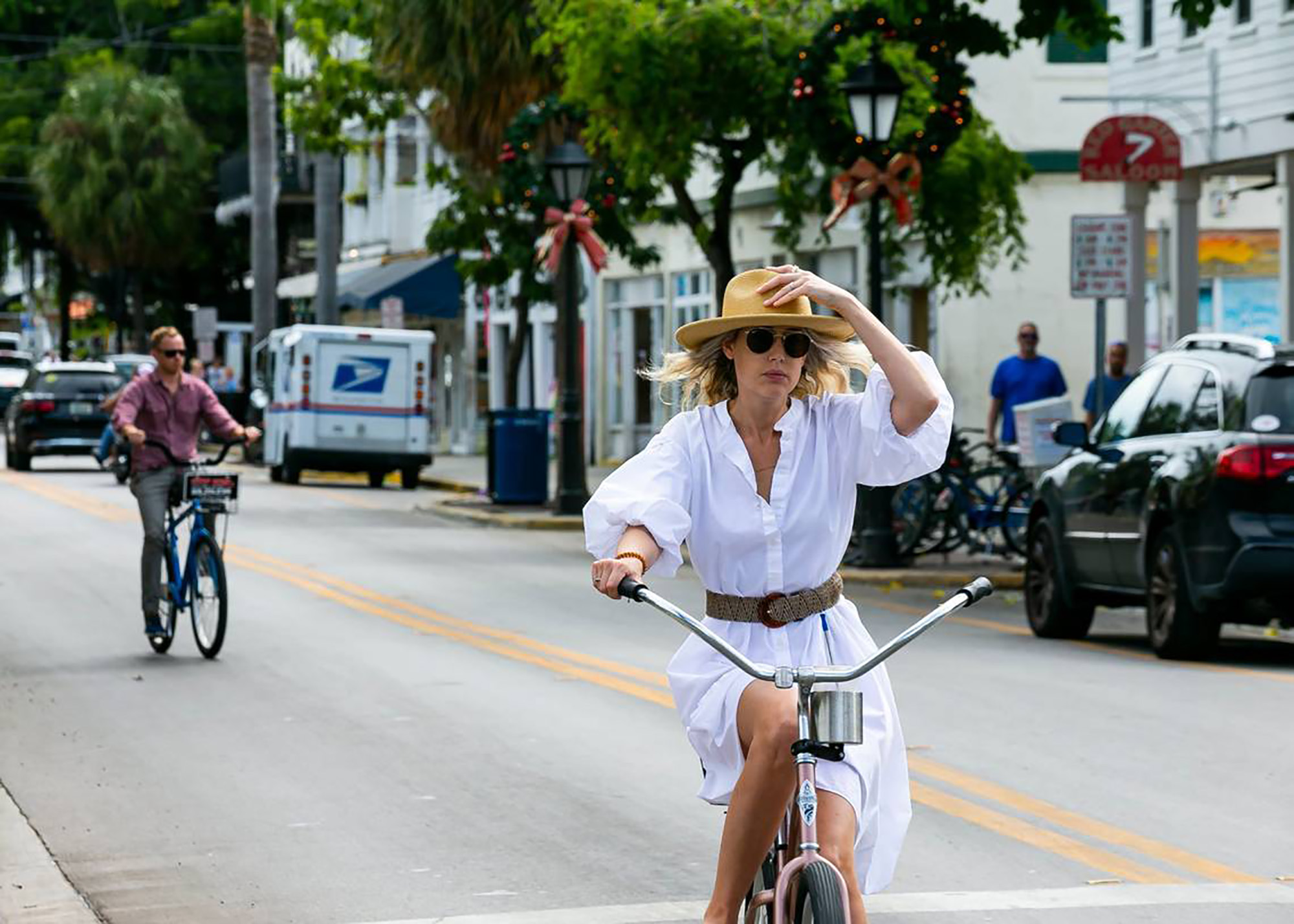 You don't even have to be there when some places deliver bikes. They'll lock them up and tell you where they hid the keys. Choose from a cruise, road bike, a tricycle, E-bikes or a tricycle. Many shops include helmets, locks and lights with the rentals.
You can pedal about freely from spot to spot, soaking up the island's attractions, restaurants, bars and shops. Many locals only use bikes to get around.
Key West has a wonderful bike path on Bertha Street between Atlantic Avenue and South Roosevelt Boulevard. It was recently redone to make it a couple feet wider. You'll be close to the ocean.
Stay alert and be careful when bicycling in Key West. Not every street has designated bike lanes. Key West is home to varying sizes of cars, trucks and scooters, all sharing the narrow roads downtown. Electric bikes have become popular, along with stand-up scooters.
The main thoroughfare is busy North Roosevelt Boulevard, a part of the Overseas Highway where traffic can be heavier than you might expect. South Roosevelt Boulevard, the only route to the airport and the way to Smathers Beach, is also well-traveled.
Also, remember to lock up your bike when you park. Bike theft is a big thing in Key West.
Here are just a few of the local bike rental shops:
WeCycle
326 Southard St.
5160 Overseas Highway, Stock Island.
Bike rentals: 305-292-3336
Sales and service: 305-294-7433
This full-service bike shop has two locations, including one in Old Town. They're open daily. Delivery and pickup of bikes comes with the price of the rentals. Choose from cruisers, three-wheelers, mountain or road bikes or E-bikes and they also have bikes for kids. And they have some of the best prices in town. Basic single-speed adult beach cruisers start at $10 a day.
Island Bicycles
929 Truman Ave.
305-292-9707
Another full-service bike shop, Island Bicycles has been around since 1996 and is open daily. Rates start at $12 a day or $72 per week and their stock includes beach cruisers, road bikes, E-bikes and tricycles.
Blue Sky Rentals
1020 Duval St.
305-294-3900
This shop rents bikes, scooters and golf carts right on Duval Street and is open daily. Rates start at $15 to rent a basic bike from 9 a.m. to 5 p.m. or $20 for 24 hours. Each additional day is $10 and a weekly rental is $50.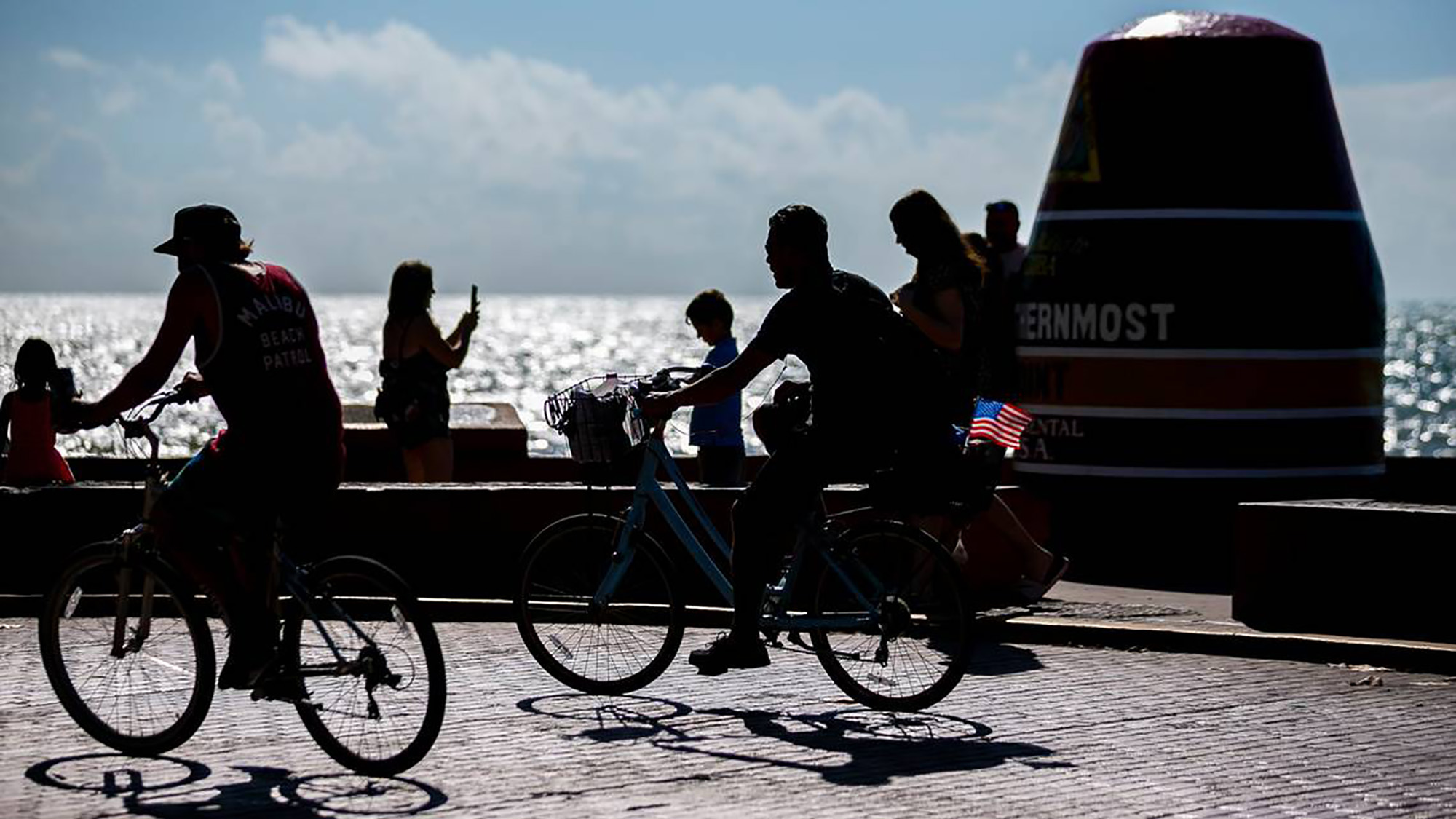 Scooters
Key West travelers love scooters. For locals, they get better gas mileage and you can park them for free almost everywhere. Even locals who own cars have scooters for short trips around the island.
Prices are competitive. Don't wait until the last minute during the winter through spring tourist season because demand is high.
Expect to pay $40 to $60 for a 24-hour rental, but sometimes additional days are discounted. If you're here longer, there are reasonable weekly rates. Single and double sea scooters are available.

There are so many scooter rental places in Key West that pricing gets competitive, so consider checking the rates at several places before deciding where to go.
If you're an experienced scooter rider, you can zip about more easily than in a car.
Here are a few places to rent scooters:
Hydro-Thunder of Key West
601 Front St.
305-294-7000
You can rent scooters from this Hydro-Thunder location downtown at the Hyatt Key West Resort and Spa.
They cater to cruise ship visitors with two locations both just a short walk from PIer B. Rentals start by the hour. Expect to pay about $35 for three hours on a single-seat scooter or $55 for 24 hours. Two-seat Vespas start at $65 for three hours and rise to $105 for 24 hours.
A and M Rentals
513 South St.
523 Truman Ave.
401 Southard St, Key West, FL 33040
This shop, which has been around for about two decades, rents scooters, along with electric cars and bicycles. Rates are $35 for a single-seat scooter and $60 per day for a two-seater. They offer free pickup and delivery across Key West. They say they specialize in cruise ship, ferry terminal and airport pickups and drop-offs.
They're the place with the giant American flag flying above their Truman Avenue spot.
Pirate Scooters
401 Southard St,
305-295-0000
They're across from the Green Parrot Bar. Rates start at $35 for a three-hour single-seat rental and $50 for a double-seater for three hours. Pickup is free. They also rent golf carts and bicycles.
You'll want to know the scooter parking rules. Here are some from John Wilkins, the director of the city of Key West's Parking Department.
Scooter parking is free in metered areas marked as "scooter spaces." But if those are filled, you must pay for a regular spot.
Also, smaller loading zones — ones without a secondary sign that says they're for taxis or otherwise reserved — become free parking after 6 p.m. They are often used by scooters, some mobile vendors or a few lucky cars, Wilkins said.
Don't park scooters in places marked for bicycles. "A very common citation!" Wilkins said.
But know this: scooters can be dangerous, particularly for people with little or no experience driving them.
In Key West, there is an adage about crashing your scooter: "It's not a question of if, but when." So be careful. Don't expect drivers to yield or see you. If you're new to scooters, ask plenty of questions at the rental place before hitting the road.
Also, you will have the urge to beep the horn everywhere you go as you ride about on a scooter. We're not exactly sure why this is so common. Locals prefer you use restraint or at least beep sparingly when around their homes.
Golf carts
Golf carts have become more popular with tourists. They're considered safer than scooters, yet still give you a chance to take in some sunshine and breezes.
Expect to pay $140-$150 for a four-seat cart for 24 hours, with discounted additional days, and about $600 for a week. There are carts with two, four and six seats.
Also, you may want to remember to turn off those turn signals when they're not needed. Some golf carts don't make sounds to tell you they're still on.
If a driver is already stuck behind you on Flagler Avenue or North Roosevelt Boulevard, the least you can do is cut the signal off.
Sunshine Scooters
910 N. Roosevelt Blvd.
305-294-9990
Sunshine Scooters has an impressive fleet of both electric and gas golf carts, along with scooters and bicycles at its New Town location. Electric and gas carts both run at $99 for a calendar day of $129 for a full 24 hours for a two-seater. They also have carts with four, six and eight seats.
Fun Rentals
2502 N. Roosevelt Blvd
305-906-0721
A four-seat golf cart will run you $125 for four hours, $149 for a day and $175 for 24 hours and $750 a week. The ones with six seats run a little higher. Fun Rentals has those very small oddball "ScootCoupe" cars that start at $89 for four hours. Two people can have a cozy ride, side by side, in these attention-grabbing things that sell out quickly.
JV Rent' All
503 Greene St.
305-204-4830
This company rents gas-powered golf carts for two, six or eight and you can rent them for four, eight or 24 hours. A two-seater starts at $90 for four hours, $149 for eight and $169 for 24 hours. They say one tank will last you a week. They require you to stay within the city limits, be 22 or older to rent a cart and not drink booze before or during the ride. They have free shuttles from guesthouses, the ferry terminal, cruise ship port and airport.
Can I Just Walk?
Walking is a great idea if you're staying in or near downtown.
Walking is safe in Key West, which is relatively small, at about four miles long and two miles wide. The island is flat. Sunny skies are common. And taking a stroll is a great way to check out gardens and palm trees that line many streets or tour historic downtown without many car-related hassles, such as parking and maneuvering narrow streets.
Along with all the interesting and historic architecture, shops, restaurants and bars, you can walk to a couple of beaches close to downtown. And you can easily reach Mallory Square, the historic cemetery and the Key West Historic Seaport on foot.
Not only can you bank the savings of a rental car or golf cart, but parking in Key West is a challenge.
But even in tiny Key West, if you're staying at the other end of the island, such as off North Roosevelt Boulevard or — even farther —South Roosevelt Boulevard near the airport, it can be a long haul. That's why some hotels offer shuttle rides.
From the famous mile marker zero sign at Whitehead and Fleming streets in Old Town, you're looking at about two miles before you can hit North Roosevelt, where you're in what locals call "New Town." That's where the two Publix stores are in separate strip malls, along with a Winn-Dixie and a Walgreens. Then, it's another two miles to the Cow Key Channel Bridge, where Key West runs out and Stock Island begins.
If you're here in late spring or summer, the heat can take a toll on you. Also, traffic on the boulevards can be heavy.
Hop on the Free 'Duval Loop' Bus
Another way to get around Key West is the city's free, hop-on, hop-off Duval Loop bus service. The blue and pink bus runs from the parking garage on Grinnell Street near Caroline Street and makes stops at the Truman Waterfront Park and the length of Simonton Street to Fleming.
Parking revenues help pay for it.
The Duval Loop runs daily year round, except for Thanksgiving, Christmas and New Year's Day.
The bus runs every half hour in the mornings, from 8 a.m. to 10 a.m., every 20 minutes from 10 a.m. to 8 p.m. and then every 30 minutes from 8 p.m. to 10 p.m. You can track the Duval Loop bus in real time on the Key West Transit department's page.
The city's website says passengers must wear masks on public transportation.
Key West has a more traditional bus system, too, with designated stops. You'll need exact change. A one-way ride is $2, or 50 cents for senior citizens. You can buy a day pass for $4 and a 7-day pass for $8 from the driver. If you qualify for a reduced fare, have your ID ready to show the driver.
©2022 Miami Herald. Visit miamiherald.com. Distributed by Tribune Content Agency, LLC.