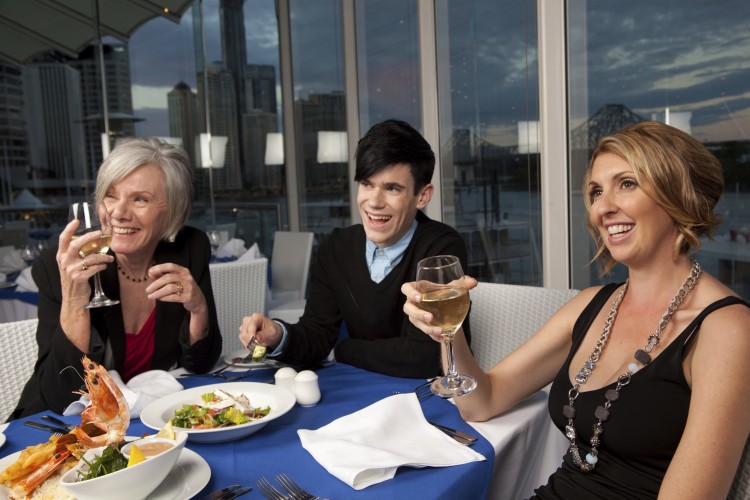 Mother's Day is just a few days away, and by now many of you may have already bought a nice gift, made reservations at mom's favorite restaurant, and ordered flowers, like the great, adult children that you are.
But just about as many of you might have forgotten the date, may not have had enough time to make plans, or might not have a clue yet where to take mom on the one day society demands you make a fuss over her—because well, she's your mom, and think of all she's done for you over the years. So remembering this one day won't kill you, right?
Don't worry. Mothers are great. Many of them will be thrilled that you remember (or were reminded) to honor them on Mother's Day, and will be even more thrilled if someone else does the cooking that day too.
In fact, Mother's Day is actually one of the busiest days for the restaurant industry, and yet, it's still quite easy to find a great meal with great service, and great deals on this day because they are expecting you, they want your visit, and they want you to come back! After all, mom's cooking is their greatest competition.
Think: Mom
When it comes to dining, moms' preferences are like snowflakes: No two are exactly alike. So rather than just throw a few restaurant names at you by telling you what's for lunch, I'd like to offer some—pardon the pun—food for thought.
Although Mom's Day brunch is an established tradition, there is nothing wrong with having one of the other three meals on her special day. This is NYC; finding a table on a Sunday night is not an impossibility. Brunch? Why so early? You have plans with someone else the rest of the day?
Mom took you to museums when you were a kid not just because she wanted to broaden your knowledge base, she liked to visit them too. And some of them have restaurants worth visiting, like the Guggenheim, and the Met, which specifically has several dining options that vary from casual café to fine dining with full wait service.
How about theater and dinner after? (Though, planning for a quick bite before a play and a leisure dinner after works best). There are many fine-dining establishments not far from the Theater District such as Cafe Un Deux Trois, that offers prix fixe dinners for just $28.
Maybe mom wants singing with her salad, or crooning with her Cronkite burger ($20)—a Kobe-beef-styled burger named after Walter Cronkite, found at Ellen's Stardust Diner. The place is a bit on the touristy side, but still a fun choice. Of course, there are a variety of venues that offer dinner with entertainment, and they're worth investigating if you think your mom will enjoy them.
Dinner cruises are also a possibility, and it just might not be too late to reserve some seats. With a fair amount of cruises to choose from in NYC, I suggest visiting allnewyorktours.com where you can view packages available and also purchase tickets.
Then again, maybe mom just wants to have dinner with her favorite kid and nothing more. Guarantee yourselves a table by reserving one. You can see what's still available online by visiting opentable.com and reserve seats from the site—or even better, give your restaurant of choice a call, and ask for their best table.