If you are a driver, you have probably been unhappy about how fast gas prices are rising recently. You have probably done multiple Google searches for "gas prices near me" to find the lowest price in your neighborhood. You are probably wondering—and fearful—how high gasoline prices could go before you take your vacation and when they will come down again.
According to gasprices.aaa, the national average cost of gasoline is $4.955 (as of June 8). Just one month ago, it was $4.30—an increase of 66 cents in a month! Hopefully, gas prices will not continue to rise at this rate! Diesel fuel prices are currently about a dollar more—making it even more expensive for diesel-powered vehicles and trucks to be on the road.
Right now, there are at least 16 states where gas prices are over $5 per gallon. California has the highest prices in the nation, according to GasBuddy, with average prices over $6.36. It is the only state with fuel prices over $6. Unbelievably, people in Mendocino, California, are being charged $9.63 per gallon—the highest gas price in the nation. Only Hawaii has seen a drop in its average gas price, but it was only a drop of $0.008.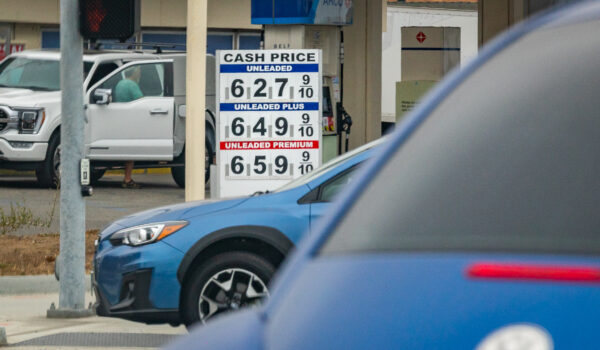 What's Driving High Gas Prices
The Russia–Ukraine War
The primary cause of higher gas prices can usually be found by looking at world events—such as the war between Russia and Ukraine. Multiple nations have rejected Russian oil in response to the war, impacting the oil supply.
Although the United States only gets 3 percent of its oil from Russia, Europe depends on Russian oil to a much larger extent. The result is that the currently available oil from other sources must go to Europe to make up for the deficit.
Some European nations are willing to ban Russian oil, but this will probably not be effective, unless the ban is incremental. Since about 40 percent of oil and natural gas for Europe comes from Russia, it will take months to find and develop new sources. The result is that a complete ban cannot take place until December. Germany has a slightly larger dependence on Russian oil and gas (42 percent) and seems reluctant to go along with a ban—which may hurt the ban altogether, according to Oilprice.
COVID-19, Hurricanes
The pandemic limited travel in the United States. As the threat of COVID-19 died down, Americans started traveling again—but oil production has not yet caught up to demand. COVID-19 also affected the availability of workers. And recent hurricane damage to refineries has further impacted production.
Lagging Oil Production from Many Countries
Oil production from the many oil-producing countries in the Organization for Economic Co-operation and Development has been lower than the demand for oil. Newsweek reports that the result is that oil inventories in those nations are at the lowest level since mid-2014, driving up energy prices as production strives to catch up.
Summer Travel Is Here
During the summer months, oil refineries produce a different kind of gasoline than they do in colder months. Summer-blend gas is more expensive to produce (seven to 10 cents per gallon more) and has a lower saturation point, which results in a lower evaporation rate in the increased heat. The switch from one type of gasoline to another has helped gas prices to increase.
A sudden demand for more gas as millions of Americans hit the highways and airways to go on vacation has also helped drive prices upward. In addition, more Americans are expected to travel this summer because the threat of COVID-19 has died down.
OPEC Has Not Yet Increased Supply
The United States and other nations are currently appealing to OPEC nations to increase their production levels—but it has not happened yet. Most likely, once they do, oil prices will start to drop quickly.

Will Biden's Oil Release Help?
Although President Biden has ordered the release of one million barrels of oil per day during the summer months, it has not helped to lower gas prices much. Most likely, if prices do drop, it will only encourage people to travel more—creating even greater demand, says CNET.
Gas Tax Holidays
The gas tax holiday declared by some states to reduce prices at the pump has already ended. Those states include Florida, Georgia, Maryland, and Connecticut (which ends in mid-June). New York's tax holiday started on June 1 and will last until the end of the year. California is working on what is expected to be the biggest tax holiday so far—but it has not happened yet. The Washington Post says that 18 other states are considering their own gas tax holiday.
While a gas tax holiday will give some places a brief break on fuel prices, the money saved will probably be spent on increased food prices. It is unlikely that lower gas prices will result in lower prices for necessities like groceries—at least not for some time.
The Epoch Times Copyright © 2022 The views and opinions expressed are only those of the authors. They are meant for general informational purposes only and should not be construed or interpreted as a recommendation or solicitation. The Epoch Times does not provide investment, tax, legal, financial planning, estate planning, or any other personal finance advice. The Epoch Times holds no liability for the accuracy or timeliness of the information provided.