The fall 2018 season at the Metropolitan Opera brings both familiar and lesser-known works, performed by world-class artists.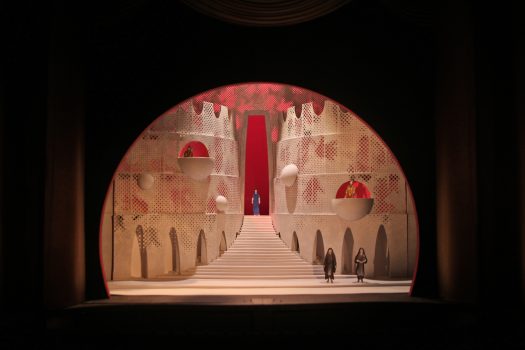 The season begins with the first new Met production in 20 years of "Samson et Dalila" by Camille Saint-Saëns (1835–1921). The title roles will be played by mezzo-soprano Elina Garanca and tenor Roberto Alagna, who were an electrifying duo when they premiered in the latest production of Bizet's "Carmen." Anita Rachvelishvili and Aleksandrs Antonenko will replace them in March. Bass-baritone Laurent Naouri will play the High Priest in all the performances.
The production will mark the director Darko Tresnjak's Met debut; he was the Tony Award winner in 2014 for "A Gentleman's Guide to Love & Murder." Sir Mark Elder will conduct.
The opera had its first performance in 1877 under the direction of Franz Liszt. Despite the sex and violence inherent in the story, "Samson et Dalila" is rather static, more like an oratorio. In the biblical drama, the seductress Dalila learns the secret of Samson's strength: his hair. Once shorn, he is powerless.
The most famous aria is the ravishing "Mon Cœur s'Ouvre à ta Voix" ("My Heart at Thy Sweet Voice"), which will surely bring down the house when sung by Garanca and Rachvelishvili. The other highlight is the spectacular ending: a wild bacchanal followed by the blind Samson's bringing down the walls of the Temple of Dagon.
The opera will run from Sept. 24 through Oct. 20 and then again from March 13 through March 28, 2019.
"La Bohème" by Giacomo Puccini (1858–1924) has been perhaps the most popular of all operas since its premiere in 1896. It has some of the most famous arias ever written, including the romantic "Che Gelida Manina" and "Sì, Mi Chiamano Mimì," followed by the rapturous duet "O Soave Fanciulla." The other gem is the infectious "Quando M'en Vò" (known as "Musetta's Waltz"). The Met wisely retains Franco Zeffirelli's exquisite set, which perfectly recreates 1830s Paris.
There will be two sets of leads: sopranos Nicole Car (making her Met debut) and Ailyn Pérez as Mimì, opposite tenors Vittorio Grigolo and Michael Fabiano as the hot and cold Rodolfo. He is ardently in love in Acts 1 and 2 but has split with Mimì by Act 3 over his baseless jealousy and returns for her death scene. Rising star soprano Angel Blue (who has won beauty pageants as well as vocal competitions) is the flirtatious Musetta.
The opera will be performed intermittently between Sept. 25 and Dec. 13.
Giuseppe Verdi's "Aida" is set in ancient Egypt and is among the most spectacular productions at the Met. This marks the first portrayal of the title role by the always exciting soprano Anna Netrebko. She should set off sparks in her confrontations with mezzo-soprano Anita Rachvelishvili as Amneris.  They will be replaced from January to March by Sondra Radvanovsky and Dolora Zajick. Tenors Aleksandrs Antonenko and Yonghoon Lee alternate as Radamès, while baritones Quinn Kelsey and Roberto Frontali will play Amonasro. Nicola Luisotti and Plácido Domingo will conduct.
'Aida' runs from Sept. 26 through Oct. 18 and intermittently from Jan. 7, 2019 through March 7, 2019.
Puccini was an admirer of American writer and producer David Belasco (1853–1931). After making an opera about Japan, based on Belasco's "Madame Butterfly," Puccini created an opera from Belasco's "The Girl of the Golden West" ("La Fanciulla del West"). Though it seems a bit strange to hear cowboys singing in Italian, the music is impressive and includes the tenor aria "Ch'ella mi Creda."
The opera requires powerful voices and that should be supplied by soprano Eva-Maria Westbroek as Minnie (a gun-toting woman in love).
The opera requires powerful voices and one should be supplied by soprano Eva-Maria Westbroek as Minnie (a gun-toting woman in love). The outlaw she falls for will be portrayed by Jonas Kaufmann, considered by many to be the world's leading tenor, who is making his return to the Met after several seasons. Tenor Yusif Eyvazov (Anna Netrebko's husband and recording partner) replaces him for three performances. Baritone Zeljko Lucic plays Sheriff Jack Rance, and Marco Armiliato conducts.
The opera is scheduled for Oct. 4 through Oct. 27.
For more information and tickets, go to MetOpera.org
Barry Bassis has been a music, theater, and travel writer for over a decade for various publications.