Geneva sparkles as the mystical birthplace of luxury watches. Rated a top ten city for its exceptional quality of life, Geneva is the second most visited city in Switzerland and the destination choice for celebrities.
Do you know that Geneva's closest neighbour is France? The French-speaking Swiss city of Geneva sits at the mouth of the Rhone River and along Europe's largest Alpine lake—Lake Geneva. The city is embedded between the Alps and the Jura Mountains, close to the majestic Mont Blanc (4,810 metres) that is only an hour's drive away.
Sixty six percent of the Geneva canton is a protected area, with 50 verdant parks and gardens – making it one of Europe's greenest cities. On top of that, Switzerland's third largest vineyard (1,400 hectares), along with its bucolic countryside and villages, are only 15 minutes travel from Geneva's town centre.
A hub of the international economy, Geneva is where over a hundred foreign banks are based. Switzerland's famous neutrality has birthed a thriving expatriate community in Geneva, with 190 nationalities—41% of its population coming from outside Switzerland.
Famous for its role in diplomacy, Geneva is home to 35 international and 250 non-governmental organizations, such as Europe's United Nations and World Health Organisation.
Geneva is also the gourmet city of Switzerland and the birthplace of the Red Cross and World Wide Web.
And the list goes on… Geneva has a thousand and one reasons to dazzle you!
Be dazzled by…
Capital of Peace and Freedom
Well-known for being the Capital of Peace and Freedom, Geneva is where the wind of freedom blows.
As the birthplace of the Red Cross and Red Crescent Movement, you must visit the Red Cross Museum while in Geneva and learn about its amazing humanitarian work. Just opposite the Red Cross Museum lies the Palais des Nations. It is the European headquarters of the United Nations, a focal point for multilateral diplomacy in maintaining peace in the world and defending respect for human rights.
At the public square before Palais des Nations stands a 12-metre high gigantic 'Broken Chair' wood sculpture. This broken chair is a symbol of the campaign against landmines.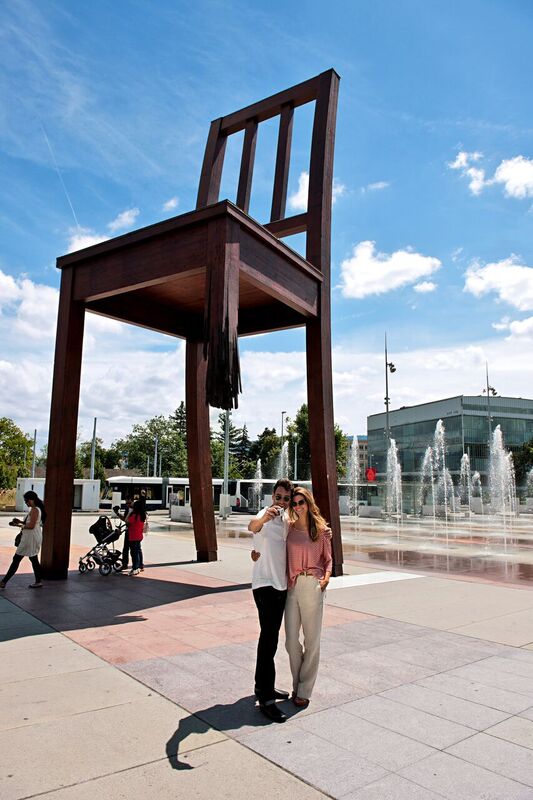 The impressive square, also called the 'Place des Nations', is a place for global citizens to demonstrate or freely express their opinion, be it political, religious or personal.
UNICEF, WHO, WTO are also located nearby.
Science and Innovation
How did the universe begin and how did it evolve? Learn about the big questions in science at CERN, the European Organisation for Nuclear Research – also known as the world's largest particle physics laboratory and the birthplace of the World Wide Web.
Located opposite the main building is CERN's iconic landmark – Globe of Science and Innovation. This eye-catching 27-metre high spherical architecture houses a permanent exhibition. Even if you are not a science buff, taking a photo of this state-of-the-art building is a must. This symbol of Planet Earth pushes the limits of construction in wood, and looks gorgeous when lit up from the inside.
Three-hour guided tours conducted exclusively by CERN personnel are available.
Lake Geneva
Do you know that Mary Shelley wrote 'Frankenstein' by Lake Geneva?
Also known as Western Europe's largest lake, the crescent-shaped Lake Geneva stretches over 581 square kilometres in southwestern Switzerland and bordering southeastern France.
Paris may have an Eiffel Tower, but Geneva's symbol is a liquid monument called the Jet d'Eau. One of the world's largest water fountains, visitors will behold seven tons of water gushing out and shooting up 140 metres in Lake Geneva. It was initially built by a hydraulics factory as a safety valve for the water, which was not needed after the watchmaking workshops were closed.

Join a cruise on the Swiss Riviera and marvel at the romantic scenery of fairytale castle—Château de Chillon—as you stop by the resort town of Montreux. Dubbed by some as the 'prettiest Swiss castle', the thousand-year-old Chillon Castle has inspired artists and writers from Jean-Jacques Rousseau to Lord Byron. The oval shaped castle has approximately 50 rooms open to the public. Each room unveils a part of daily life in the days of the Court of Savoy and also of the Bernese bailiffs.
From the castle, you can reach Montreux, the Cannes of Lake Geneva. Coming up in April 2016 is 'Chaplin's World—The Modern Times Museum'—the world's first museum dedicated to the film legend Charlie Chaplin. The museum used to be Chaplin's mansion during his stay from 1957 to 1977.
Watch Tour
Geneva, a cradle of prestige watchmaking, has splendid watch-related tours. There are twelve watch manufacturers in Geneva with 300 years of watchmaking tradition such as Rolex, Vacheron-Constantin, Patek Philippe, Chopard.
In Patek Phillipe Museum, the museum of Switzerland's leading luxury watchmaker, exquisite antique masterpieces from the 16th to 19th century are exhibited. You can also view the Patek Phillipe Collection from 1839 to the present.
Another iconic monument of Geneva is the Horloge Fleurie (Flower Clock) in the Jardin Anglais (English Garden). Designed in 1955, this botanical clock—made up of 6500 colourful blooms that change seasonally—has the world's longest second hand at 2.5 metres long.
Next on the list is the Passage Malbuisson Clock. Designed by Edward Wirth, its 16 bell chimes play a traditional Genevan melody every hour. Below the clock dial, a door will open – and you'll see 42 bronze figurines and 13 chariots marching in!
At Geneva's sparkling shoppers' paradise—Rue du Rhône—luxury watch stores offer over 80 prestigious brands. Les Ambassadeurs at Rue du Rhône offers a wide range of prestigious jewellery and watch brands.
Carouge
Just ten minutes away from the city centre lies the bohemian-style town – Carouge. Lined with Mediterranean and Italian architecture, you will fall in love with its relaxing ambience.
Nicknamed "small Italy" or "Greenwich Village of Geneva", Carouge distinctly stands out from other parts of Geneva. Many of the neo-classical houses have transformed into lovely shops including restaurants, antique dealers, workshops, ateliers and antique stores, clothes store and boutiques filled with cute ornaments.
Arve river, which borders Carouge, is perfect for a romantic walk or cycling.
Gastronomy
As a city of the world's most refined gastronomes, Geneva has a plethora of 1399 gourmet restaurants – with 59 restaurants awarded by the Michelin and GaultMillau guides.
Geneva is also a melting pot for different nationalities, so world cuisines are everywhere. Gourmet lovers will have a field day visiting Geneva's 140 ethnic restaurants, 30 master chocolatiers and a Geneva-based chocolate manufacturer.
Les Armures, the favourite dining place of former US president Bill Clinton, serves Swiss specialties such as raclette and traditional fondue that is only available in Geneva.
Savour innovative Indian cuisine at Rasoi by Vineet. Helmed by UK-based Chef Vineet Bhatia, Rasoi is the only two-Michelin starred restaurant in Europe serving ethnic cuisine.
For a less pricey dinner, traditional Swiss eateries and French cafes are conveniently found in every corner of Geneva's Old Town.
For more dining ideas, visit http://www.local.ch/en/restaurants
L'Escalade
L'Escalade is a festival held every December in Geneva. This annual event celebrates the defence of the Geneva city in 1602 from a surprise attack by Savoy.
The festival celebrates Mère Royaume – the heroin who climbed onto the ramparts and poured her pot of boiling vegetable soup over the head of a Savoyard soldier—who is a local legend along with her marmite.
To commemorate this day of victory, a procession takes place throughout the streets of the old city. Genevans dress up as historic figures like Mère Royaume during the merrymaking ceremony.
Every year, the celebration ends happily with the smashing of the chocolate marmite, which is sold in all Genevan supermarkets and chocolatiers. These marmites are filled with marzipan vegetables and embellished with the red-and-yellow colours of Geneva.
In Geneva, you can also…
Join a 1 day excursion to Chamonix – Mont-Blanc, the highest summit in Europe. http://www.keytours.ch/en/geneva/excursions-geneva-chamonix-mont-blanc.html
Wine tasting in Geneva vineyards, luxury package organized for small luxury group half a day with visit of wine cellar. http://www.winemax.ch/
Create your own chocolate creations, visit Favarger Chocolate factory http://www.favarger.com/en/guided-tours/ or do a chocolate workshop in on of Geneva's family owned chocolate factory such as Chocolaterie du Rhône. http://www.du-rhone.ch/
Have a wine tasting experience with e-bike tour. http://www.ebiketour.ch/ebiketours-en/
Visit the city with a local thanks to our Geneva Greeters. http://www.genevagreeters.com/
Enjoy free transportation during your stay thanks to the Geneva Transport Card. https://www.geneve.com/en/good-to-know/free-public-transport/
Visit Geneva Old town. https://www.geneve.com/en/object/the-old-town-and-its-treasures-713.product/