"Week-End at the Waldorf" sounds like the title of a travel brochure, but it's actually the name of a highly successful classic movie. Featuring an all-star cast of MGM players, this wartime extravaganza was a remake of "Grand Hotel" from 1932, updated to the more relatable setting of New York during World War II.
This major MGM production was produced by Arthur Hornblow Jr. and directed by Robert Z. Leonard. The cast contained only MGM's biggest names, including Ginger Rogers as overworked movie star Irene Malvern, Walter Pidgeon as battle-weary war correspondent Chip Collyer, Lana Turner as enterprising stenographer Bunny Smith, and Van Johnson as wounded flyer Captain James "Jimmy" Hollis.
Smaller parts are played by Edward Arnold as scheming businessman Martin X. Edley, Keenan Wynn as comical newshound Oliver Webson, and Robert Benchley as columnist and narrator Randy Morton. Supporting actors Phyllis Thaxter, Leon Ames, Samuel S. Hinds, George Zucco, and Rosemary DeCamp round out the cast. Xavier Cugat and his band lend musical accompaniment.
How does a film blend such different characters into one compelling plot in only 130 minutes? This story works because it's not a complicated love triangle (or square) involving every character. At the start, the four main characters don't even know each other, and the two couples never meet. Through chance circumstances, their paths briefly cross, but only when passing in the lobby. These characters are bound together by one common factor: They spend a single weekend at the Waldorf-Astoria Hotel in New York, after which their lives will never be the same.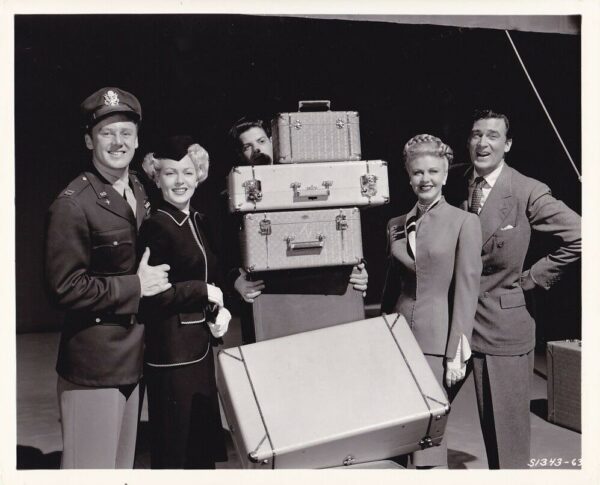 Looking for Love
Although seven characters are listed above the title in this film's opening credits, the story is about four main characters: Irene, Chip, Bunny, and James. All four are searching for something when the weekend begins. They don't know what they are trying to find, but they all want to get away from their current existences. They don't realize they are all looking for the same thing: true love and a happy marriage with the right person.
Irene Malvern, a very successful movie star, is staying at the Waldorf for the New York premiere of her latest film. Her manager, Henry Burton (Ames), rejoices because she has no romantic involvement and thus no emotions, scandals, or attachments to interfere with her career. However, Irene is beginning to feel that she has no life. She knows that she needs rest, but the only relaxation in her schedule is four days on a train back to Hollywood. She is afraid that her weariness is beginning to show in her performances and that life is passing her by.
Meanwhile, Chip Collyer feels the same way about his writing after years overseas on the frontlines. The past weeks spent in the United States have been too hectic to afford him any rest. Now, his editor, Hi Johns (Charles Wilson), thinks he'll be ready to return to his European assignments after one weekend of rest. Chip feels completely burned-out, but Johns insists that he is the only man for the job. All he wants is to sleep, but shutting out the world might be the wrong solution for him.
Bunny Smith isn't tired; she's sick and tired. This enterprising young woman has greater ambitions than being a stenographer and notary in the Waldorf-Astoria lobby for the rest of her life. Having spent her whole life on 10th Avenue, she longs for the finer things, but she's wise to the intentions of lecherous businessmen like Martin Edley. She's remained an honest working girl so far, but she can't help being tempted when Mr. Edley offers her a questionable but lucrative job.
Jimmy Hollis is not tired of any one thing; he's tired of life because he feels he has nothing and nobody for whom to live. He has no family; his only friends are casual acquaintances from his hometown of Jasmine, California. His best friend, his navigator, was killed on an unnecessary flight that Jimmy encouraged him to take. Now, Jimmy has battle fatigue and a piece of shrapnel near his heart. He needs delicate surgery to survive, but it will only succeed if he has the will to live, which he hasn't got. With the surgery scheduled for Tuesday, this weekend in New York may be his last.
A Cinematic Journey
Visiting an old hotel that has retained its historic authenticity can feel like going back to another time. "Weekend at the Waldorf" brings viewers on such a journey to the Waldorf-Astoria Hotel in New York City, circa 1945. The hotel's current location opened in 1931 and has maintained its prominence in New York society ever since.
It's no exaggeration that the film shows such important people staying at the Waldorf-Astoria. Jay Clarke of the Knight Ridder/Tribune News Service wrote in honor of the hotel's centenary: "It isn't the biggest hotel in New York, nor the most expensive. But when it comes to prestige, the Waldorf-Astoria has no peer. When presidents come to New York, they stay at the Waldorf-Astoria. Kings and queens make it their home away from home, as have people as diverse as Cary Grant, the Dalai Lama and Chris Evert. Some of them liked the hotel so well, they made their home there."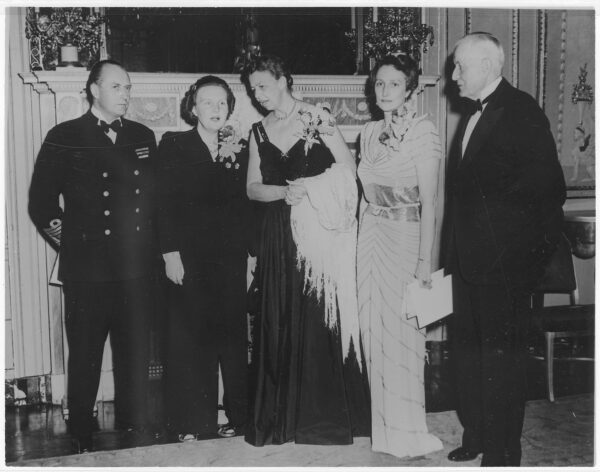 Along those distinguished lines, this movie shows the hotel hosting a Middle Eastern royal (Zucco), a movie star, and a famous war correspondent. A respected businessman (Hinds) and a nationally syndicated columnist (Benchley) call it home, like many wealthy and famous people who lived at the hotel for years. During the titular weekend, a fancy wedding takes place in one of the ballrooms. Orchestra leader Xavier Cugat leads the lavish floorshow in the hotel's iconic Starlight Roof every night in the film, which he frequently did in life, along with other famous musicians of the 1940s.
Like "Grand Hotel," "Week-End at the Waldorf" spends its entire runtime within the walls of the titular hotel. Unusual for the time, the production filmed interior and exterior shots of the hotel's beautiful art deco architecture. Most of the locations where the actors are present, such as the lobby, the Starlight Roof, and various hotel rooms, were sets on the MGM lot.
Interestingly, this movie was almost called "Palace in the Sky" and relocated to a San Francisco hotel because of legal disputes between the studio and the hotel management. One of the main issues was the Waldorf's insistence that the film be shot in Technicolor to better highlight the luxurious decor.
Thankfully, the disputing sides resolved their differences, and production commenced. This is fortunate, for even with the same great story and cast, this film would not have been the same without the sheer elegance that the very name of this legendary hotel exudes. From the entryway's floor mural to the ornate elevator doors, there are so many of the hotel's real-life details, which those who have visited will recognize and appreciate. It's no wonder that the film is still proudly played on a small screen in the hotel's lobby at all times.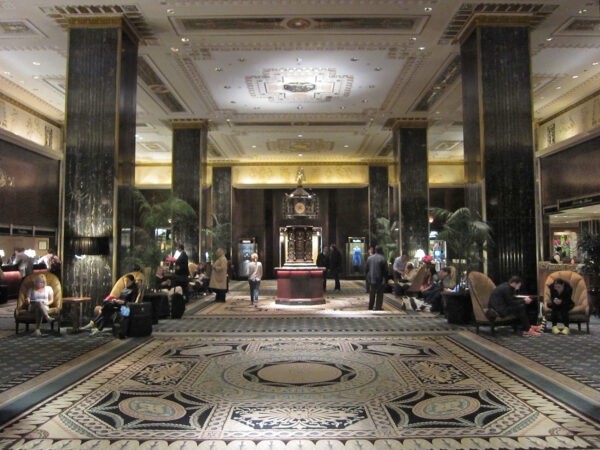 A Classic, American Style
It's rare for the remake of a popular film to be successful. "Week-End at the Waldorf" managed to defy these odds by becoming 1945's sixth largest grossing film. What was the secret to its success? It could have been the star-studded cast of major box office attractions like pinup girl Lana Turner, heartthrob Van Johnson, and beloved stars Ginger Rogers and Walter Pidgeon. It could have been the inclusion of compelling music, provided by the well-known Xavier Cugat. It could have been the glamorous setting at the Waldorf-Astoria, which transported viewers to a luxurious weekend. It could have been the fabulous costumes worn by Irene. However, there is another reason for the movie's success, which is less obvious.
Some remakes are merely copies of an earlier film with a new cast. Every line and scene is the same, perhaps with the addition of musical numbers. Unless the new performers bring something very special to these tried-and-true elements, audiences are bound to unfavorably compare them to their predecessors.
There was an added challenge in remaking "Grand Hotel." The dark content and immoral relationships that were accepted in pre-Code films were taboo by 1945, when the Production Code Administration ensured that all Hollywood films followed the Motion Picture Production Code's decency standards. MGM could have tried to tone down the original's questionable elements, including suicide, murder, and illicit affairs galore. Instead, it decided to turn the basic outline into a completely Code-compliant film without any of the off-color content.
The result is a truly American film. Set in New York instead of Berlin, it celebrates one of the most famous hotels in the United States. The European ballerina is translated to the more American celebrity of a movie star. Two of the men are involved in war service. Instead of an old man with a terminal illness, the character facing death is a young, wounded veteran. Exotic melodrama was traded for American optimism.
The results are so delightful that you'll want this weekend to never end!
Tiffany Brannan is a 20-year-old opera singer, Hollywood history/vintage beauty copywriter, film reviewer, fashion historian, travel writer, and ballet writer. In 2016, she and her sister founded the Pure Entertainment Preservation Society, an organization dedicated to reforming the arts by reinstating the Motion Picture Production Code