'We enjoyed it all,' Says Director of Finance about Shen Yun
April 26, 2014 2:09 am Last Updated: April 27, 2014 9:14 am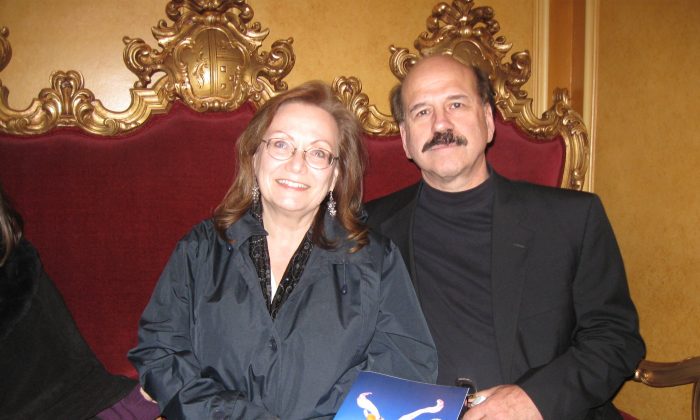 BUFFALO, N.Y.—From the dancing to the orchestra to the backdrops—all aspects of the Shen Yun Performing Arts show at the Shea's Performing Arts Center on Friday evening impressed Peter Ciminelli.
"It was very exciting. We enjoyed the dancing, special effects, we enjoyed the orchestra—the whole show," said Mr. Ciminelli, director of finance with a public education collaborative in New York State.
"We enjoyed it all."
"It was beautiful," said his wife, Susan Ciminelli, a music teacher and school principal who just retired. 
Mrs. Ciminelli was captivated by the erhu, a two stringed instrument also called the Chinese violin known for its rich, haunting sound.
"It was entrancing to me just to watch her play and the sound, because I played violin, not Chinese violin but I played violin," she said.
"To me that was beautiful … I just loved that part," she added. "I think it's very emotional. The violin is emotional anyway but I think the Chinese violin is very expressive."
She said she also enjoyed the orchestra with its blend of Chinese instruments such as the pipa and suona with traditional Western orchestral instruments.
"It was excellent and the timing was perfect," she said.
"I thought it was very challenging for the conductor. There's a lot of pieces going on to keep track of."
New York-based Shen Yun was formed by leading overseas Chinese artists in 2006 with the aim of reviving the essence of China's 5,000-year-old divinely inspired culture and bringing it to audiences around the world.
The Ciminellis said that they liked the performance so much that they would come again.
"It was very interesting. It was very enjoyable," said Mr. Ciminelli.
Reporting by Allen Zhou and Joan Delaney
New York-based Shen Yun Performing Arts has four touring companies that perform simultaneously around the world. Shen Yun's Touring Company will perform in Buffalo from April 24-25. For more information, visit ShenYunPerformingArts.org
The Epoch Times considers Shen Yun Performing Arts the significant cultural event of our time. We have proudly covered audience reactions since Shen Yun's inception in 2006.