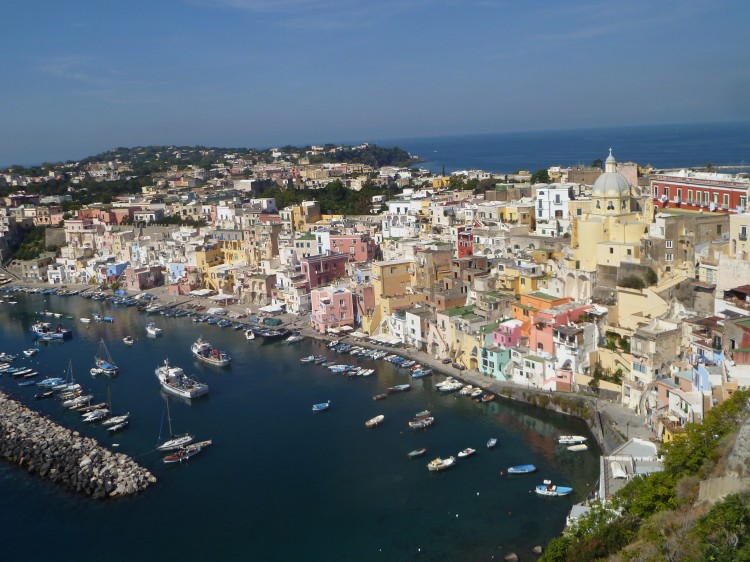 The hot springs of Ischia, a volcanic island in the Bay of Naples, have drawn visitors since ancient times. Pliny wrote about its terme (thermal baths) and before him, the Greeks erected shrines to the water nymphs for giving us the curative springs. Visitors—mostly Europeans—still flock here between April and October, though Ischia has not been smothered by mass tourism like nearby Capri.
Today's shrines are not to water nymphs but to the wizards of Italian design who have made the "water park"—what in the United States is associated with water slides and amusement rides—into a fantasia of steaming pools and gorgeously landscaped gardens with grottos, waterfalls, lairs and, of course, restaurants. (This is Italy after all.) As you enjoy a Mediterranean lunch of local fish and vegetables, you expect to see Pan step from a sacred grove into one of the nearby pools.
[etssp 585]
My first terme was the Negombo Gardens, one of Ischia's most popular thermal parks. It was just down the hill from my hotel, the Garden Villa Resort, which offers guests access to the terme and the beach. The hotel is named for its lush plantings, including aromatic herbs and vegetables served in its restaurant. Locavores rejoice!
Negombo's pools are terraced into the hills flanking a pocket-sized bay and sandy beach. Aromatic mists evocative of the Oracle of Delphi fill a cave-like sauna named Omphalos. Walking on pebbles in the hot and cold pools of the Japanese labyrinth massaged the soles of my feet. An array of shower sluices of various intensities massaged my neck and back in yet another pool.
I didn't want to miss Ischia's largest thermal park, so the next day I visited Poseidon Gardens, which consists of 23 pools, a spa treatment center, two restaurants, a boutique, and a bookstore located on the bay of Chitarra, steps from the beach. Poseidon feels more country club than mythological rustic, drawing an upscale clientele and many Germans, one of whom indicated I needed to wear a bathing cap in the pool. (The friendly Italian staff said a baseball cap would suffice.) Soaking in the 100 degrees pools slowed the world down and brought on a state of bliss. 
Fumaroles (steam geysers) pop up in unexpected places around the island. Underwater fumaroles heat the Mediterranean waters at Maronti Beach—and assist enterprising food mongers selling geothermal boiled eggs and chicken. The fumarole beneath Maronti Beach produces hot sand that arthritis sufferers pack around sore joints like a heating pad. 
A short hike from Maronti Beach, I found the most other-worldly and unforgettable of Ischia's terme—Cavascura. Getting there was a journey back to a mythological time. Fluted walls of tawny rock frame a narrow canyon, sand, the trickle of a stream underfoot, and the Mediterranean blue sky overhead. Was this the set for a sword-and-sandal epic?
Cavascura's baths are carved into the rock walls of the canyon and fed by gravity from the Sorgetto spring, cradled in a cave further up the steep passage. After a sauna and shower, I lounged on the simple wood deck, awaiting my turn in one of the half dozen private pools. I soaked for the allotted 20 minutes, after which Michela, my guide, told me not to shower for 24 hours in order to get the full benefits of the healing waters. I dutifully obeyed. 
Having seen where Julius Caesar (could have) bathed, I wanted to see where Garibaldi actually did. The Terme Manzi Relais & Chateaux Hotel and Spa in Casamicciola has the marble tub in which the father of modern Italy healed his battle wounds. Terme Manzi's over-the-top classical opulence is the exact opposite of Cavascura. Italy is known for style, and Manzi's two-star Michelin Restaurant Il Mosaico puts as much attention into the presentation as the food itself, serving bites of seafood on bricks of Murano glass, chocolates in miniature breakfront cabinets, and a dessert tableaux evoking the history of Naples.
As in any good spa, food is important on Ischia. The rich volcanic soil nurtures all manner of agriculture, and most of what's served on the island comes from the island and the waters around it. I had the most unforgettable meal at the harborside trattoria Un Attimo Divino. Sicilian-born Raimondo Triolo cooks for his customers as if they were his own children—with love. His mother's recipes are the basis for his kitchen, but he adds his own twist, such as a triptych of fish—one fish prepared three ways in different courses.
Much of Ischia is mountainous and it doesn't draw its cuisine only from the sea. The traditional Sunday meal is rabbit stew, and I enjoyed a magnificent coniglio ischitano, with herbs, garlic, olives, cherry tomatoes, and white wine, at Da Leopoldo, a chalet-like trattoria high in the hills above the town of Panza.
I took day trips, via a short ferry ride, to the more famous Capri and Positano, and to the resolutely "untouristy" island of Procida. There, I wandered its narrow medieval streets with sorbet-colored houses and ancient chapels where monks once meditated upon skulls.
There's only so much soaking I could take so, I hopped the Italo high-speed train from Naples to Florence where I rented an Auto-Europe car to take in the Tuscan landscape—and food. Outwitting the GPS, I found Il Falconiere, a Relais & Chateaux 16th century estate outside Crotona that owners Ricardo and Silvia Barrachi describe as a restaurant with bedrooms. This is a living example of local sustainable agriculture—very old school. The estate dates to the 3rd century B.C. and has been in the Barrachi family since the 1600s. It's entirely self-sufficient, producing grain (used for bread, pasta and animal feed), milk, cheese, yogurt, fruits, vegetables, meat, and, of course, wine—virtually everything on the table in their top-flight restaurant was grown right here.
Under the Tuscan sunroof I drove to Rome, and before flying home, I took a tour of the newly restored subterranean sections of the Coliseum arranged by Amanda Tour. I enjoyed dinners at the iconic Hassler Hotel's Imago Restaurant, atop the Spanish Steps, and Assunta Madre with its stylish Roman crowd, which allowed me to see the ancient and modern faces of the Eternal City.
The twin tsunamis of globalization and mass tourism have scoured the landscape of distinctive characteristics that allow us to distinguish one place from another in much of the Westernized world. But Italy's still survive—as they have through the ages.
C.W. Ellis is a freelance writer, based in the United States, whose work has appeared in broadcast and print including CNN, NPR, and the New York Times. He has written about cultural and eco-tourism in Latin America, a pilgrimage in the American South with Civil Rights icons, and alternative medicine in Europe and Japan.
The Epoch Times publishes in 35 countries and in 19 languages. Subscribe to our e-newsletter.