Water, Everywhere: Beautiful, Threatened
September 22, 2013 2:04 pm Last Updated: September 22, 2013 9:34 am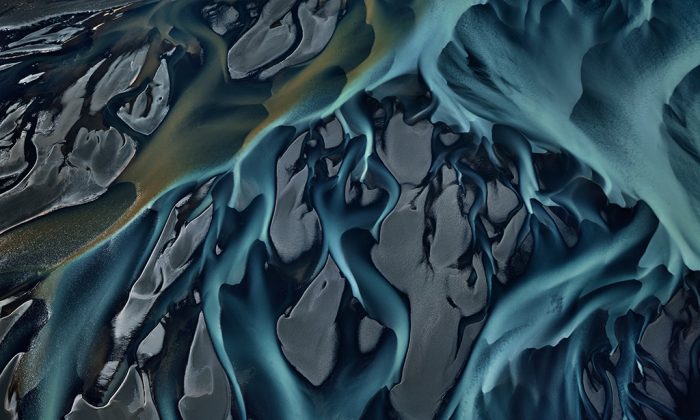 NEW YORK—For the last five years, Canadian photographer Edward Burtynsky has been traveling the world looking at how human societies interact with water. 
His photographs challenge Western society's everyday perception of water—that plentiful, clean if pharmaceutical-laced stuff that comes out of the tap—and shows us many facets of its appearance, both as a substance and a natural resource. 
Over 60 of his photographs, printed 6 feet wide, are showing at Bryce Wolkowitz Gallery and Howard Greenberg Gallery this fall.
He takes photos from helicopters of Spanish beachgoers, Indian shantytowns, Texan irrigation systems that look like crop circles, and river deltas that could have been cuts of marble. 
The muddy Yellow River tosses up like a cloud of smoke as it crashes from China's Three Gorges Dam. A turgid Icelandic river seems to ooze like an oil slick. Looking from the top of an Indian stepwell, the water inside looks like a flat green stone, and the series of steep steps that lead down to it are almost a metaphor for the lengths human beings will go to obtain water.
Burtynsky's pictures made evident that people yearn to be near water, both for necessity and pleasure. But in transforming waterscapes into rice terraces, fish farms, and electricity generators, we fundamentally change the nature of this resource.
This water-themed project is an extension of Burtynsky's broad subject of large scale industry.
"While trying to accommodate the growing needs of an expanding—and very thirsty—civilization, we are reshaping the Earth in colossal ways. Over five years, I have explored water in various aspects: distress, control, agriculture, aquaculture, waterfront, and source," states Burtynsky. 
"We have to learn to think more long-term about the consequences of what we are doing, while we are doing it. My hope is that these pictures will stimulate a process of thinking about something essential to our survival, something we often take for granted—until it's gone."
The New York exhibitions coincide with the photographer's new book, "Burtynsky – Water," which will be published this month, and the release of a feature-length documentary film, "Watermark," which Burtynsky co-directed with Jennifer Baichwal. 
Edward Burtynsky: Water 
Sept. 19–Nov. 2
Howard Greenberg Gallery 
41 East 57th St., Suite 1406
212-334-0010
www.howardgreenberg.com
Bryce Wolkowitz Gallery 
505 West 24th St.
212-243-8830
brycewolkowitz.com