"It's like a sound machine," I mused, sweat beading as I panted my way through the steamy jungle air, humid and thick with oxygen. We were on our first trek of the trip, scouting for the scent and hoot of howler monkeys. Our guide assured us he had seen a harpy eagle swoop in and eat one in this same spot just last week. Not exactly what I had in mind, but I'd take it: The forest is tumid, pulsing with life, but its larger creatures are elusive.
Melodiously cacophonous as it is, the Brazilian Amazon is not a sound machine. It's decidedly analog, in tune not with the ticking clock nor our hurried lives but the longstanding rhythms of nature, the instincts and whims of millions of insects, birds, mammals, and reptiles living together. Nothing man-made could capture the layers and depth of this sort of noise: There's a medley of bird calls, sure, but also breezes and raindrops and dense effluvia underfoot, millennia of vegetative detritus forming a bed that sighs with jungle rot.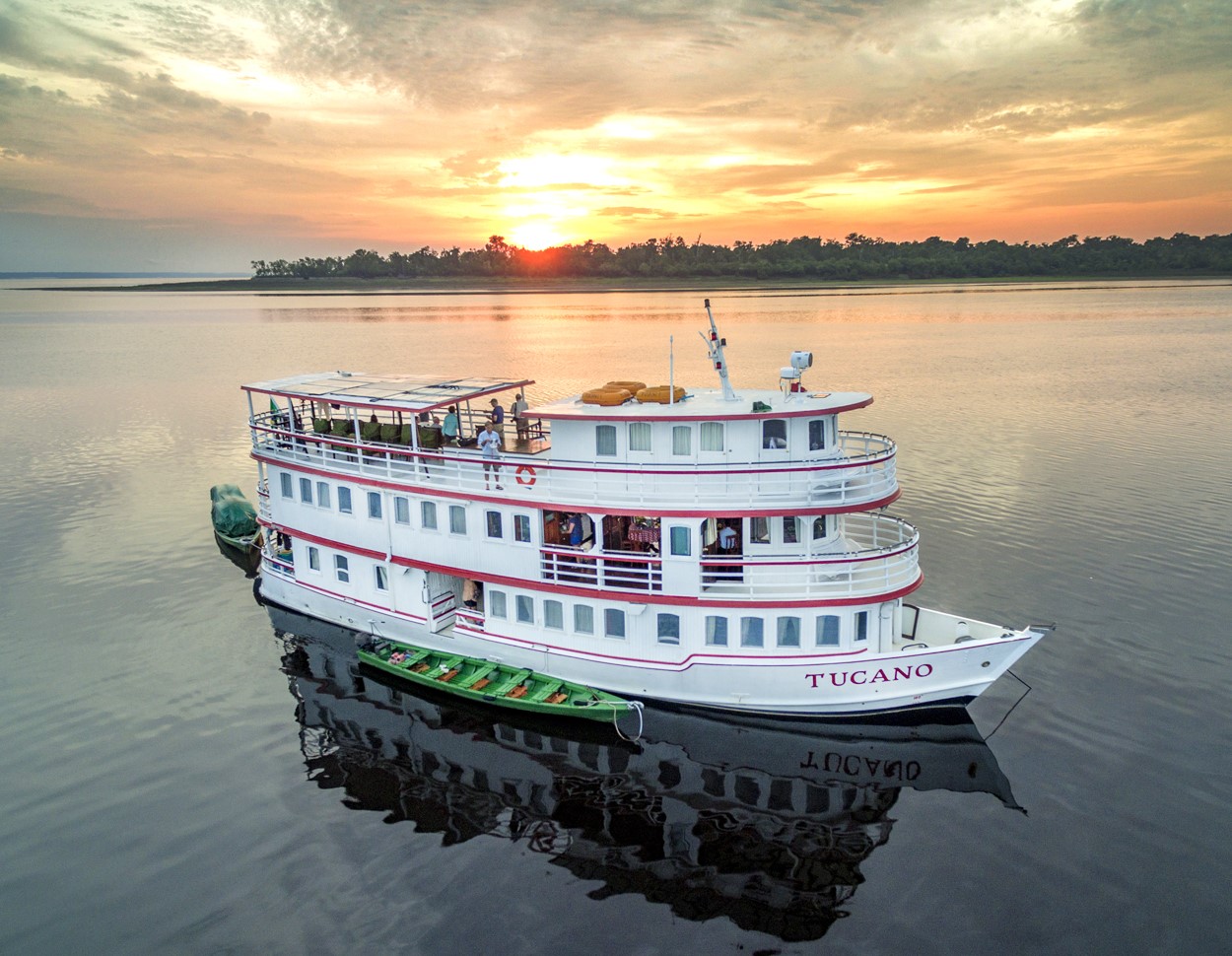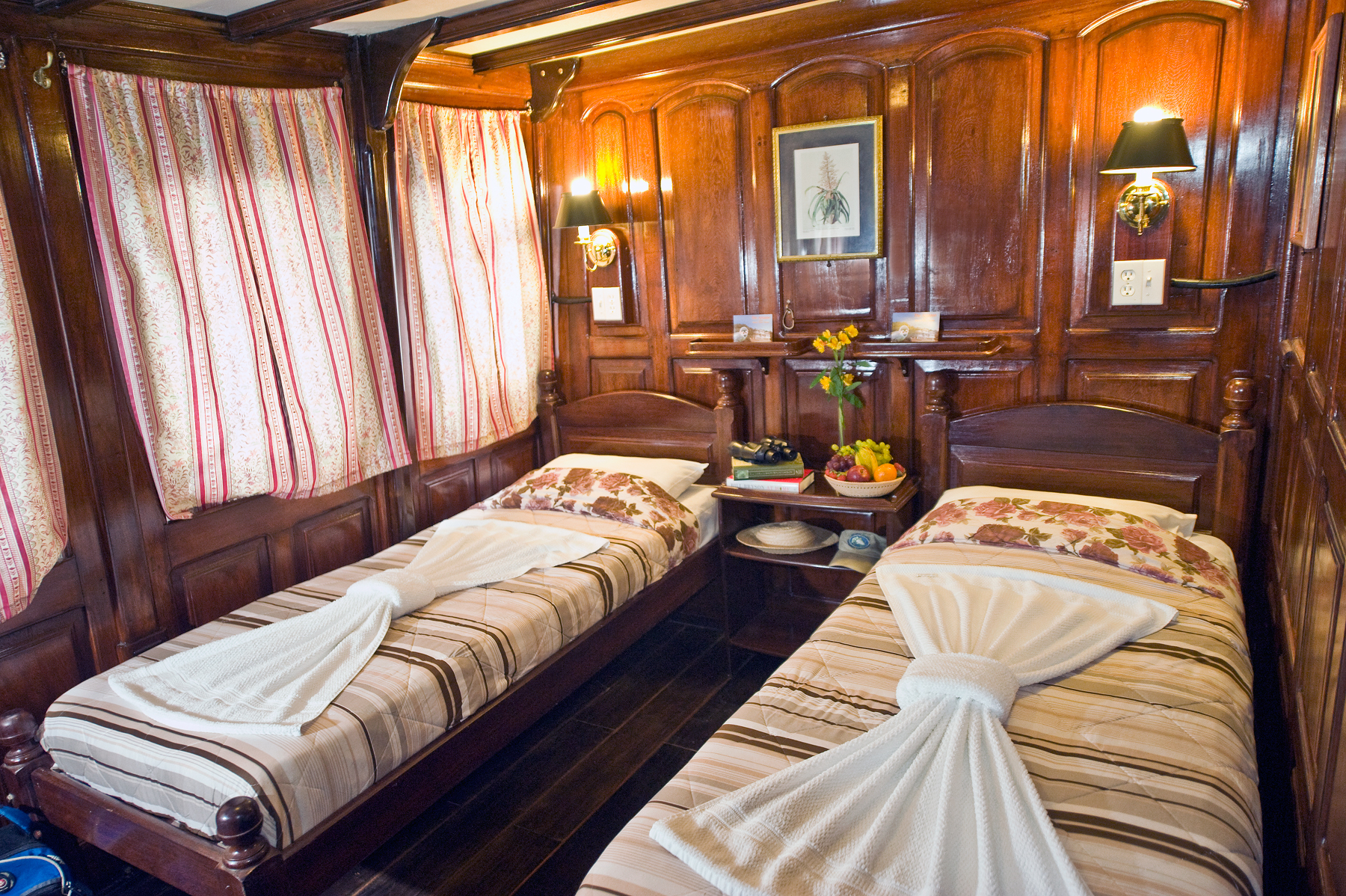 Aside from the fact that as of this summer, U.S. citizens no longer need a visa to travel to Brazil, this sort of experience—remote, otherworldly, off-the-grid—is what drew me and my husband, techie city slickers that we are. A six-day, six-night expedition offered by Amazon Nature Tours sounded exotic and appealing. They have a 30-year presence in the area, a focus on sustainability—much of the ship's operations are solar-powered—and are the only line to offer four- and six-day sailings in the Brazilian Amazon basin. Aboard the 18-passenger Motor Yacht Tucano, Amazon Nature Tours ventures deeper into the wilderness than any other tour on offer.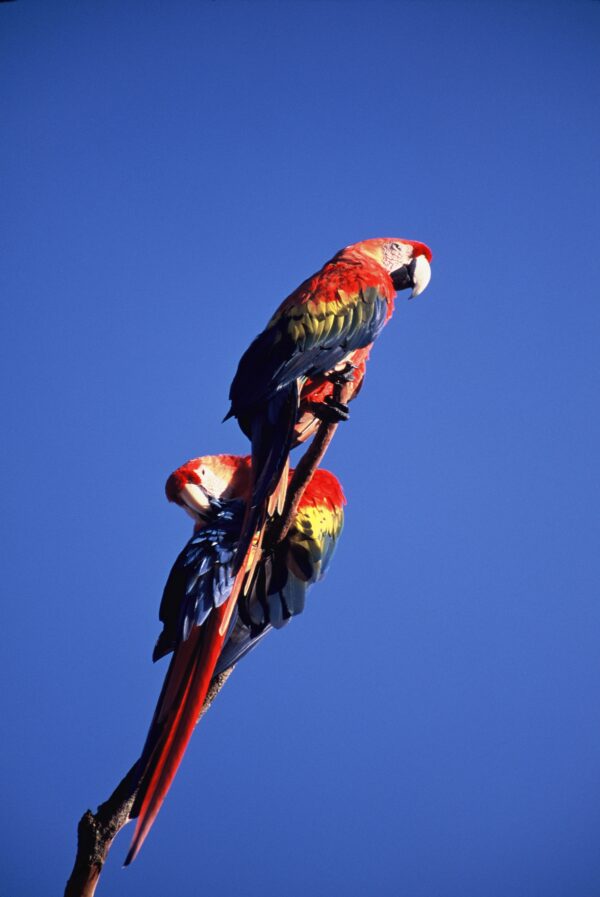 The Rainforest
The Amazon rainforest is located primarily in Brazil, though Peru, Colombia, and other nearby countries also contain portions of its mass. Trips with Amazon Nature Tours depart from Manaus, capital of the massive Brazilian state of Amazonas, which has no road system, making it one of the most secluded areas on Earth. 
Still, getting to Manaus is easy; a direct American Airlines flight out of Miami takes just five hours. But outside of Manaus, we saw zero other tourists and few traces of civilization, save for the occasional fishing boat from one of the quiet riverside villages. As bars of cell service dwindled, our off-the-grid ambitions became reality.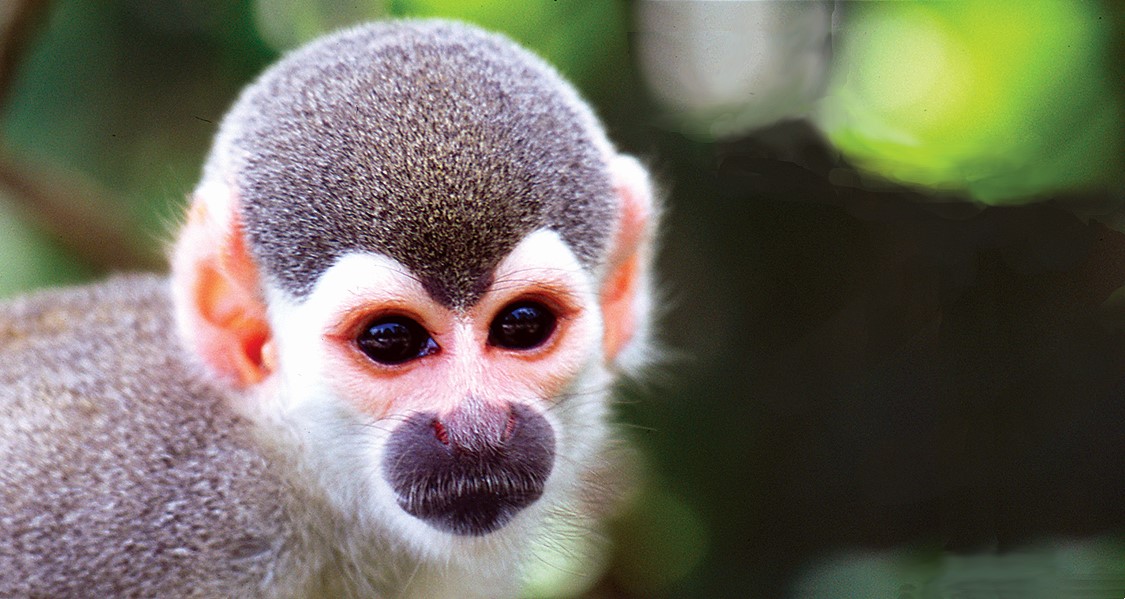 Rhode Island native Mark Baker, founder and owner of the small-ship expedition cruise company, is a descendant of Daniel Boone. Trips on the Tucano are exhilarating, but the ship exudes a comfortable elegance. In the Amazon, luxury comes in the form of finding your mud-clad hiking boots rinsed clean after you've dumped them post-hike; returning from morning launches to a freshly made-up stateroom; and mouthwatering spreads in the Tucano's dining room.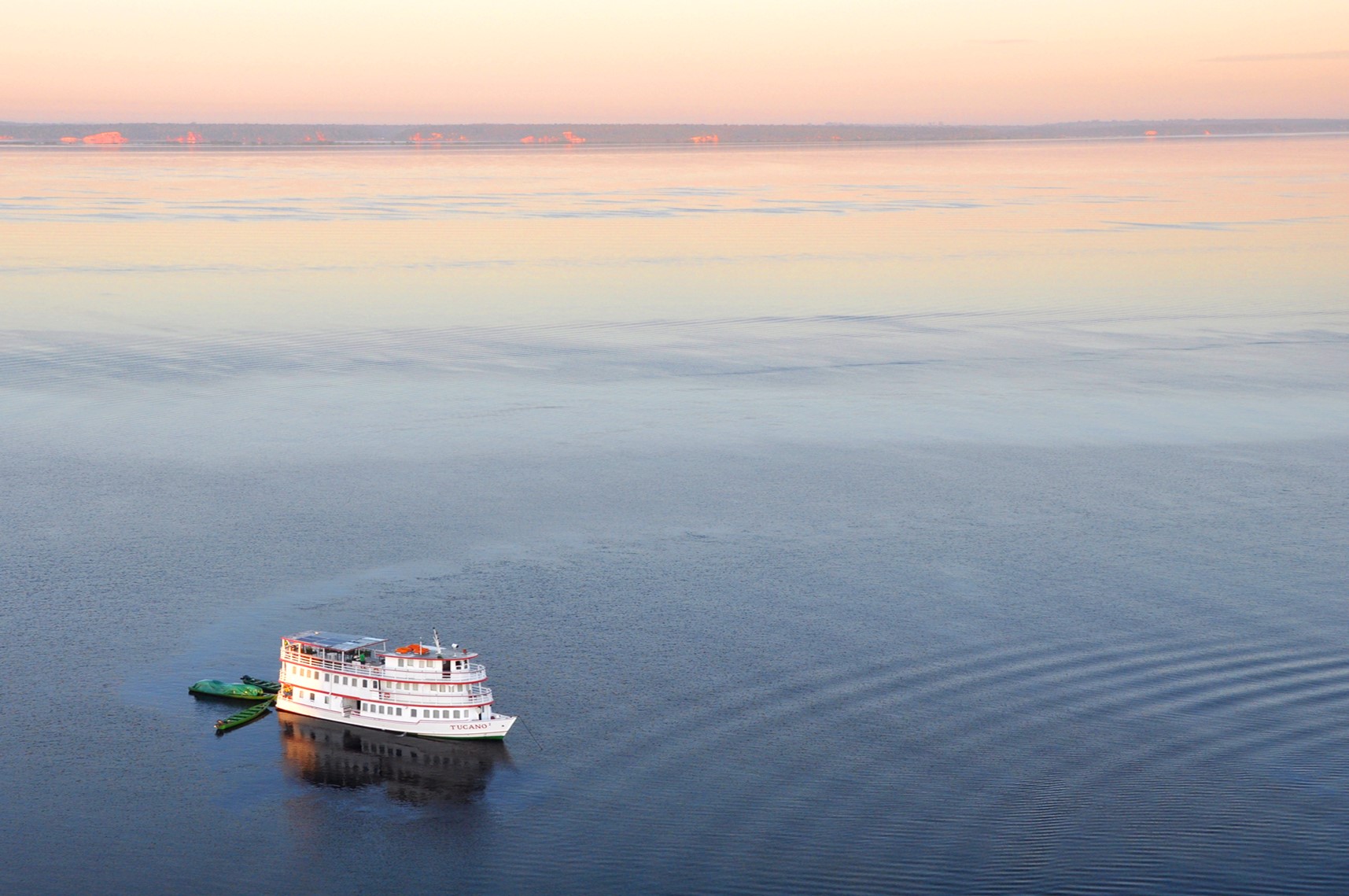 Ice Cream and Night Canoeing
Besides jungle walks, boating excursions, and a smattering of only-in-the-Amazon adventures with the onboard naturalists, the daily routine during the voyage is peppered with three hot meals (four if you count early-morning porridge) prepared by an on-ship chef using locally sourced ingredients like manioc and tapioca. Dishes deftly walk the line between adventurous and familiar; for example, every day post-lunch, I impatiently awaited the kitchen's delivery of ice cream made fresh from forest fruits like tucumã, cupuaçu, or açaí, the perfect sweet treat before settling in for an afternoon hammock snooze.
As the days marched on, we remained close to terra firma but far from the trappings of modernity, which within minutes of departure became a distant, almost silly, memory. Aboard the three-story M/Y Tucano, distractions come not in the form of email or Instagram, but wildlife sightings and impromptu top-deck gatherings.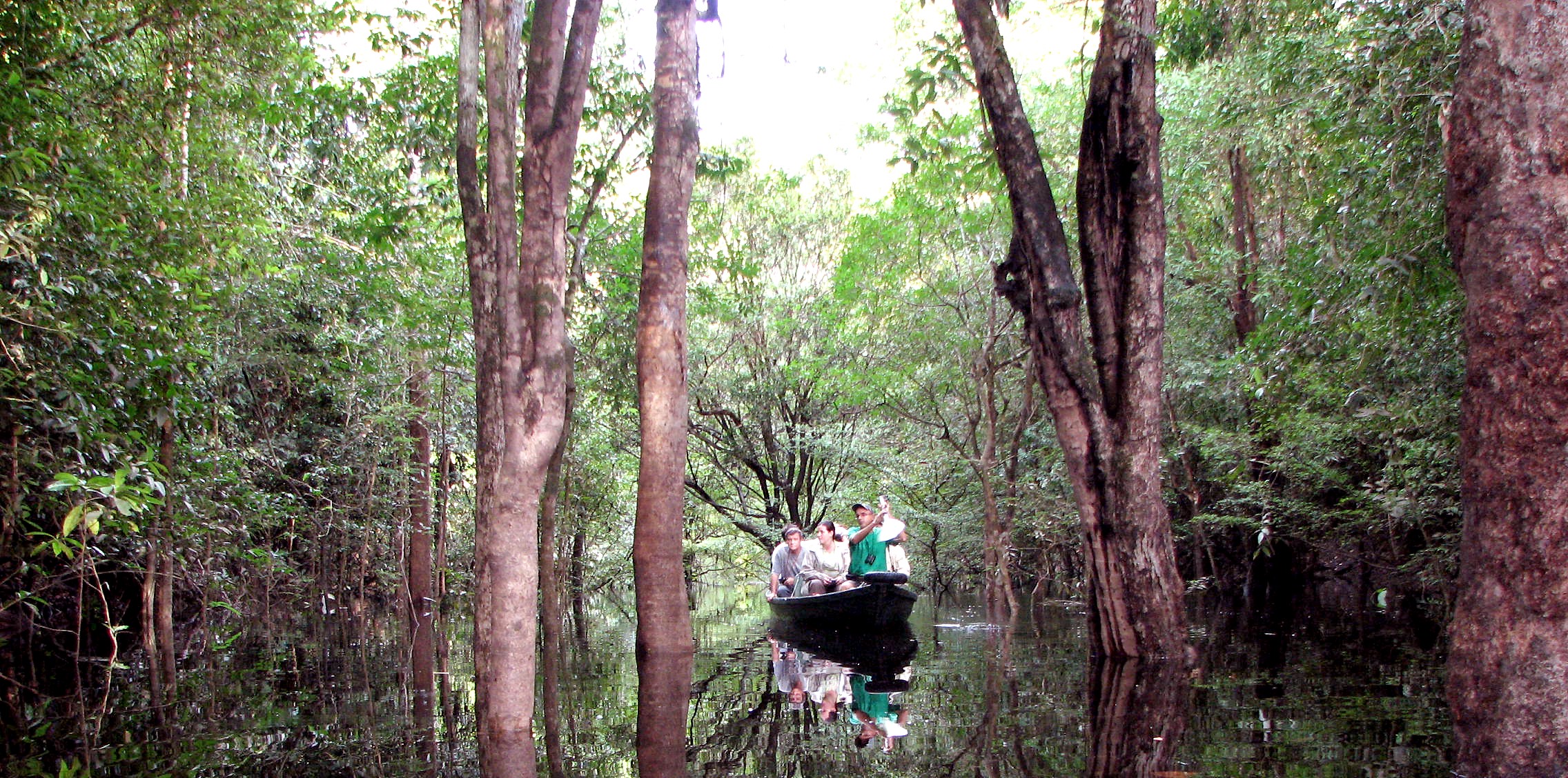 Productivity, too, takes on a whole new meaning in the Amazon. One of my journal entries from the trip reads: "By noon, we've risen with the dawn, explored via motored canoe for two hours, sat down to a breakfast of tapioca pancakes and bananas, read and written a few pages, done a two-hour jungle trek through the forest, showered off the first half of the day, and are sitting down to lunch." Somehow, the daily 5:30 a.m. wake-up knock never felt too early; with the first hints of light, the jungle is already humming, awake and alive and crawling with creatures. 
Post-noon hours were more relaxed; the boat spends the hottest part of the day on the move. Still, the late-afternoon excursions and nightly canoe launches into the dark, dank Amazonian night were one of the most exciting elements of the trip.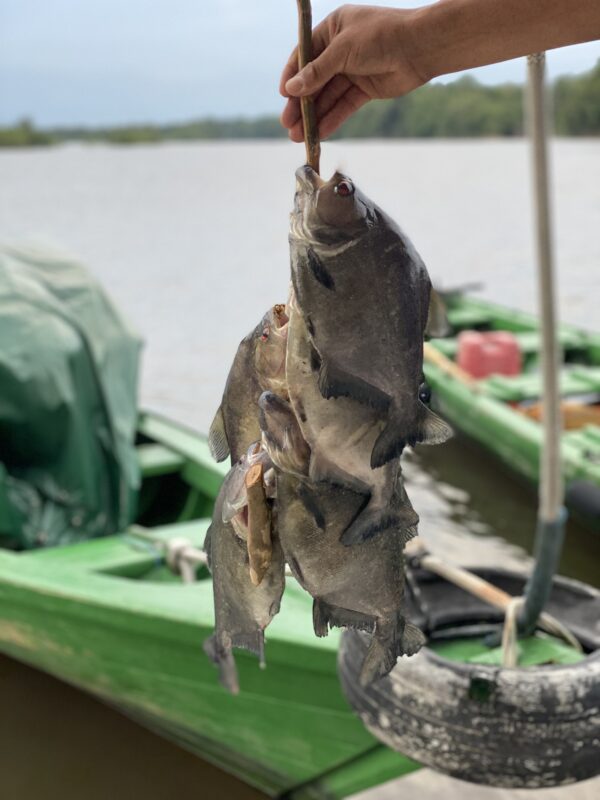 Piranha Fishing
Amazon Nature Tours sails the Rio Negro, the least inhabited river in the Amazon basin. The six-night trip sends you 180 miles deep, where you fish for piranha before turning around and heading back downstream. The itinerary is packed with adventures like bird-watching, hikes, visits to native villages, and even swimming in the inky Rio Negro, but piranha fishing is a true highlight, probably because it's just so easy: bait the hook, make as much splashy noise as possible, and a jerk on your line arrives within seconds. 
On the dinner table that night? Fresh catch, of course.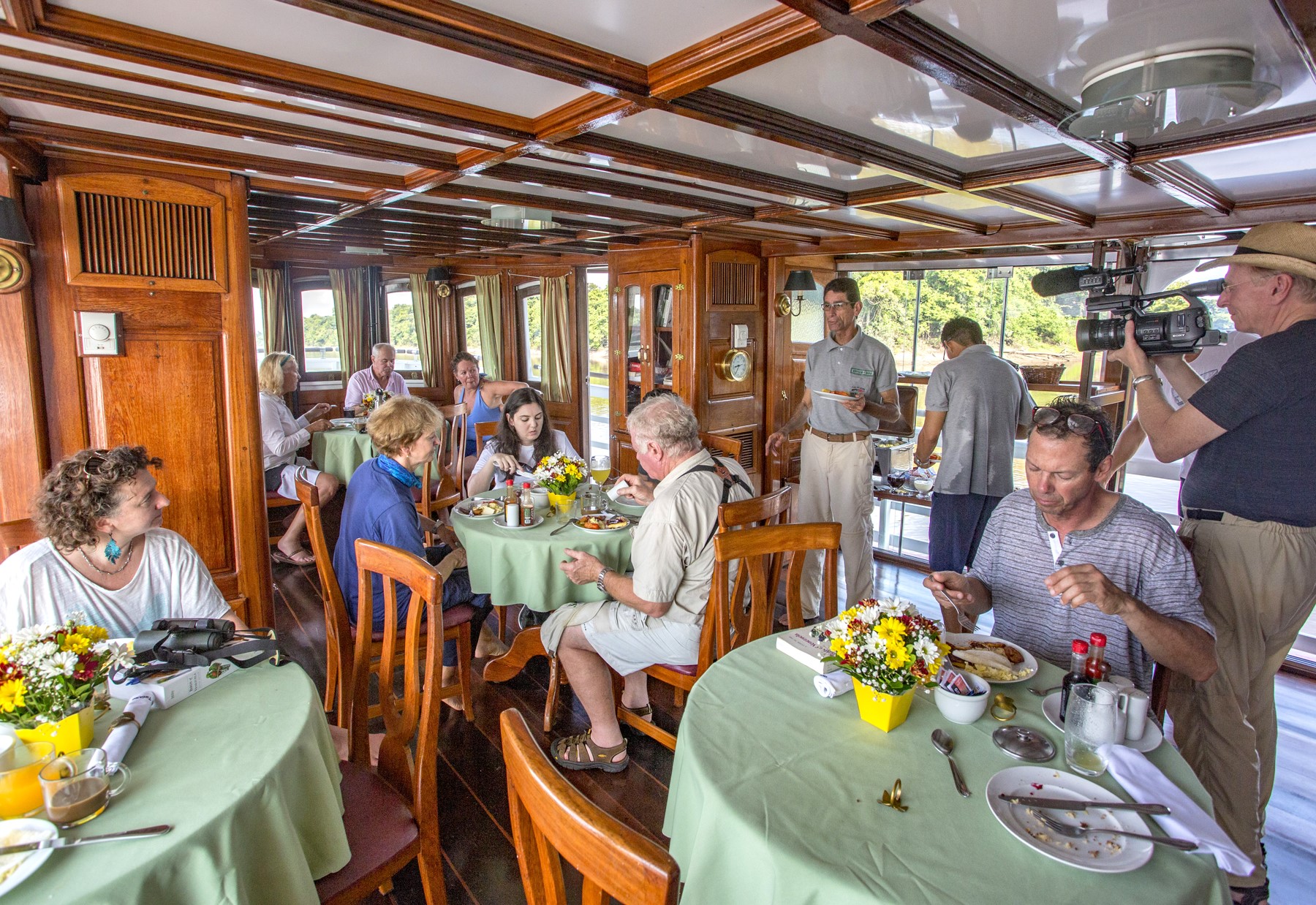 As a vastly biodiverse ecosystem, the emphasis in the Amazon is on diversity, not density, of wildlife. Don't expect a place teeming with toucans and shrieking with monkeys. A spotting you can count on? Pink dolphins, formally called boto. These sweet mammals are blush with romance—to grab the attention of females, males pick "flowers," or tufts of aquatic plants.
What to Pack
Though a trip to the Amazon is about immersion in the elements, there are a few essentials you won't want to do without. Bugs aren't as big of a problem as you'd expect, since the pH of the Rio Negro isn't conducive to mosquitos; no shots or vaccines are required to enter Brazil. Still, we weren't taking any chances, and Para'kito natural bug repellent products—we brought their wristbands, clip-ons, and roll-ons—kept us mosquito-free and unbothered by bites.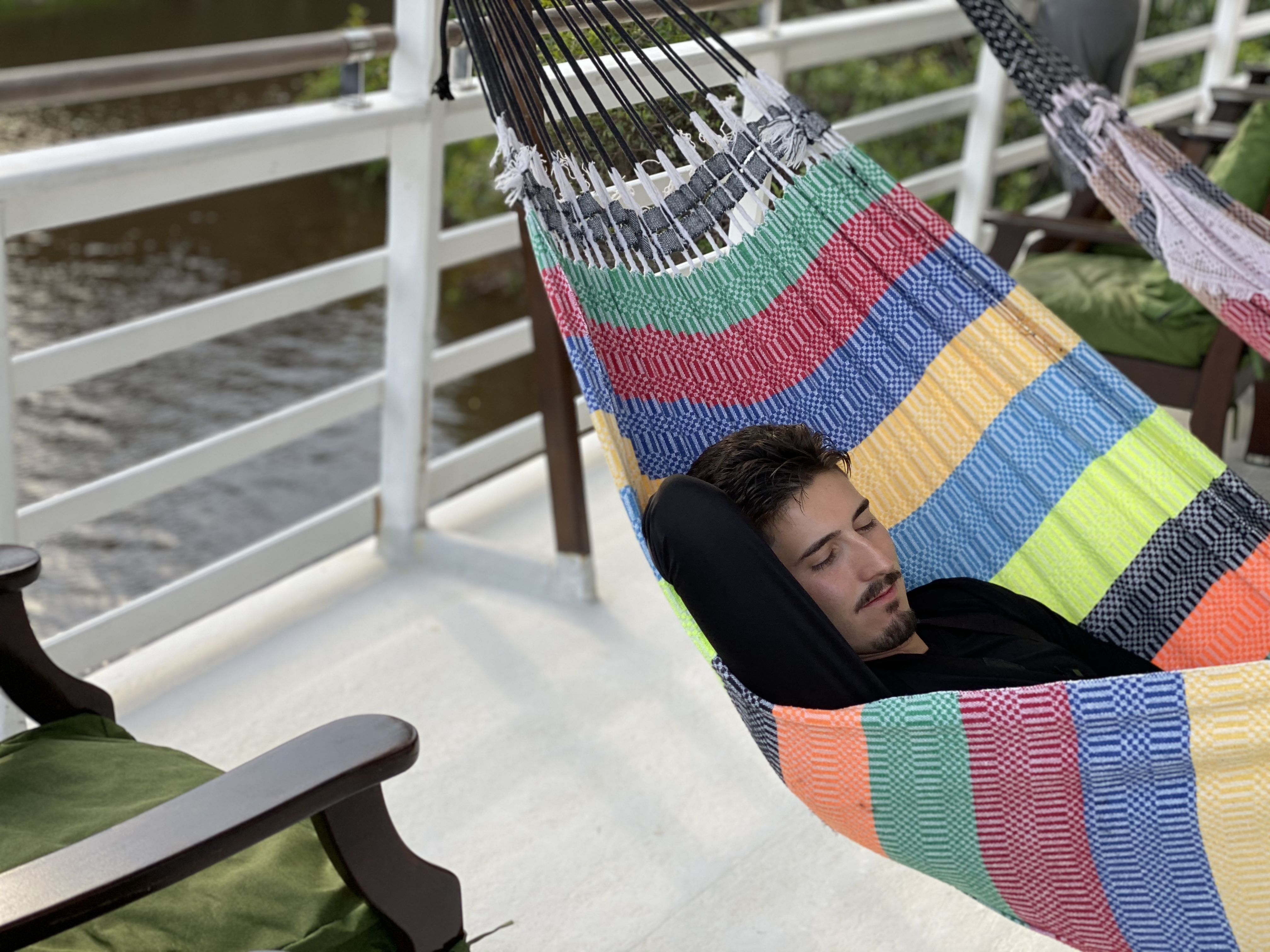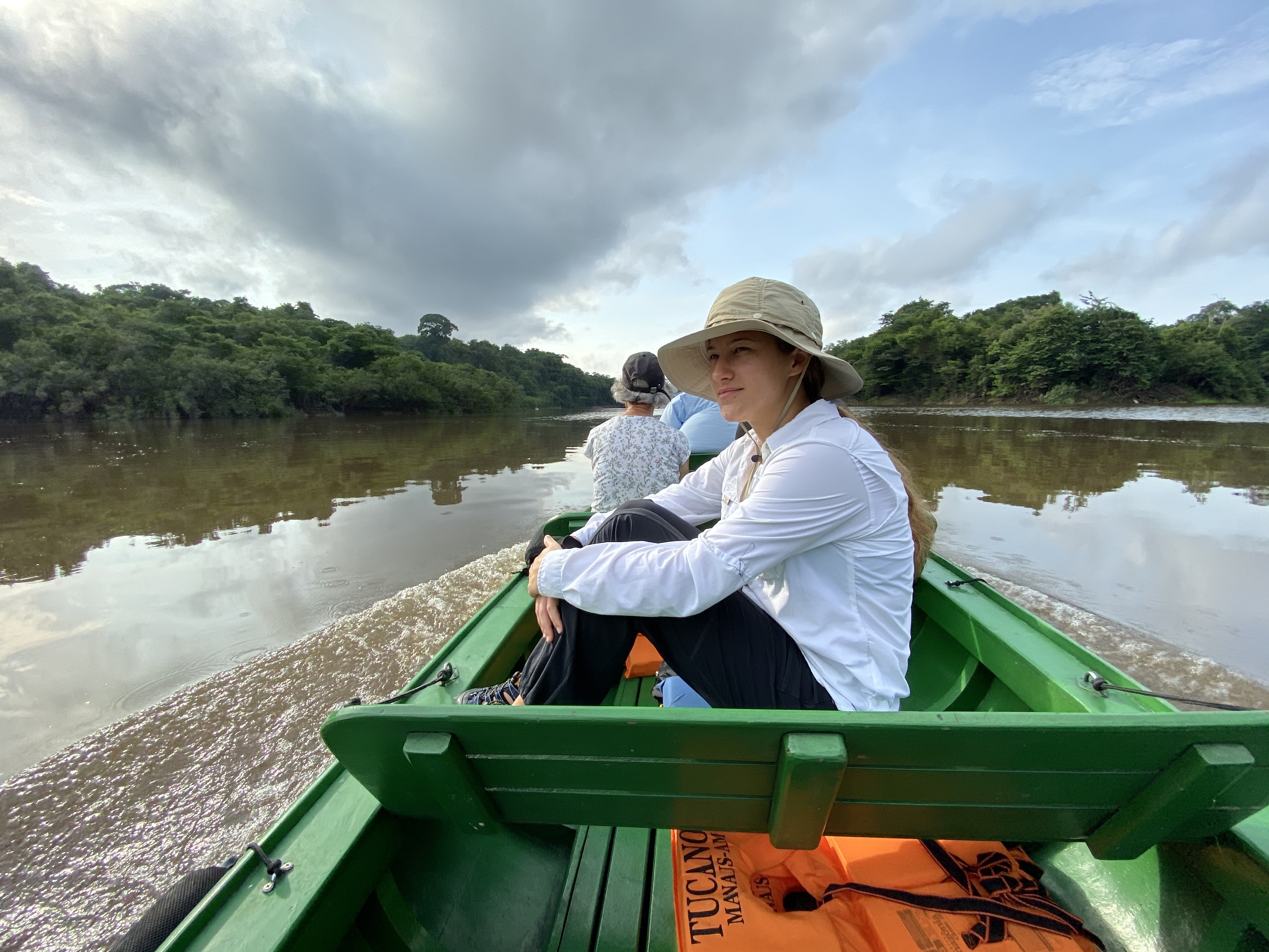 Light, long-sleeve Columbia fishing shirts worked perfectly for all outdoor activities, but we loved changing into Unbound Merino shirts (our travel go-to) for lounging on the boat; some kind of sorcery makes the fabric feel clean and cool for days on end. Paramount, however, is a good set of binoculars. They're an Amazon necessity—you don't want to be the person who has to bum and borrow from others.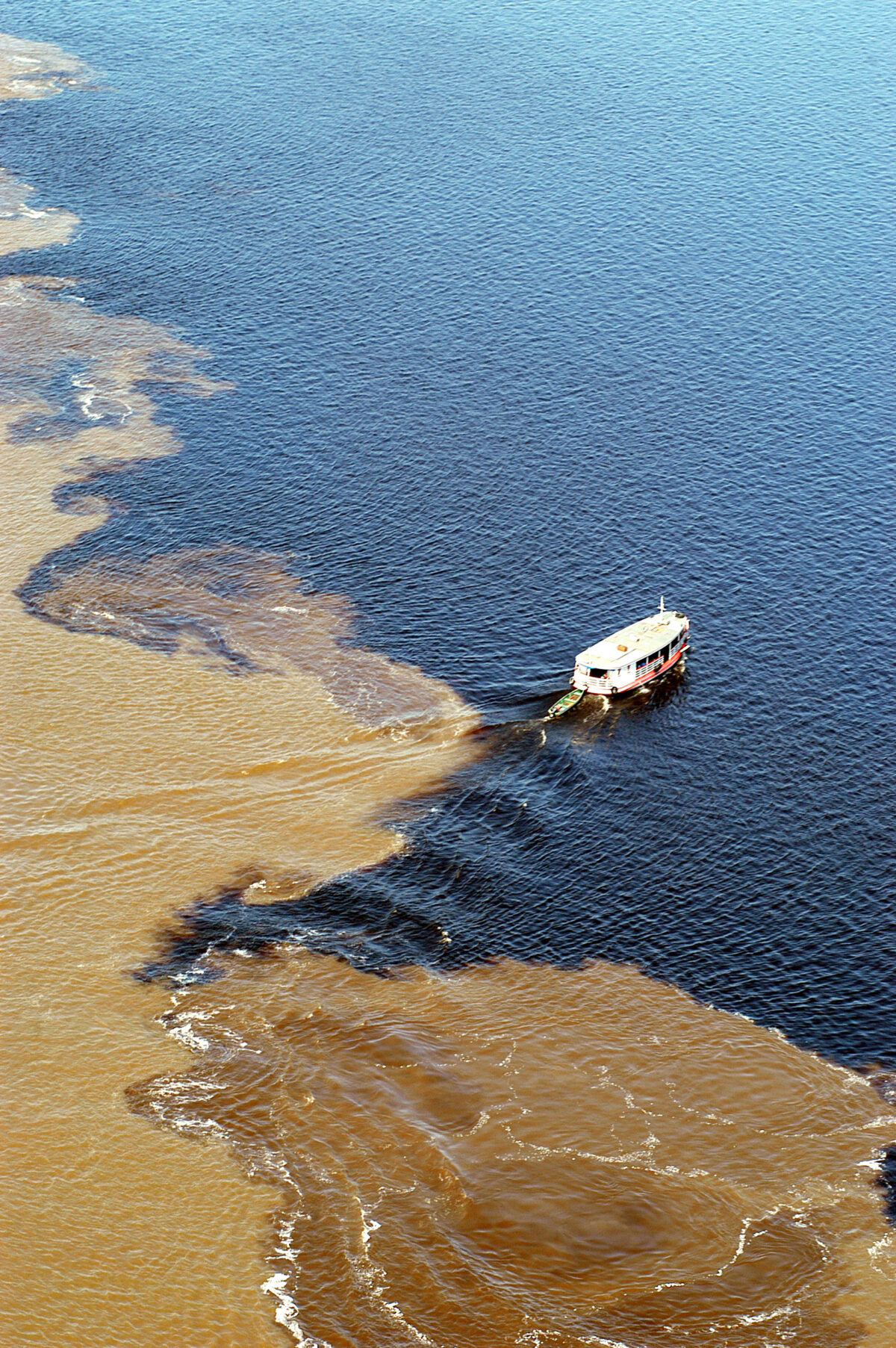 The Meeting of Waters
Near Manaus, the river again swells wide with the traffic of tourists and cargo. Many come to see the Encontro das Águas, "The Meeting of Waters," where the dark Rio Negro meets but doesn't mix with the sandy-colored Amazon River, a stunning visual phenomenon resembling black coffee swirling alongside café au lait. The rivers run side-by-side for nearly four miles without mixing due to their differing speeds and temperatures.
After six days without Wi-Fi, I wasn't looking forward to the hum of digital connectivity, but neither am I cut out for survival in the unforgiving Amazon. I never did spot a howler monkey, but by then, it wasn't the point. I'd found what I'd come looking for: adventure in a place unlike any other, a wilderness at once under-stimulating and evocative, ancient yet ever-evolving, a departure from the familiar.
Skye Sherman is a freelance travel writer based in West Palm Beach, Fla. She covers news, transit, and international destinations for a variety of outlets. You can follow her adventures on Instagram and Twitter @skyesherman
The author was a guest of Amazon Nature Tours.