Every year sees tens of thousands of animals and birds move around the country as they head to sunnier climates and breeding grounds. In my experience, nothing is better than seeing such spectacles of nature, and if you pick the right time, you and your family should be able to witness these migrations up close.
Plan the dates ahead of time to get a front-row seat to some of the most breathtaking sights in the world. My family and I have witnessed several such migrations, and we still have several to go before we complete our bucket list.
Every year, around 23,000 elephant seals gather on California's Central Coast near San Luis Obispo to mate and give birth. If you're heading to Hearst Castle and the surrounding areas, chances are you'll be able to catch sight of these huge, sluggish sea creatures. We usually stop by during the first week of January and are treated to lots of loud, strange noises and bunches of baby seals.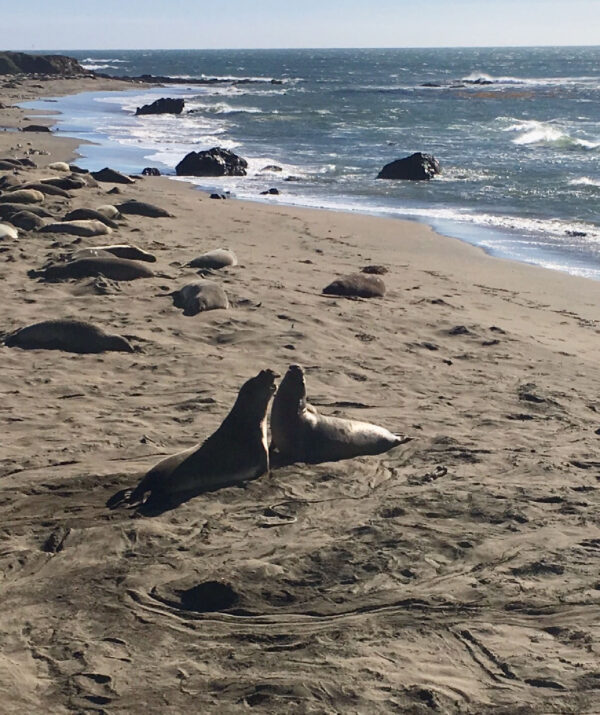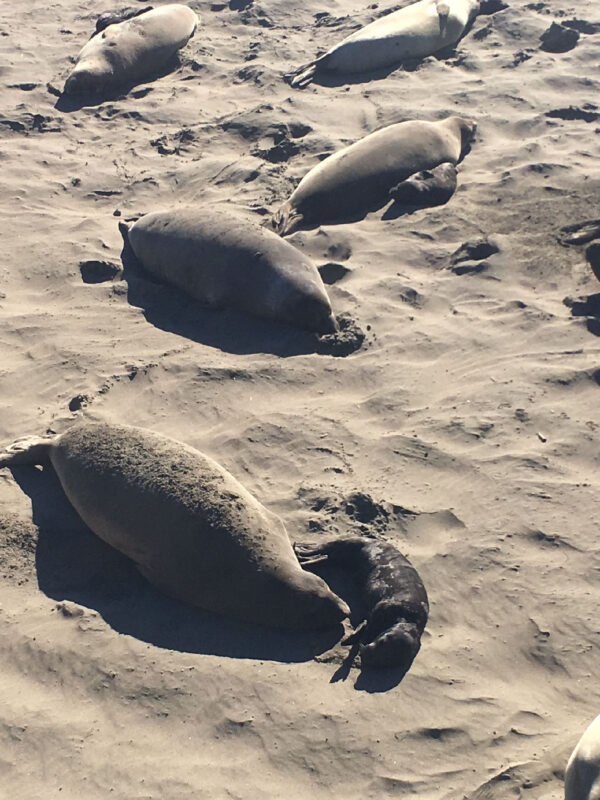 A few of the seals live here year-round, but between October and March, their numbers swell considerably. That means you'll almost certainly catch a glimpse of them as they recline with their young on the rocky beach near San Simeon.
They gather in their hundreds at the elephant seal rookery, which is 1.5 miles south of Piedras Blancas State Marine Reserve (about 90 miles south of Monterey and five miles north of Hearst Castle).
Specified viewing areas offer good looks at these gummy, bulbous-nosed creatures as they look after their young. Docents from Friends of the Elephant Seal are usually on hand to help visitors get the most from their viewing experience. The viewing areas are open every day of the year, are wheelchair accessible, and no reservations are required.
Nebraska, home to the Great Plains, sees 80 percent of the world's half-million sandhill cranes roost along the Platte River. Coming up from Mexico, Texas, New Mexico, Arizona, and California, the cranes arrive around Valentine's Day and are gone by mid-April. They use their two-month stay to pack on weight before continuing their journey north. Cranes mate for life, so they travel as families; some eventually fly as far as Siberia.
Head to the Rowe Sanctuary, which is situated between the towns of Kearney and Grand Island and whose mission is to conserve and restore the Platte River ecosystem, focusing on cranes and other wildlife and their habitats. Starting at $35, you can join crane-sighting tours at the sanctuary along the river.
Between November and May, you can see humpback whales at the Hawaiian Islands Humpback Whale National Marine Sanctuary in Kihei, Maui. My family and I fell in love with Maui, which is beautiful and has nature in abundance. Managed by the National Oceanic and Atmospheric Administration (NOAA), which looks after the waters around the Hawaiian Islands, this picture-perfect sanctuary makes for essential shoreline viewing.
The humpback whales migrate to Hawaii to mate and give birth. The nursing mothers usually arrive first, followed by their young, then adult males, and finally the pregnant females arrive. Whales are creatures of habit and will return to the same area where they were born.
The whales here are North Pacific humpbacks, and in May they make a 2,800-mile trip to southeastern Alaska so they can feed at the Glacier Bay National Park. If Hawaii isn't your thing, then you can also find them in Alaska.
There are many whale-watching boat trips you can book off the coast of Maui, but at the Kihei visitors center, which is open Monday to Friday from 11 a.m. to 3 p.m., you can view exhibits and learn about the efforts by the state of Hawaii to protect humpback whales, monk seals, sea turtles, and coral reefs.
Delaware Bay is the largest spawning area in the world for horseshoe crabs. The crabs arrive between May 1 and June 15 to lay their eggs, and their migration is truly one of the wildest spectacles of nature you'll ever see. Horseshoe crabs are large creatures with a hard shield and sharp-pointed antennae. Because of their origin 450 million years ago, they are considered living fossils.
Their spring migration in an estuary of the Delaware River, which cuts through New Jersey and Delaware, also brings the red knot shorebirds that feast on the crab eggs and use them as fuel to power north for their own migration.
The nonprofit Delaware Audubon Society suggests that the best place to see the crabs spawn is the DuPont Nature Center in Mispillion Harbor. The center has an observation deck and many exhibits about both the crabs and shorebirds. Other noted locations for seeing both include Slaughter Beach, Bowers Beach, Ted Harvey Wildlife Area-Kitts Hummock, Port Mahon Road, and Fowler Beach. As well as the hungry red knots, you might also see sandpipers, sanderlings, and ruddy turnstones.
If you want to help the horseshoe crabs as they breed, you can join volunteers in New Jersey who "flip" crabs that have been washed ashore the wrong side up.
An oasis located on Highway 1 at the southern edge of Pismo Beach, California, the Monarch Grove is a spectacular nature destination that we loved visiting. Loads of colorful monarch butterflies migrate here from October through February each year.
These undeniably beautiful orange-and-black butterflies visit Pismo Beach to seek shelter from the freezing northern winters. They cluster in the eucalyptus trees, hanging from the branches that provide shelter from the rain as well as warmth as they gather in such huge numbers.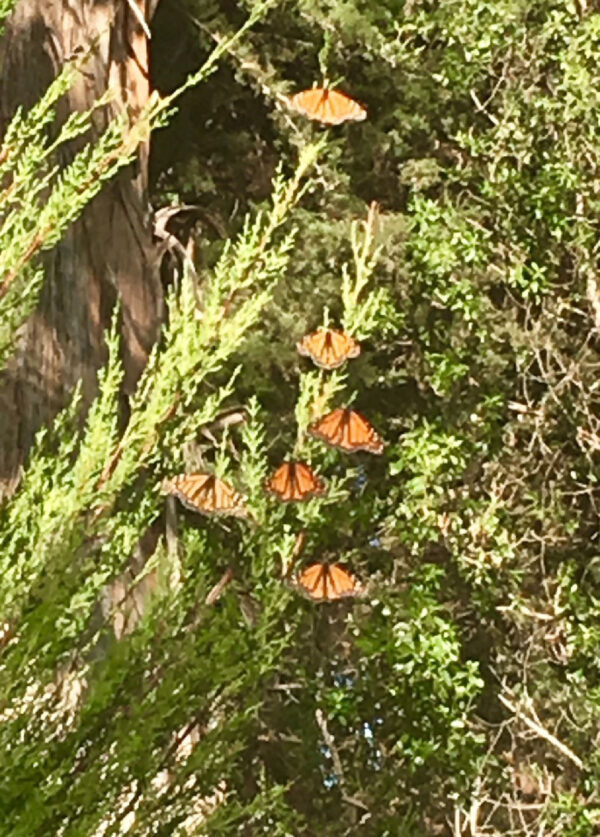 The monarchs that visit Pismo Beach have a life span of six months as opposed to that of common monarchs that live only six weeks, and seeing them in such large numbers is exhilarating. At the Monarch Grove you can join guided tours with the docent trailer opening at 10 a.m. and closing at 4 p.m. daily. Educational talks are scheduled at 11 a.m. and 2 p.m. each day, weather permitting.
When You Go
Elephant seals: ElephantSeal.org/view.htm
Elephant seal cam: ElephantSeal.org/view.htm
Sandhill crane cam: Rowe.Audubon.org
Humpback whales: HawaiiHumpbackWhale.noaa.gov
Horseshoe crabs and shorebirds: ReturnTheFavorNJ.org/get-involved/events, DelawareAudubon.org
Monarch butterflies: MonarchButterfly.org
Margot Black is a freelance writer. To read features by other Creators Syndicate writers and cartoonists, visit the Creators Syndicate website at Creators.com. Copyright 2021 Creators.com