Trips to Florida are about to become more fun-filled and action-packed than ever.
Brightline, soon to be rebranded as Virgin Trains USA thanks to a strategic partnership with Richard Branson's Virgin Group, broke ground in late June on a rail line connecting Orlando to South Florida. The route will be available to travelers in just a few years' time; service to Orlando is expected to start in 2022. 
Brightline is an ultra-modern, high-speed rail line that currently runs between Miami, Fort Lauderdale, and West Palm Beach. It debuted in early 2018 as the first privately funded intercity passenger train in the United States in more than 100 years and has plans to expand with service between Las Vegas and Los Angeles in the future.
Brightline's Orlando station is strategically located at Orlando International Airport. Once construction on the rail itself is complete, a trip between Florida's top two cities is expected to take about three hassle-free hours. What's more, as a result of the new route, projections estimate more than 6 million annual riders in Florida and a $6.4 billion direct economic boost to the state. A proposed Disney stop on the way to west-coast hotspot Tampa, in addition to the Orlando station, may change the way people visit Florida.
The Experience
Already, South Florida's visitors and residents alike are motivated to explore the region further, with zero headache. Brightline passengers are gleefully greeted by a zealously helpful guest services counter upon arrival to the station, and the futuristic travel experience only begins there. Travelers can scan in at the kiosks using a mobile device before making their way to the airy seating area or café counter to await boarding.
Currently, with the advent of Brightline, traveling from West Palm Beach to Miami takes just over an hour and is traffic-free—and sometimes comes with a chilled glass of champagne. Brightline's entrée into the South Florida scene has changed the way locals traverse the region, with trips between the area's hubs more convenient, quick, and comfortable than ever.
Hopping down to Miami for dinner or a Heat game is no longer an all-day production but an opportunity to ride the Brightline; zipping up to West Palm Beach to take a weekend cruise to Freeport aboard Bahamas Paradise Cruise Line is practically seamless, especially with the introduction of Brightline's $25 Train-to-Port bundle packages. For residents of both cities, Fort Lauderdale—with its beaches, shopping, museums, and riverboat rides—is now a mere half-hour train ride away.
Reaching a top speed of 79 miles per hour, Brightline transports its passengers—everyone from out-of-town vacationers to local daily commuters—between the three Florida hotspots in luxe surrounds. On every ride, passengers experience personalized service, roomy seats, and restrooms, and downtown-to-downtown transport, happily bypassing South Florida's congested highways. There's just something extravagant about zipping past bumper-to-bumper traffic as you read a book or tap away on your (plugged-in) laptop while sipping an in-seat cocktail from the delivery cart.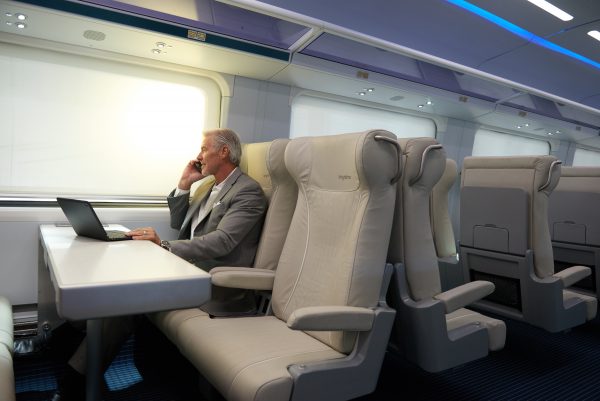 3 Categories
All riders are greeted with reclining leather seats (some arranged in groups of four around a large table), free onboard WiFi, and power and USB outlets at every seat, but beyond that, Brightline service is tiered into three categories: Smart, SmartPlus, and Select. 
Smart is the most basic but is still an abundantly comfortable option, even for business-class travelers. The only real difference from the next tier up is that Smart riders don't receive complimentary snacks and beverages; SmartPlus is an upgrade from Smart in that it offers one complimentary snack and beverage. 
Select-class passengers, Brightline's all-inclusive take on first class, enjoy access to a designated coach; a private lounge in the station stocked with food, beverages, newspapers, business amenities, and more; access to station conference rooms; free garage parking; and pre-boarding rights. They also receive unlimited free snacks and alcoholic beverages during the ride, as well as a cold hand towel upon boarding—sure beats the stuffy TriRail and I-95 traffic.
Orlando Line
While the rail line has been operational between Miami and West Palm Beach for more than a year, and between West Palm Beach and Fort Lauderdale for even longer, the partnership with Richard Branson's Virgin brands and the groundbreaking on the Orlando line is brand new. Brightline's transition to Virgin Trains USA was announced in November 2018, and a rebranded MiamiCentral station was unveiled in April 2019.
The Brightline station located in the new South Terminal at Orlando International Airport is complete, but construction is required to connect the central Florida station to the current northernmost site, located in West Palm Beach. The extension will include upgrading 129 miles of existing track and laying 40 miles of new track, allowing for speeds up to 125 mph.
"This is a historic milestone on the path to reinvent passenger rail in America and clearly demonstrates the leadership role that the private sector can play in revitalizing our nation's infrastructure," Virgin Trains Chairman Wes Edens said in a press release. "Virgin Trains service between Orlando and Miami will launch an American passenger rail renaissance. We expect that this will be the first of many passenger lines in the U.S. that follow this model for connecting city pairs that are too close to fly and too far to drive."
When the first train departs for Orlando and tourists come to realize they can hop all around the Floridian peninsula with ease and efficiency, it will continue to become abundantly clear that the journey truly is the destination.
Hospitality-focused Brightline adds to the travel experience by replenishing rather than draining your travel energy, giving its riders a platform for arriving to whatever's next feeling prepared, comfortable, and maybe even pampered. The rest of the travel industry should take note.
Skye Sherman is a freelance travel writer based in West Palm Beach, Fla. She covers news, transit, and international destinations for a variety of outlets. You can follow her adventures on Instagram and Twitter @skyesherman