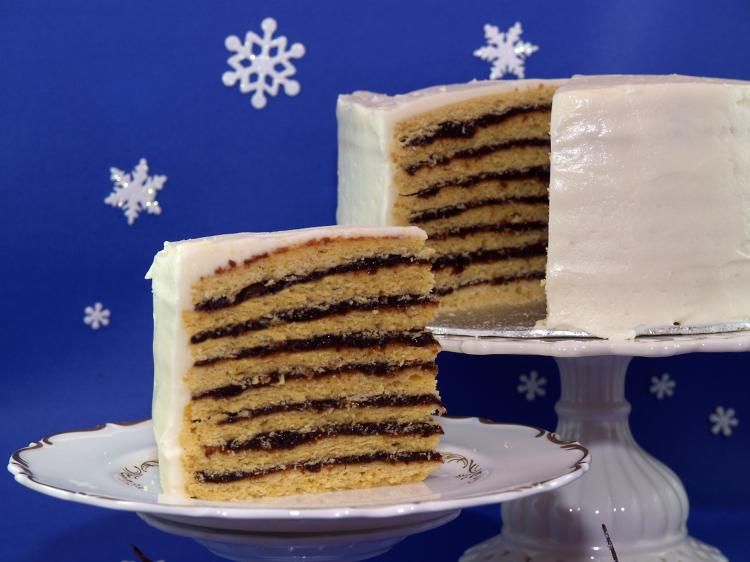 Vinarterta is a special Icelandic holiday cake served at Christmas and weddings. Vinarterta, which translates as Vienna cake, was brought to Iceland from Denmark. Icelandic immigrants brought family versions of the vinarterta recipe with them to Canada and the United States at the end of the 19th century.
There are a variety of fillings used in this cake, the most common being prunes, along with from three to eight cookie-like layers. Apparently this cake can be made without the frosting 3 – 4 months ahead of the holidays as it improves with age. However, it is also fine to make it just a week or two ahead of time. Wrap unfrosted cake in plastic and foil, and store in a cake tin in a cool place. This cake also freezes well.
Many vinarterta recipes do not call for a frosting, but this recipe, which was given to me by a friend more than 20 years ago, has a rich buttery almond flavour that pushes it over the edge for decadence. The recipe may sound complicated or a lot of work, but it is surprisingly easy and can be done in stages. The results are well worth the time. I sometimes make a bit more prune filling to make the cake a little more extravagant. When serving, cut into small pieces as vinarterta is very rich.
Prune Filling
500 g (1 lb) pitted prunes
50 ml (1/4 cup) sugar
5 ml (1 tsp) cinnamon
5 ml (1 tsp) vanilla
Boil prunes with just enough water to cover until they are soft. Drain the prunes, saving 125 ml (1/2 cup) of the prune water. Blend in a food processer until smooth. Place cooked prunes, prune water, sugar, and cinnamon in a saucepan and reheat until thick enough to spread. Remove from heat and stir in vanilla. Cool and set aside. This filling can be made a day ahead.
Cake Layers
250 ml (1 cup) butter, room temperature
300 ml (1 1/4 cup) sugar
3 eggs
15 ml (1 tbsp) light cream
5 ml (1 tsp) almond extract
Zest from half an orange
1 L (4 cups) sifted flour
10 ml (2 tsp) baking powder
5 ml (1-2 tsp) ground cardamom
Pinch of salt
Preheat oven to 180º C (350º F). Butter and flour 4 20x20x5-cm (8x8x2-inch) round cake pans. Cream butter until light and fluffy, add sugar gradually, mixing well. Add eggs one at a time, beating well after each one. Add cream, almond extract and orange zest. Sift dry ingredients together and add to creamed mixture. Gently knead dough until all the flour is incorporated and smooth (approximately 10-15 times). Divide dough into eight even portions and spread with fingertips one portion into each of the four cake pans. The layers will be baked in two batches. If you only have two cake pans you can do four shifts of two batches. Bake approximately 10 to 15 minutes, being careful to not overcook or brown. Carefully remove the cake layers from the pans and cool on a rack. Repeat until all the dough portions are used and there's a total of eight layers.
Assemble cake when the layers are cool. Spread an even portion of prunes on each layer, leaving the top layer plain. Cover cake completely with plastic wrap. A few days before serving, the cake can be frosted with a thin layer of butter almond frosting. Serve in thin slices as it is very rich.
Butter Almond Frosting
125 ml (1/2 cup) butter, room temperature
500 ml (2 cups) confectioners' sugar
1 ml (1/4 tsp) almond extract
Milk or cream
Cream butter and confectioners' sugar together until smooth. Stir in the almond extract. Slowly add a small amount of milk or cream to get a smooth spreading consistency.