Ah, Southeast Asia—an eclectic fusion of 11 countries, 20,000 islands, and countless unique cultures coexisting and thriving in one divine corner of the Asian continent. Ancient temples, unspoiled beaches, lush forests, culinary delights, and affordable prices await all those who venture east, not to mention the tropical weather. And of all the countries in the region, Vietnam, Laos, and Cambodia almost always top the list, with something for everyone. Every visit is an adventure waiting to happen and, once you experience it, you're unlikely to ever be the same again. 
Below is a list of 8 must-visit places to help you kick start planning for your next trip to this enchanting part of Southeast Asia.
1. Halong Bay, Vietnam
It's no surprise that Halong Bay is number one on this list. It's one of UNESCO's World Heritage Sites, a true gem of the east and absolutely must be seen in person. Imagine towering limestone karsts standing majestically in the calmest emerald green waters, enchanted grottoes eroded by salty wind and waves, and literally hundreds of unspoiled beaches. Halong Bay is one of Vietnam's biggest tourist destinations for good reason. The name "Ha Long," meaning "Descending Dragon" in English, originates from a local legend, stating that in ancient times dragons saved the Vietnamese people from foreign invaders before making the bay their home. Today visitors come from all over the world to experience one of the world's most beloved natural wonders.
The best way to see Halong Bay has got to be on a cruise. Most cruise trips are based out of Hanoi, so Hanoi is the best place to start, although you can also fly to Hai Phong or Van Don airport, near Halong City, from Ho Chi Minh City. Most cruise operators will offer round-trip transfers from Hanoi to Halong Bay, some even leaving you at your hotel door so make sure to take advantage of this. There are now a multitude of cruise options, suited to a variety of budgets, leaving daily from Tuan Chau Marina or Got Pier. You can choose from a 2 day/1 night or 3 day/2 night package and cruises usually include an itinerary packed full of all the good stuff like kayaking, hiking, swimming, and eating.
Tips: The best time to visit Halong Bay is between March and May, or October and November, thanks to the cool dry air which makes the destination even more picture-perfect.

For full cruise listing, check out Halong Bay Tours (

halongbaytours.com

), a local agent that offers superb deals on a cruise trip. The summer season from May to September is especially best for budget-minded travelers with cruise trip bargain as low as 70% of what you would normally pay.

Many cruises offer free shuttle bus from Hanoi which is an added advantage as you will save $30-40 on travel cost for each passenger.
2. Hanoi, Vietnam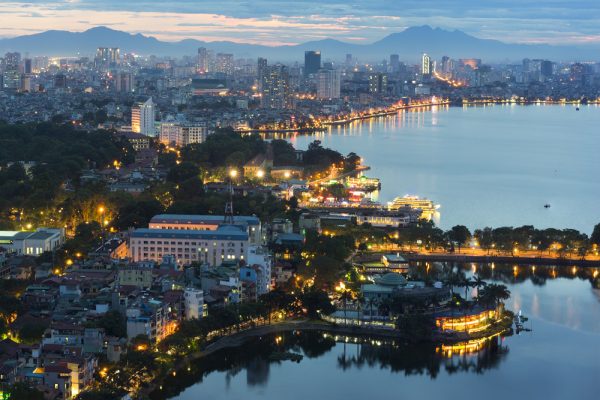 No trip to Southeast Asia is complete without a stint in Vietnam's capital. Come to Hanoi and you will find the true beating heart of Vietnam where centuries-old Buddhist temples stand shoulder-to-shoulder with French colonial era villas. This city has an old-world feel to it which adds to a kind of quaint charm. Hanoi truly is a fascinating city
Highly recommended activities include taking a walk around the chaotic Old Quarter where streets are arranged by trade and mind-blowing street food sits on every corner; trying a cà phê sữa đá (iced Vietnamese coffee with condensed milk) at the stylish Cong Cafe or an egg coffee on Train Street. At the end of a busy day of making your way through the hustle and bustle, you can head to one of Hanoi's many spas which provide luxury services with an affordable price tag. If you have time left over, then we'd recommend a biking tour through the countryside to one of the local towns on the outskirts of the city to help get another perspective of life in Hanoi.
Tips: The best time to visit Halong Bay is between March and May, or October and November, thanks to the cool dry air which makes the destination even more picture-perfect.

For full cruise listing, check out Halong Bay Tours (

halongbaytours.com

), a local agent that offers superb deals on a cruise trip. The summer season from May to September is especially best for budget-minded travelers with cruise trip bargain as low as 70% of what you would normally pay.

Many cruises offer free shuttle bus from Hanoi which is an added advantage as you will save $30-40 on travel cost for each passenger.
3. Phong Nha-Ke Bang National Park, Vietnam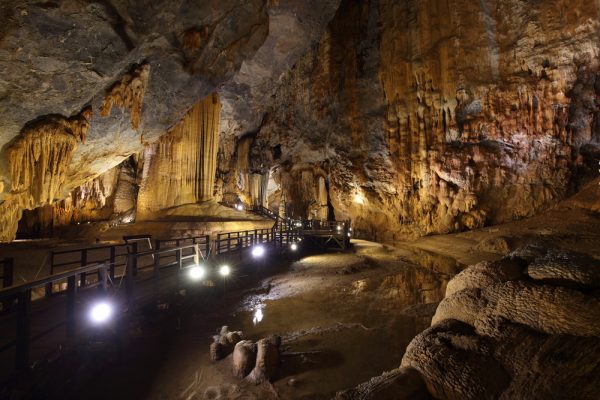 Phong Nha-Ke Bang National Park is a part of Vietnam's eight UNESCO World Heritage Sites and home to Son Doong Cave, which is famously the largest cave on planet Earth. The area is remote and features deeply impressive caves, vast underwater lakes and the oldest limestone karst mountains in Asia—and the best part is, it's just sitting there waiting to be explored. Travelers who visit the national park are granted the rare feeling of discovering a lost world. 400 million-year-old karsts are surrounded by hundreds of miles of mysterious jungle lands. 
To go to Phong Nha-Ke Bang you should make your way to Dong Hoi by bus, train or plane and then you can take a bus or taxi from there to Phong Nha. The park itself is free to enter but you do need to pay for some attractions. Currently only a fragment of the national park is open to visitors as the whole area was ravaged by the Vietnam War war and there is still a lot of unexploded ordnance remaining so independent trekking is off the cards. 
Tip: you can arrange a well-planned excursion independently or as part of a tour if you are so inclined. Oxalis (oxalis.com.vn) and Jungle Boss are both well-known, reputable companies who organize overnight treks through the jungle. Other interesting activities include a motorbike tour of the park, caving, a wartime history tour or simply relaxing by the river. 
4. Ho Chi Minh City and the Mekong Delta, Vietnam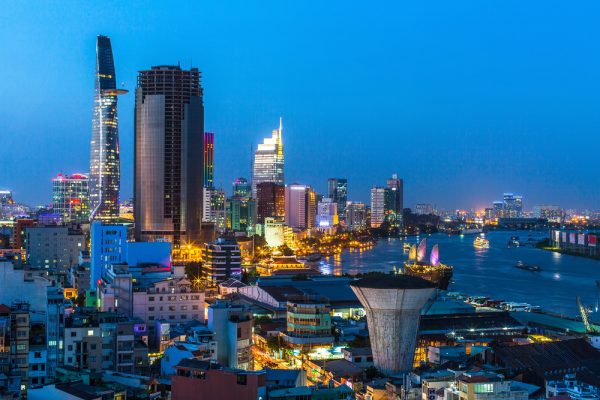 Ho Chi Minh City, also known as Saigon, is Vietnam's biggest and most prosperous city. Its skyline is dominated by skyscrapers including Landmark 81, Southeast Asia's tallest tower. 
In contrast, Downtown Saigon still shows remnants of the French occupation with many grand old hotels, Saigon City Hall, Saigon Municipal Opera House, Notre Dame Cathedral and Saigon Central Post Office. If shopping is more your thing, Saigon has so much to offer. There are plenty of modern malls but for those who are hunting for that one bargain, make a stop at the famous Ben Thanh Market. If you're interested in learning about the war, the War Remnants Museum is definitely worth a visit. 
Right outside the hustle and bustle of Saigon there is the Mekong Delta, colloquially known as the Nine Dragon Delta. This delta is where the Mekong meets the South China Sea. The river carries sand and sediment and deposits them in the delta to create a unique landscape. The Mekong river empties into the East Sea and the Gulf of Thailand. 
For visitors to the Mekong Delta there's an abundance of tours and activities, usually 1-day or 2-day trips, which can be booked in Saigon. One of the most popular day trips is a visit to the Cu Chi tunnels which were dug by the Viet Cong during the war and offer a unique glimpse into the life of Vietnamese soldiers at the time. Another popular option is the Cai Rang floating market. Travel to Cai Rang to get a glimpse into the lives of Mekong Delta locals, see their stilt houses and visit the surrounding fruit plantations. 
Tip: Most tours will make stops at local businesses which gives you the opportunity to not only support the local economy, but also have a chat with the locals and see the way they live up-close.
5. Vang Vieng, Laos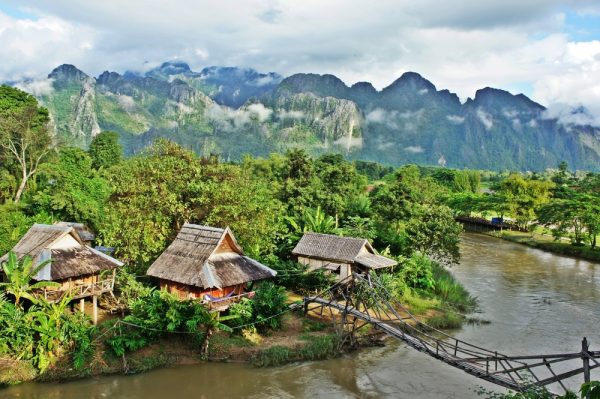 Vang Vieng in central Laos is blessed with magnificent landscapes. The town is on the Nam Song river and surrounded by majestic hills and vivid green rice paddies. It's roughly 4 hours away from Laos' capital, Vientiane. Today the town is known as a popular backpacker destination and the main street is lined with bars, cafes and guesthouses all catering to backpackers. In the past the town was notorious for foreign fatalities due to the taking of illicit substances or binge drinking while floating down the Nam Song on an inner tube.
Thankfully, after a 2012 government crackdown, things have become better and the town is rebuilding itself as an adventure destination. You can still float down the river on an inner tube but the bars that once lined the river have been closed. Many restaurants still offer meals and drinks with laced with unknown, harmful substances so be careful when ordering items labeled as "Special" or "Happy." 
Besides being an endless party town, Vang Vieng has much to offer with many hiking trails and caves. Popular activities are rock climbing excursions, trekking, yoga workshops and spelunking. If you care to take in the rural scenery, a motorbike tour is a great way to enjoy the sights. There are also three blue lagoons where you can swim and visit the surrounding caves. 
Tip: You can reach Vang Vieng by taking an hourly bus or minivan from Luang Prabang or Vientiane. It is best to book a tour bus instead of the local bus for safety reasons, and traveling by bus will be considerably faster than taking a minivan.
6. Bokeo Nature Reserve, Laos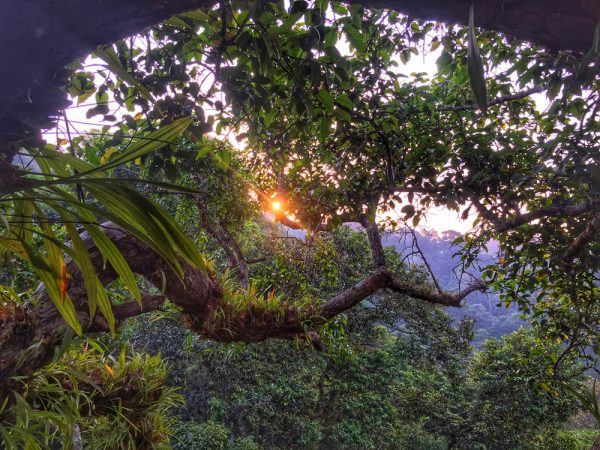 In 1997, it was discovered that the previously believed to be extinct black-cheeked gibbon was indeed alive and well in Laos. The Bokeo Nature Reserve is a protected area in the west of the country on the border with Thailand and close to the border with Myanmar. Bokeo is home to tigers, bears, elephants and chimpanzees but it's special as it's also home to the Gibbon Experience. The Gibbon Experience is a 3-day trek where you can intimately witness gibbons at a canopy level, spend 2 nights in a tree hut and ultimately enjoy the splendor of the jungle. Bokeo Nature Reserve has an undeniable charm, with lush tropical rainforests and many wonderful animals that deserve to be protected. Booking a tour with Bokeo helps the nature reserve's conservation efforts.
The best time to go to Bokeo is during the rainy season, from July to October. Tourists visiting during the rainy season will be rewarded with a vibrant palette of colors, a wide array of sounds and great diversity in wildlife. The rewards might be greatest during the rainy season, but the trek is also hardest during this time. 
Tip: If you're not in good physical shape, you might want to avoid a visit during the rainy season. Tours start from $315 USD and leave every other day in 3 groups of 8 people. They leave early in the morning to make sure you make the most of each day. The trek is only available to those who weigh less than 243 lbs (110 kilograms) due to health and safety.
7. Angkor Wat, Cambodia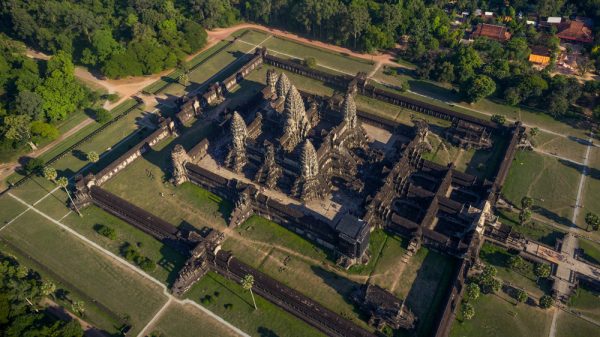 Situated on the outskirts of Siem Reap sits the world's largest religious complex: Angkor Wat. Angkor Wat is Cambodia's pride and joy, built in devotion to the gods of the Hindu faith, and its sheer size and design is stunning. The best time to visit is at sunrise as there's a serene beauty found in witnessing the sun rising over Angkor Wat that's hard to put into words. Late afternoon to sunset also comes recommended as it can get quite hot at Angkor Wat throughout the day. From the 14th to the 16th of April people celebrate new year (Angkor Sangkran) at Angkor Wat. During this time, everyone comes together in one big feast including a massive and continuous water fight to ring in the New Year.
There are 3 ticket options, prices at the time of writing are:
1-day ticket – $57 USD

3-day ticket – $89.90 USD

7-day ticket – $109 USD
Measuring a whopping 402 acres, it's discouraged to explore the temple system on foot. The best way to explore the complex is to hire a guide with a motorbike or car. You can get a guide who will drop you off at the start of one complex, pick you up at the exit and then take you to the next one. Or you can take a full guided tour. The latter will take longer and will take up a few days. The former is a better option if you're a bit short on time or just want to spend one day within the complex.
Tip: Learn about

Angkor Wa

t in advance in order to take full advantage of your trip and appreciate the full beauty of the place.  
8. Koh Rong, Cambodia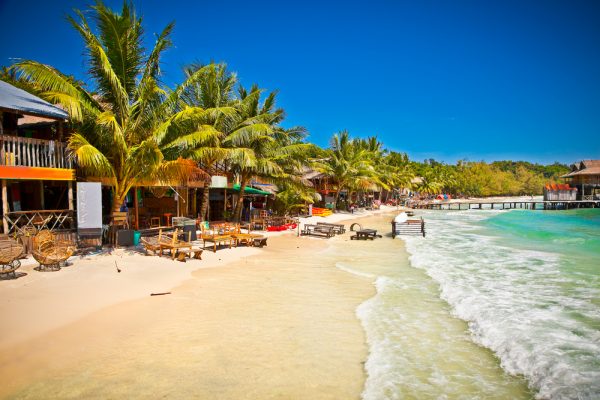 At Koh Rong Island, paradise awaits. Beautiful white sand beaches, palm trees and pristine blue waters, Koh Rong has it all. With 28 beaches, it's the perfect place to unwind and get away from it all for a bit. Of Koh Rong's 28 beaches, two of the most beautiful and well-known are Long Beach and Lonely Beach. Long Beach is about 4 miles (7 kilometers) long and is a regular tropical paradise, often featuring as the backdrop of the TV show Survivor (American, French and Swedish versions). Lonely Beach, as its name suggests, is still quite undeveloped compared to some other beaches. It's home to just one resort and one can still find secluded spots on the beach, enabling you to have your own piece of paradise. Lucky visitors to Koh Rong may get to see bioluminescent phytoplankton twinkling in the sea like stars by finding a dark area away from light pollution or by booking a boat tour.
The main settlement of the island is Koh Touch, where you'll find most bars, restaurants and hostels on the island. Parties are abundant and Koh Touch can be quite noisy at night. But peace and quiet are easy to find as you wander further away from the village. 
Tip: Koh Rong is on the south coast of Cambodia and can be reached by ferry leaving from Sihanoukville. When visiting, be sure to bring plenty of cash as there are no ATMs on the island and bring strong insect repellent as sand flies can be quite a pest at times.
Useful Information for Vietnam, Laos, and Cambodia
 Visa information for Vietnam, Laos and Cambodia
Visa requirements for Southeast Asian countries tend to be quite straight-forward for tourists. You should remember that your passport must have at least 6 months' validity and enough blank pages to support the insertion of however many visas you require for your trip. You will also need 2 passport photos to apply for each of the following visas.
For Vietnam, British citizens have visa-free travel for 15 days, but remember to bring proof of onward travel to prove your date of departure. Any stay longer than 16 days will require a tourist visa. Most other nationalities require a tourist visa for any short-term visit to Vietnam, the best way to apply for this is online. You can get a 30-day single or multiple entry visa which should cost around $25-$70 USD. When you go through immigration at the airport you will also need $25-$50 USD in cash to pay for the stamping fee depending on which visa you have. Generally, customs don't have any change, so be sure to have the money ready in the exact amount required.
For Cambodia and Laos, British, Australian, New Zealand, South African and North American passport holders can get a 30-day tourist e-visa for around $30-$45 USD depending on your nationality. 
This information is accurate at the time of writing but visa regulations change frequently so be sure to do your own thorough research before you fly to Southeast Asia.
 Best Time to Visit Vietnam, Laos, and Cambodia
Weather can make or break a trip. We want you to visit Southeast Asia feeling informed on the type of weather you can expect, but arranging a trip around weather can be tricky because the peak season arguably has the best weather but can bring more crowds and inflated peak season prices.  
Cambodia and Laos have two seasons, from November to April it's sunny and dry and then from May to September the monsoon kicks in. The driest and sunniest months are January and February, the hottest are May and July and the wettest are August and September. Temperatures are greatly affected by altitude but on average you can expect milder temperatures of 24°C (75°F) in the cooler months and exceeding 35°C (95°F) in hotter months. Besides all this, you can definitely visit Cambodia and Laos in the monsoon months, you should just keep in mind that travel plans can be delayed.
For Vietnam, there's never a bad time to visit as any month will have sunshine, clouds and a bit of rain. As a rule, Vietnam is hot and humid but the North, Central and South Vietnam each have individual weather patterns. The North has a cool winter from November to April with temperatures as low as 20°C (68°F), then the hot summer months are from July to September. Central Vietnam has hot and dry weather from January to August and then from September it becomes much wetter. In South Vietnam, it's nearly always very hot, with the dry season lasting from November to April and the wet season ruling from May to November. 
How Long Is Enough? How to Budget Your Time Well
How long is enough? Well, it's all up to you! It depends on your interests, how long you can take time off work, what kind of budget you're on and how you decide to spend it.  Traveling on a budget of $5,000 USD and staying in dorms and eating local food will buy you way more time than staying in private rooms and eating out in expensive Western-style restaurants. It's entirely possible (depending on where you are in Southeast Asia and which part of a specific country) to live off as little as $10 USD a day, including accommodation and this can affect how long you can afford to stay in Southeast Asia.
Another factor to keep in mind is how many places you want to see. We would recommend visiting fewer places over a longer period of time to truly get the most from your experience and make sure you don't end up wasting much time traveling between destinations. For each location, you should think about how many days you want to spend there, and then add a day either side for travel. Another important tip is: don't try to see everything in one trip. Choose the destinations that are most appealing to you and make those the focus of your trip. Tailor your trip to your timeframe and make it work for you. A customized tour via one of the more reputable operators such as Vietnam Tours (vietnamtours.com) or Exo Travel (exotravel.com) can be very rewarding if you need an itinerary that allows for both flexibility and covers the must-visit without you having to worry about the logistics such as airport pick up or entrance ticket. 
Money and Cost
The beauty of travel in Southeast Asia is that you can make your trip as cheap or as expensive as you like. Just keep in mind that in Southeast Asia, what you pay is very much what you get. If you pay next to nothing for accommodation, it may not be of great quality. This is all part of the Southeast Asia adventure as a whole, and part of the charm. We all know what it's like to have clean and hot water, clean and comfortable bedding and working climate control but cheap accommodation in Southeast Asia may be lacking in some of these home comforts. It's something different and an interesting adventure. In some hostels, it's possible to work for board. This is a great way to save money and get to know the local way of life a bit better. 
A well-planned trip will give you a good overview of how much things will cost and how much money you need to cover yourself for the duration of your travels. Always make sure you have an emergency fund. When traveling, unexpected things can happen and can cost you a pretty penny. Think about losing documents like your passport, getting in an accident, losing your phone, or having to pay for rentals—keep these things in mind when you're doing your budget.
Even when you're insured, you should still expect to pay for medical treatment. Be sure to get an invoice so you can claim it back later from your insurance at home. Lastly, it's always prudent to know where your country's embassy/consulate is in the country you're visiting.
Eat & Stay – General Information
Whether you're traveling to Vietnam, Laos or Cambodia, or ideally all 3, there are plenty of wonderful and tasty foods to try. Below we'll mention one dish you absolutely cannot miss out on whenever visiting each of these countries.
Vietnam: Pho
Pho is Vietnam's signature dish and is an absolute must-try. It's a noodle soup made with traditional spices and can be found throughout the country with minimal regional differences. The most popular kinds of Pho are Pho Ga (chicken) and Pho Bo (beef). A bowl of Pho at a local eatery should cost you around $1.5 USD.
 Laos: Larb
Larb is a staple food in Laos. In a nutshell: it's basically sticky rice mixed with chopped meat and fish sauce. The dish comes slightly different in each place you eat it and usually every vendor has its own take on it. It can be quite a messy meal as it's traditionally eaten with your hands rather than chopsticks or cutlery, but that's all part of the fun.
 Cambodia: Num Pang
Like the Vietnamese Banh Mi, this dish's main ingredient is the crusty baguette. Freshly made before your eyes, this tasty snack is available all over Cambodia. Its filling usually consists of pate, chives, carrots and cucumbers topped with red-colored pork and/or ham. Delicious! 
Stay
Southeast Asia is a place that caters to every budget. You have the option to stay in hotels, hostels, Airbnb, homestays and luxury resorts. Our best advice is to choose what suits your budget and make sure you do a quick Google search beforehand to read some reviews and make sure it's the right place for you. Book your accommodation online to get the best price.